Updated May 2016 to reflect current pricing and plan names. Other details remain the same, and over three years later, I'm still using Crashplan.
Stories abound in the travelling world of those who have lost it all.  Whether from theft, fire, water or other misfortune, the unfortunate few find themselves left with little more than the clothes on their backs.  It's hard enough to replace your material possessions in situations like this, but what about things that exist only in electronic form?  Thousands of photos and videos, important documents, downloaded emails, your entire music library … if you're not backing up properly, they'll all be gone for good.
I've used a few different services in the past to back up my stuff online.  For a while I was just using Dropbox, but soon ran out of room.
I experimented with other free cloud storage services like Skydrive, but found it to be slow and limited, and I even wrote a script to sync my photos with a folder on my web server, which worked quite well – when I remembered to run it.
A couple of months ago, I finally decided it was time to get serious about it all.  After much research and trialling some worthy contenders like Mozy and Carbonite, I ended up signing up for a one year subscription with Crashplan.
Crashplan basics
Crashplan is primarily a desktop application that runs on Windows, Mac and some Unix variants.  The basic version is free, allowing you to send files to a removable drive and, via the internet, any other computer running the same software.
The paid versions add in cloud backup for one or multiple computers at various price points, and there is an option for businesses as well.  All versions encrypt data before backing it up, with the ability to create several backup sets for different destinations.
For some travellers the free version would be enough.  If you have access to a computer that will always be powered on, with a fast internet connection – your own at home, perhaps, or that of a friend or family member – you can point your backups at it and save a few bucks a month.
For me, though, I decided to bite the bullet and spend $60 on a one year subscription for my laptop.  I opted for the Crashplan Individual version – at five dollars a month for as much storage as I needed, it didn't seem a high price to pay for data security.
Ease of use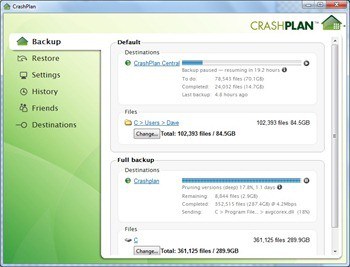 The download and installation were straight-forward, and initial configuration was fairly simple as well.  I created two backup sets, one for use with my 1Tb external drive and the other for storing data on Crashplan's servers.
While I back up my entire computer to the external drive, the speed of my internet connections means that was never an option for cloud storage.  Instead, I selected around 80GB worth of photos, email and documents to keep in the cloud.
Backups automatically run as soon the application detects that the destination is available – either by plugging in my hard drive, or connecting to the internet (but not both simultaneously).  This is great for people like myself who often forget to kick off manual backups – instead, they just happen by themselves.  If you still don't manage to back anything up for a few days, Crashplan will start emailing you reminders.  That's usually my cue to at least plug the external drive in.
One word of warning, though – if you are using your phone or a MiFi device as a wireless hotspot, Crashplan will automatically start backing up over it as well.  For those on metered data plans this may not be ideal, so keep an eye on things and either pause the online backup or, if you want to be sure, stop the Crashplan service (on Windows) and set it to manual start until you get back to a 'real' wifi connection.
Speed
The hard drive backup took around two days to complete, and as long as I plug it in regularly, subsequent incremental backups don't take more than an hour or two.  So far, so good.
The online backups, on the other hand, are quite different.  I've been based in Australia and New Zealand for the last two months, where internet is typically the holy trinity of slow, expensive and unreliable.  As a result, I've only managed to back up around a fifth of my data to the cloud in that time.  I'm hoping that things will speed up once I get back to SE Asia next month, but it's a point worth noting: if you have a lot of data to back up, take advantage of fast connections where you can.
Crashplan also offers an initial seeding service for those with large data requirements – for an additional fee, you can send the company a hard drive instead of uploading everything via the internet.
The only other thing worth mentioning is that the overhead of data encryption and backup does slow down my laptop somewhat, and drain the battery faster than usual.  Reducing the CPU thresholds doesn't help much – I suspect it's probably the continual reading from the internal hard drive that's causing the problem.  It's not a major problem, but it is noticeable.
Restoration
Any backup service is only as good as its ability to return your data when you need it.  While I thankfully haven't had to deal with a complete restore yet, the process for bringing back individual files is straightforward.
From either the web, desktop or smartphone app, just select the file(s) to restore and hit the button to do so.  Because Crashplan stores multiple copies of each file, you can also go back in time to earlier versions via a date picker if you need to.
Final thoughts
So, would I recommend Crashplan for travellers?  Yes, absolutely.
The ease of use and flexibility are far superior to anything I've used before, and being able to manage both online and offline backups in the same place makes life easier.  Having unlimited cloud storage for under four dollars a month lifts it above the competition, which typically either charges more or simply just doesn't offer unlimited plans.
Backing up will never be sexy or fun, and nothing is likely to change that.  At least with Crashplan, though,once you've set it up, you can take the next best option and just forget about it while it happily goes about its business.
Check the Crashplan site for pricing and options.
Got any questions or thoughts about Crashplan, or backup in general?  Fire away in the comments!