Tags
Related Posts
Gear We Like
How to Buy a SIM Card in Burma / Myanmar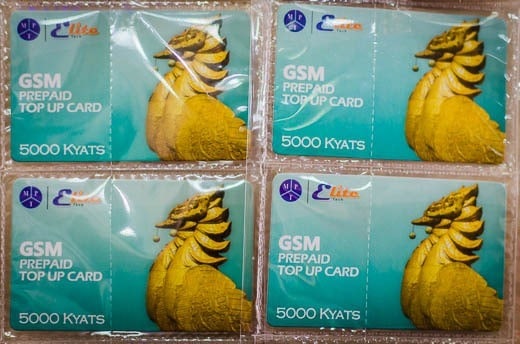 If you typically buy a new SIM to stay in touch when you travel to a new country, you have options in Burma / Myanmar as well, even if they aren't as appealing as neighbouring countries in the SE Asia region.
Burma / Myanmar have both CDMA and GSM networks.  Due to the proprietary nature of the CDMA network (you'll have to buy a phone here), we'll just be going over the options for their GSM network. 
Two GSM SIM Card Options in Burma / Myanmar
As we talked about in our article on the background of mobile in Burma / Myanmar, there are two options for purchasing a SIM card in the country.  These are the "Permanent SIM" and the "FEC SIM."  Due to the complicated system they have for currency (where USD must be used to pay for some things, while others require the local currency "kyat"), we will list prices in the currency you must pay for them in, and sometimes a rough conversion to dollars for comparison as well.
"Permanent SIM"
The "Permanent SIM" card is expensive.  Currently, they will cost you 200000k (about $250 USD), with service rates on top of that.  To get one as a foreigner, you will be required to show your passport, but is otherwise a breeze.
Data access requires a one time charge of 15000 kyat, and to make international calls, you will need to top up your account with a USD top-up card, valid for 3 months.
Top up cards are available in the following denominations: 5000k, 10000k, 30000k, $20 USD (for overseas calls)
If you plan to return to the country frequently, particularly for business, you will want to get a "Permanent SIM."
"FEC SIM"
The "FEC SIM" card on the other hand costs only $20 USD.  The drawbacks are huge though.  The card expires after one month (or a bit longer I'm told), you cannot top it up with more funds.  As well, there is no data access available, and call rates are quite expensive, with one SIM card giving you a maximum of 60min of outgoing calls only (incoming calls are billed at $0.05 USD / min).  No passport is required to get an "FEC SIM."
If you are traveling the country as a tourist and would like mobile phone access for your limited stay, the "FEC SIM" is likely the best for you.
Burma / Myanmar GSM SIM Card Comparison Table
| | | |
| --- | --- | --- |
|   | "Permanent SIM" | "FEC SIM" |
| Cost | 200000kyat (~$250 USD) | $20 USD |
| Top ups available? | Yes | No |
| Expiry? | No | Yes (~1 month) |
| Data Access | 2G: 2k/min 3G: 4k/min | NO |
| In-country Call | 50k/min (~$0.06 USD / min) | $0.30 USD / min |
| Incoming Call | Free | $0.05 USD / min |
| International Call | (paid in USD) | $0.90 USD / min |
| Text Message | 25k / msg | $0.05 USD / msg |
| Best for: | Business | Travelers / Temporary Use |
(exchange rate is approx 800-850 kyat – $1 USD as of Oct 2012)
How Do You Get a SIM in Burma / Myanmar?
In the past few months, the number of cell phone shops in the country (particularly Yangon) has exploded.  Any shop should be able to get you sorted out without much problem now that you have all the details from this article.  If one can't help you, or understand what you need, just try the one next door.  Just know that the level of English for the staff may be quite basic, so be patient.
What Kind of Phone Do You Need?
MPT's network in Burma / Myanmar runs on the 900mhz GSM band.  If you have a "world phone", you should be able to just pop a SIM card from here and be up and running in minutes.  If you don't have a phone or your phone doesn't support 900mhz, you can purchase a phone for as little as 20000 kyat (~$25 USD).
Should You Buy a SIM Card in Burma / Myanmar?
Unless you are here for business, or need to be in touch, the answer is probably no.  If you would like to be able to call to arrange tours or guesthouses in the country, you are best off just doing it from the landline of the current guesthouse you are staying at.
The lack of inexpensive data access means that digital nomads are still out of luck in the country.
However, if you are coming to Burma / Myanmar for business, you should immediately invest in a "Permanent SIM."  Unlike with an "FEC SIM" where once it expires, you also lose your number, a "Permanent SIM" can be topped up, and the number is permanent.  A foreigner I met who was looking to get a job in the country learned that the hard way when her "FEC SIM" was almost out of funds, and she had already given out many business cards with that number on it.
Do you buy new SIM cards to stay connected when you arrive in a new country?