Oct

15
Tags
Related Posts
Gear We Like
iPhone 5 and the 4G forecast for travelers
As you may know, the recently-released iPhone 5 currently has three different versions. All models have a nano-SIM card slot and support your standard-fare GSM networks. Using 3G networks shouldn't be a problem and, assuming your iPhone is unlocked, your prepaid SIM cards should work just fine around the world.
It's much more complicated, however, to get 4G whilst traveling.
If you're in the market to buy a new iPhone and want the joy that is 4G LTE in more places than just the North America, buy the A1429 CDMA version from Verizon. Otherwise, the A1429 GSM version is your next best bet.  No matter which version you have, though, you're not going to get 4G everywhere.
I'll be breaking it down by model, worst to best, explaining what you can expect with each.
A1428 (GSM)
You'll generally only find this phone for purchase in North America. That's because this phone will only work with 4G LTE providers in North America, who use bands 4 (2100/1700 MHz) and band 7 (700b MHz).
I can't speak for all providers, but at this time AT&T doesn't have LTE available for those of us using prepaid plans (or as they call them, 'GoPhone'). Rumor says that will change come next year, but it's unclear exactly when.  I'm going to go ahead and speculate that this will be a common theme globally as LTE networks emerge. It may be available, but not for prepaid. This is not good news for us traveling folk.
I generally consider the A1428 the lame duck of the batch. It only supports North American LTE bands and even then your prepaid plan probably won't work. It's also likely that your phone is locked to a provider, making it difficult to pop a different SIM card in when you're abroad. Most folks who get this will be through ATT, which locks its phones. Even assuming it's unlocked, you'll be stuck with 3G networks abroad at best. Bummer.
Model A1429 (GSM)
This is the general model for sale outside North America. It supports three out of the four major LTE bands being deployed. That is band 1 (2100 MHz), band 3 (1800 MHz) and band 5 (850 MHz). The beloved band 7 (2600 MHz) that is so widely deployed may come in a later model.
With this phone you should be picking up 4G on networks outside North America, assuming it's available and that your plan – presumably prepaid – supports it. Once inside the USA you'll be back to good ol' 3G with a GSM provider.
Model A1429 (CDMA)
The A1429 CDMA model provides 4G coverage both in North America and out in the rest of the world. It rides on the same LTE bands as its A1429 GSM brethren, as well as band 13 (700c Mhz) and band 25 (1900 MHz). You'll need the latter two for 4G access whilst in North America.
This model is sold only in North America (maybe Japan too). The CDMA part of the phone lets it access another type of 3G cellular network available in North America and Japan, however and it's tied to the carrier. That is, if you buy a Verizon iPhone 5, you can only use it on the Verizon CDMA network.
But get this! The GSM/LTE part of the Verizon iPhone 5 is unlocked straight from the store. So you can buy the phone, take off abroad, pop in your prepaid SIM card on arrival and go on your merry way. Just be sure to buy it at full price without a contract! Considering you have all the same bands as the A1429 GSM version, you can expect the same service.
The added bonus here is upon returning to the United States, you can pick back up on the Verizon CDMA network and use their 4G LTE network. Again, this assumes they make it available to prepaid customers (something I haven't been able to confirm). If you don't want to use Verizon while in the US, you can just drop in a US prepaid SIM card and carry on – it's your choice.
Conclusion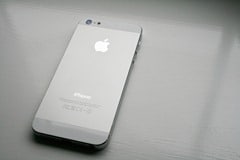 At the end of the day, the A1428 is for North America and the A1429 is for everywhere else. However the CDMA version of the A1429 helps bridge the gap by providing 4G bands both in and out of North America. It's the best of both worlds. Plus you get two extra bands that you can use to maybe increase your chances of snagging an LTE network while abroad.
I only hope that providers will make prepaid users, such as almost all travelers, have access to their 4G goodness. When that happens, we'll have something new start worrying about – blowing through the stingy data caps normally associated with prepaid connections.
Or just connect to Wi-Fi…
Pro tips
Head over to www.4g-map.info to get the latest maps of 4G carriers worldwide. It shows networks that are currently available, ones that are coming soon and also the frequencies they run on.
For an unofficial list of 4G LTE networks you can also check out the Wikipedia page.
If you don't have LTE available but are looking to speed up your connection, you can double your 3G network speed by finding a provider that offers "DC-HSPA+". T-Mobile offers that service in certain areas, for instance, providing speeds up to 42Mbps. This wiki page has good information on HSPA networks, but it's not always updated.
Images via Yutaka Tsutano, Yutaka Tsutano and William Hook