Feb

22
Tags
Related Posts
Gear We Like
Kindle Fire review
When I was a kid, I always wanted a Swiss Army knife. Not one of the basic ones, but one of the behemoths with 64 different functions, including toothpick and pharmaceutical spatula. Despite my whining that I would be a much better Cub Scout if I had one, my parents never relented.
Older and wiser, I could buy my own but realized that I would only use 3 of the 64 functions, so what was the point? A pocket knife with a couple of screwdriver heads could handle anything I needed.
A lot has been written about the Kindle Fire, including reviews from some who aren't happy with the device. I put those reviewers in the category of "people who expected an iPad for less than half the price." The Fire is not the Swiss Army knife of tablet computing, but it IS a very capable portable entertainment device.
As a traveler, I love the Fire. However, my ultimate recommendation is to know exactly WHY you are buying it and don't expect it to do what it isn't intended to do. And let's be real, people just look goofy when they hold up their tablets to take photos, don't they?
What the Kindle Fire does well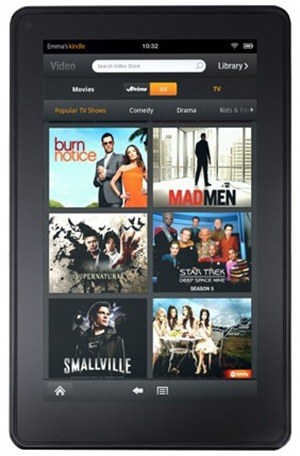 E-reader: Well, duh. That's the heritage of the device and still its primary function. The introduction of full color is great for reading beyond the text-heavy tomes you load onto traditional Kindles.
Color magazines, comic books and RSS readers are all wonderful experiences on the Fire, although the screen size doesn't allow for full page magazine viewing like you might have on larger tablets. If you're traveling with children, full color books will hold their attention far better than the black and white of a standard e-reader.
Videos: Watching movies and television programs works very well on the Fire, with nary a glitch. Buying and renting from the Amazon store is a snap. For loading videos from *ahem* other sources, you need to convert them to mp4 files – not a difficult process, but can take some effort.
Applications from Hulu and Netflix give you options to download and stream films so you aren't tied solely to Amazon's store.
E-mail and web: Web browsing is a great experience and I've experienced none of the lag times reported in some early reviews. Apps in the Kindle store allow you to open all manner of document attachments and aggregate RSS feeds into readers for easy offline browsing. Pulse News Reader allows you to pull the feeds from multiple websites and blogs into one easy to skim page.
Basic apps: Most of the apps I'm used to are available for the Kindle – Facebook, Hootsuite, Twitter, Evernote, Mint, Remember the Milk and Pandora all sync with accounts on my other devices so it's easy to keep calendars, social media and notes consistent across devices. Hey, Spotify? I'm waiting…
Games: What would a mobile device be if it didn't allow you to launch Angry Birds at bad piggies? Most popular Android games are available and run well on the Fire. In addition to plenty of free games, the Amazon store also gives you one paid app for free each day, most of which are games.
What's not so great
Battery life: Unlike the extensive battery life of earlier Kindles, the color comes at a cost. At best, the Kindle will last 7 or 8 hours on a charge. That's perfect for average flights and great for commuters, but not ideal for those who are regularly on overseas journeys or 14 hour train trips.
Storage: The Fire comes with only 8Gb of onboard storage and has no expansion capability. The #1 feature I would look for in a Kindle 2.0 would be the ability to slot in an SD card to carry more videos and music along.
Eight Gb will give you space enough for a few movies, but not enough to keep you happy for a long trip without reloading along the way, which requires fast wi-fi or a computer. Despite the micro-USB port, you can't connect an external drive to access files.
Screen visibility: The LCD screen of the Fire makes it difficult to see when you're in a sunny environment. Traditional Kindles excel at screen visibility, with e-ink that allows easy reading, even in bright light. The Fire won't be a great choice if your planned use is holiday reading on the sands of Waikiki.
Keyboard: The virtual keyboard is clunky and the predictive text functions sub-par. I've found that it's too small to touch type, but too large to easily fingertip type like you can on a Blackberry or iPhone. Quite honestly, it's easier for me to type on my iPod Touch than on the Kindle Fire. The keyboard is fine for basic e-mails and social media, but you won't want to try to edit documents or do serious work on it.
A/V apps: the other feature that I find lacking as a traveler is the omission of a microphone or audio input. Even without a camera, it would be great if you could use Skype or other VOIP apps to make calls on the Fire, but alas, it's not part of this first generation.
And, of course, for many of the functions of the Kindle you need wi-fi access because there is no option to access the web via 3G or other mobile connection.
If you are the type of traveler who just wants to enjoy novels on a beach and check e-mail on the fly, then you should check out the other Kindles or e-readers. But if you want a richer multi-media experience, to check out the latest issue of Architectural Digest or to enjoy a wider array of entertainment options, then at $199 the Kindle Fire is an excellent device to carry in your bag for a long weekend.