We talk a lot about backup around here, and with good reason.  It seems that barely a week goes by without hearing another story of a traveller who had their laptop stolen, SD card corrupt or dropped, soaked or lost the only copy they had of something they can't replace.  Photos from a year long trip, important documents, contact information, the lot.
The key to any backup plan for travellers is ensuring that they create multiple copies of anything important as soon as possible after creating the original.  Dustin called his approach "The Doubles" last year, but whatever you call it, having at least two (and ideally three) separate locations to store files is crucial if you want to avoid a disaster.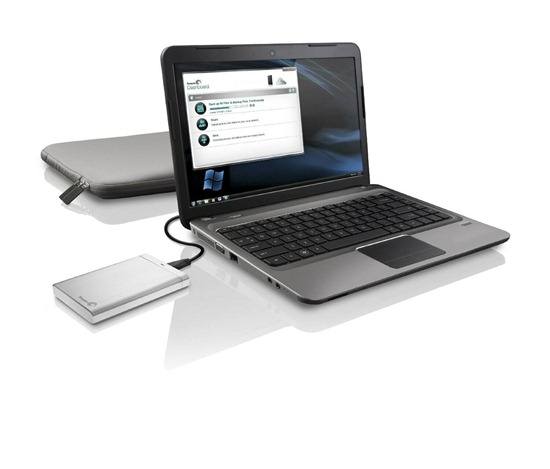 For over a year I have been using a Samsung 1Tb drive as my main backup tool, which worked just fine as far as it went.  The problem was that I had skimped a little when buying it, opting for the USB 2.0 version to save a few bucks.
If you're in the market for a backup drive yourself … don't do that.
The initial backup of my laptop took forever (I'm talking nearly a week), and even incremental backups could take hours if I hadn't backed up in a while or had taken several hundred photos recently.  It was becoming a little tiresome.
So, when Seagate offered to send me a USB 3.0 Backup Plus drive to take a look at, I was more than happy to oblige.
The drive has slightly different dimensions to the one I had been using – a little longer and thinner, and noticeably lighter.  So light, in fact, that the first thing I did was find a padded case for it – it's not the kind of thing I'd want bouncing around unprotected in my backpack.
I figured that moving to USB 3.0 would yield some major speed benefits – and I wasn't disappointed.  The raw numbers speak for themselves (old drive on the left, new on the right).
Of course benchmarks aren't everything, so I also compared how long it took to run my initial Crashplan full backup (around 280Gb) in a more real world test.  It took about two days of almost full-time running to complete – around three times faster than my old drive.
Ok, so the speed was good – but I'd expect something similar from any new USB 3.0 drive.  What else does the drive offer, if anything, to lift it above the competition?
The main selling point of the Backup Plus version is the integration with social media accounts.  Yes, I was initially a little confused as well – did my hard drive have its own Twitter account now?  No, thankfully not.
Basically how it works is that after installing the included Seagate Dashboard software and authorising it with your Facebook and/or Flickr accounts, the app will automatically log on and grab any photos that you have uploaded to the service.  You can also tell it to go the other way and upload images (and video, to Youtube) as well, if you're so inclined.
It's an easy way of keeping at least some of your data backed up in multiple places – which, as I mentioned earlier, is always a good thing.
The Dashboard also has more traditional backup software built in, allowing you to back up everything, various standard folders, or a custom selection on a continual basis.  If you're not already using a backup app, this one is simple to use, powerful enough for most people and seems to work pretty well – not always the case for bundled software, I have to say.
So, would I recommend the Seagate Backup Plus?  Yes, I would – and in fact, it's now the drive I am carrying on my travels.  It's small, light and speedy, and while the social media aspect is more useful than unmissable, it's a handy feature that the competition doesn't offer.
Priced similarly to the sub-$100 competition, it's well worth considering when choosing a backup drive to take on your next trip.
Current price: $89.99 (check on Amazon)