---
Articles on this site contain affiliate links, meaning we may be compensated if you purchase a product or service after clicking them. Read our full disclosure policy here.
---
Last updated: 5 August, 2016
So there you have it, Travel Photography Month done and dusted.
We've covered a range of topics over the last four weeks, and had fun bringing you the expert advice of our favourite travel photographers.
We're taking a minute to look back at all we've talked about this month, and provide one place to find all this useful information in the future.
Everything You Need to Know About Sucking Less at Mobile Photography
We started with a bang, with Kirsten Alana's provocative guide to making your mobile phone photography suck a lot less. It hit a nerve, with thousands reading the post over the last month and leaving a wide range of comments.
Whether it's focus, apps, exposure or filters, this is the resource for anyone looking to take better shots with their smartphone.
The Beginner's Guide to Better Underwater Photography
Next was something particularly useful for me, Talon Windwalker's great collection of tips and tricks for underwater photography.
Anyone who spends time in or under the waves and wants to start documenting the amazing underwater world they see will benefit from this post.
A Not-So-Brief Introduction to HDR Photography
High Dynamic Range (HDR) photography has been all the rage in the last couple of years. Sometimes it yields fantastic results, often it doesn't.
Staff writer Laurence Norah – a big exponent of this technique – turned in this comprehensive guide to taking and producing better HDR photos. He walks us through the minefield of shooting techniques and software settings, to come out with quality results at the end.
How to Get Those Awesome Surfing Shots
Travelling surfer Chris Stevens made us jealous with his gorgeous surfing shots — and then told us how we can get them too.
Shooting from land with a DSLR. Enlisting friends for those great in-water photos. Doing it yourself with a GoPro. If you want better surfing shots, this post shows exactly how to get them.
What's in Your Bag, Ryan?
We interviewed award-winning photographer Ryan Libre this month, as part of our What's in Your Bag series. Ryan has lived in Asia for 12 years, spoken at TEDx, filmed a documentary and curates a film festival. He has stories about photo shoots in Myanmar, cheap ways to keep things working in difficult conditions, and recommendations for the gear he uses himself.
If you want to know what one of the pros is doing when it comes to travel photography, this is your chance to find out.
---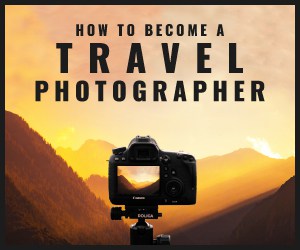 ---
Safari Photography Gear: What to Pack
Photographer Brendan van Son has just finished an epic multi-month trip around Africa, largely by scooter. Unsurprisingly, he took thousands of shots along the way.
Between scrubbing road dirt from every pore, he found time to bring us his tried-and-tested recommendations for photography on this amazing continent.
From picking the right gear to backing up your photos and fixing anything with duct tape, this guy knows what he's talking about. If you're even considering an African safari yourself, read this post.
A Step by Step Tutorial for Taking Great Food Photographs
In a popular article, Beth Salvon excerpted a chapter of her book Getting Out of Auto to give expert advice for taking better food shots. Everyone thinks they're a great food photographer, but thousands of Instagram feeds suggest otherwise.
A few simple techniques make all the difference, and Beth provides concrete advice and real-world tips to make your images shine.
Get Us in Your Inbox
Get our regular email updates with the latest travel tech news, tips, and articles. We'll also send over a free 5000-word guide to get you started!
How to Remove People From Your Travel Photos Using Photoshop
We've all been there, trying to get the perfect travel photo only to have fellow tourists wander through every shot. The good news is with a bit of preparation and a touch of Photoshop magic, you don't have to end up with 27 pictures of the back of someone's head.
Lauren reveals exactly how you can fake travel perfection, and get rid of those unwanted additions to your holiday snaps.
How to Point Your Camera into the Sun For Cool Effects
Wondering how to get those artsy sun flares that you see in so many great travel shots, but not sure how? Thanks to Greg Goodman, you need wonder no more.
With a range of simple techniques and tips, Greg reveals how the pros do it – and how you can too. Thankfully you don't need to carry a massive camera, or a lens worth more than your car.
How To Take Better Photos By Framing
Sometimes a change in perspective yields rich rewards when it comes to photography, and framing is an excellent example.
It's easy to do if you're observant and thinking about different ways to shoot a scene. Dustin shows how he's managed to make ordinary travel photos far more compelling simply by using this technique.
Thanks again for being a part of Photography Month – we appreciate it!