Imagine having someone do your travel planning for you. Someone who knows your flight and accommodation preferences, how much you're happy to spend, your favorite area of a city to stay in. Now take it one step further: imagine someone who can predict when flights will be cheaper, hotels will be available, and airports will be less crowded.
Finally, imagine this person does all this for you for free and is available 24/7. Sound too good to be true? In the near future, it may well not be.
Artificial intelligence (AI) is slowly making its way into the travel industry. Some big names in the airline and hotel booking sectors have already tested the waters with AI-powered customer service, while a few small startups are basing their entire business model around what machine learning and chatbots can do for travelers.
Even though the technology is still in its early stages and current offerings are rudimentary, AI is already making waves and could become the next big thing in travel. Let's take a look.
What AI Can Do for Travel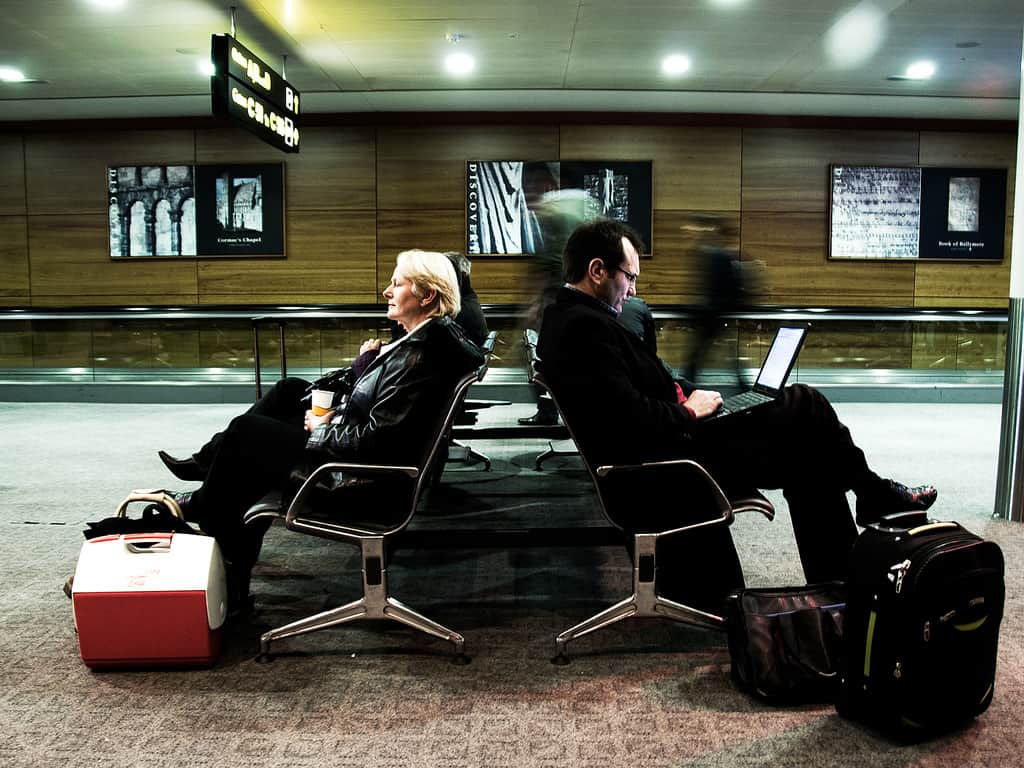 Recommend the Best Options
The clearest example of AI's potential for travelers, and one that's already started to show results, is travel planning. That's particularly true when it comes to making recommendations.
Recommendation engines are common in popular online services from Netflix to Amazon, and you'll find them in countless travel booking providers as well.
Haven't you noticed how, when you make a reservation for a hotel in Budapest, Booking.com starts offering options for Bratislava, Vienna, Prague, and Krakow as well? Or how when you book a flight to London, Expedia immediately shows suggestions for accommodation and experiences in the city? That's AI in motion.
Those are just a couple of examples, but there are plenty more, from car rental options, to alternative dates for traveling, to different routes, all based on customers' past behavior.
Solve Problems & Answer Questions
Another place where AI is already in full force is customer support. Hotels, booking services, and transportation providers have already deployed AI-powered chatbots on their websites, trained and equipped to answer questions by travelers.
How many questions they can answer, and how well they can do it, depends on the particular service and how much data it has accrued, but basic stuff like how to cancel a booking or knowing the check-in times is easy enough to not need a human behind the chat screen.
Sure, a bot can't handle super-complex questions, but it offers something else: speed. Chatbots can answer in under 30 seconds, while the average for a travel agent is 15-20 minutes. Given that half of consumers consider speed the most important quality in customer service, chatbots can be a great help in getting a first-time client to come back for more.
We're still a long way from relying exclusively on bots to solve our travel problems, however. If a customer has a complicated question or a problem needing action (say, a missed flight connection or an issue with their accommodation), chatbots currently can't do much to help. For now, and most likely for a long while to come, there'll still be humans on the end of the line.
Predict Price Changes
One of the most common questions in travel planning is when is the best time to book a flight. Tuesdays and Wednesdays? The middle of the night? Anytime, provided you have deleted all your browser's cookies? In all honesty, nobody really knows of a sure-fire way to get the best price, but AI is trying to change that through the power of sheer perseverance and mountains of data.
By collecting historical data about millions of fare searches going back several years, we could theoretically find a pattern for when prices tend to spike. That's too much number crunching for a human to handle, but not for a computer, and thus one of AI's most promising travel features may be knowing when flight prices are cheapest. Apps like Hopper and Fareboom work doing just that.
The technique is applicable to other areas of travel as well. AI's equally appropriate for things like predicting hotel availability and prices, knowing the busiest times at airports, or even suggesting itineraries based on the weather forecast.
Ease Travel Disruption
Having your journey interrupted is never fun. Flight cancelations due to things like heavy snow or volcanic ash are a particular nightmare, since there are rarely easy solutions or even an end in sight. Who can predict when the ash cloud will settle, or the snow will stop falling? Well, computers, maybe.
Using available data on weather, current delays, strikes, and more, many such disruptions can be predicted if not weeks in advance, than at least days. Preparations can be made, alternative routes devised, and better estimates created about when things will return to normal.
This helps travelers, airlines, and tourism operators, all of which suffer losses and frustration when flights are canceled or delayed.
In-Stay Experience
Once you reach your destination, AI can also help make it more enjoyable. Several hotels, both independent and chains, have started experimenting with in-house AI assistants to tend to their guests' needs.
Voice- or text-enabled assistants can set preferred temperatures in rooms before arrival, turn the TV on and off, order room service, adjust the lights, and more. Facial recognition can make check-in faster while improving security at the same time.
Others hotels are going even further, employing robot concierges, or being run by them entirely. If this sounds a bit too much like Blade Runner, bad news: this is only the beginning. Oracle reported that by 2025, such will be the case for 68% of hotels.
Big Companies Already Using AI
As futuristic as sounds, a number of major travel companies have already deployed AI solutions, and chances are you've already used one. The following examples are some of the best-known, and showcase how AI is being used to make travel planning more seamless today, and where it could go in the future.
Kayak
Booking platform Kayak was one of the first travel companies to launch a bot, in June 2016. The system, integrated into Facebook Messenger, is programmed to answer questions in natural language for flights or hotels.
It can help with basic questions such as accommodation recommendations or flight options, as well as a few more complex requests. It can even provide inspiration-type responses to requests like "where can I go for $600?" or "adventure trip for 300 euros."
If you like the recommendations enough to book them, you don't need to log into the Kayak site. An agent will jump in and sort things out without leaving Facebook Messenger.
Hyatt
When hotel chain Hyatt started using Facebook Messenger as a customer service channel in November 2015, the company was a pioneer — the first travel brand to do so. Chatbots came shortly after, which deal with simple requests and give way to a travel agent when the conversation gets too complex.
Bookings can also be made through the Messenger app, which now handles around 10% of all messages sent to Hyatt through social channels.
Amtrak
To deal with its 375,000 daily website visitors, US train service Amtrak built Julie, a virtual assistant that helps users navigate the site, book train tickets, and answer questions. After chatting with Julie for a few seconds, the bot can pre-fill forms and provide guidance through the entire booking process.
Since Julie was introduced in 2012, Amtrak saved over a million US dollars in customer service e-mails in a year, with use of the bot growing 50% year-on-year.
The Cosmopolitan Hotel
Las Vegas casino and hotel The Cosmopolitan is a good example of how an AI-powered bot can help with the in-stay experience. The hotel built Rose, a chatbot with a natural voice and a "real person personality" who could help guests book experiences, make reservations at restaurants in the city, and find their way around the hotel.
Guests were introduced to Rose at check-in, who they could access by texting a number and interact with throughout their stay. This experiment was aimed mainly at VIP guests, to prompt them to spend more and return to the hotel in the future, and it worked.
Startups Building AI-Powered Travel Services
Beyond the established travel companies introducing bots into their existing offerings, there are a handful of travel startups building their entire business around the concept of AI.
Mezi
Mezi brands itself as Your Personal Travel Assistant. This AI-powered app can book flights, hotels, and restaurants, just by taking some details about your trip and personal preferences.
In order to provide a comprehensive service, Mezi works with partners such as Expedia, Priceline, Sabre, OpenTable, and Yelp, which help power the app's booking capabilities. Agents jump in for complex cases that the AI can't handle, but Mezi states that bots take care of 60% of requests.
Lola
Aimed at those who travel for work, Lola is "on a mission to make business travel buttery smooth." Run by the team behind Kayak (above,) Lola offers a mix of AI-powered algorithms and human agents to bring a seamless experience to business travelers.
The app suggests flights and hotels based on users preferences, including amenities, local airport, typical length of stay, and types of hotels to avoid. Travel consultants or customer service experts take over at certain points to advise or answer questions, and can book activities taking into account your work schedule and the weather forecast.
Instalocate
Focusing on the flight portion of the trip, Instalocate has directed its efforts towards eliminating the anxiety that often comes with catching a plane. The app, which is also a tool to claim compensation for delayed or canceled flights, is now building an AI-based service to track flights in real-time and help with anything regarding the journey.
Whether you need to know whether your flight is on time or if there's free Wi-Fi at the airport, just ask Instalocate's Facebook Messenger bot, and it will find the answer for you.
---
Images via Joram Huyben (girls in train), Anna & Michal (airport scene), Gerard McGovern (departure board), Lola (business traveler), FFC (hotel sign),