Whether you're including your cat in your plans for a weekend break or your dog's coming along on a long-distance road trip, traveling with pets can be rewarding and stressful in equal measure.
As with most things in life, though, software developers and electronics makers are trying to help, with a range of apps and gadgets to keep you and your furry friend happy and healthy on the road.
Whether it's tracking down a vet or your lost pet, finding a dog-friendly hotel or a friend for a puppy playdate, or you just want to know whether it's ok to feed your cat last night's leftovers, there's a tool out there that can help.
VetFinder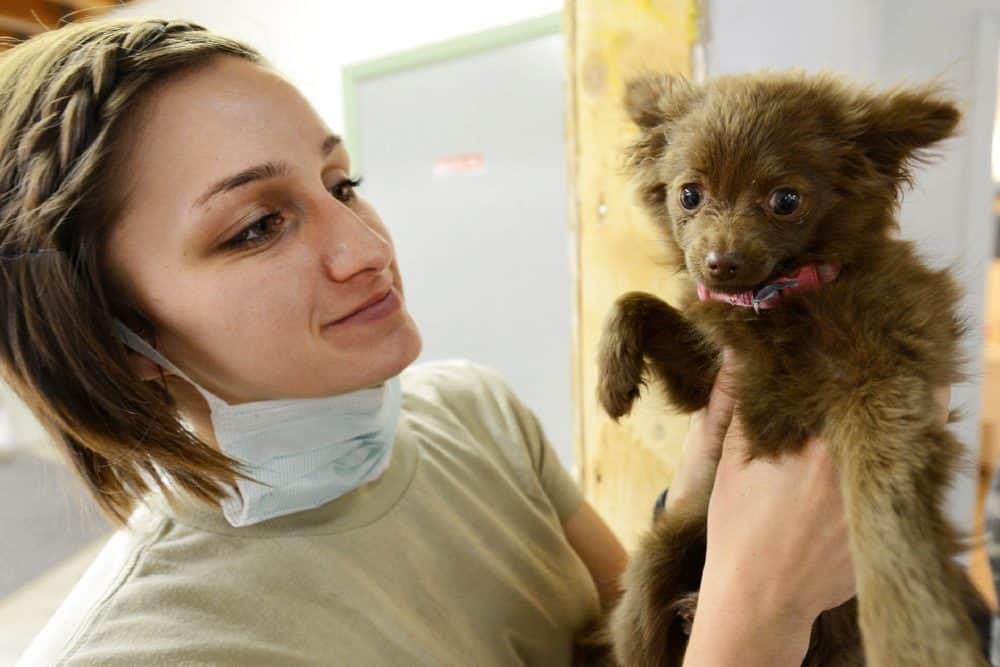 Most trips with pets go off without a hitch, but if your furry friend gets sick or injured while you're away from home, tracking down a vet can be vitally important. Sure, you can use Google Maps, but if you're looking for a particular specialty or simply don't have an internet connection when you need it, use VetFinder instead.
The app uses your phone location to find the nearest vet, with comprehensive search tools to help your pet get appropriate care as quickly as possible. You can also download information for a given area ahead of time, and access it without a connection.
The app lets you filter by animal type, type of problem, and basic features like car parking, credit card facilities, and more. You can also limit results to vets that are currently open, or only show those who provide emergency care or home visits, if that's unfortunately what your pet needs.
VetFinder relies largely on user-submitted details, which is both good and bad: it makes for more entries and faster updates, but information isn't always as complete or accurate as you'd like. Still, even if all you have is an address or phone number, it's a lot better than nothing.
---
PetCoach
While VetFinder can be very useful, sometimes there just isn't a vet nearby when you need them. As long as you've got Wi-Fi or cell service, though, you've got another option for dealing with non-emergency situations: PetCoach.
This Android and iOS app uses a network of trained vets and other animal specialists to provide answers to any health-related pet questions you might have, at any time of the day or night. You create a simple profile for yourself and your pet(s), and can then browse the forums and dozens of vet-authored articles to see if the answers are already there.
If not, the next step is asking an expert. As long as you don't need it immediately, you can get a brief answer for free. An immediate response costs $8, or you can pay $30 for a private, in-depth consultation by text, phone, or video call.
While it's obviously not a total replacement for vet visits, especially when dealing with life-threatening issues, PetCoach is an ideal, low-cost way of getting helpful answers in a hurry, no matter when or where you need them.
---
BringFido
BringFido is pretty much an essential tool if you're heading somewhere new with your dog, and can be equally useful when you're back home as well. The app makes it quick and easy to find dog-friendly restaurants, parks, and beaches in the area, and also lists useful facilities like dog walkers, vets, and pet supply stores.
Where it really shines, though, is helping find pet-friendly accommodation. You can filter by various criteria, including permitted animal numbers, types, and fees, and there's a "best price guarantee" to help ensure you're getting a good deal. You can book through the app, but agents are available by phone or email to help if you need them.
BringFido is free to use, and they even provide a code to get five bucks off your first hotel booking through the app. Well worth a look.
---
Red Cross Pet First Aid
Just like VetFinder, this is one of those apps that you hope you never have to use but is absolutely worth installing just in case. Following on from the success of its human first aid app, the Red Cross has released a similar tool for treating cats and dogs for a variety of issues.
From allergic reactions to drowning and burns, the free Pet First Aid app walks you through appropriate treatments for 25+ common situations with a mix of text, pictures, and video. It also helps you learn useful skills like correctly taking your pet's heart rate and temperature, and includes quizzes so you can test your knowledge before a real emergency strikes.
Usefully for travelers, the app can locate the nearest emergency vet or pet-friendly hotel, and it's possible to set up individual profiles for each pet so you have important information to hand when you need it.
---
BarkHappy
When you're on a lengthy road trip, wouldn't it be nice if you could find some friends for your canine companions along the way, and some dog-loving humans to hang out with yourself?
That's the idea behind BarkHappy, which feels like a bit like a dating app for dogs. Create a profile for your pooch, and you can search for (or be alerted to) other dogs and their owners in the surrounding area, with a messaging tool to help arrange meeting up. Users can create and host larger events as well.
The free app shows nearby dog-friendly parks, restaurants, bars, and more, and there's also a useful lost and found section to help owners get reunited with their lost dogs.
iKibble
Run out of Rover's favorite snacks? Traveling in the middle of nowhere and can't get to a pet supply store? iKibble to the rescue!
With a database of hundreds of food types, the app quickly lets you know whether a particular human food will be fine for your furry friend as well. There's a simple search tool so you can quickly run through whatever food you've got on hand, or you can browse by category or health rating to find something appropriate.
Each food has a detailed description along with the health rating. The free version of the app is ad-supported, and you can pay 99c to remove ads and support the developer if you find it useful.
---
Whistle Go GPS Tracker
Worried about your dog or cat getting spooked by something, or running away and not finding their way back? It can happen anywhere, of course, but the added excitement, stress, and unfamiliar surroundings makes it even more likely when you're traveling.
There are many different kinds of pet trackers out there, but the only ones good for finding lost pets are those with a GPS tracker built-in. They're not a small investment, since you need to pay for both the tracker and a subscription service, but the peace of mind they offer makes many pet owners swear by them.
The best GPS-based pet tracker at the moment is the Whistle Go, at least if your pet is in the United States. Using AT&T's cellular network (subscriptions start at $6.95/month), the tracker reports its location in realtime, and you can see exactly where your pet has been at any point in the last 24 hours.
If you need to leave them unattended for a while, whether it's your hotel room or a friend's back yard, you can set an alert to tell you if your escape-artist pet manages to get out. If so, it's straightforward to track their location via the app (Android and iOS) and reunite with them before they get too far away.
The tracker is waterproof and attaches to almost any collar or harness. The battery inside lasts up to 20 days (if your pet doesn't move much), and takes a couple of hours to fully charge.
Buy on Amazon
---
Got any others you like? We'd love to hear about them!
Images by StockSnap (dogs in car), skeeze (puppy and vet), Engin_Akyurt (cat), Pexels (dogs on bed), alphatex (dog with collar), congerdesign (dog eating), furry_portraits (running dog)