Listening to business podcasts won't make you an entrepreneur, but of all forms of procrastination, it's probably the closest to actually making something happen. A good business podcast will give you a bunch of new ideas, and might even fire you up enough to start turning those dreams into reality.
That's why we've put together this list of what we consider to be the best business podcasts at the moment. Whether you're yet to start your entrepreneurial journey or are an experienced business owner looking to scale up, there's something here for you.
How We Decided
If you open your favorite podcast app and browse through the list, you'll see hundreds of titles that fall under the "business" category. Having lots of choice is great and all, but it's hard to decide if a podcast is any good without actually listening to a few episodes — and that takes time.
We've done the listening for you, and came up with a few criteria that helped us (and will hopefully help you) narrow down where to start.
(Sub)Topics: yes, we're talking about "business podcasts" here, but that broad category covers a very wide range of subtopics. Podcasts on our list cover everything from side hustles, freelancing, and niche blogs all the way up to growing massive companies, plus marketing, scaling, and general business advice to get you started.
Your entrepreneurship stage: most podcasts on our list are beginner-friendly, which means even people who haven't started a business yet will likely benefit. That said, we also have podcasts that can help veteran entrepreneurs and business people scale their companies to the next level.
Podcast format: many of these podcasts are conversational, where each episode brings a guest on to tell their story. This way, you get to hear about something new and interesting, and expand your scope for further research. We've also included podcasts where the hosts discuss their own topics of their expertise, typically letting you get more into the detail and nuance.
Episode length and frequency: for many business people, their most precious resource is time. While some may be able to devote a couple of hours to an episode, others are much more limited. We've included podcasts with various length episodes, and also factored in whether they're released daily, weekly, or even less often.
Recent activity: every podcast on this list is currently active, and you can expect new episodes going forward. While there is some great information available in podcasts that are no longer active, things change fast in this space. That's why we think it's best to keep things fresh instead of looking back.
How I Built This
NPR is known for releasing well-produced, highly-informative, and carefully put together podcasts, and How I Built This is a perfect example of exactly that.
Each episode tells the story behind a successful business and the person who started it. Host Guy Raz asks excellent questions, and each guest dives deep into the most critical aspects of building their business.
What makes this podcast unique is that it really covers the biggest and most successful businesses out there, both online and offline. Recently, we had the creator of the popular streaming service Twitch, and just before that, comedian Jimmy Fallon talking about his development.
In other words, you don't hear only from business people in the strict sense, but success stories of all kinds that will help spark your ideas.
Episodes usually last around 60-90 minutes, and are released every three days. The title of each episode gives the company and the founder's name, so you'll immediately know what it is about and whether it might be of interest.
Overall, How I Built This is an excellent option both for beginners who are curious about building a business, and those who are already running one and looking for new ideas on how to scale. That's why we have it first on this list: it deserves a place on almost any business person's podcast list.
Site | Google Podcasts | Apple Podcasts
Pros
Interviews with the leaders of the world's greatest companies
Very well put together, with an experienced host who asks the right questions
Excellent production
Cons
Two long episodes per week might be too much for some people
---
Smart Passive Income
Pat Flynn was one of the first people to start talking about "passive" income, and how to build online businesses that create it. His podcast, SPI, has been running for a long time, with the first episode being released in 2009(!). Pat is a true veteran of the industry.
If you're unfamiliar with passive income, it essentially means creating digital assets that bring in money not directly tied to real-time effort. This is unlike freelance work or providing other online services where you typically trade "hours for dollars".
Passive income lets you create something once and make money from it multiple times (ideally, forever) with minimal further investment. Selling an ebook or a course is a classic example, but there are many other ways to do it, and Pat gets deep into those in SPI.
Smart Passive Income covers a wide range of topics but primarily revolves around making money online and doing it "while you sleep". You'll learn marketing strategies, hear stories of successful entrepreneurs and how they made their passive income dream come true, and more.
As such, the SPI podcast is more geared towards beginners, solopreneurs, and people who are not aiming to create large enterprises, but rather stay relatively small. If you are looking to start the next Google and Tesla, it's probably not for you.
Episodes come out every few days (about eight per month) and usually last 15-50 minutes. They're not a big time commitment, and because a veteran like Pat always has something interesting to say, it's worth at least checking out a few minutes of each show to see if there's something in there for you.
Site | Google Podcasts | Apple Podcasts
Pros
The host, Pat Flynn, is a veteran online entrepreneur
Relatively short episodes
Covers a wide variety of topics related to passive income
Cons
More advanced listeners might find the information a bit too basic
---
The Futur with Chris Do
Chris Do, the host, CEO, and founder of The Futur company, is a well-known designer and animator and an Emmy award winner. Nowadays he provides business education to creatives, helping them take the next step and grow their careers.
As such, The Futur Podcast is primarily intended for creative types. Chris tries to teach valuable skills like negotiating, forming prices, and marketing, along with mindset shifts like how putting yourself on the market is entirely OK and doesn't compromise your creative spirit.
He does this very well, and speaks from personal experience as a designer who has scaled up and now runs a big company. Chris knows what he's talking about, and how to best communicate that knowledge to other creatives.
The show often includes guest experts, but even the episodes Chris runs alone are excellent. He has a very pragmatic and business-oriented mind, and the questions he asks and insights he shares are highly-valuable and thought-provoking.
Episodes are released weekly and last 50-90 minutes. This feels like the sweet spot, ensuring regular updates without overwhelming listeners with too much information, and giving enough time between shows to process what you heard and put it into action.
Site | Google Podcasts | Apple Podcasts
Pros
Aimed at creatives looking to scale
Chris is an excellent, knowledgable host
Optimal frequency and length
Cons
Covers a wide range of topics, which some people might find too spread out
---
The Business of Authority podcast is run by Jonathan Stark and Rachelle Moulton, who lead listeners through the journey of building successful companies and achieving exponential growth.
Jonathan is a well-known name in the "ditch hourly rates" community, and a regular guest on the Futur podcast (above) and YouTube channel. He helps people transition from selling time for money into scaling their knowledge and expertise.
Rachelle is a consultant and author known for talking about building and monetizing business authority. Together, they're very enjoyable to listen to and knowledgeable about the topics they cover. Each episode covers a specific business-related topic like client relationships, pricing, networking, and productivity models.
There are no guests, only Jonathan and Rachelle sharing their thoughts and experiences. Episodes last around 45 minutes and are released weekly.
Site | Google Podcasts | Apple Podcasts
Pros
Hosts are very interesting, polite, and enjoyable to listen to
Ideal frequency
Each episode covers one business topic in-depth
---
Niche Pursuits
The Niche Pursuits podcast is ideal for anyone looking to build a niche website and scale it into an actual business. Episodes cover the journeys of online entrepreneurs who have turned their small passion projects into success stories, often earning multiple six figures or selling their sites for seven figures.
Each episode interviews a new entrepreneur who tells their story. Jared, the host, has experience in the niche website business and an enormous amount of experience interviewing site owners. That means you can expect concrete questions and in-depth answers that will help you start, grow and scale your website.
Episodes generally last 60-90 minutes and are released once a week. The concept is straightforward, with Jared interviewing a new site owner each time. He'll also sometimes invite guests that aren't into building websites, but are connected to the industry in some way: SEO, writing, finance, advertising, or similar.
Site | Google Podcasts | Apple Podcasts
Pros
Gives an in-depth view of niche site building
Concrete, on-point advice that can provide valuable insights
Optimal length and frequency
Cons
If you're not into website building, you're likely to find Niche Pursuits too, well, niche
---
2Bobs
Behind the 2Bobs podcast sits two veteran entrepreneurs, David C. Baker and Blair Enns. Neither are named Bob, but David is the author of The Business of Expertise , while Blair wrote The Win Without Pitching Manifesto. Both books are cherished in business circles.
In each episode, Blair and David cover a specific business-related subject like conflicts with clients, determining the right price, producing content, analyzing buyers, and plenty more.
The hosts have very different characters, and regularly challenge each other ideas, but in a polite and constructive way. Because of this, shows have a dynamic that you rarely find elsewhere, and each episode provides a goldmine of information.
2Bobs episodes last around half an hour, so are easy to find time for. They're only released bi-weekly, though, which is a bit of a bummer: Blair and David have so much to share, I'd like to hear from them more often!
Site | Google Podcasts | Apple Podcasts
Pros
Two brilliant business minds sharing their expertise
Insightful episodes packed with excellent advice
30-minute episodes are easy to find time for
Cons
New episode only once every two weeks
---
The GaryVee Audio Experience
Gary Vaynerchuk likely needs no introduction. The unofficial father of hustle culture and one of the best-known business gurus and life coaches out there also has a podcast.
The GaryVee Audio Experience is everything you'd expect from Gary, with energy-packed rants to get you ultra-hyped and motivated. There's a reason why so many people both love and hate Gary: he gives you his all, whether you like it or not.
He's a very polarizing figure, but the man puts himself out there, and the fact that he is still around and so successful after many years of constant exposure speaks for itself.
The podcast is quite chaotic (it's Gary, you wouldn't expect otherwise) and covers a plethora of different topics that are tied to business in some way. Recent subjects include things like mindset shifts, perspective, social media advice, content creating and promotion, and networking.
Gary speaks fast and gives you a lot of information, but the most important aspect is his contagious energy and personality. Chances are you'll either immediately get hooked for life, or be completely disgusted after a single episode and never return.
New episodes appear in the feed daily, although they vary in length. Most are just snippets of his speeches or thoughts, but some episodes last up to an hour when he covers a bigger topic. Try it out and see for yourself whether you like the podcast or not; it won't leave you indifferent, that's for sure.
Site | Google Podcasts | Apple Podcasts
Pros
Energy-packed advice
Most episodes are short and digestible
Great for motivation and a quick infusion of ideas
Cons
Gary isn't everyone's cup of tea
It often lacks in-depth information
---
Duct Tape Marketing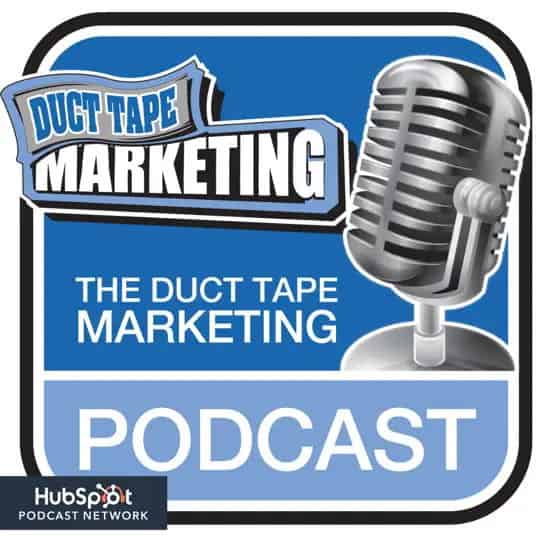 Duct Tape Marketing is one of the oldest marketing podcasts out there. Ever since 2005, the host, John, has interviewed interesting people from the marketing and business world who share their insights in a fun and easy-to-follow way.
As the name suggests, this podcast revolves around marketing, which is essential for any business. Don't assume it only talks about marketing strategies, though: you'll learn about everything from website building and copywriting to sales, networking, running meetings, productivity, branding, hiring, and more.
In other words, Duct Tape Marketing covers all aspects of business, with each episode covering a specific area. Episodes last 20-30 minutes, each featuring a guest talking about a topic related to their expertise. Episodes are released twice a week, which feels about right given their shorter length.
Site | Google Podcasts | Apple Podcasts
Pros
A marketing podcast with a proven track record
Interesting episodes and guests
Short, easy-to-follow episodes
Cons
20-30 minutes per episode isn't always enough to cover more complex topics in detail
---
Bottom Line
We hope this list of business podcasts worth listening to gave you some ideas. Subscribe to a few, start listening, and see which one fits you best.
That said, while listening to podcasts is fun and one of the best ways to maximize mundane activities such as chores or commuting, don't stop there. If you were searching for business podcasts to help find the motivation to start your own thing, don't procrastinate on that decision for too long.
Listening to success stories is nice, but you can be sure that most of those hosts and guests didn't have business podcasts to listen to when they started out. Beyond a certain point, information is no substitute for action: put on one of these podcasts in the background, but start working on your business today!
---
Main image via Alex from the Rock/Shutterstock.com, podcast artwork images via Apple Podcasts