With excellent food, a laid-back vibe, and cooling sea breezes, Kota Kinabalu is the kind of city where you come for a few days and end up staying for weeks. That's exactly what I did, partially to enjoy all the city has to offer, partially to catch up on work after months on the road.
The capital of Malaysian Borneo's Sabah region, KK (as it's known) doesn't seem to have crossed the radar of Southeast Asia's digital nomads yet. I saw very few other people working on laptops in any of the cafes I visited. With surprisingly-good internet and inexpensive flights from Kuala Lumpur, however, it's surely just a matter of time.
If you're ahead of the crowd, though, and looking for the best cafes to work in during your time in Kota Kinabalu, check out these five great options.
Nook Cafe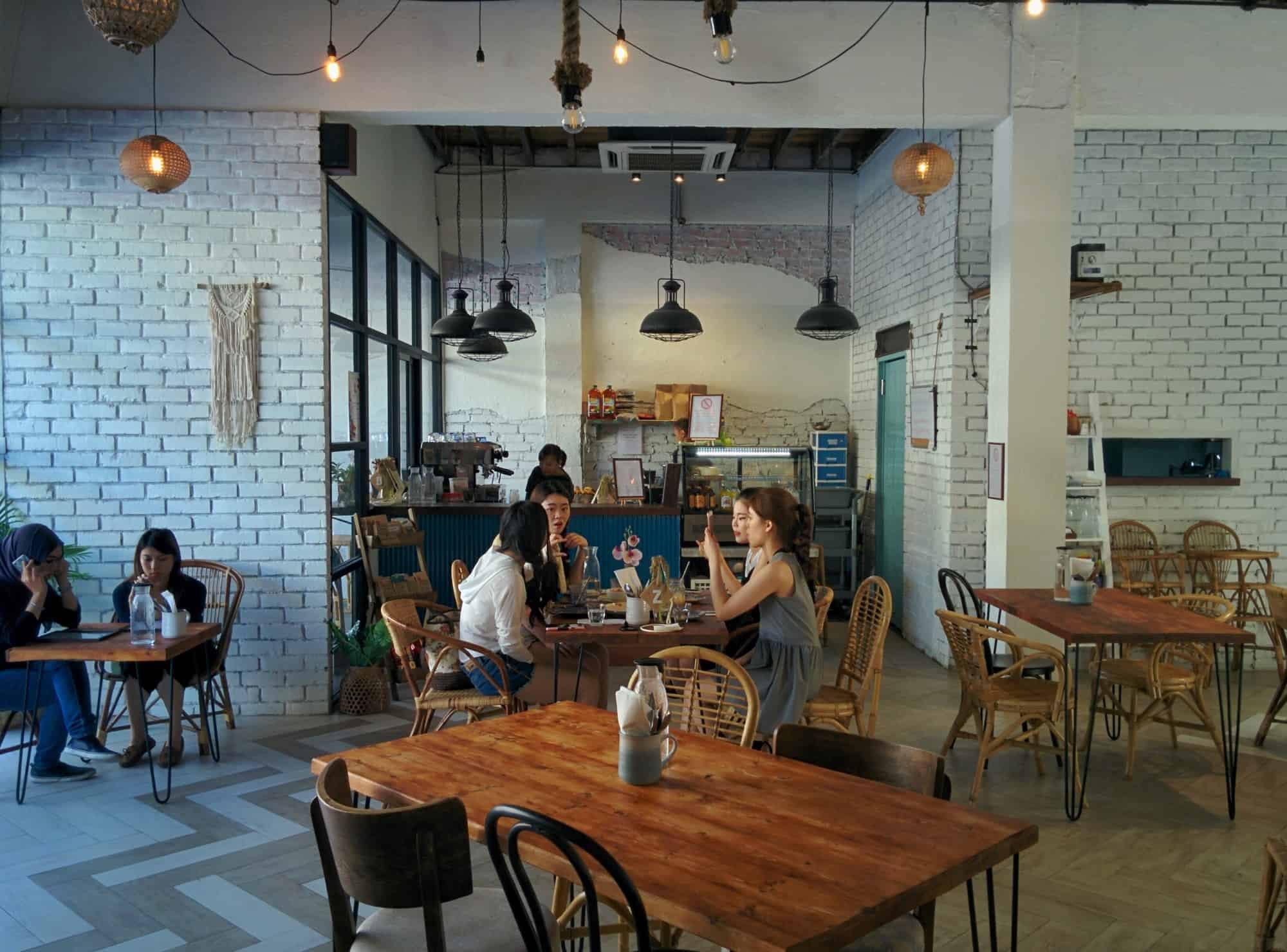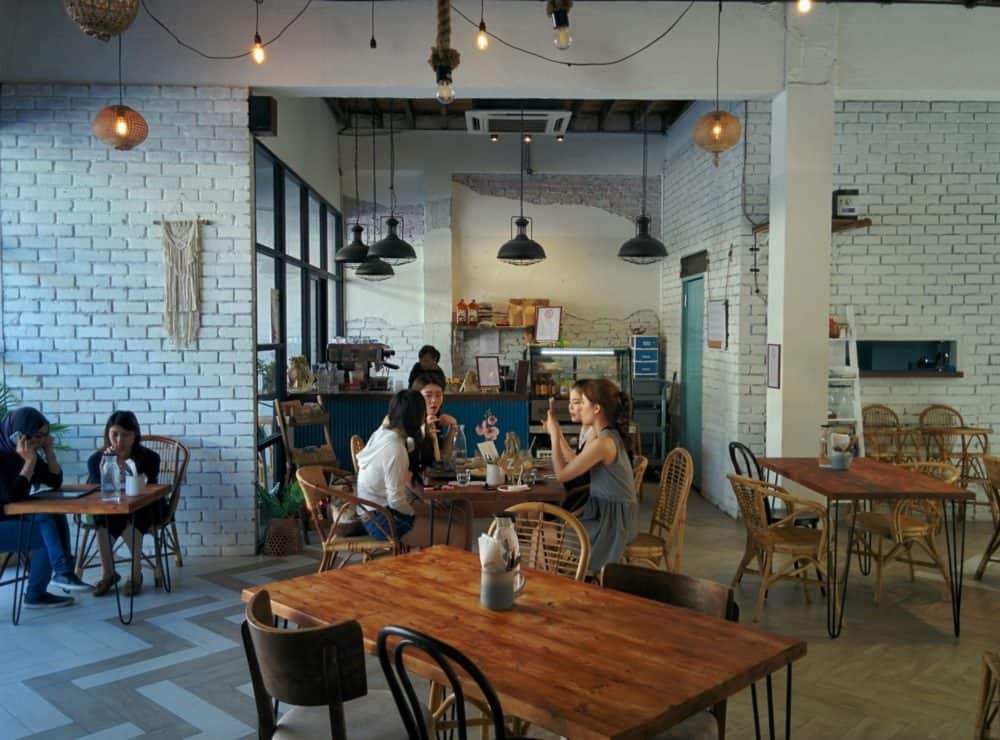 Part of a cluster of great cafes on Lorong Dewan (aka Australia Lane), Nook ticks all of the boxes when it comes to a good place for getting work done. The white exposed brick design makes it a bright and airy space, and the Wi-Fi is speedy and reliable. A few power sockets are dotted around as well.
It's a quiet spot during the week, getting busier at breakfast and lunchtime, and at weekends. If the dozen or so indoor tables are all full, there are several others on a raised deck outside. The deck is shaded, but you'll still get pretty warm if you're out there in the middle of the day.
Nook opens earlier than the other cafes on the street, which is handy if you're a morning person.
Food: There are some decent Western breakfast options like sausages and eggs and a granola bowl, while lunch is sandwiches, salads, and a few local dishes. You'll also find the usual range of coffee and tea choices.
Like any city in Malaysia, there are dozens of cheap local eateries within a five-minute walk if you don't want to eat there.
Hours: 8:00 am to 10:00 pm every day
Wi-Fi Speed: 31Mbps download / 10Mbps upload
Address: 19 Lorong Dewan, Pusat Bandar Kota Kinabalu, 88000 Kota Kinabalu
October Coffee House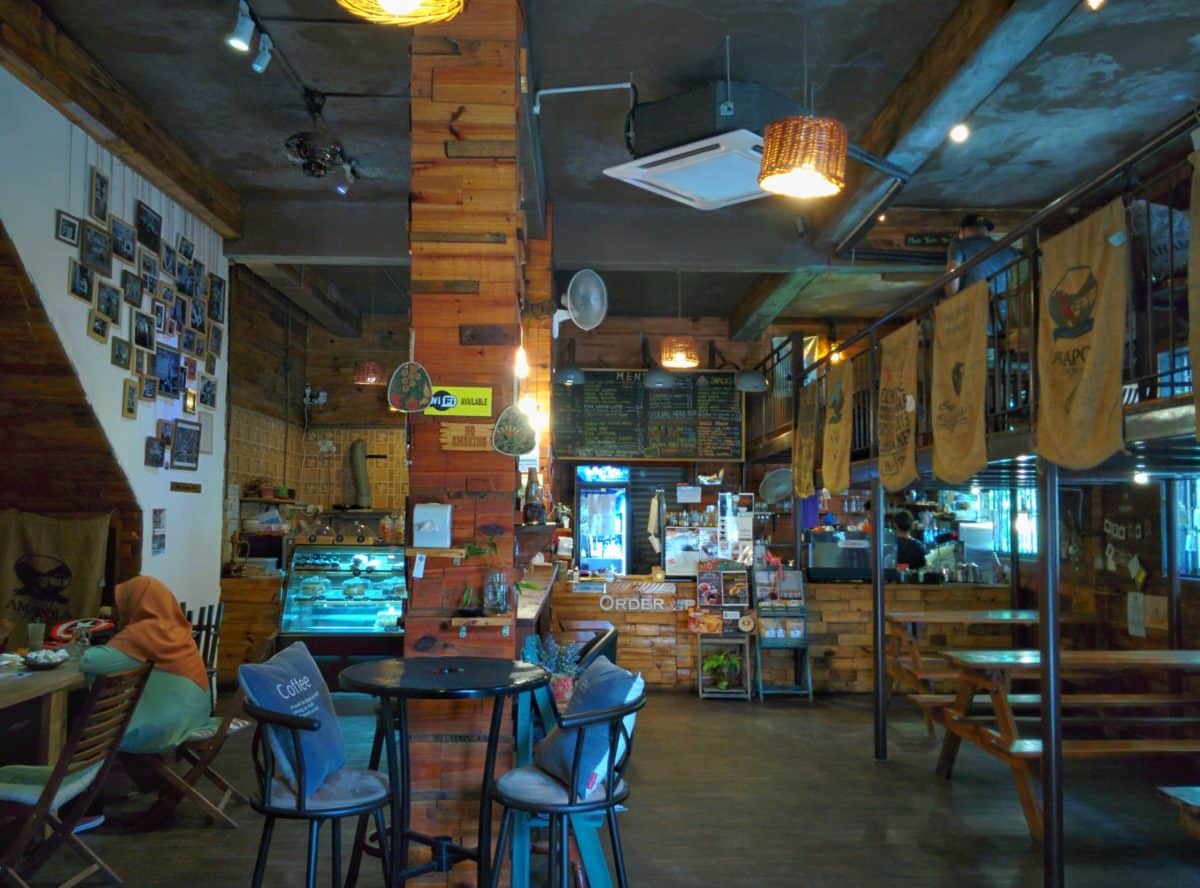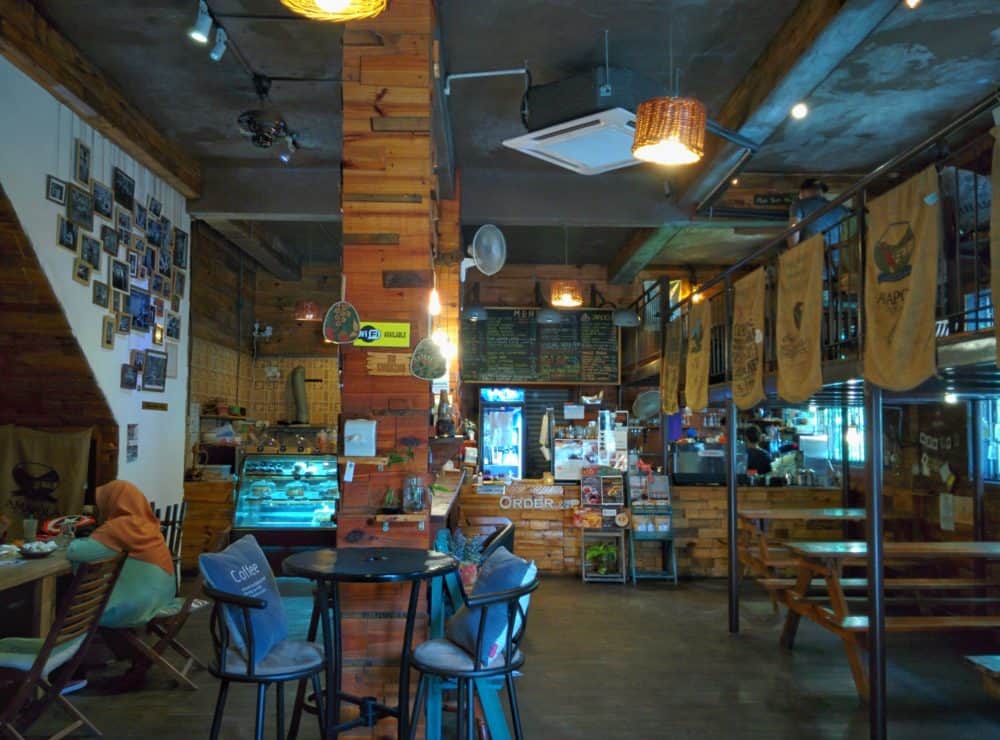 Just along the street from Nook, October Coffee House is the ideal spot to chill out for a few hours. With particularly good coffee and tea, a gorgeous, wood-filled design, and relaxed weekday vibe, it's perfect for working on your next entrepreneurial masterplan.
The downstairs area is better for working, since the upstairs tables are only around knee height. Wi-Fi isn't the fastest in the city, but was reliable and quick enough for most needs. Over the course of the afternoon I was there, the cafe never got more than half-full. Late to open and equally late to close, it's better for night owls than early risers.
Food and Drink: There's a solid range of cakes and snacks, plus good coffee and tea choices — I particularly enjoyed the lemon and mint tea. Again, if you want to eat elsewhere in the area, you're spoiled for choice.
Hours: 11:00 am to midnight, six days a week. Closed Wednesdays.
Wi-Fi Speed: 7Mbps download / 11Mbps upload
Address: Lorong Dewan, Pusat Bandar Kota Kinabalu, 88000 Kota Kinabalu
Woo! Cafe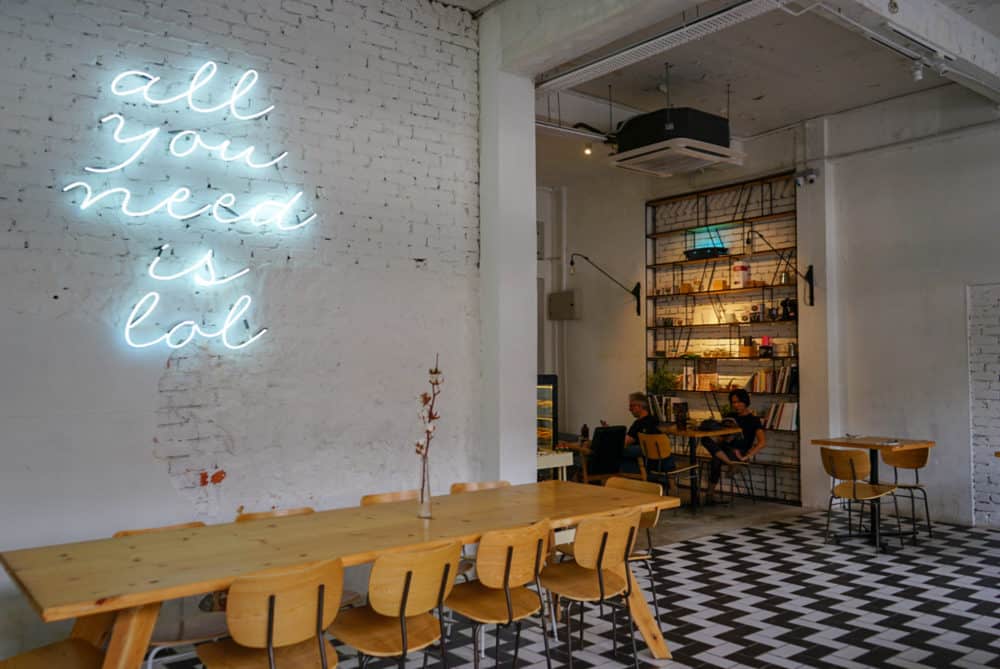 The last of the trifecta of good cafes on Lorong Dewan, Woo! is so hipster that even the Wi-Fi password is a hashtag.
Speaking of the Wi-Fi, it was fast and reliable, and a few power sockets were available as well. When I visited during the week, it wasn't particularly busy even at lunchtimes. There was more noise and bustle at weekends, though, including a boisterous birthday party that soon had me heading for the door.
The food and coffee are a step up from typical cafe fare, and it's open until close to midnight.
Food and Drink: There's a fairly extensive range of both Malaysian and Western food options, including avocado toast and granola bowls on the breakfast menu. If you're there on a weekday lunchtime, you can get one of several set dishes with a drink for 18MYR.
All of the standard coffee choices are available, plus cold brew and V60, but like most cafes in Kota Kinabalu, there's no soy, almond, or other milk alternatives. There are several teas on the menu as well, including matcha.
Hours: 9:30 am to 11:30 pm, Tuesday to Sunday. Closed Mondays.
Wi-fi Speed: 34Mbps download / 11Mbps upload
Address: 7, Lorong Dewan, Pusat Bandar Kota Kinabalu, 88000 Kota Kinabalu
Ampersand Specialty Coffee and Co-workplace
Tucked away down a side street near a cluster of hotels, hostels, and cheap eateries, Ampersand isn't the easiest place to find, not helped by the lack of exterior signage. Follow the directions on Google Maps, and then look for the little green plaque on the wall of the building beside the Maxim hotel.
The space is modern with a sleek industrial design, and there are plenty of tables and counter space to work at. Power sockets are also in ample supply. Wi-Fi wasn't the fastest for somewhere billing itself as a co-working space, though, and sometimes slowed down noticeably in the late afternoon.
Ampersand opens late, so it's best for afternoon or evening work sessions. The place tended to be empty around midday, with only a few other people showing up during the afternoon, so it stays pretty quiet.
Food and Drink: The coffee, tea, and fresh juices are all particularly good, but if you're after food, you'll be limited to cakes and pastries. There are dozens of inexpensive local eateries on the surrounding streets, with a particularly good lunch option being the set thali-like meal served on a banana leaf at Sri Latha Curry House.
All of the usual coffee and tea choices are available, plus interesting alternatives like a sesame seed latte or espresso inside a coconut, and a couple of fresh juice options. Again, there's no soy, coconut, or almond milk, although the latter was at least listed as "coming soon" on the menu.
Hours: 11 am to midnight Monday to Saturday, 10 am to 6 pm on Sundays
Wi-Fi Speed: 8Mbps download / 1Mbps upload
Address: 23, Jalan Berjaya 3, Bandaran Berjaya, 88000 Kota Kinabalu
PrintCafe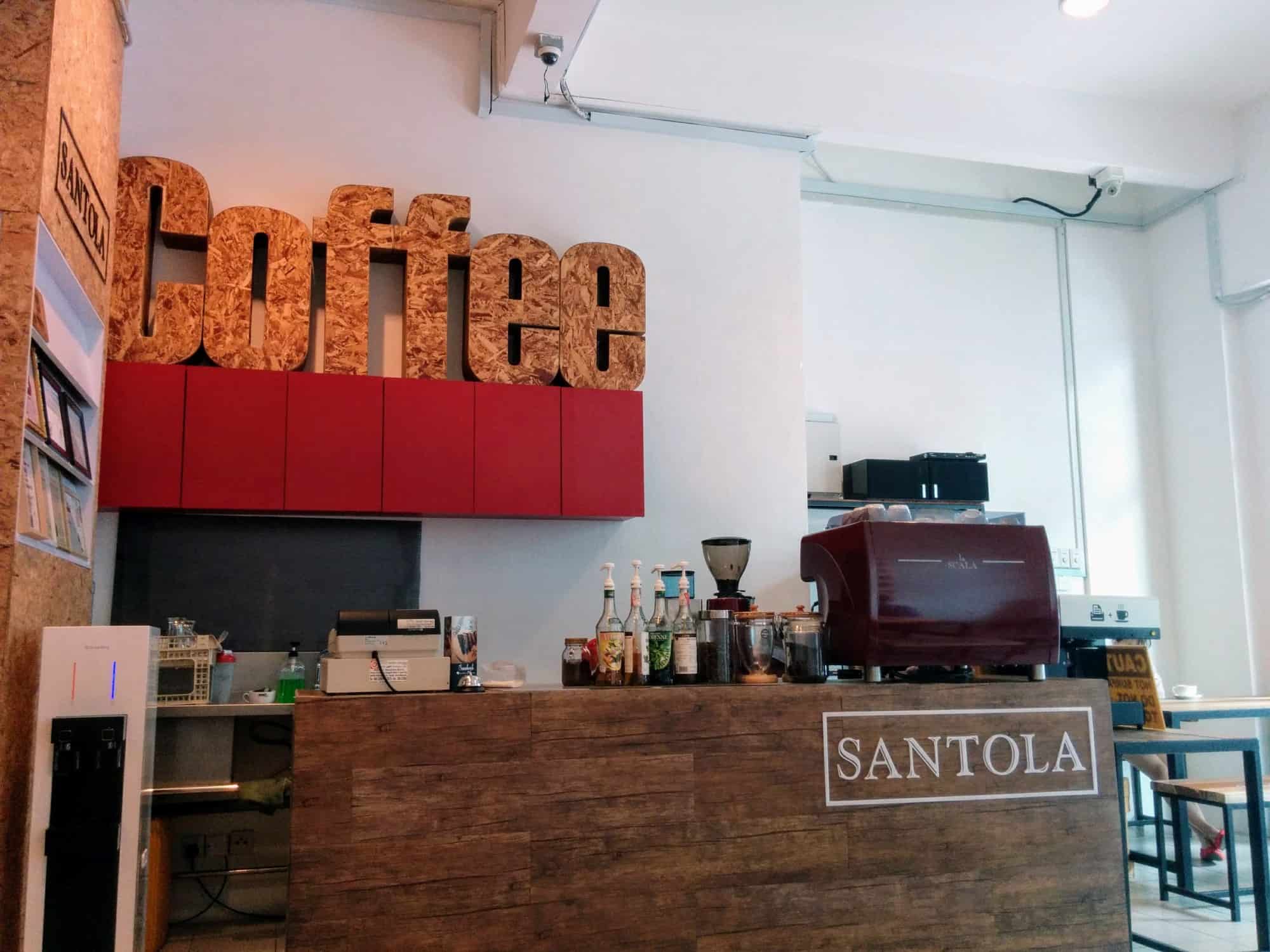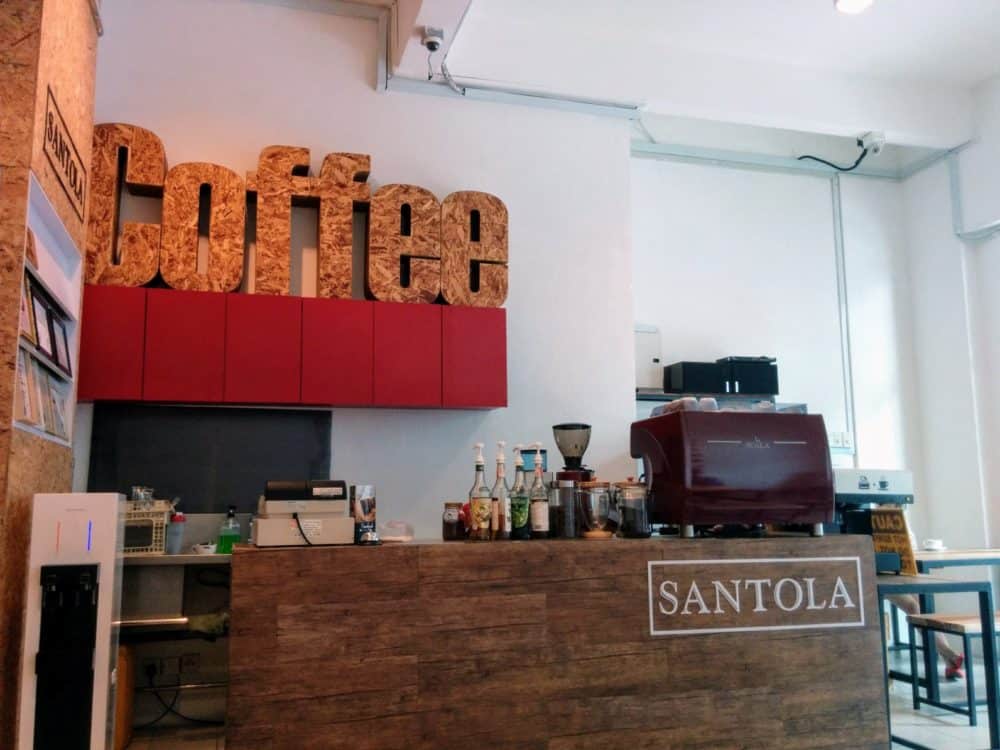 If you need to print your boarding pass (or latest multi-million dollar contract, for that matter) and want to enjoy a decent coffee and get a bit of work done while you do it, check out PrintCafe. A collaboration with Santola, this combination print shop and cafe recently moved from Lorong Dewan (yes, again) to a small space downtown in KK Times Square.
Wi-fi was fast and stable, and in a part of town dominated by Starbucks and other large coffee chains, it was nice to find a good independent option. There are only a handful of tables, though, and no power sockets, so don't expect to sit there on your laptop all day.
The printing side of the business handles everything from flyers to business cards and more, but if you just want a few pages printed out, they'll charge a not-especially-cheap 2MYR per page.
Food and Drink: The coffee was good, and noticeably cheaper than other places of similar quality (6MYR for an Americano, for instance). Food options were very limited, though, with just an American-style breakfast, peanut butter waffle, and a couple of sandwich choices the day I visited.
There are a few local restaurants in KK Times Square, and a larger selection of mostly fast-food chains in the IMAGO mall over the road.
Hours: 9 am to 6 pm Monday to Saturday, closed on Sundays
Wi-Fi Speed: 29Mbps download / 11Mbps upload
Address: KK Times Square, Lot I52, Kota Kinabalu, 88300
---
Got another laptop-friendly cafe you like in KK? Let me know about it in the comments!