For some, camping is an excuse to leave the electronics at home, but being at one with nature doesn't always mean ditching the devices. A smartphone is your lifeline in an emergency, and a great navigation tool the rest of the time.
If the weather turns bad, a charged iPad will keep the kids entertained until the rain passes. while a whirring fan or cool drink from a mini-fridge makes all the difference on hot summer nights under canvas.
How can you keep your gadgets running when you're in a spot with even fewer outlets than a busy airport, you may ask? The answer, of course, is a portable battery… but which one should you choose?
Invest in a Reliable Portable Battery for Camping
We recommend you have a reliable power bank when traveling anywhere, and that goes double when camping in the middle of nowhere. Even phones with particularly long battery life won't last much more than a couple of days. After that, you'll need some way of charging them back up again.
Even when you're staying in a drive-in campsite, there are no guarantees you'll be able to power and charge all of your stuff. Having your own power source also provides extra freedom: you able to camp at unpowered sites rather than being tethered to a cable.
Below, we've rounded up the best portable batteries for camping in 2023. Whether you need something basic for your phone, a way of charging a bunch of mobile devices at once, or a heavy duty option for larger appliances, we've got you covered.
There's even one model that can jump-start your car, a feature that you hopefully never have to use but will be extremely grateful for if you do! We also cover solar charging options, for juicing those batteries back up using nothing but sunshine.
Sale
Sale
Best Lightweight Battery for Camping: Anker 335 PowerCore 20K
Taking a weekend camping trip with a limited amount of gear? You'll want to make sure this lightweight Anker Powercore portable battery is in your equipment bag.
Its 20,000mAh capacity is enough to charge most phones, tablets, and other mobile devices multiple times, while the multiple USB ports and combined 20W output mean you can simultaneously charge at least two devices at somewhere close to full speed.
If you're only charging a single device at once, you'll get up to 20W out of the USB C port, or 18W out of the USB-A ports. That's plenty fast enough to charge almost any phone you've taken camping with you.
Safety features include protection against both power surges and short circuits, with an 18-month warranty for extra peace of mind. Speaking from personal experience, Anker's customer service reps are some of the more attentive that I've dealt with.
A short USB-A to USB C cable is included with the PowerCore, but if you want something longer, or need a cable with a different plug on the end, you'll have to provide your own.
Anker uses its own proprietary system for high-speed charging rather than supporting the more widespread Qualcomm QuickCharge standard. How important this is depends on the device you have and how quickly you need to charge it, but given that most modern devices also support USB C Power Delivery (which the PowerCore 20K does provide), it's unlikely to matter much.
For a short getaway, the Anker 335 PowerCore 20K is the ideal way of keeping one or two devices powered up without adding much extra size, weight, or cost. If it doesn't perfectly satisfy your needs, however, Anker has a wide range of other options when it comes to capacity, ports, and charging speed.
Pros
Small and light
Can simultaneously charge two devices at close to full speed
Quality customer service
Reasonably priced
---
Buy on Amazon
Best High-Capacity USB Battery for Camping: Crave PowerPack
The above Anker model is ideal for charging up a phone or two on short camping trips, but if you'll be off-grid for a few days and traveling with a laptop or several mobile devices, take a step up to the Crave PowerPack.
With four USB ports (2x USB C and 2x USB-A), this 50000mAh PowerPack puts out up to 100W PD. This is enough for any laptop you're likely to travel with, plus smartphones, tablets, and other mobile devices. It's also easily capable of charging other USB-powered gadgets like portable speakers and headphones.
A wall charger and USB C cable are included, but if your devices require a different type of cable, you'll have to provide it. If you have an older laptop with a barrel charger, this 19-piece laptop adapter kit (sold separately by the same company) should solve that issue. Just double-check the compatibility of both plug and power output beforehand!
Unsurprisingly, the extra capacity of the Crave PowerPack translates to a fairly large piece of equipment. The good news is that it's not terribly heavy at 3 pounds 3 ounces, but it's still better left in your RV or campsite than your equipment bag during a hike.
Note that the battery's 185Wh capacity is too much to take onto a plane without special permission. If you're flying to your destination, the TSA-compliant Crave Plus Pro is a cheaper and lighter option, albeit with less capacity and lower (45W) output.
For those long camping trips when you need to keep everything charged juiced up, you can't go wrong with the Crave PowerPack's fast-charging USB ports and generous battery capacity. If you're taking something that needs a wall outlet, however, we also reviewed this portable laptop charger with a wall socket instead.
Pros
Large capacity
Four USB ports
Supports virtually all laptops
Fast charging, including 100W PD
Cons
Fairly heavy and bulky
Expensive
Can't be taken on a plane without permission
---
Buy on Amazon
Best Portable Battery for Car Camping: HALO Bolt
The HALO Bolt is a cross between a high-end portable battery and a car emergency kit. If you're road tripping to your campsite by car or truck, you won't want to leave home without it.
This battery pack has a large 58830mWh capacity, and its three outputs (2x USB and 1x AC) can charge and power mobile devices, laptops, and other electronics like game consoles and small TVs.
In addition to keeping your tech powered, the HALO Bolt also works as a jump starter for your vehicle and ships with a set of leads. It provides enough power to jump a car, truck, ATV, or small boat. It'll likely jump your RV engine as well, but don't expect it to charge its house battery.
The Bolt also includes a built-in floodlight, a useful safety feature in case your ride breaks down in the middle of the night.
Aside from an AC wall adapter and DC car adapter for recharging the Bolt itself, there's also a USB to micro-USB cable in the box. That will suffice for many older devices, but you'll need to provide a USB to Lightning or USB C cable for other phones and tablets.
There's no direct support for Power Delivery or Qualcomm QuickCharge, although you can always plug an appropriate charger into the AC socket if you need to. Even so, the HALO Bolt is a solid choice for keeping your tech, and your car, running smoothly.
⚡ If you're looking for a larger, smaller, or multi-purpose version, we've got recommendations for a range of other portable jump starters as well.
Pros
Can jump start most vehicles
AC outlet as well as the two USB outputs
Built-in floodlight for safety
Comes with a car charger in the box
Cons
No USB C ports, which also means no support for Power Delivery
No QuickCharge support
---
Buy on Amazon
Best Portable Power Station: BALDR Portable Power Station
If your camping must-haves include things like a mini fridge, CPAP machine, or small television, you'll need a more substantial power source than we've discussed so far. Enter the BALDR 330 Portable Power Station, a 330-watt generator with four different types of output.
Along with four USB ports (3x USB-A, 1x USB C,) there's a Qi wireless charging pad on top, multiple DC ports, and an AC outlet. The USB-A ports support QC 3.0, while the USB C port puts out up to 60W Power Delivery (PD). You can plug an appropriate USB charger into the AC socket instead if you need more.
The BALDR Portable Power Station can also be outfitted with powerful solar panels like these. Charging the built-in lithium-ion battery takes five to seven hours from 100W+ panels, depending on conditions. It takes the same amount of time via the wall charger, and slightly longer from a car accessory port.
With a full battery, the BALDR Power Station can run a 12-volt compressor fridge for six hours, a 32-inch TV for four hours, and a 125-watt fan for two hours. CPAP machines can be powered via a DC adapter for up to two nights. That's pretty good, but note that the 330W max output isn't enough for microwave ovens, induction cookers, or coffee makers.
If your setup involves power-hungry appliances like these, you'll be better off with these 500-watt or 1000-watt Jackery models instead. These versions also have higher battery capacity, but are larger and heavier as a result. We reviewed the 1000W model, along with a pair of 100W solar panels, here.
With myriad charging options, as well as added safety features like an SOS flashlight and short circuit protection to keep you and your tech safe, the BALDR Power Station makes a great addition to any well-equipped campsite.
🔌 If you need something even more powerful than what we've discussed here, check out our recommendations for the best portable generators. Mostly gas and/or propane powered, they can power almost anything you're likely to take camping with you.
Pros
Four charging methods
Wide range of ports
Can be charged with solar panels
Multiple safety features
Cons
Too weak to power microwaves, induction cookers, etc
Lack of vehicle jumping seems an oversight
Max input charging limited to 52W
---
Buy on Amazon
Best Multi-Purpose Option: BioLite Campstove 2+
Fancy the idea of cooking meals and charging your phone at the same time? Check out the BioLite Campstove 2+. You simply pack and light the stove using sticks, twigs, or pellets, and the heat from the flame is converted into electricity that charges the inbuilt 3200mAh battery.
The Campstove's patented combustion technology means you'll get far less smoke in your face than with a traditional camp cooker, and the LED dashboard lets you keep tabs on fire strength, battery life, and fan speed. Foldable aluminum legs make it easy to set up, and the stove packs down to about the size of a 32-ounce water bottle for easy transport.
The Campstove includes a USB cable and a FlexStop Light for a bit of extra illumination around the campfire. A range of accessories are available including a grill attachment, kettle/pot, and coffee press, separately or in various bundles.
Given the relatively small battery capacity, low 3W output, and single USB port, the BioLite Campstove 2+ is best suited for a solo traveler with minimal tech. Admittedly you're paying more for the novelty and the technology of the stove itself, but hey, it's pretty cool, in addition to being eco-friendly.
Pros
A unique 2-in-1 device for cooking and charging
LED dashboard makes it easy to see what's happening
Easily transportable
Cons
Small battery with low 3W output
Only one USB port
Accessories sold separately
Only appropriate for topping up a single small device
---
Buy on Amazon
Alternative Energy Options: Solar Panels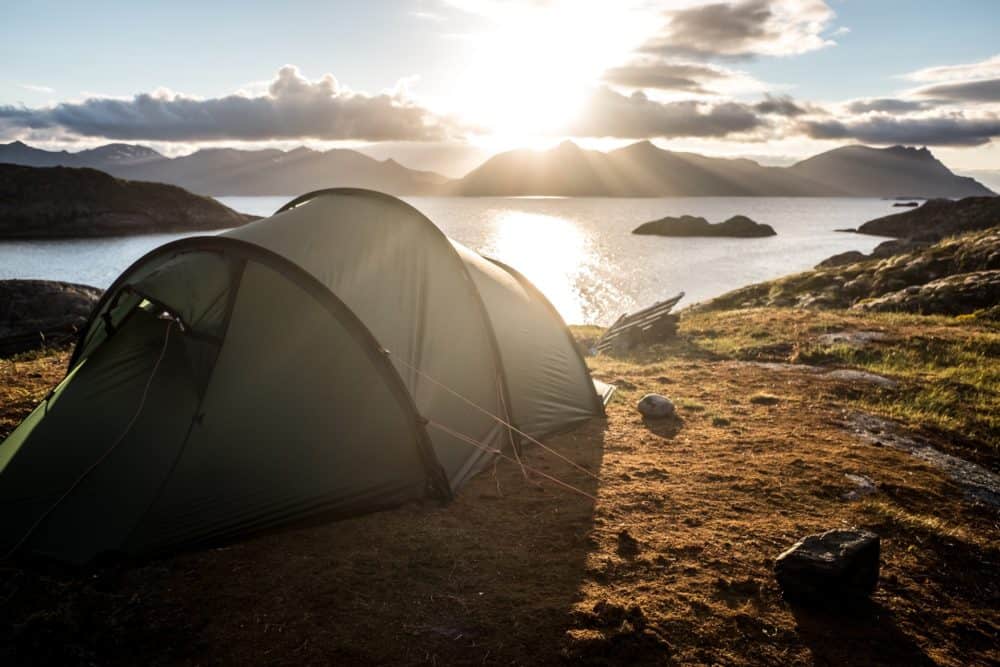 When your portable battery runs out of juice in the middle of a camping trip, what can you do? It's not always feasible to find a power socket to charge it, especially if you're somewhere remote. That's where solar chargers come in.
The efficacy of solar panels depends on how sunny your location is. Contrary to popular belief, though, solar panels can still generate energy when it's cloudy. It'll be less than when they're exposed to direct sunlight, but it's still a much better scenario than having a dead battery and absolutely no way to charge it.
Below are a couple of solar panels we recommend for your camping trips:
Nekteck 28W Portable Solar Panel Charger: This foldable, weatherproof charger has three solar panels and two USB ports that can output up to 12W each or 20W total. Best for those with smaller devices like smartphones, it's small and light enough to hang off the back of a backpack while you're hiking into your campsite.

It doesn't store electricity on its own, and while you can use it to power mobile devices directly, you'll generally get better results by charging a small power bank and then using the power bank to charge your equipment.
GoPower 130W Portable Folding Solar Kit: Designed with long-term camping trips in mind, it works with RVs and campers to maintain the "house" battery without the need for a traditional generator. A folding design plus an included carrying case make it easy to transport, but it's not weatherproof, so be sure to stow it away in bad weather.

While it's on the pricier side, the investment may be worth it if you're seriously considering the mobile camping lifestyle.
If you're looking for a middle ground between the above two options, the BALDR Portable Power Station can also be outfitted with solar panels for charging as we mentioned earlier.
While you can find small solar chargers with single panels and inbuilt batteries, we don't recommend them: their limited panel area means they take a very long time to charge even in direct sunlight.
You'll benefit more from the Nekteck folding charger or similar, but if you're into ultralight hiking and really don't have the space or weight allowance even for that, consider something like the Sunslice Photon that combines a small battery and several fold-up panels into a very lightweight package.
Make sure your camp preparedness kit includes a battery pack or generator along with emergency rations and a first aid kit. Whether you're just bringing a cell phone for a day-long hike or several small appliances for a longer or more luxurious trip, a reliable portable battery will keep your electronics running in even the most remote locations.
---
Main image via Andrea Piacquadio, tent overlooking bay via Daan Weijers, product images via Amazon