Whether you're a brand-new runner or you're training for your next ultramarathon, having stats to look at can be incredibly motivating (not to mention helpful!)
Instead of running "about three miles" through guesswork, you can know exactly how far you've gone, and exactly how fast you got there, along with tons of other useful information like estimated calories burned, stride length, and more.
And because most of us run around with tiny supercomputers in our pockets, we don't necessarily even need an extra device to get those stats! Our phones are equipped with accelerometers, gyrometers, and GPS receivers that provide (relatively) accurate tracking of outdoor runs and other activities.
All you really need is a good running app and your smartphone, and you'll be good to go!
With all that said, apps do have their limitations, so upgrading to a fitness watch is still worthwhile in some cases.
For the most accurate tracking possible, avid runners may wish to invest in a quality running watch. This will give you things like heart rate data and blood oxygen saturation levels, for example, as well as much more accurate GPS tracking than your phone alone can provide.
More into general fitness? A wearable fitness tracker provides a nice middle ground, helping you monitor your daily step count and track dozens of activities like running, weightlifting, and yoga. They tend to be more affordable than higher-end running watches, as well.
But for now, back to the apps!
The list below covers the best running apps on the market, from basic run tracking apps to more advanced running apps with training plans, interval training and more.
Oh, and there's even a zombie escape running app, if you need a little extra motivation to keep moving!
Best Running App: Strava
Strava markets itself as a social network for athletes. It essentially combines fitness tracking with full-fledged social networking features, which in my experience is definitely a winning combination for motivation!
The Strava app can track all the metrics you'd expect: distance traveled, pace, estimated calories burned, weekly miles, and more. The tracking gets even better if you pair Strava with a compatible device, such as a Garmin running watch or an Apple Watch.
Strava can track other workouts like cycling, and if you pair it with a waterproof fitness wearable, it'll track your swims as well.
But again, the unique selling point of Strava is the community-oriented features. You can search for friends who use the app and connect with them on Strava to see their shared activities, weekly mileage, and so on.
You can even create group challenges to see who can put in the most miles in a given period of time, or who can beat someone else's PB. There's nothing like trying to get to the top of the leaderboard to give a little extra push to lace up the sneakers on a cold winter morning!
Available on iOS and Android. Free, premium upgrades available.
Best Running App for Beginners: C25K
If you're new to running (hello, New Year's resolutions), the Couch to 5K program is an excellent place to start. As the name suggests, this simple program is designed to take you from "couch potato" to being ready to run five kilometers in nine weeks.
5km is roughly 3.1 miles, and takes a typical beginner runner around 30-45 minutes of continuous running to complete. The Couch to 5K program is a specific training program, and C25K is one of the best couch to 5k apps designed to follow this program.
The app follows the program to a T, taking runners through a 9-week training program consisting of 30 minute workouts, three days per week, which get progressively harder.
As an ultra beginner-friendly program, the first few weeks include a lot of walking. So don't be intimidated: this app does a great job of easing new runners into things.
The free version is enough to get you to your 5km goal, but extras like syncing music tempo with your running speed and extra stats may be worth paying for to help ease the process. If you like the app's approach, other versions covering 10km and both half and full marathons are also available.
Available on iOS and Android. Free, premium upgrades available.
Most Enjoyable Running App: Zombies, Run!
For most people, running is… not fun. Zombies, Run! is trying to change that.
This unique app lets you roleplay as a human survivor in a world overrun by the living dead. Each run becomes a mission for survival: collecting supplies, searching for other survivors, and avoiding zombies!
The storyline is well written and engaging, and there are over 500 "missions" to explore. It's almost all audio-based, so you can throw your phone in your pocket and hit the road. Once you get back home, you can analyze your stats, and use the spoils of your run missions to strengthen your base in-game.
This is one of those rare running apps that offers something truly different. It's compatible with any fitness level (it supports walking, but also has advanced modes like interval training) and most importantly, it's genuinely fun!
Available on iOS and Android. Free, premium upgrades available.
Best Running App for Android: adidas Running
adidas Running (formerly Runtastic) is an extremely popular running app that does a great job of tracking your mileage, pace, and other stats. It's not just for running, either: the app also tracks walking, hiking, cycling, yoga, and more. Like Strava, there are also social sharing features to show off your progress.
The app works very well on Android devices, and is super-popular on that platform as a result, with well over a million reviews on the Play store. When issues do occur (often after a new Android version comes out), they're typically patched quickly by the developer.
As you might expect from an app owned by a shoe company, adidas Running also has a "shoe tracking" feature which lets you track the mileage on a given pair of shoes. Running shoes have a limited lifespan, and most experts recommend replacing them every 300-500 miles.
This app gives you a simpler way to keep tabs not only on your own running progression, but on the mileage on your running shoes! Just be sure to buy adidas running shoes, otherwise the app stops working (just kidding… probably).
Available on iOS and Android. Free, premium upgrades available.
Best Running App for iPhone: Map My Run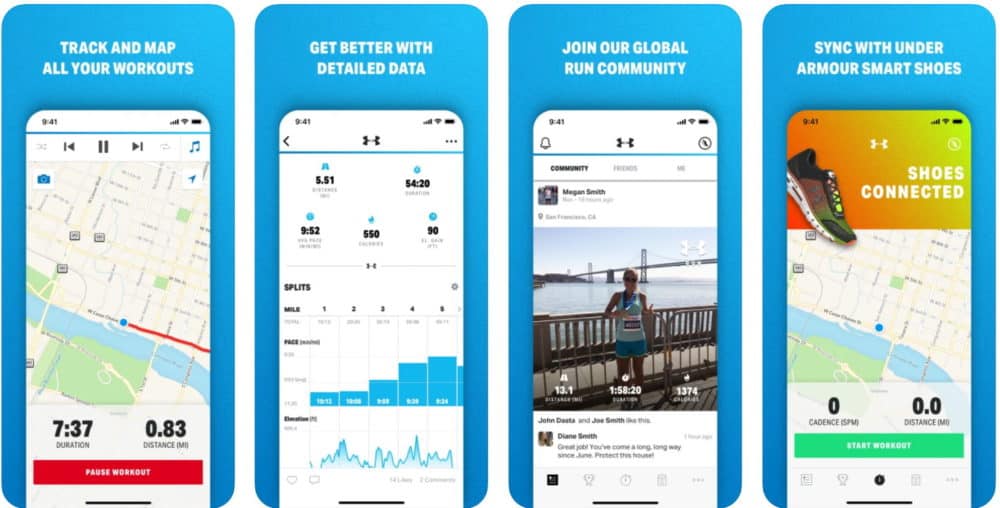 Map My Run is one of the OG running apps for iOS: I remember using it many years ago when I first got into running. It's since been purchased by Under Armour (an activewear brand), which is good news as the app has had plenty of money for updates and patches.
As the name suggests, Map My Run is a run tracking and mapping app that lets you track and analyze your run routes and stats. Distance tracking is excellent, particularly on newer iPhones (GPS tracking tends to work better on the latest phones), and it's our pick for this platform as a result.
It also tracks most other fitness activities, like walking, gym sessions, yoga and more. The premium plans have detailed training plans you can follow, but even the free version is pretty feature-packed.
The app also syncs with Under Armour smart shoes. Yeah, smart shoes. Apparently that's a thing now. If you don't have smart shoes (what is this, 2009?) the app also pairs flawlessly with Garmin devices, Apple Watch, and other fitness wearables that normal humans are actually likely to own.
Available on iOS and Android. Free, premium upgrades available.
Best Running App for Apple Watch: Nike Run Club
If you prefer to track runs on your Apple Watch, you can use the built-in fitness tracking app, or you can sync the watch data to any compatible third-party option. For best results, I recommend using an Apple watch in combination with Nike Run Club.
Nike Run Club has an app made specifically for Apple Watch, and also has a standard app for iPhones and Android phones. As long as you use the same account, everything will sync up, so you can use the watch app to track data, for instance, and your phone app to analyze it.
The other selling point of Nike Run Club is its extensive "running coach" features. There are detailed training plans you can follow, and even audio-guided training runs you can follow along with for intervals or other more advanced techniques. Note that many of these training features are only included with a paid subscription, however.
Available on iOS and Android. Free, premium upgrades available.
Best Fundraising Running App: Charity Miles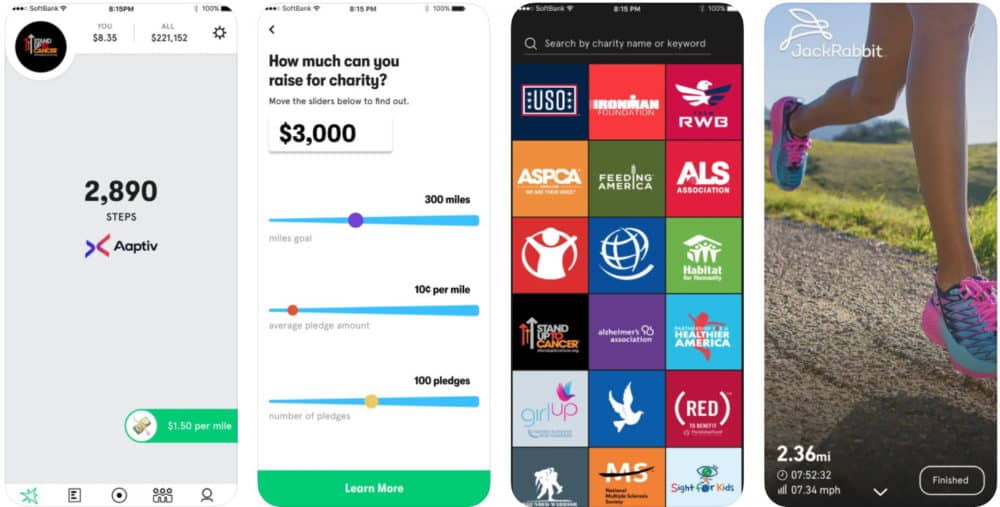 Here's a unique one: Charity Miles enables runners to earn money for charity through their workouts. The app makes it easy to set up a pledge system where friends and family can pledge a certain amount per mile you run. It then tracks your running adventures, and makes it easy to raise money for the charity of your choice.
The data tracking and analysis features are fairly basic, as you might expect. The upside is that this app is 100% free; there are no paid memberships or upsells required. And of course, the bigger benefit is that the app enables you to raise money for your favorite charity through your runs!
Note for Android users: The Android version of this app has lots of glitches, unfortunately (the iOS version works much better). If you want a free running app for Android, Strava is our top recommendation.
Available on iOS and Android. Free.
Best App for Treadmill Running: Peloton
Treadmill running can be a bit dreadful. Every step is the same, and the scenery never changes! Thus, if you're confined to treadmill running, it's definitely helpful to have workouts to follow along with to keep things interesting.
And that's where Peloton comes in. The Peloton app has hundreds of group-fitness-style classes, both live and on-demand, that you can follow along with. Everything from running to cycling to yoga is covered by a team of 30+ instructors.
You do not need a Peloton device to use the Peloton app: you can use any stationary bike or treadmill that you have access to. The app isn't free, however: you'll need to pay $12.99 per month (after a 30-day free trial).
Note: if you have an Apple Watch, you may want to consider Apple Fitness+ instead. Metrics are tracked by the watch, and audio/video training is delivered via the companion app on iPhones and iPads. It's a bit cheaper than Peloton: you get a three month free trial with the watch, then it's $9.99/month or $79.99/year.
Available on iOS and Android. Free 30 day trial, then $12.99 per month.
Best Interval Running App: Runkeeper
Runkeeper is another one of the original running apps, and remains one of the most popular. The app has all the tracking and GPS features you'd expect, and syncs with wearables from Apple, Garmin, FitBit, and more.
Runkeeper has audio feedback that you can calibrate to your liking. You can listen to music on your phone, for example, but set it up so that Runkeeper tells you your average pace at every mile marker. There are a fair amount of customization options here, so you can get anything from tons of audio stats to none at all.
If you upgrade to Runkeeper GO, you'll also get training plans, interval training workouts (with audio cues), race training plans, and much more. For more advanced runners, Runkeeper GO ($9.99/mo or $39.99/year) is well worth the investment.
Available on iOS and Android. Free, premium upgrades available.
---
Main image via Martin Novak/Shutterstock.com, app screenshots via respective developers