We're big fans of traveling as light as possible, especially when it comes to gadgets and accessories. They're often overpriced, unreliable, too heavy, and break easily. Honestly, most of them aren't particularly useful either.
Now and again, though, we come across a great travel gadget that ticks all the boxes. Something so good that we find space for it in our bags and take it around the world with us. Not often, but sometimes.
These are our recommendations for the best travel accessories worth buying in 2022.
Anker PowerCore Essential 20000 Portable Battery
Phones, tablets, and laptops are getting thinner and lighter all the time. This makes them look great and be easy to carry, but means it's rare for any of them to last more than a day away from a power socket.
That's just about manageable in daily life, but not so much when you're on the road. As a result, we've spent a lot of time tracking down the best portable batteries for travelers from companies like Jackery, Anker, and RAVPower.
Our top overall pick is this PowerCore Essential 20000 due to its compact size, high capacity, and good value for money.
One size doesn't fit all, though, so whether you want a tiny charger to keep in your wallet for emergencies, something to power your laptop for extended work sessions, or anything in between, you'll find our detailed recommendations here.
Buy on Amazon
Anker PowerExtend Cube Power Strip
If there's one certainty about travel, it's that your accommodation won't ever have enough sockets for all the gadgets you want to charge. Even if by some miracle it does, there are never enough travel adapters to go around when you're overseas.
This little Anker travel power strip deals with both of those problems. It provides three North American wall outlets and three USB sockets, in a cube that's just 2.4″ in diameter.
There's a five-foot cable so you can use even the most hard-to-reach power socket, and the AC sockets can handle devices that draw up to 1250W. Weighing barely eight ounces, it's small and light enough to make the cut even when traveling carry-on only.
You'll get up to 30W from the USB C PD port (enough to power many small laptops), and up to 12W from either of the USB-A ports. Total USB power output is limited to 30W, but that's still enough to fast-charge two phones or tablets at once.
Note that it has a three-prong grounded plug, so be sure to get a compatible travel adapter (like the one recommended below). Basic overload protection is included, but it's not a voltage convertor: you'll still need to check your mains-powered devices are compatible with the voltage coming out of the wall socket.
We think this is the best option for most people, but if you're looking for something a little different, we've got a bunch of other travel power strip recommendations as well.
Buy on Amazon
Unidapt International Travel Adapter
You wouldn't think it'd be hard to make a good international travel adapter, and yet it apparently really is. We've tested a whole bunch of different models, and it's been surprisingly difficult to find anything we like.
Loose plugs that fall out of the wall, bulky housings that block other outlets, blinding LED lights, low-power USB sockets, and more. It's amazing how many ways companies find to screw up a basic travel accessory.
The best we've found so far is the Unidapt International Travel Adapter. It's a little bulkier than we'd like, but makes up for it by being lightweight and combining a bunch of useful extras.
I've personally used it for years at this point, all around the world, and each of its plug sections has fitted snugly into power sockets wherever I've been. Usable in 160+ countries, the manual includes a handy compatibility list and there's also a carry case to store the adapter in.
There's no problem using a three-pin US or Australasian plug, which is more than can be said for many of its competitors. The third pin isn't grounded, however. The adapter has a safety fuse, and there's a spare inside a tiny storage compartment.
Just remember that like any other travel adapter, it only converts the plug, not the voltage. If you're using a 110-volt device in a 220-volt plug, or vice versa, you'll need a voltage convertor as well.
Most usefully, the Unidapt includes an assortment of USB charging sockets. There are four USB-A sockets which can each put out up to 12W, and a USB C socket that can put out up to 15W. Total output across all USB sockets is 28W.
If you'd like one that's a bit different (very lightweight, for instance, or as cheap as possible,) you can find the rest of our travel adapter recommendations here.
Buy on Amazon
RAVPower FileHub Travel Router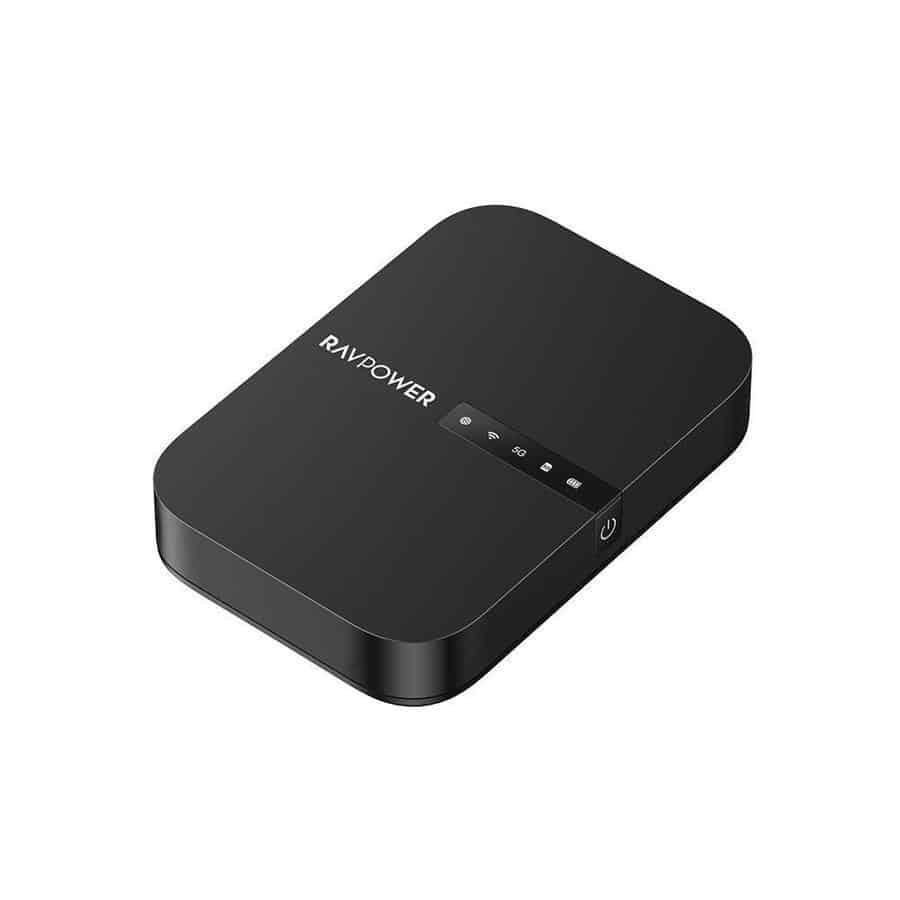 The RAVPower FileHub promises a lot. As well as boosting the Wi-Fi signal and letting you get around device limits on hotel networks, it's a portable battery, SD card reader, media streamer, and a tool for copying files between all of your various gadgets.
Unusually for multi-purpose gadgets like this, it actually does everything it's supposed to, at a remarkably good price, without being too big and heavy.
We wrote up a full review here, but in short: the battery has enough capacity to get smartphone owners through even the longest travel day, and getting a stronger Wi-Fi signal is straightforward.
Streaming videos and backing up files from tablets and smartphones is seamless, as long as you're not doing both simultaneously.
If you'd like better internet, simple backups, extra charge, and easy music and video streaming on your travels in an affordable and compact package, buy this device.
LENCENT 4-Port USB Travel Wall Charger
If your power needs lean more towards phones and iPads than laptops and hair dryers, this little four-way USB charger is ideal.
Rated to 22W, it has enough juice to charge a couple of smartphones or up to four lower-power devices like headphones or Kindles simultaneously, while staying small and light enough to drop in a daypack and forget about it.
In a nice touch, removable power plugs for most of the world are included. Just clip one out and plug in another as needed. Removing the need for a separate travel adapter helps keep weight, cost, and hassle down. It also makes it easier to fit the charger into tight spaces behind beds and dressers.
If you're traveling as a couple or a tech-laden single, this will be one of the best travel accessories you buy.
Buy on Amazon
Kindle Paperwhite eReader
A decade after it introduced the first Kindle, Amazon has well and truly won the e-book war. It's dominated the market with the killer combo of an enormous book library and good, sometimes great, reading hardware.
The company offers several different versions with a range of features and costs but for us, the Paperwhite is best. It's a big step up from the most basic model, with a larger screen, sharper text and images thanks to a much higher resolution, and proper IPX8 water resistance.
Rather than a brightly-lit phone or tablet, the Paperwhite has a dimmer, front-lit display. The brightness can be adjusted with a quick swipe, making it easy to read without disturbing those around you.
There's enough storage for thousands of ebooks and dozens of audiobooks. The Paperwhite's 7.2oz (205gm) weight is barely noticeable in a day bag, and easily managed with one hand.
One piece of advice: like any other piece of fragile electronics, you'll want to add a case to protect the screen from being crushed or cracked. We've seen too many broken Kindles on the road to suggest anything else.
Buy on Amazon
Netgear AC1900 Wi-Fi Adapter
Great news! The hotel has free Wi-Fi! Bad news! Your room gets one bar of signal… if you hang your laptop out the window and hold your tongue just right. Oh well, who doesn't enjoy waiting twenty minutes for Instagram to load?
We've been recommending USB Wi-Fi adapters for years now. They're an easy way of boosting your Wi-Fi signal while traveling, getting faster internet speeds or letting you connect to networks your laptop can't even usually see.
This Netgear model ticks all the boxes: it's fast, powerful, and lets you use networks up to 200 feet away. It's just as useful at home as on the road, coming with a desk stand that lets you place it somewhere convenient rather than plugging it directly into your computer.
If you're after something smaller, or that boosts the Wi-Fi for several devices at once, we've got several other recommendations here and here.
Buy on Amazon
GlocalMe G4 Mobile Hotspot
Staying connected is one of the biggest hassles faced by international travelers, especially when first arriving in a new country.
Data roaming is often cripplingly expensive, and most international SIM cards aren't much better. Local SIM cards bring the price down but can be a hassle to find and buy. Wouldn't it be nice if there was a way to deal with all this?
The GlocalMe G4 is the closest we've found to an affordable solution to this problem. It's a gadget about the size of a smartphone that connects to the data network in 100+ countries, creating its own Wi-Fi hotspot to give internet access to all your devices.
That's not especially unusual, but the G4 has two killer features that others don't: it also has two slots for use with local SIM cards, and its own data plans are surprisingly affordable.
In the real world, this means that you can happily arrive somewhere new, turn on the GlocalMe device, and use it for a day or two without worrying too much about the cost.
If you're staying in the country for a while, you can then pick up a local SIM card to save money when you get a chance, and drop it into the G4 to share among your devices. As a final bonus, you'll get up to 15 hours of use of it. The device can even act as a portable battery if your phone starts running flat.
We were very impressed with the predecessor G3 model when we reviewed it, and the G4 is a slimmer, lighter, better version of the same thing.
Buy on Amazon
GRAYL UltraPress Water Purifier Bottle
Travel water purifiers don't have an easy job. They need to be able to get rid of all kinds of waterborne nasties in a simple, foolproof way. Durable yet lightweight, they also need to be able to purify a useful amount of water while staying small enough to throw in a day bag.
They're good for your health, your wallet, and the environment, but only if you're actually happy to carry and use them on your travels. We've tested a few different models, and our current pick is the GRAYL UltraPress.
It's the latest in a long line of the company's purifiers that have kept us safe and hydrated, even in countries where the tap water definitely isn't safe to drink.
The UltraPress is reasonably priced, easy to use, and is about the same size as a normal water bottle. The purification cartridge filters up to 40 gallons (150 litres) of water before it needs replacing.
Our full review of the GRAYL UltraPress goes into much more detail about our experience with it, but in brief, it's an easy recommendation for travelers who care about their health and environmental impact.
If you'd prefer something with a higher capacity, more stylish design, or something else, we have several other travel water purifier recommendations as well.
---
Main image via StockSnap, UltraPress image via GRAYL, other images via Amazon