While some travelers don't care at all about what's playing in their ears while they travel, many, including me, definitely do.
Whether you're listening to favorite tunes to while away long journeys, special songs that remind you of a time and place for years to come, language podcasts to help improve your vocabulary, or anything else, decent earphones or a quality travel speaker improve most days on the road.
Here's what we're recommending in 2023.
Best Earbuds and Headphones
It may sound silly, but a quality set of earbuds or headphones is one of the best gear investments I've made as a traveler. I use mine all the time on the road, whether I'm drowning out the background babble of an airport or relaxing in my hotel room after a long day exploring.
They help me sleep in noisy accommodation, listen to podcasts on endless flights and bus rides, crank up the productivity while working in a cafe, and more. While you can get by with the cheap pair that came with your phone, I soon discovered that investing in something better is definitely worth doing.
We prefer noise-canceling headphones for travel and have an entire set of recommendations for those. If you don't want to deal with the extra bulk of over-ear headphones, wireless earbuds are also a good option, although you need to choose models with good battery life.
If you don't want to have to deal with those battery life concerns, wired earbuds are the way to go. Finally, if you're anything like me and have trouble sleeping in noisy environments, a few companies are focusing on earbuds specifically aimed at helping you sleep.
Our top noise-canceling headphone , wireless and wired earbud, and sleep-specific picks are outlined below, but it's worth reading the full articles as well, since not everybody's needs (or ears) are the same.
Sony WH-1000XM5 Noise-Canceling Headphones
If you're looking for headphones with the best mix of sound quality, noise-canceling ability, battery life, and features, it's very hard to go past the Sony WH-1000XM5.
The headphones are super-comfortable, and you'll likely be happy to wear them all day. Music sounds warm and natural, even over Bluetooth, and the battery lasts around 30 hours.
Charging is handled with a standard USB C cable, and a three-minute boost gives an extra three hours of use. A full charge takes three hours. The headphones come with a hard carry case, and fold flat so they don't take up (as) much room.
The noise cancelation itself is the best in the business, noticeably better than the competition, and gets rid of rumbling engines and noisy cafe patrons at the touch of a button.
If you're happy to trade extra bulk for better sound, noise cancelation, comfort, and battery life, you'll be very happy with the Sony WH-1000XM5.
Buy on Amazon
Sony WF-1000XM4 Noise-Canceling Earbuds
While Sony's first attempt at noise-canceling wireless earbuds was a bit of a flop, the latest WF-1000XM4's hit all the right notes.
With exceptional battery life, the best noise cancellation in its class, and impressive sound quality, they're our top wireless earbuds pick for travelers.
Battery life is very good for this type of device: around eight hours per charge with noise cancellation turned on, up to 12 if you turn it off.
The case holds two extra charges, so you'll get 24+ hours of total listening time before you need to find a power socket. It takes around 1.5 hours for the earbuds to go from empty to full, with a five minute quick charge giving an hour of listening time.
Noise-cancellation has long been hit or (mostly) miss on wireless earbuds due to their small size and limited battery life. The WF-1000XM4's still won't block out as much noise as the equivalent over-ear model, but are noticeably better than the competition. They'll still make a big difference to your enjoyment of long plane and bus rides!
Buy on Amazon
Shure SE215 Sound-Isolating Earphones
Simply put, the Shure SE215 Sound Isolating Earphones offer great sound at a very reasonable price. I used them for years in all kinds of noisy travel situations, and they always pulled through.
The sound isolation, although passive, is enough to drown out low levels of background noise by itself. In reasonably quiet places like cafes and empty terminals, I'd just put them in my ears without plugging them in to block out ambient sounds.
When things get louder, like onboard a flight during an overnight bus with blaring Korean soap operas at 3 am, a low music volume was all that was needed to make at least the worst of the noise disappear.
Sound quality is very good, offering deep, rich tones and only a small amount of the boosted bass that mars many consumer earphones. I've listened to everything from podcasts and relaxation music to hard rock, and rarely need to change the equalization settings on my phone or laptop.
They're well-constructed, with thick plugs and cables that don't split or break, and ship with a useful little carry case and three different sizes of foam earbud.
They'd be our recommended earphone even at twice the price. For under $100, they're a steal. After leaving a pair on a plane flying into Bangkok, I had already worked out where to buy replacements before leaving the airport. That's how much I missed them.
Buy on Amazon
QuietOn 3.1 Sleep Earbuds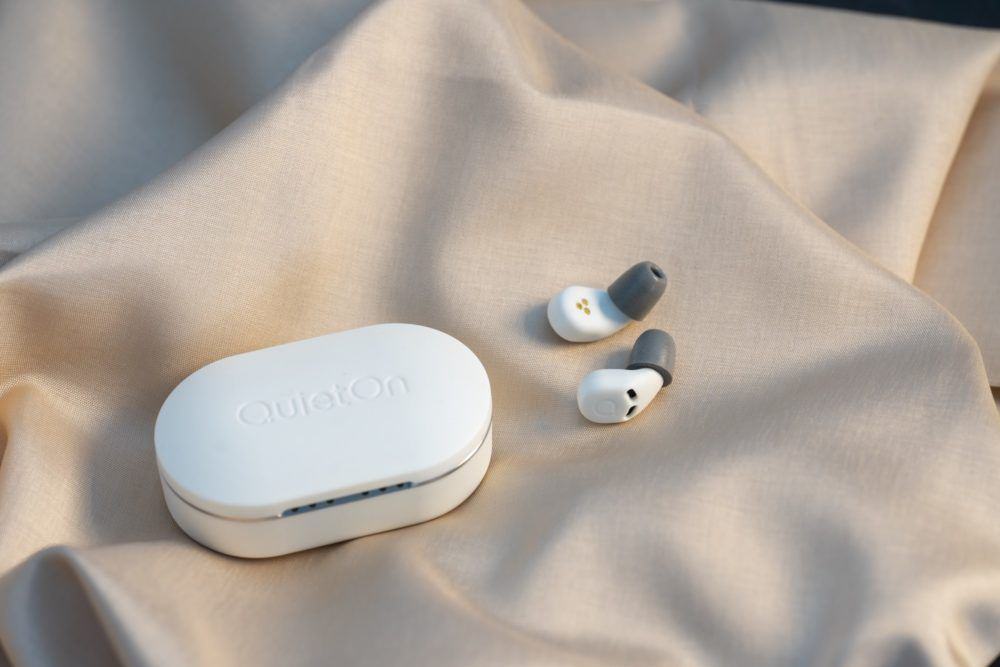 QuietOn is one of the few technology companies out there fully focused on the sleep-deprived. Its noise-canceling earbuds have no other purpose beyond cutting out the noise to help you get a better night's sleep, and do it very well.
Tiny and lightweight, the noise-canceling technology does a good job of suppressing lower-frequency sounds like snoring and rumbling traffic, at least as long as you get the right fit.
I reviewed the QuietOn 3.1 buds for several weeks, and they were more comfortable than other earbuds I've used, and most earplugs as well. They're ideal if you sleep on your back, but those (like me) who sleep on their front or side may have a bit of discomfort in the ear that's pressed into the pillow.
What surprised me while and after writing that review, though, was how effective the QuietOn 3's are with just a single earbud inserted. Inserting one of the earbuds and putting my other ear on the pillow has been enough to drown out mild to moderate noise levels, at least for me.
As I say in the review, the QuietOn 3 earbuds may not be perfect for everyone, but they get a lot right, and are the best way I've found so far of drowning out the world while sleeping. You'll get a 10% discount by using the link below.
Best Speakers
You won't find speakers on every packing list, since they're a weight and cost not everyone wants to deal with. For those serious about their travel soundtrack, though, there are hundreds of models to choose from with some big differences between them. We've used a bunch of them, and researched dozens more.
Our top two picks are below, but it's worth reading our full list of travel speaker recommendations as well. It has more detail and several other options, many of which are even better suited to certain kinds of travel.
If you're not looking for travel-specific models, we have other picks for the best cheap Bluetooth speakers and the best shower speakers as well.
Top Pick: UE Wonderboom 3
Ultimate Ears is one of our favorite travel speaker manufacturers and makes both of our top options. The Wonderboom 3 is the pick of the two, though, with impressive sound and good durability while still staying small and light enough to take anywhere.
It'll float alongside you in the pool, has proper IP67 dust and water resistance, and can handle most drops of up to five feet as well. There's a range of attractive designs and colors, and a useful fabric loop on the top that you can use to hook it onto whatever you can find nearby.
Loud enough to be heard clearly even when you're outdoors, you can connect it to another Wonderboom 3 to get stereo sound and really crank up the volume. It'll keep going for up to 14 hours without needing charging.
Other than the lack of a 3.5mm socket and the odd decision to stick with micro-USB charging in the latest model, there's very little not to like about this excellent little travel speaker.
Buy on Amazon
Best Value: Sony SRS-XB13
Sony's long had a reputation for quality at the higher end of the audio market. The XB13 takes that expertise and applies it to the lower-cost end of the range as well.
This small portable speaker sounds impressive for its size, with strong, distinct mid-range and crisp treble. Maximum volume is surprisingly loud, and although you'll get some distortion at the top of the range, you'll really need to push it that high, especially indoors.
Despite being so small, the XB13 doesn't skimp on features. There's a microphone for making calls if you're so inclined, and IP67 dust and water protection that means it'll handle pretty much any weather conditions.
The 16-hour battery life is better than the competition, and there's a strap included for hanging the speaker off your shower, backpack, or bike handlebars. You can pair two XB13's for stereo sound and more volume, and the speaker is available in five different colors.
You get a lot for your money with the latest model of Sony's durable little speaker. While we prefer the audio quality of the Wonderboom 3 (above) overall, features like the microphone, lower price, and longer battery life make the XB13 a better option for some buyers.
Buy on Amazon
---
Main image via StockSnap, others via Amazon