Whether you can nail a Bakasana pose or you've literally never stepped foot on a yoga mat, doing yoga from home can be very rewarding.
It's accessible, so you can squeeze in a session any time, anywhere.
It's private, so you don't have to worry about what you're wearing or what the other Yogis may think of your Downward Dog.
And best of all, it's free! Group yoga classes at local studios typically run $10-$20+ per session, which can really add up over time. So even if you end up paying for a yoga app membership, you'll still save a ton of money.
There are a few ways to do yoga at home. You could hire a private instructor if you're ballin' out, but for the rest of us, using yoga apps on our devices is the way to go.
Okay, so with that out of the way, which yoga app should you actually use? As usual, there are hundreds of different options available.
We've done the research and testing for you, to track down our recommendations for the best yoga apps on the market today. All are available for both iOS and Android, and some also have the option to use them in a web browser.
We've included both free yoga apps and paid versions. The majority of the top options are of the "freemium" variety, which means they're free to download, but with many features reserved for paid memberships.
If you end up liking a free app, it's often worthwhile paying for the membership. Generally between $8 and $15 per month, they compare pretty favorably to the $100-$200+ per month you'd pay for a local yoga studio membership.
Without further ado, here's what's worth installing!
🏃‍♂️ Looking for more fitness options? Check out our picks for the best home workout apps.
Down Dog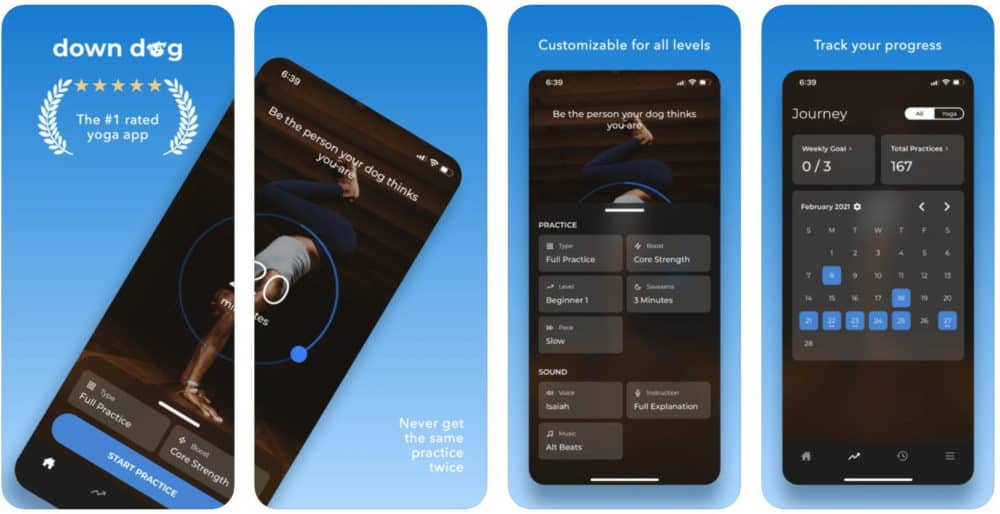 Downward-Facing Dog (aka Down Dog) is one of the most common poses in yoga, and the yoga app of the same name is one of the most popular on the market.
Down Dog takes an unusual approach, in that it doesn't use pre-recorded yoga session videos. Instead, it provides customized yoga sequences that can be tailored to your needs. There are over 60,000 theoretical sequences, which means you'll never need to do the same session twice.
While most apps on this list are led by human yoga instructors who record entire sessions for you to follow along with, Down Dog is more of a tech-driven app. It's a robot yoga teacher, if you will.
The perks of Down Dog are an almost unlimited selection, and a unique algorithmic feature that adjusts the difficulty as you get better at your practice. It's also got nifty features like your choice of six different voices, and music integration that can change to match your breathing patterns.
Down Dog is beginner-friendly, but remains engaging for more advanced yogis thanks to the scaling difficulty levels. The app is free, but most features are locked behind a paid membership ($7.99 per month).
Available on iOS and Android. Limited free selection, $7.99/month for full access
Find What Feels Good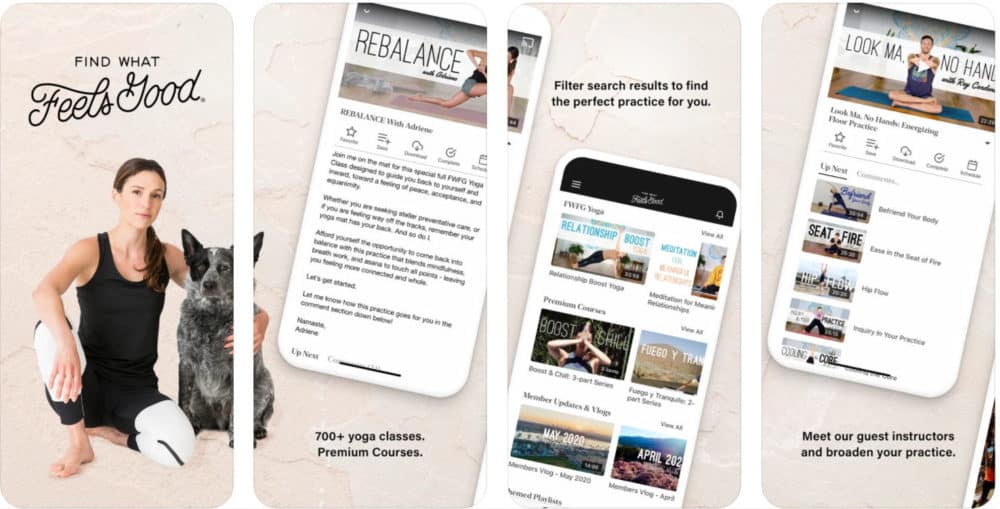 Find What Feels Good is an app and membership community from the popular Yoga with Adriene YouTube channel. If you've ever searched for "yoga" on YouTube, chances are you've come across Adriene's videos: she's clearly mastered the YouTube algorithm!
Most classes on Find What Feels Good are led by Adriene herself, who has a bright, fun, and very casual personality. Adriene is a great teacher and does a good job of providing beginner-friendly content. On more advanced sessions, she often provides an easier alternative to the more complex poses as well.
While Adriene's content is great and she's very likeable and fun, I do have one gripe: compared to some other creators in the online yoga space, I find Adriene's videos a bit lacking in terms of audio cues. The result is that I find myself looking at the screen more than I'd like, rather than relying primarily on the audio.
The app includes 700+ yoga sessions as pre-recorded videos, and you can download videos to watch them when you don't have good Wi-Fi (ideal while traveling). You can also cast videos to your TV using a Chromecast or AirPlay-enabled device.
This app is free to download, but you'll need a membership to use most features ($12.99/month or $129.99/year). There's a free seven-day trial to test it out.
Pro tip: While the app is excellent and the membership worthwhile for dedicated yoga fans, the reality is that Yoga with Adriene has a ton of free content on YouTube. If you're not into paying the monthly fee, YouTube is a reasonable alternative!
Available on iOS and Android. Limited free features, $12.99/month for full access
Daily Yoga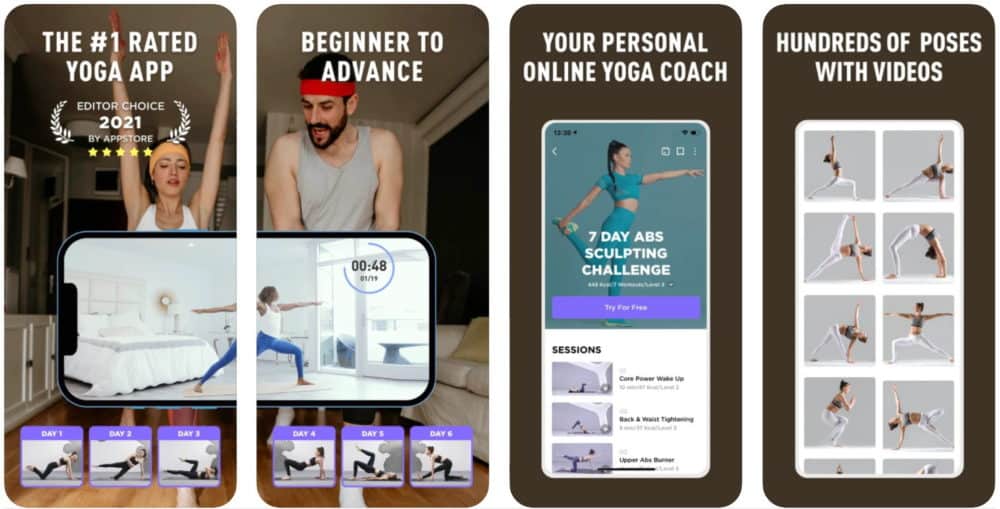 Daily Yoga is a straightforward yoga app with a ton of content to explore. There are more than 500 classes to follow along with, including yoga, pilates, and meditation. For a hybrid yoga and meditation app, this is a top option.
Daily Yoga is very accessible, with classes and programs for all skill levels, and session lengths from as little as five minutes to as long as 70 minutes. There's also a "smart coach" feature that lets you put in your goals (i.e. flexibility, strength, weight loss) and it will recommend certain classes for you to take.
As the name suggests, there's also a daily yoga challenge that's updated each and every day. New classes are added on a weekly basis as well, so there's a ton of content to explore.
There's a decent selection in the free version of the app, but the best features and classes are only available with a membership, priced at $9.99/month.
Available on iOS and Android. Limited free selection, $9.99/month for full access
Yoga with Kassandra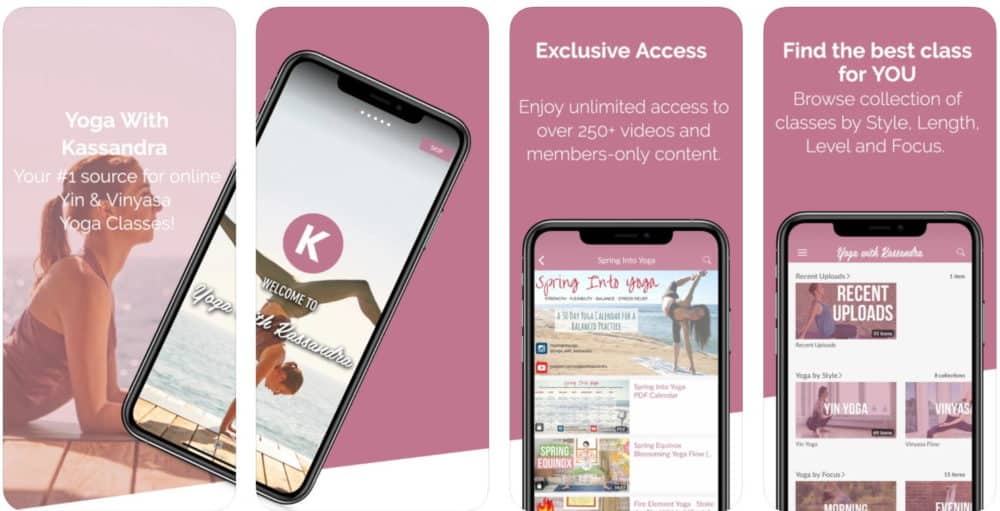 Here's another YouTube-yoga-channel-turned-app, this time from the popular Yoga with Kassandra YouTube channel. Predictably enough, it's called Yoga with Kassandra.
Yoga with Kassandra is one of my favorite YouTubers in the yoga space. I find that her instructions are very clear and easy to follow, helping me stay more engaged with the practice and not needing to look at the video as much for guidance.
The app takes all of Kassandra's YouTube content and builds on it, offering a total of 550+ videos to follow along with. There are also more in-depth programs to follow, as well as a unique monthly yoga calendar that lets you plan out and track your practice. You can download videos for offline viewing.
A subscription to the Yoga with Kassandra app is $13.99/month, and there's a free 7-day trial.
Like Yoga With Adriene above, it's worth noting that Kassandra has a ton of free content on her YouTube channel. It's easy enough to check her out there to start with, and if you find that you like her videos, then upgrade to a membership via the app.
Available on iOS and Android. $13.99/month for full access (free 7-day trial)
Gaia


Gaia is a unique app that covers much more than just yoga. It's a platform that helps users explore spirituality, physical movement, meditation, consciousness, and more: basically, a hippy one-stop-shop!
On Gaia, you'll find everything from recorded yoga sessions to hundreds of documentaries, films, and docuseries. From ancient history to alternative health trends, you'll find it all on this platform.
In terms of yoga alone, there's certainly less content on Gaia than other apps on this list. If you're interested in the rest of Gaia's programs, this is definitely an interesting app to try out.
As with many of the other apps we've talked about here, there's a limited amount of free content, with a full subscription costing $11.99/month.
Available on iOS and Android. Free limited selection, $11.99/month for full access
YouTube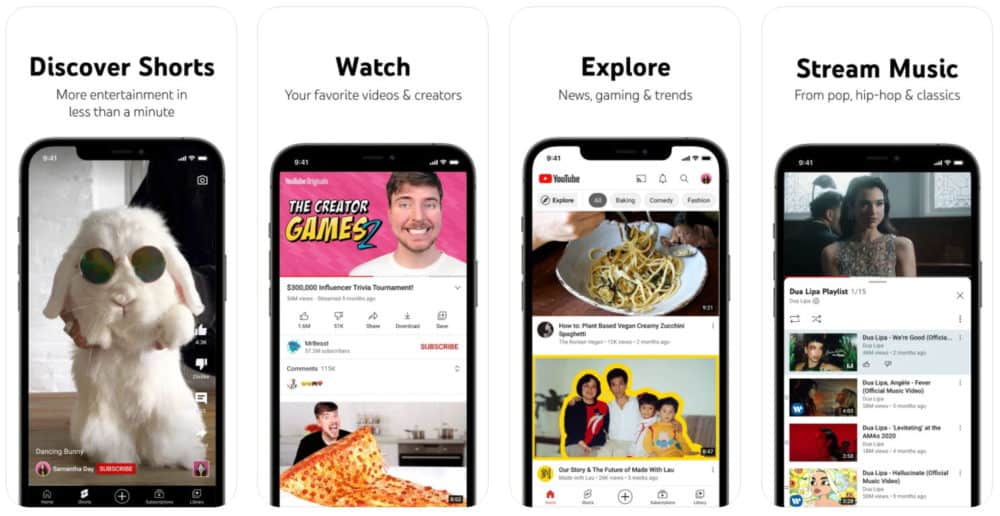 Looking for the best free yoga app? You've probably already got it installed. It's called YouTube — ever heard of it?
I'm guessing you have. If you're anything like me, you've been sucked down the YouTube rabbithole before, only to emerge four hours later wondering where the day went.
While YouTube is fantastic for wasting time, it's also great for getting in a workout. And it's free!
To make the most of it, you'll need to find the YouTube yoga teachers whose content you particularly enjoy. There are hundreds of them on YouTube, but some of my favorites are:
YouTube is ideal for sampling content from many different creators, making it easy to figure out the style of videos you enjoy the most. Then, if you want more of that person's content and/or want to support them, most creators have some sort of membership or app you can use.
Of course, the downside with YouTube is that you can pull it up to start a yoga session, and end up watching thirty minutes of cute cat videos. Fun, but not exactly productive!
YouTube is entirely free to use, albeit ad-supported. A Premium subscription is available that removes the ads, lets you download videos to your device for offline viewing, gives access to YouTube's music streaming service, and more.
Available on iOS and Android. Free, ad-supported. Premium available for $11.99 per month.
Yoga for Beginners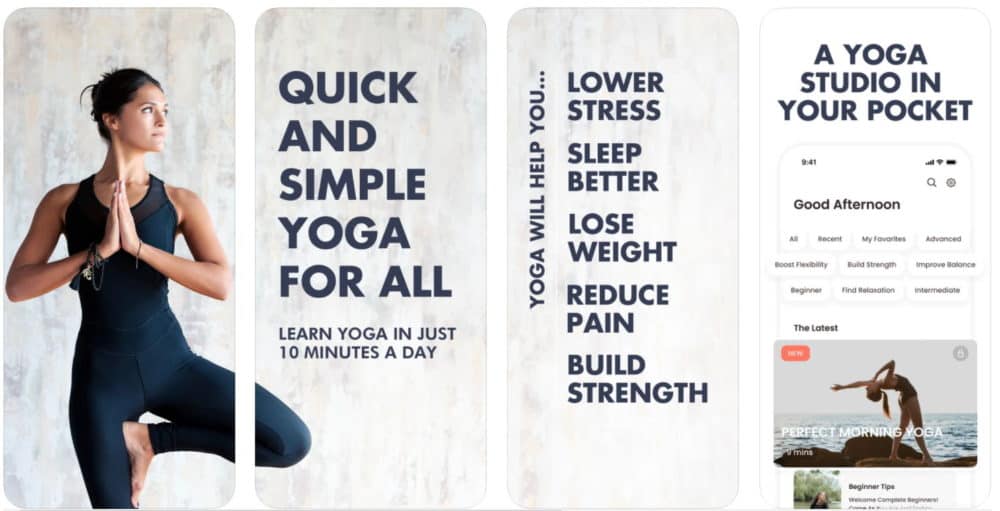 If you're new to yoga, there are a number of apps out there geared towards those just starting their yoga journey. One of the best is the appropriately-named Yoga for Beginners, for a few different reasons.
First of all, the app is designed for bite-sized yoga sessions. Most sessions are around 10 minutes long, which is approachable for all experience levels.
It focuses on beginner-friendly content, but there are different levels as you progress in your practice, so you're able to grow and improve over time.
Finally, it's cheap, at just $6.99/month for full access. There's a decent amount of completely free content as well, to help get you started and see whether it's something that you're likely to stick with. If you end up liking it, it's well worth a few bucks a month!
Available on iOS and Android. Limited free selection, $6.99/month for full access
Asana Rebel
Yoga is great, but many people (myself included) like to integrate it as just part of their overall fitness routines. If this is you as well, Asana Rebel is a great option.
This app is designed to be a one-stop-shop for your fitness needs, with an extensive library of workouts, including yoga, high intensity interval training (HIIT), and more. There are even meditation exercises and daily quizzes to improve your mental fitness, and Asana Rebel has nutritional guidance and eating plans available as well.
The app integrates with Apple Health and Google Fit, so you can track your holistic fitness and health stats. The free version of the app is pretty limited, but the membership offers good value. The best deal on the membership is currently $58.99 per year.
My only real criticism of the yoga component of the app is that it assumes a certain degree of comfort with yoga already, so it moves quickly and doesn't spend a lot of time explaining things. If you're a total beginner, it might be worth combining Asana Rebel with Yoga for Beginners (above) to get you started.
Available on iOS and Android. Limited free selection, $58.99/year for full access
---
Main image via Shutterstock, app screenshots via respective developers