Whether you call the country Czechia or the Czech Republic, you're right either way. In 2016 the country's government decided it would be good to have a one-word name for the country, and officially changed the "short" name of the country to Czechia.
It hasn't really caught on yet, though, and many locals and tourists still call it the Czech Republic, at least in English.
I spent a month in Prague, the country's capital and largest city. It's full of amazing food, incredible architecture, great co-working spaces, and solid, if not particularly cheap, mobile providers.
Need travel insurance for your time in Czechia? We currently use HeyMondo, thanks to its comprehensive coverage options, competitive pricing, and the ability to buy or renew a policy while outside your home country. Residents of most countries get a discount with this link.
Companies
---
We recommend Vodafone for most travelers
A Czechia eSIM is often the best option if your device supports it
---
Unlike many other European countries, you won't be bombarded with tons of marketing from carriers when you land, or even as you walk the streets of Prague.
Sure there are stores and kiosks everywhere throughout the city, but it's refreshing not to be overwhelmed by them all telling you they are the biggest, fastest, best value, etc. as you wander around.
There are three big players in Czechia: Vodafone, T-Mobile, and O2, and I initially wasn't sure which to go with. All three offer LTE coverage on pre-paid plans, but my research as to the best option gave mixed results.
I started by asking other digital nomads at the co-working space I favored, but learned nothing conclusive. Everyone had a different favorite, mostly based on which company had the best special when they first landed in town.
I also checked their phones, but all had strong signal and good speeds in the city center regardless of network.
Additional online research turned up the same thing, with several people suggesting the providers were all comparable. Finally, I decided to just go into the stores and get more info firsthand.
Staff at both O2 and T-Mobile told me they had the best network, just because "they were the best". They offered no differentiation or explanation as to why, and seemed to think it was an odd question.
I then visited the Vodafone shop, and was impressed. Not only was there no wait to talk to someone, but the salesperson explained his answer very articulately by showing me a map of all of the countries in Europe where Vodafone operates, and how their roaming packages have better pricing and coverage.
He then ran a speed test on his phone to show me the lightning-fast LTE speeds of the network (more below). Lastly, he showed me the prepaid package options, which were more numerous than either of the other two carriers. I was sold.
Vodafone was the clear winner for me, and after using it for a few weeks, I wasn't disappointed.
While this article is about buying physical SIM cards, if you have a recent iPhone or other supported device, the best way to get connected in Czechia may be to buy an eSIM instead.
We've written an explainer of what eSIMs are all about if you're not familiar with them. Because they're software rather than a plastic card, you can buy before you leave home, avoid the hassle of kiosks and phone stores entirely, and get connected as soon as you land.
These days, we use
aloSIM
: easy to buy and set up, it's a simple, low-cost way of staying connected when you travel. You'll get a discount on your first purchase with the code
TMA
.
How to Buy a Prepaid SIM Card in Czechia
---
While Vodafone has a kiosk in Terminal 2 of Prague's international airport, as mentioned I waited until I was in the city and visited all three carriers. O2 and T-Mobile used a touchscreen ticket system, with a 15-minute wait in both cases. When I finally did get to talk with someone, I felt more like an annoyance than a customer.
Vodafone had no visible ticket system, with plenty of knowledgeable staff on hand to answer my questions right away. Even with the carrier overview and package selection, the entire process took only 15 minutes.
No passport was even required for the transaction. I just had to select my plan, sign a form written in Czech that said I wouldn't do anything illegal with my SIM, and pay.
The representative installed the card for me and made sure it was working before I left. It was a breeze.
Prefer to spend your vacation sightseeing instead of buying SIM cards? Grab one in advance to stay connected in Czechia and across Europe.
This Orange SIM includes 20GB of data, 1000 international texts, and two hours of international calls. The price includes US delivery, and it's valid for two weeks in 30 European countries. Use the code SIMOFF20 at checkout to get 20% off!
Other options are available
if you're traveling for longer, need a portable hotspot, or want a different mix of calls, texts, and data. No matter how you do it, you'll be connected with a minimum of fuss before you've left the airport.
Prepaid SIM Costs
---
O2 was running a special at the time, making it slightly cheaper than the other providers, while T-Mobile had a different but comparable offering to Vodafone.
All three companies matched each other well on prices, and I was told they all tweak their plans a little each month to stay competitive. Unsurprisingly, perhaps, none had printed price sheets.
The Vodafone SIM card was free with the purchase of my plan, and I went for a tourist-focused package that included 10GB of data for 800 Czech Koruna (~$31), good for 30 days. This also included unlimited Vodafone-to-Vodafone calls. There was also a 20GB option, for 1299 CZK.
These packages didn't include EU roaming. I was in Czechia for the full month so roaming wasn't something I needed, but you'll need to go for a different package (or provider) if that's something you're after.
Topping Up
---
With 10 gigs to use in a month and a fast Wi-Fi connection at my co-working spot, I never had to top up, but it's easy enough to do.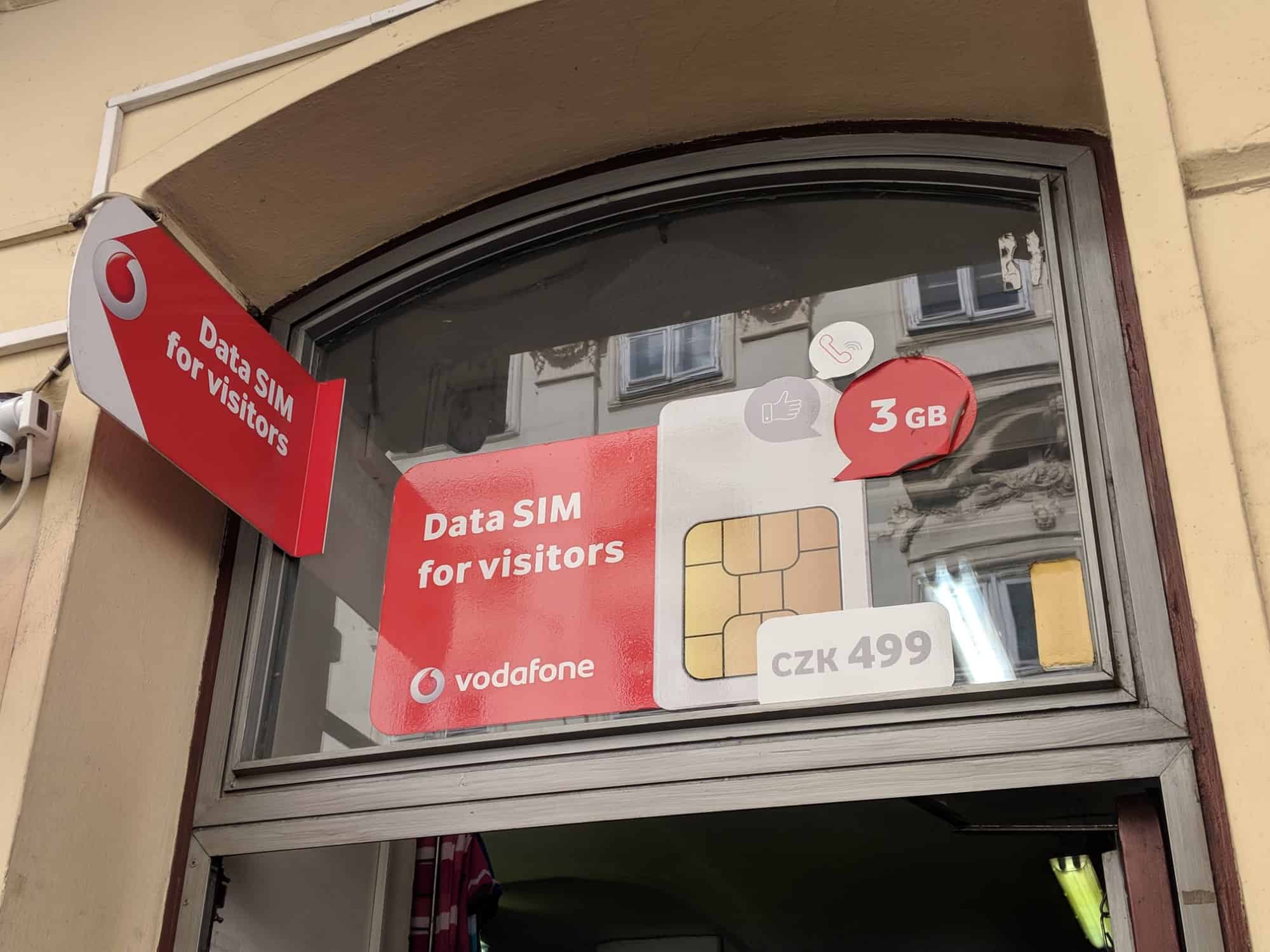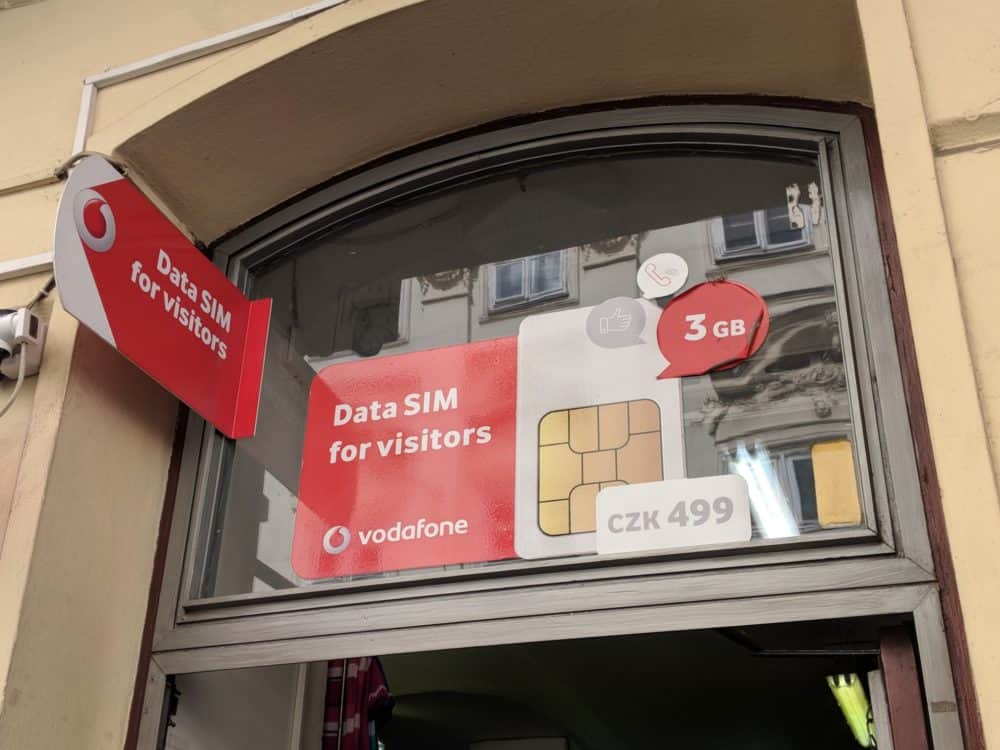 Options include the Vodafone app (Můj Vodafone), the company website, or any place around town that has a Vodafone sticker in the window (and there are a lot of them).
Coverage and Data Speeds
---
As soon as I bought my SIM card, I noticed how fast web browsing and internet-based apps seemed to be… and then I tested the speed.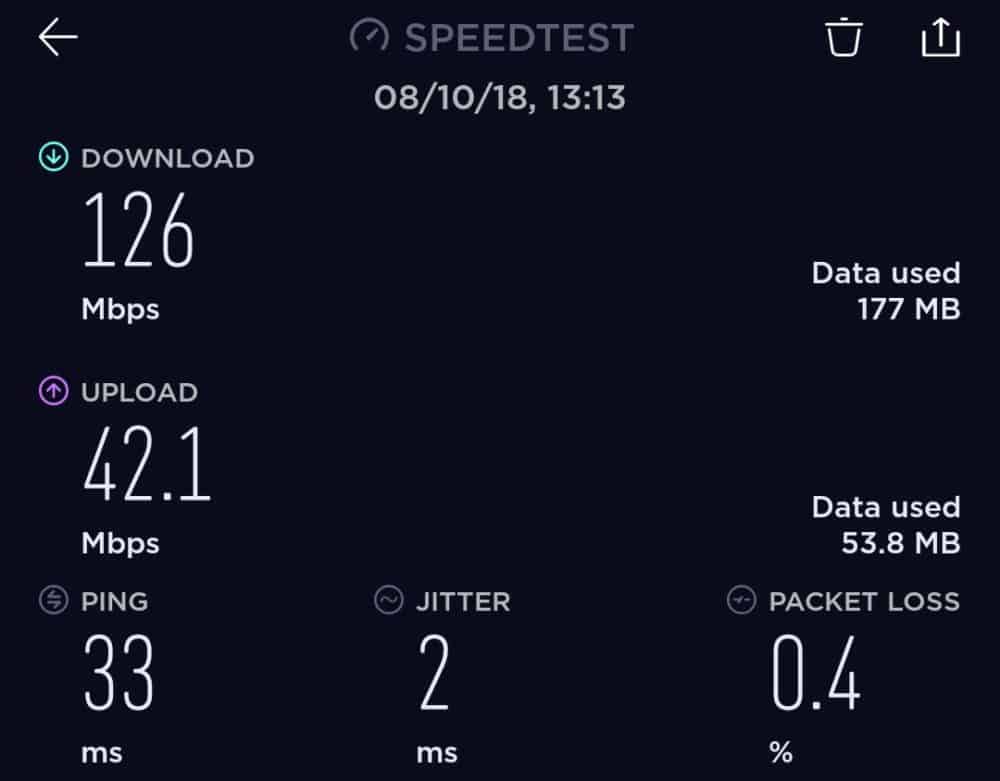 126Mbps down/42Mbps up! Those speeds remained consistent during my entire trip, and I had no issues with the service anywhere I used my phone.
EU Roaming
---
Czechia is part of the European Union, so EU roaming regulations apply. These "roam like at home" rules ended roaming charges across much of Europe in 2017, letting you use a SIM card from any EU country across all the others at no extra charge.
There are some exceptions and limits, however, especially with large data packages like the tourist plan mentioned above. We've also had reports of Vodafone staff at the airport refusing to enable roaming on other plans for foreign visitors (see the comments below.) In short, double-check the exact details carefully at time of purchase if you plan to roam elsewhere in the EU.
---
Check out our guides to buying SIM cards in many other countries here.