Note: This article is about how to buy a SIM card in Georgia the country, not Georgia the state in the USA! You can find US SIM card information here.
Bordered by Russia, Turkey, Armenia, Azerbaijan, and the Black Sea, the small nation of Georgia is technically in both Europe and Asia.
One of the country's claims to fame is that many consider it to be the birthplace of wine, with 8,000-year-old wine jars discovered there in the past. I can confirm the wine made there today is both high-quality and affordable, by the way.
History buffs might also remember that in 1991 the country received its independence from the Soviet Union. I spent almost a month in Georgia, traveling from the Black Sea coast to the country's capital of Tbilisi, and was impressed by how far the country (and its mobile network) has come.
Need travel insurance for your time in Georgia? We currently use HeyMondo, thanks to its comprehensive coverage options, competitive pricing, and the ability to buy or renew a policy while outside your home country. Residents of most countries get a discount with this link.
Companies
---
We recommend Magti for most travelers
A Georgia eSIM is often the best option if your device supports it
---
When I first landed in Georgia, I began scouting for the adverts for SIM cards and mobile carriers you typically find plastered all over international airports.
To my surprise, however, I didn't see any there (or most anywhere in the country.) There was one vendor giving out free SIM cards in the airport, but I steered clear until I could get more info about which network I wanted to go with.
My research turned up two main providers in the country, MagtiCom (which everyone calls Magti) and Geocell. Both offer pre-paid plans, LTE coverage, and have good reputations, but Magti is commonly considered the better option, with the best coverage across the country.
Since I planned to explore a lot of the country I decided to go with Magti, and wasn't disappointed.
While this article is about buying physical SIM cards, if you have a recent iPhone or other supported device, the best way to get connected in Georgia may be to buy an eSIM instead.
We've written an explainer of what eSIMs are all about if you're not familiar with them. Because they're software rather than a plastic card, you can buy before you leave home, avoid the hassle of kiosks and phone stores entirely, and get connected as soon as you land.
These days, we use
aloSIM
: easy to buy and set up, it's a simple, low-cost way of staying connected when you travel. You'll get a discount on your first purchase with the code
TMA
.
How to Buy a Prepaid SIM Card in Georgia
---
After deciding on Magti, I needed to find a retailer. Fortunately Google Maps helped me with that, since the building housing the company in Batumi was a little understated and easy to miss.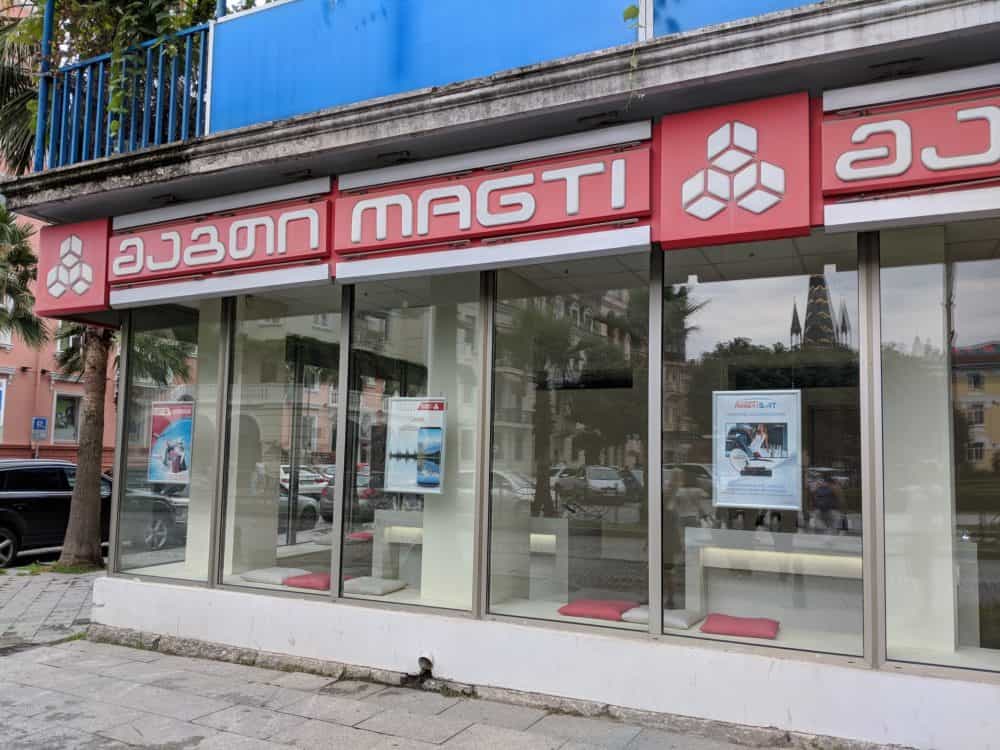 I showed up there on a Sunday morning to find no line, and only one person working there. She was very helpful and spoke good English.
The only thing required was my passport, method of payment (yes, they accepted credit cards) and my signature on Magti forms. Because they were written in the Georgian alphabet I have no idea what I signed, but either way, the whole process took about 15 minutes.
The staff member activated the SIM for me, and installed it in my phone. I had service straight away.
Can't be bothered with the hassle of buying a local SIM in Georgia? OneSIM topped our international SIM card comparison.
It offers phones and SIM cards that work in 200 countries, have free incoming calls, save up to 85% on roaming fees, and can be sent out ahead of time to let you hit the ground running.
Find out more here.
Prepaid SIM Costs
---
A Magti SIM card costs 2 GEL (around 65c USD or 60c EUR), and offers a variety of pre-paid plans for Internet and SMS.
I was traveling with other people, and ended up buying three SIM cards. I only needed a single passport to buy all three.
Since I was also doing some work while in the country and was concerned about how much data I'd use, I bought an unlimited data plan for one of the cards. Good for 30 days, it cost 150 GEL (~$48 /€45).
I bought the 5GB/30 day plan for the other two cards, which only set me back 12 GEL each. Since I bought three plans, the staff member decided to give me the SIM cards for free.
You can find all of the current Magti plans here.
Topping Up
---
Topping up is a breeze. Banks have self-service kiosks throughout the country, both inside and outside the branches. You won't have to look far to find them, they're everywhere.
Different banks have different color-coded kiosks but all of them have top-up options for Magti.
The kiosks have an English menu option. Just change the language (generally by tapping the UK flag) and the rest is self-explanatory. Select mobile payments, select Magti, enter your phone number, select the amount of data you want to buy, and pay by credit card or cash.
You can also top up on the Magti mobile app called MyMagti. You can add credit for phone calls, SMS, or data with just a few taps, and pay via a credit card in a matter of minutes.
Coverage and Data Speeds
---
I noticed I had good LTE speeds as soon as I bought my SIM card in Batumi, but the real test would come days later when I took a slow-moving train across the country.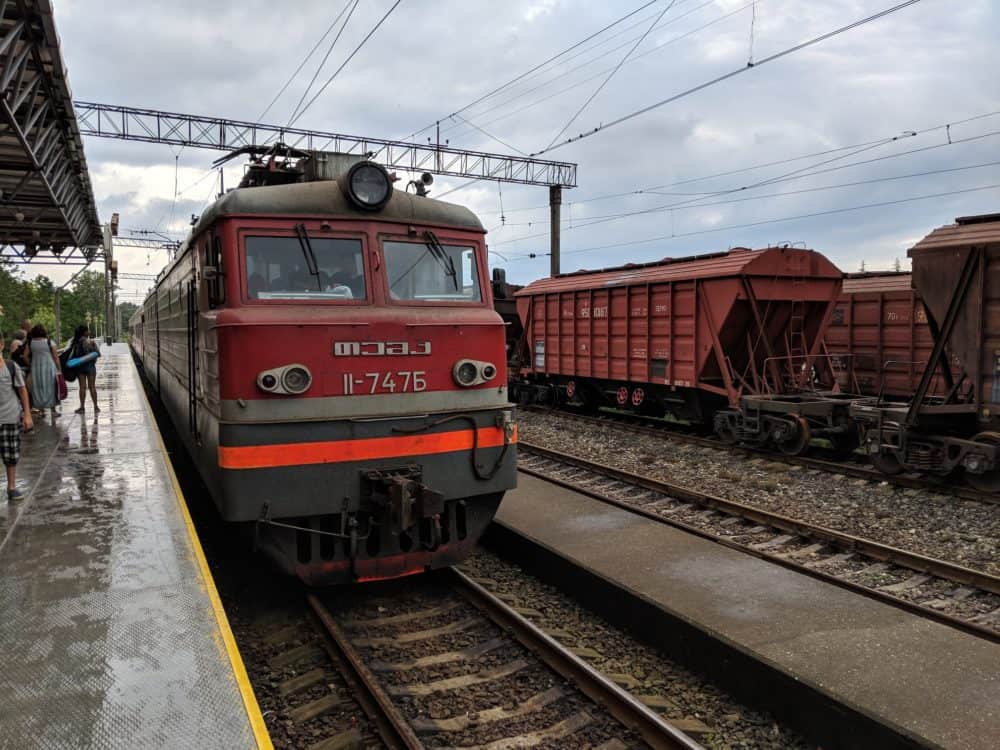 The trip took six hours, and the train was certainly dated. There was no Wi-Fi, no working electrical plugs, and no food. There was a bathroom, at least, and there was data via Magti's network almost the entire time.
It wasn't the fastest of speeds in the most remote spots, but it was consistent and usable the whole way. I was impressed.
The train arrived in Tbilisi, the country's capital, and fast LTE speeds returned.


---
Check out our guides to buying SIM cards in many other countries here.