Hungary has grown more popular with tourists in recent years, attractive to both backpackers and those with a few more forint in their wallets. While tourism is picking up across the country, Budapest is still where most travelers spend much of their time.
A city of 1.7 million, the capital is both lively and beautiful, as famous for its "ruin pub" nightlife as its sophisticated wine and cocktail scene.
When the sun comes up, Budapest has plenty to keep you busy, from hikes in the Buda hills to spa baths across the city and a range of museums and historical sites. Besides the wealth of things to do, Hungary is popular for its prices, far lower than in Western European cities.
Picking up a SIM card is both simple and affordable, although it does require you bring official ID and complete some paperwork. Coverage and speeds are excellent in the major cities.
Here's what you need to know about buying a SIM card in Hungary.
Need travel insurance for your time in Hungary? We currently use HeyMondo, thanks to its comprehensive coverage options, competitive pricing, and the ability to buy or renew a policy while outside your home country. Residents of most countries get a discount with this link.
Companies
---
We recommend Telenor for most travelers
A Hungary eSIM is often the best option if your device supports it
---
There are four cell networks in Hungary: the three established carriers Telekom (formerly T-Mobile), Telenor, and Vodafone; and Digi, a relative newcomer that doesn't offer prepaid plans.
While there are several resellers as well, they require registration by phone in Hungarian and a follow-up letter to a Hungarian address. Therefore, the primary providers listed above are the most convenient choices for travelers.
Telekom has the largest market share in Hungary. It has the best coverage on 2G and 4G/LTE networks, but the worst 3G coverage. LTE covers almost all of the population, but you'll still drop down to slower speeds in remote areas.
Within the capital and other large cities, Telekom and Telenor both have good service. Vodafone has the least coverage of the three main carriers, and while I've used it on past visits to Budapest, I now go for Telenor due to better coverage and value. Vodafone also has a reputation for being difficult for non-resident foreigners to deal with.
I chose Telenor over Telekom because of the companies' customer service reputation, and slightly lower pricing when I bought it.
While this article is about buying physical SIM cards, if you have a recent iPhone or other supported device, the best way to get connected in Hungary may be to buy an eSIM instead.
We've written an explainer of what eSIMs are all about if you're not familiar with them. Because they're software rather than a plastic card, you can buy before you leave home, avoid the hassle of kiosks and phone stores entirely, and get connected as soon as you land.
These days, we use
aloSIM
: easy to buy and set up, it's a simple, low-cost way of staying connected when you travel. You'll get a discount on your first purchase with the code
TMA
.
How to Buy a Prepaid SIM Card in Hungary
---
Vodafone used to be the only provider offering SIMs at Budapest airport, but we've had a report that post-pandemic, the store there no longer exists. Now, you'll need to purchase when you reach the city.
Getting from the airport to the city without being connected is easy if you use the miniBud shuttle, which you can arrange on arrival in the arrivals hall. Public transport is also fairly straightforward, but requires a transfer.
The transportation desk at Budapest airport can sell you tickets and offer instructions for getting to the city via public transport.
If you're arriving in Budapest by train, the Arena Plaza shopping mall is about a 10-minute walk from Keleti pályaudvar train station. It has Telenor, Telekom, and Vodafone shops, as well as a Media Markt store that also sells SIM cards.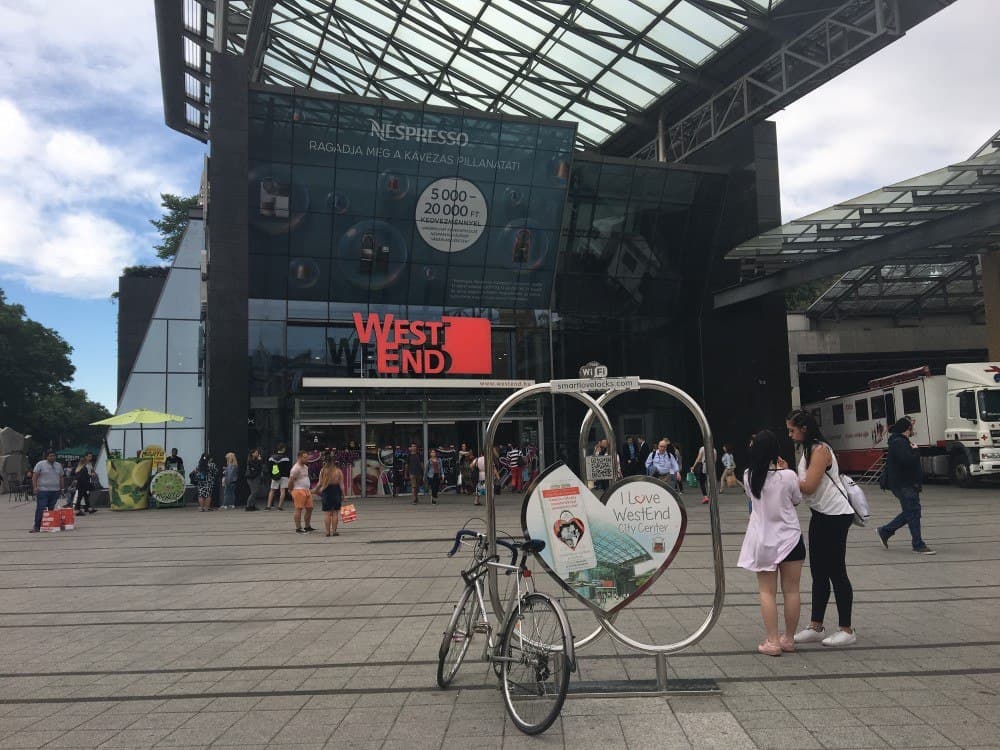 If you're arriving by air and decide to purchase your SIM in the city, I recommend going to WestEnd City Centre in Budapest. This large shopping mall is attached to Nyugati pályaudvar train station, and connected to public transport via metro and the 4/6 trams.
WestEnd has Telekom, Vodafone and Telenor shops, as well as a Media Markt and Digi shop.
At all of these shops, there will likely be a staff member who speaks English and is able to help you. You'll be able to pay with cash, a PIN-enabled card, and (often) contactless debit or credit cards.
Purchasing a SIM card will take about 30 minutes due to the paperwork required. While it's not at all difficult, anti-terrorism legislation increased the information required to get a SIM from 2017 onward, so it takes slightly longer than before.
You will need to provide photo identification, such as a passport or ID card, and sign a bit of paperwork. You may also be required to provide a Hungarian address, so be sure to note down your hotel/apartment details beforehand.
Prefer to spend your vacation sightseeing instead of buying SIM cards? Grab one in advance to stay connected in Hungary and across Europe.
This Orange SIM includes 20GB of data, 1000 international texts, and two hours of international calls. The price includes US delivery, and it's valid for two weeks in 30 European countries. Use the code SIMOFF20 at checkout to get 20% off!
Other options are available
if you're traveling for longer, need a portable hotspot, or want a different mix of calls, texts, and data. No matter how you do it, you'll be connected with a minimum of fuss before you've left the airport.
Prepaid SIM Costs
---
Vodafone outlines pre-paid options on the English version of its website. As an example, in May 2022, a 'Tuti100' plan with 100GB of data valid for 30 days cost 6990 HUF (~$20). You're able to use 15GB of that in other EU countries. Calls and texts cost HUF 19 (6c) per minute.
As mentioned, however, I went with Telenor. If you mostly need data, a SIM and 1GB data package costs HUF 1100 ($3), valid for 30 days. The 3GB version costs HUF 2500 (~$7), while 5GB costs HUF 3300 ($9). You'll pay HUF 25 per minute or text, with a small free call/text allowance on the 5GB plan.
If you'll be calling or texting regularly, "2in1" package prices range from HUF 1000-3800, depending on the amount of calls, texts, and data included. Telenor's plans can be found on the English version of its website.
Telekom typically has similar pricing to Telenor: sometimes it's a little more expensive, sometimes it's cheaper. An English version of its website outlines current offerings.
Topping Up
---
Topping up is very easy, and there are a number of options.
For many visitors, the easiest option for top-up is to simply return to the telecom shop where you purchased the SIM card, give them your phone number, and let them know how much you want to top-up.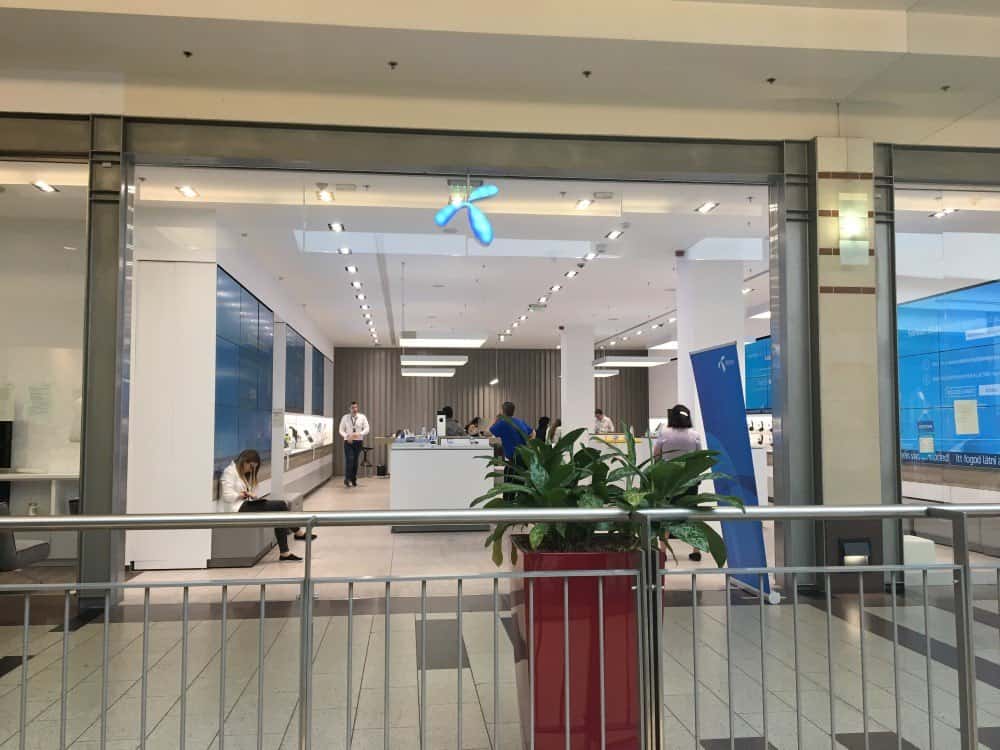 Alternatively, all three major providers also offer online top-up options. It may not work with all international credit cards, but I've never had a problem paying bills or completing top-ups online when using one.
Telenor offers online top-up here, Telekom's version is here, and Vodafone's is here.
You can also purchase top-up cards at news kiosks (such as Relay), gas/petrol stations, and post offices. It's often harder to find English-speaking staff in these shops, however.
Coverage and Data Speeds
---
Coverage is excellent in Budapest and every city we've visited outside of the capital. Data speeds are generally extremely fast.
Within Budapest, I get speeds of 147Mbps download and 39Mbps upload. I've had similar coverage in Pest, in the south, and have been told speeds are much the same in other cities.
I've experienced reduced coverage on train trips, including temporary black spots that haven't lasted more than 15 minutes. The problem you're more likely to have is poor signal in some old buildings, which often have thick stone walls.

EU Roaming
---
Hungary is part of the European Union, so EU roaming regulations apply. These "roam like at home" rules ended roaming charges across much of Europe in 2017, letting you use a SIM card from any EU country across all the others at no extra charge.
There are some exceptions and limits, however, especially with large data packages. Double-check the exact details at time of purchase.
---
Check out our guides to buying SIM cards in many other countries here.