When I was growing up, I imagined India as an exotic land filled with tigers, elephants, and monkeys. When I finally got there I didn't see any tigers… but I found plenty of monkeys, cows, and camels instead, along with incredible architecture, fantastic food, beautiful beaches, and warm, friendly people.
India is by far the cheapest country I have ever traveled in, but it's also one of the toughest. This goes for the SIM card market as well. Prices are cheap, but getting one can involve an awful lot of bureaucracy.
As a result, unless you need a local phone number or are on a tight budget, I'd strongly recommend using an eSIM (discussed below) if your device supports it.
Need travel insurance for your time in India? We currently use HeyMondo, thanks to its comprehensive coverage options, competitive pricing, and the ability to buy or renew a policy while outside your home country. Residents of most countries get a discount with this link.
Companies
---
We recommend Vodafone-Idea or Airtel, although the best service varies depends on where in the country you're going.
An India eSIM is often the best option if your device supports it
---
There are four main service providers in India, after a wave of mergers, acquisitions, and bankruptcies changed the market in the last few years. They all offer 4G/LTE, but not all have good coverage across the entire country. The top two for market share and network coverage are Vodafone-Idea and Airtel, and most travelers should opt for one or the other.
Note that while Vodafone and Idea merged in 2018, both brands and cell networks are still being used. The networks will ultimately be fully combined, which has happened in around a third of the country so far.
There is immense competition, and prices for calls and data in India are some of the lowest in the world. Location will determine which provider is best: Airtel is typically regarded as having the best network, but that wasn't always the case in my testing.
Every traveler I met was using one of the networks mentioned above. We've used both Airtel and Idea across the north, middle, and south of the country.
You'll likely have quite different purchasing experiences based on where you buy your SIM card, and will get very different speeds with a given network depending on where you are at the time.
Both networks offer both prepaid and postpaid options, and neither do contracts. Prepaid is best unless you have an extended stay, since postpaid plans require a three-month commitment to start with. Postpaid is slightly cheaper than prepaid, but the savings are insignificant in the real world.
Standard SIM cards are disabled after three months of inactivity, but cards for tourists expire after three months regardless. Whichever provider you go with, expect to receive several promotional texts each day, offering discounts on services you're unlikely to care much about.
While this article is about buying physical SIM cards, if you have a recent iPhone or other supported device, the best way to get connected in India may be to buy an eSIM instead.
We've written an explainer of what eSIMs are all about if you're not familiar with them. Because they're software rather than a plastic card, you can buy before you leave home, avoid the hassle of kiosks and phone stores entirely, and get connected as soon as you land.
These days, we use
aloSIM
: easy to buy and set up, it's a simple, low-cost way of staying connected when you travel. You'll get a discount on your first purchase with the code
TMA
.
How to Buy a Prepaid SIM Card in India
---
Buying a SIM card in India is, like many other things in the country, quite an experience. Depending on where you buy it, and the whims of the person selling it to you, the process may be relatively quick and painless, long and difficult, or completely impossible.
Buying an Indian SIM Card at the Airport
If you're flying into an international airport, you'll typically find a kiosk selling SIM cards in the arrival hall. On our most recent trip at the end of 2019, we flew into Terminal 3 of New Delhi's Indira Gandhi airport and there was an Airtel kiosk near one of the exit doors.
In the interest of writing this article, my partner bought a SIM from that kiosk while I decided to wait until getting into the city. The process at the kiosk couldn't have been easier in terms of time and paperwork, albeit with a surcharge for the convenience.
The brusque staff member took a copy of the passport and a photo of my partner with a webcam, asked her to sign a couple of pieces of paper, and sent us on our way with an assurance that the SIM would start working by 11pm that night (around twelve hours later).
That didn't happen, but even if the process works perfectly, be aware that you can't buy a SIM card at the airport and expect it to work straight away. If you need data to call an Uber or navigate to your hotel, you'll need an alternative solution for the first few hours. I used a Surfroam data SIM in my phone for this purpose.
While the Airtel kiosk at New Delhi airport is apparently usually quite reliable, it wasn't in our case. The SIM didn't start working that night, or the next day, and it ultimately took three phone calls from our guesthouse owner to the airport kiosk to get things up and running.
If the same thing happens to you and your Airtel SIM is not working after 24 hours, you'll need to call or return to the place you bought it from to sort things out. Other stores, even official ones, won't be able to help.
For the airport kiosk in New Delhi specifically, you'll need to provide your name, along with the phone number you were assigned and your receipt number. All details should be on the receipt, but if you need their phone number, it's 99586 41785.
Once the line is enabled and you have signal, you may need to call 59059 to activate the service. An automated voice will ask for details like your date of birth and the last four digits of your passport number.
After that, you can either call the airport kiosk again to get your call/text/data package added immediately, or wait a few hours for it to "automatically" happen.
Buying an Indian SIM Outside the Airport
If you choose to buy your SIM card outside the airport, you'll be rewarded with lower prices, greater choice, and extra bureaucracy.
As a general rule, it seems that outside the airport most tourists will have an easier time buying Idea SIM cards than Airtel ones. That doesn't necessarily mean it'll be easy, of course, just typically a little easier.
In my case, my guesthouse owner asked if I'd purchased a local SIM as we checked in, and offered to take me to the nearest store to do so. A few minute's walk away in our South Delhi neighbourhood, the small Idea store had three staff members working, and we were seen straight away.
Most of the paperwork was filled in by the staff member, who also took a copy of my passport and a head-and-shoulders photo of me. My guesthouse owner needed to give his address and phone number, then provide the verification code that was sent to it.
I also had to provide my father's name and address, despite it being in New Zealand. There's no verification, so don't feel the need to be entirely accurate if you don't want to be.
After choosing a plan and paying for it, the staff member put the SIM card into my phone, and it started working immediately. All in all, the process took about 15 minutes to complete.
Note, though, that it would have taken much longer, and been much more difficult without such a helpful guesthouse owner. If you're planning to do the same thing yourself, I'd highly recommend booking a place to stay where reviews mention assistance with buying a SIM.
If you choose to go it alone, one thing to watch for with smaller unofficial stores is being sold a SIM that's already active. This means it's registered to someone else, and you'll have no idea when it will expire. We've heard of people buying cards like these and having the card stop working within a week, with no way of retrieving any remaining credit.
Can't be bothered with the hassle of buying a local SIM in India? OneSIM topped our international SIM card comparison.
It offers phones and SIM cards that work in 200 countries, have free incoming calls, save up to 85% on roaming fees, and can be sent out ahead of time to let you hit the ground running.
Find out more here.
Prepaid SIM Costs
---
Cell service is extremely cheap in India, although costs will still vary noticeably depending on whether you buy your SIM at the airport or not.
Buying at New Delhi airport, the Airtel SIM and call/text/data bundle cost 900 rupees (~$13). This included 1.5GB of data and 100 domestic texts per day, plus unlimited domestic calls, valid for four weeks.
Assuming you can get through the paperwork barriers, buying the same bundle elsewhere costs 248 rupees. You'll also need to add whatever the vendor feels like charging you for the SIM card, likely somewhere in the region of 50-100 rupees.
My Idea package cost 199 rupees. For that, I had the same 1.5GB data and 100 domestic SMS per day, plus unlimited domestic calls, valid for four weeks. I paid 51 rupees for the SIM card itself, for a total of 250 rupees.
Many other packages are available, and you can check the latest offers online (Airtel, Vodafone-Idea).
Topping Up
---
As a tourist, topping up is best done by finding one of the many little shops that sell credit packages in cash transactions. These packages are priced by the networks, so shop owners can't really rip you off.
That said, it's always a good idea to check your balance after you buy the top-up, and while still in the presence of the vendor. Each provider has a code for checking your balance — with Airtel, for instance, dialing *123*11# returns a message showing your remaining data, voice, and SMS credit.
Most options for topping up your credit online required a local credit card. The only one I found that allowed me to use a foreign card was Xoom.com. It's owned by Paypal, and I was charged a $0.99 USD service fee.
Coverage and Data Speeds
---
Cellular service areas are divided into nearly two dozen "circles" in India, aligning roughly with the different states. This matters less than it used to, as call, text, and data bundles now apply countrywide. You'll still need to remember to turn data roaming on when leaving the area where you buy your SIM card, however.
I found that on an Android phone with an Idea SIM, I was prompted to enable data roaming when first moving to a different state, and it worked fine from then on.
With an iPhone using Airtel, we'd get "No Service" every time we crossed into a new state, even with data roaming enabled. To get things working again, we'd need to manually select an Airtel network (via Settings – Mobile Data – Primary – Network Selection) each time.
4G/LTE service is widely available throughout the country, although speeds aren't necessarily particularly fast.
In Delhi, for example, we found LTE download speeds to be much faster with Idea than Airtel. Upload speeds, however, were faster with Airtel. Coverage was available almost anywhere in the city, although data stopped working or slowed to unusable levels now and again with both providers.
We had equally variable speed and service elsewhere in the country, both on this trip and an earlier one taken a few years ago. If you're staying in one place for a while and are struggling to get reliable service with one provider, it may be worth buying a SIM from the other and switching between them as needed.
That's assuming you can handle going through the purchasing process a second time, of course!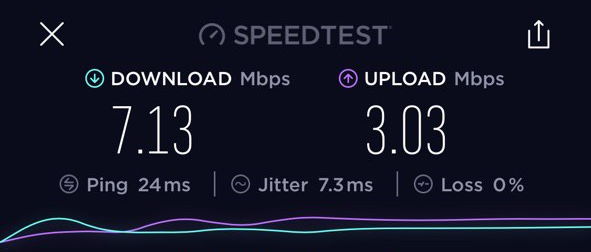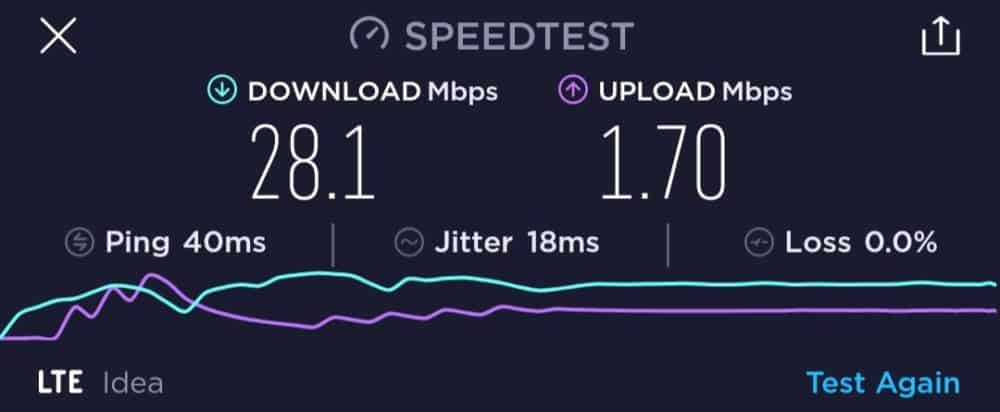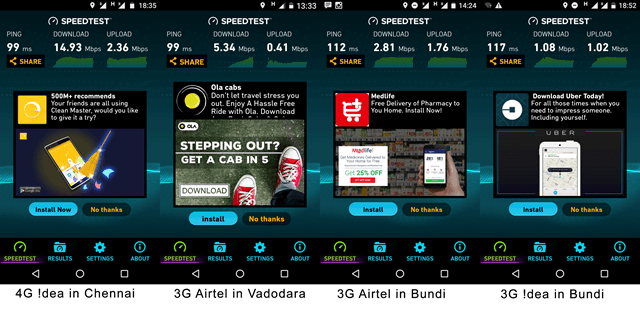 ---
Check out our guides to buying SIM cards in many other countries here.