Indonesia is a nation of over 13,000 islands, but it's one in particular that gets all the attention from tourists. Whatever draws visitors to Bali — the yoga and healthy living in Ubud, the surf at Echo Beach, the unmitigated partying in Kuta — they come in their millions each year.
While Wi-Fi of some sort has long been relatively common in bars, restaurants, and hotels on the island, the speed and reliablity was poor until recently.
Lately, though, the rollout of fiber connections has improved the situation greatly. If your plans don't extend much further than wandering between the bar and the hotel pool, you'll probably be able to make do with whatever your accommodation has on offer.
If you want to stay connected everywhere, though, a local SIM card is the way to go. This used to be a very straightforward process. Unfortunately the government changed the rules a few years ago, making it more expensive and/or difficult for foreigners to get set up.
Data speeds, at least, are generally good. Here's everything you need to know about buying a SIM card in Bali. Other than the airport purchasing details, most of the information is applicable to elsewhere in Indonesia as well.
Need travel insurance for your time in Indonesia? We currently use HeyMondo, thanks to its comprehensive coverage options, competitive pricing, and the ability to buy or renew a policy while outside your home country. Residents of most countries get a discount with this link.
Companies
---
We recommend Telkomsel for most travellers
An Indonesia eSIM is often the best option, if your device supports it
---
There are four cell service providers in Indonesia, plus a small number of resellers. Telkomsel has the widest coverage, reaching 98% of the country. It's also the most expensive, although cell service is pretty cheap regardless of which company you go with.
XL Axiata, IM3, and Tri have reasonable coverage in populated areas like Jakarta and Bali at somewhat lower prices, and less (in some cases, no service at all) elsewhere.
LTE data is available in Bali and other major population centers with Telkomsel, XL Axiata and IM3, and is being rolled out increasingly widely.
I decided to pick up a Telkomsel SIM in Bali, just to make sure I'd have coverage everywhere I went. While that didn't prove to always be the case, I'm still happy to recommend it for most travelers.
How to Buy a Prepaid SIM Card in Bali
---
If you don't need to be connected as soon as you arrive, the best way to buy a SIM card in Bali is to not buy a SIM card in Bali. Rather, if you're planning to go with our recommended provider, Telkomsel, you're better off registering for a SIM card before you touch down in Indonesia via Telkomsel's "PraBayar Tourist" (Tourist Prepaid Card) scheme.
Note: You used to be able to pick up the pre-registered card at the airport, but this option is no longer available. As a result, if you need to be connected when you land, we'd suggest getting an Indonesia eSIM from Airalo or aloSIM instead if you have a recent iPhone or other supported device. They're a bit more expensive than physical local SIM cards, but will work as soon as you get off the plane and avoid the registration hassle.

There's also a local company that can meet you at Bali airport with a physical Telkomsel SIM, or drop it off to your accommodation. You can choose how much data you want and for how long: this service costs more than lining up at the phone store yourself, but saves a bunch of time and effort.
Prepaid SIM Costs
---
The PraBayar Tourist scheme gets you 25 GB of data and 25 minutes of voice calling for 150,000 IDR, or about $10 USD, ​​with a 30-day validity period.
By comparison, the rate Telkomsel gives in Ngurah Rai International Airport for those who purchase directly from the counter upon arrival in Bali is 350,000 IDR, or about $23 USD, for 25GB of data. That's quite the difference!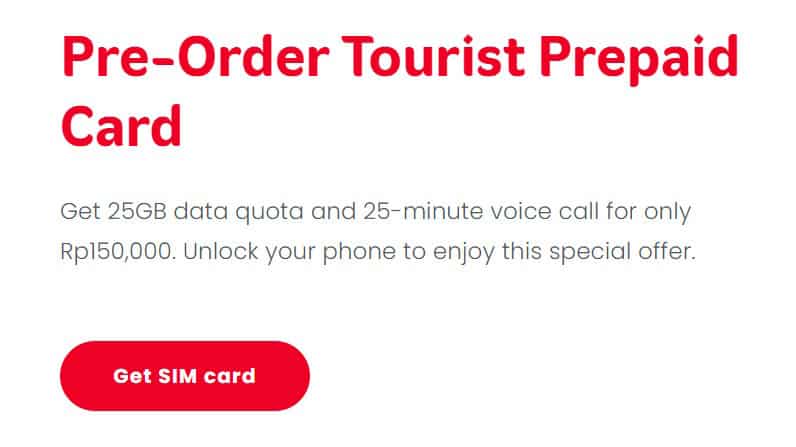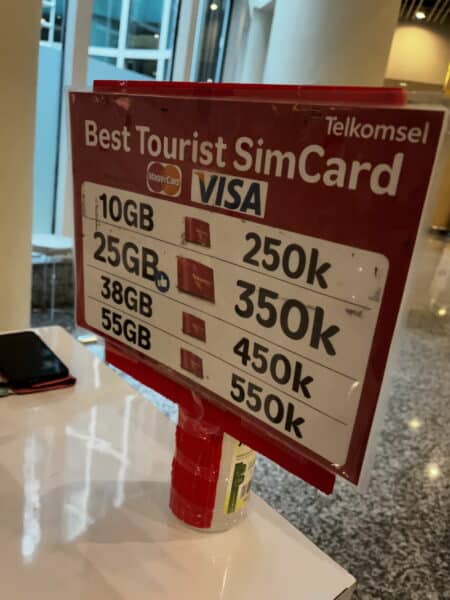 When purchasing via the PraBayar Tourist scheme online, you can either pay by card at the time or in cash when you pick up the card. I'd recommend the latter, as there is a 14-day window within which you have to activate the SIM card. If for any reason your travel plans change, Telkomsel has a strict no-refund policy.
Upon landing in Bali, as mentioned, you used to be able to show your invoice to Telkomsel staff in the airport and pick up the SIM card from them, but that's no longer an option. Instead, you'll need to go to a GraPARI location elsewhere on Bali (or just avoid the issue and buy an eSIM instead if your phone supports it).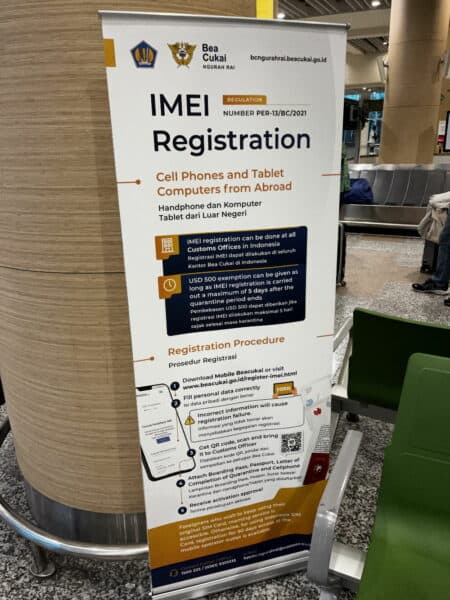 In order to complete the registration process, regardless of where you do it, you'll need to provide your original passport along with your phone's IMEI details. If you have a dual SIM phone, you will need to provide both IMEI numbers.
Failure to do so will prevent your phone from working with the Indonesian cellular networks. You can likely access your IMEI number from your settings screen, but it's just as easy to enter *#06# on your phone's dialing app: the details will pop up straight away.
If you missed the opportunity to buy a SIM card in the airport entirely, your best bet will be walking around town to see what's on offer, and bargaining hard. The best deal I could find outside of the airport was 35GB of data for 150,000 IDR.
Travel pro tip: if you want to sail through customs and speed up the airport arrival process in Bali, you can do the eCustoms Declaration before your flight and just present the QR code on your phone at immigration.
Topping Up
---
When topping up, you can either go through a vendor, enter a USSD code, or use the Telkomsel app. The Telkomsel app is the most straightforward of the three options, and the one I'd recommend. Download it from the Google Play store or Apple App store, and sign in with a one-time password received by SMS.
If you prefer to take the USSD approach, dial *363# to get your top-up options. An agent I spoke with recommended checking the "HOT PROMO" section (option #4) for the best rates.
Overall, I'd recommend avoiding agents on the street if possible, both for purchasing your SIM and topping up. The rates vary wildly, and many have no qualms about cheating unsuspecting tourists.
Furthermore, you may not even be getting what you paid for. The agent I referenced earlier who told me about a 35GB package for 150,000 IDR was actually being a bit misleading. On further questioning, I realized the package was only 25GB, with 10GB allocated solely for social media and multimedia.
If you do go with an agent, I'd recommend getting a receipt, checking your data balance in your text messages before handing over any money, and, if possible, paying by credit card. Worst case, if you get cheated and the vendor refuses to refund you, you can contact your credit card company to initiate a chargeback.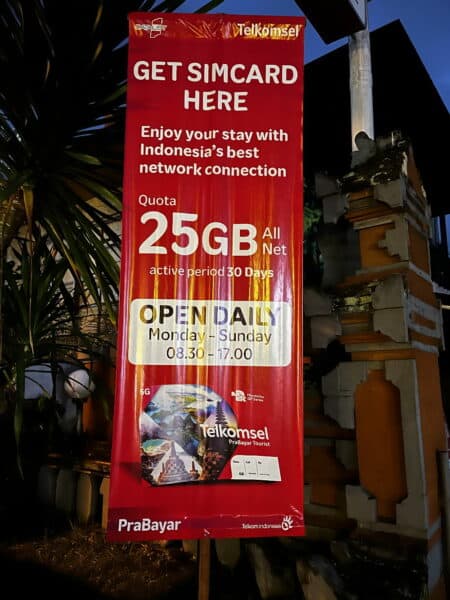 In addition to the above advice, be sure to have your APN settings properly configured. Telkomsel's APN is "internet" with no username or password. You can enter that APN in both the cellular data and personal hotspot fields.
Coverage and Data Speeds
---
Telkomsel LTE data speeds were very fast, and it wasn't unusual to see downloads approaching 100Mbps in Ubud. Upload speeds were much lower, as is often the case, but still quick enough for video calling or pretty much anything else you're likely to be doing with your phone.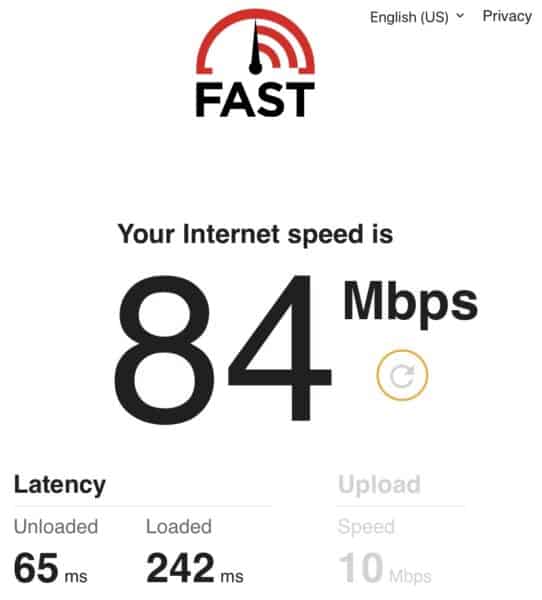 ---
Check out our guides to buying SIM cards in many other countries here.