Medieval towns. Churches and castles. Smoked meat and potatoes. Untouched beaches. Few tourists. Cheap prices. Blisteringly fast data speeds. Travelers looking to stay connected while traveling through Latvia are in for a treat.
If you're only going to Riga, you may not need to bother with a local SIM at all. The capital is apparently the "European capital of Wi-Fi," with close to 1000 hotspots across the city.
If you do want a SIM card, though, they're easy to obtain, incredibly good value for money, and offer fast data speeds due to LTE coverage across much of the country.
Here's what you need to know.
Need travel insurance for your time in Latvia? We currently use HeyMondo, thanks to its comprehensive coverage options, competitive pricing, and the ability to buy or renew a policy while outside your home country. Residents of most countries get a discount with this link.
Companies
---
We recommend LMT for most travelers
A Latvia eSIM is often the best option if your device supports it
---
There are three cell networks in Latvia, operated by Bite, LMT, and Tele2. LMT is the most popular option, and has the best 2G and 3G coverage, followed by Tele2 and then Bite.
If your phone supports the right frequencies, LTE service covers over 90% of the population with all three providers. I opted to go with LMT.
While this article is about buying physical SIM cards, if you have a recent iPhone or other supported device, the best way to get connected in Latvia may be to buy an eSIM instead.
We've written an explainer of what eSIMs are all about if you're not familiar with them. Because they're software rather than a plastic card, you can buy before you leave home, avoid the hassle of kiosks and phone stores entirely, and get connected as soon as you land.
These days, we use
aloSIM
: easy to buy and set up, it's a simple, low-cost way of staying connected when you travel. You'll get a discount on your first purchase with the code
TMA
.
How to Buy a Prepaid SIM Card in Latvia
---
Purchasing the SIM card was simple. After arriving in Riga, I walked straight to the Galleria Mall, located right in the centre of the Old Town.
There, you'll find all three cell network stores within metres of each other, making it easy to compare prices.
Here's what the mall looks like from the outside: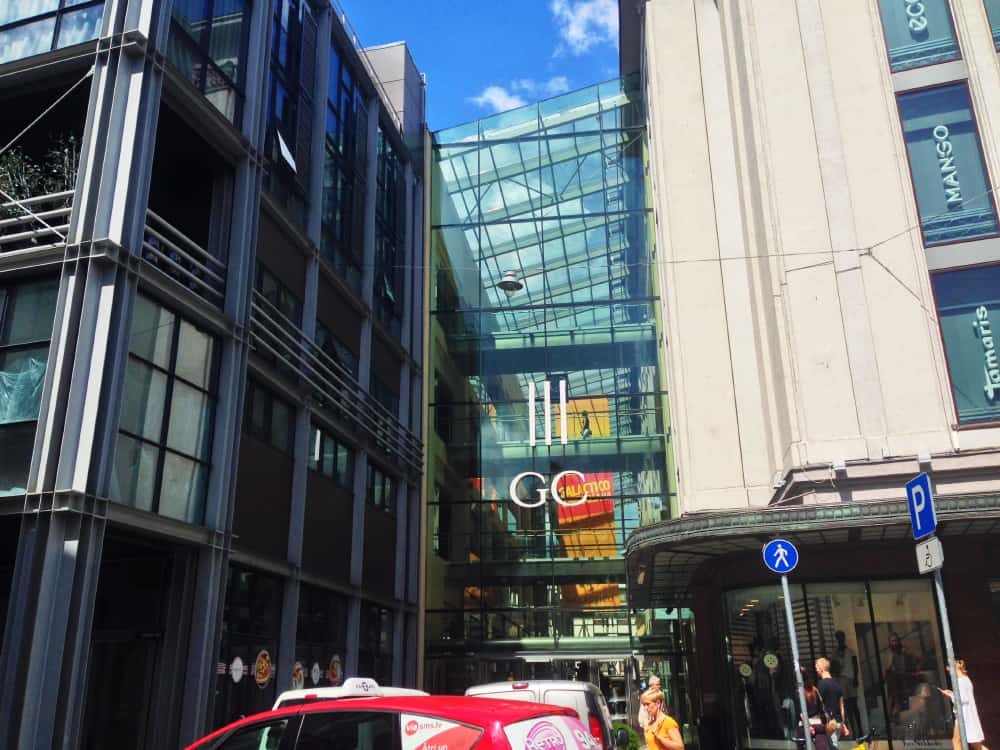 Head up to the fourth floor, where you'll find the LMT store:
The woman behind the counter spoke limited English, but after saying "data-only SIM card" she immediately offered me one valid for seven days — perfect for my whirlwind trip!
I didn't need to show my passport or any kind of ID, and there was no paperwork to fill in. She had a nano SIM available for my phone without needing to use a SIM card cutter.
After this, though, I was on my own. The woman walked off to help someone else, leaving me to figure out how it worked by myself.
After slipping in the SIM card and unlocking it using the provided PIN, I initially had no data service, and my Latvian was too limited to work out what the APN details were.
With all staff in the store now busy with customers, I headed back to my hostel for a quick Google search.
The details I needed were:
APN: internet.lmt.lv
No username or password
Prefer to spend your vacation sightseeing instead of buying SIM cards? Grab one in advance to stay connected in Latvia and across Europe.
This Orange SIM includes 20GB of data, 1000 international texts, and two hours of international calls. The price includes US delivery, and it's valid for two weeks in 30 European countries. Use the code SIMOFF20 at checkout to get 20% off!
Other options are available
if you're traveling for longer, need a portable hotspot, or want a different mix of calls, texts, and data. No matter how you do it, you'll be connected with a minimum of fuss before you've left the airport.
Prepaid SIM Costs
---
I paid €5.65 for 10 GB of data on a data-only SIM card, valid for seven days. The SIM card was free. If you need calls and texts as well, you'll pay between 1-3 euros for a starter pack that includes the SIM. Latvia is cheap!
Prepaid packages like this all last for a week, but you can renew any time if you're in the country for longer.
Topping Up
---
You can buy top-ups at any LMT store, as well as in supermarkets, kiosks, and post offices.
Coverage and Data Speeds
---
I was extremely impressed with LMT's network coverage. Even on the drive up to the Estonian border I didn't lose connection once, and the journey was essentially through forests the whole way.
LTE speeds were fast at around 30Mbps in Riga, falling to 5Mbps whenever I dropped back to 3G/HSPA+ coverage.

EU Roaming
---
Latvia is part of the European Union, so EU roaming regulations apply. These "roam like at home" rules ended roaming charges across much of Europe in 2017, letting you use a SIM card from any EU country across all the others at no extra charge.
When it comes to roaming elsewhere in the EU with a Latvian SIM, though, beware. The low price of cell service in Latvia allows providers to restrict the amount of roaming data they provide for free, or opt out from the roaming regulations entirely. Be sure to double-check the exact details at time of purchase.
---
Check out our guides to buying SIM cards in many other countries here.
Main image via Lukas Bischoff Photograph/Shutterstock.com