Namibia is a spectacular country to travel in.
Whether it's the animals crowded around waterholes in Etosha National Park, endless towering sand dunes at Sossusvlei, a town being reclaimed by the desert in Kolmanskop, or the exceptional seafood in Swakupmond, it's a richly-rewarding destination wherever your interests lie.
It's also a vast, sparsely-populated area, and has cell coverage to match. While you'll pay very little to stay connected and the process is straightforward, don't expect much in the way of fast or consistent data service outside major centres.
Here's everything you need to know about buying a SIM card in Namibia.
Need travel insurance for your time in Namibia? We currently use HeyMondo, thanks to its comprehensive coverage options, competitive pricing, and the ability to buy or renew a policy while outside your home country. Residents of most countries get a discount with this link.
Companies
---
We recommend MTC for most travelers
---
There are only two cell service providers in Namibia. MTC and TN Mobile have very similar prices, but MTC has better coverage, which made the decision about which one to buy pretty straightforward.
How to Buy a Prepaid SIM Card in Namibia
---
MTC has a store in the small arrivals hall at Windhoek airport, on your left as you exit. It's open for all international arrivals, so if you're flying into Namibia, this is the easiest place to pick up a SIM.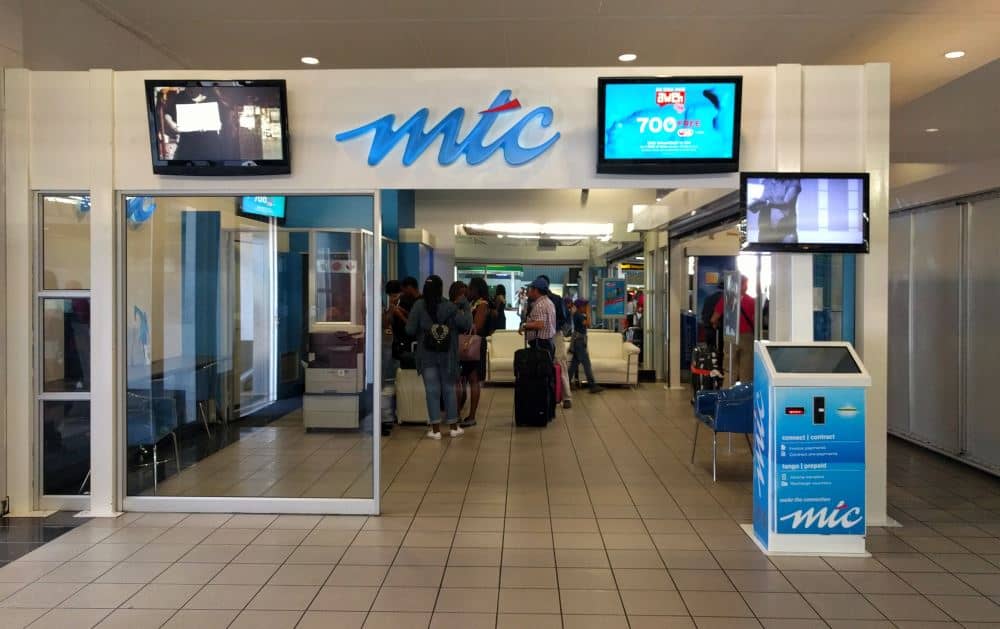 If you're not flying in, or are short of time when you first arrive, SIMs are available at MTC "Mobile Home" stores in Windhoek, Swakopmund, and any other town of a reasonable size throughout the country. They're also often available at gas stations and supermarkets.
In either case, the process is the same. First, buy your SIM (in whatever size you require) from a staff member, and put it in your phone.
Each MTC store also has a touchscreen kiosk, and that's where you'll top up your new SIM. You can either buy a specific package, or top up with as much credit as you need and send a code to activate the package you're after.
Since the machine at the airport was out of the package I wanted, I went with the second option. A helpful staff member was on hand to explain the process and walk me through it, but it wasn't difficult. I just needed my phone number to do it, which was printed on the SIM packet.
Note that the machine doesn't give change, so you might need to break a larger banknote first.
Prepaid SIM Costs
---
Prices are extremely low. The SIM itself cost 7 NAD (~$0.50 USD), and the "Aweh Gig" package I picked cost 35 NAD (~$2.50). Those prices include the 15% sales tax, which isn't typically shown on the advertising material.
This package lasted a week, and gave 100 minutes of local calls, 700 texts, and 1GB of data. A promotion at the time gave an extra 300GB of data, and there's also an extra 500MB of social media use included.
Note there's no warning when the package expires, and you can't renew it beforehand. It lasts until the end of the seventh day after activation. Since I didn't know where I'd be at that time, I added enough extra credit to renew for a second week, which covered my time in the country.
Adding the package was as simple as texting #AwehGig# to 134.
There's also a larger "Aweh Super" package with 3GB of data and more calls, texts, and bonus data, for 53 NAD. The other combo deals aren't as good value, but are still quite affordable. Data packages with a 60 or 120-day expiry are also available, running from 40MB to 15GB.
Due to the coverage limitations mentioned below, you'll probably use less data than expected unless you're spending a lot of time near towns and cities.
Full details and the list of options can be found here or instore.
Topping Up
---
You can top up using the kiosk at any MTC store, or from a wide range of stores and street vendors who will sell you a voucher for the appropriate amount of credit. Just look out for the MTC logo.
Coverage and Data Speeds
---
Namibia, more than most other countries I've visited, has very different levels of cell coverage depending on where you are.
In Windhoek, Swakopmund, Luderitz, and several other good-size towns, plus a few of of the "B" roads between them, 3G/HSPA+ service was available and reasonably fast, at least for downloads.
Outside those places, though, the best you could hope for was 2G/EDGE speeds. Namibia is a vast country, so that means you'll have slow, or no, data most of the time you're behind the wheel. Depending on where you're staying, the same thing can apply there as well.
Call and text service is more widespread, but even then, it's not available everywhere. The longest I went without any signal was about a day, driving from Sossusvlei to Luderitz (with an overnight stop). It was also patchy in Etosha National Park, available near the camps but not elsewhere.
Wi-Fi is likewise available and reasonably quick in towns, and much less so outside them.
If you're driving around Namibia and planning on using Google Maps for navigation, I'd strongly suggest saving offline maps for as much of the country as you need before you go. You'll need to do it in several parts, as you can't download data for all of Namibia at once.

---
Check out our guides to buying SIM cards in many other countries here.