It's summer in the northern hemisphere, and many of us are busy planning overseas holidays.
For those considering heading all the way to Iceland for its natural beauty, we've put together a guide to keep you connected with the rest of the world in such a desolate place.
I've (somewhat) recently made my way to Iceland to make a lap around the infamous ring road. As per my normal travel procedure, I checked in at the hostel, performed some research regarding the local mobile providers, then promptly headed to the store to purchase my local SIM card.
Need travel insurance for your time in Iceland? We currently use HeyMondo, thanks to its comprehensive coverage options, competitive pricing, and the ability to buy or renew a policy while outside your home country. Residents of most countries get a discount with this link.
Companies
---
We recommend Síminn for most travelers
An Iceland eSIM is often the best option if your device supports it
---
For being a large volcanic rock in the middle of the Atlantic with a population of only 330,000 people, Iceland is a very well connected place. There are essentially three main providers: Síminn, Vodafone Iceland, and Nova.
All three providers run on the old-fashioned GSM 900/1800/2100 network, so your unlocked quad-band phone will be just fine.
Siminn, being the incumbent provider with the most subscribers, has the most extensive coverage on the island. Needless to say, this is the who I chose for my prepaid provider.
While this article is about buying physical SIM cards, if you have a recent iPhone or other supported device, the best way to get connected in Iceland may be to buy an eSIM instead.
We've written an explainer of what eSIMs are all about if you're not familiar with them. Because they're software rather than a plastic card, you can buy before you leave home, avoid the hassle of kiosks and phone stores entirely, and get connected as soon as you land.
These days, we use
aloSIM
: easy to buy and set up, it's a simple, low-cost way of staying connected when you travel. You'll get a discount on your first purchase with the code
TMA
.
How to Buy a SIM Card
---
You'll likely be in Reykjavik upon arrival. I headed into the big mall of Iceland known as Kringlan, where Siminn has its own boutique.
The folks were very nice, and I don't recall ever having to flash my passport. It took all of about 10 minutes and I walked out the door with my phone on their network. You can buy your starter package at a Simmin store or at many kiosks, gas stations, and grocery stores.
Prefer to spend your vacation sightseeing instead of buying SIM cards? Grab one in advance to stay connected in Iceland and across Europe.
This Orange SIM includes 20GB of data, 1000 international texts, and two hours of international calls. The price includes US delivery, and it's valid for two weeks in 30 European countries. Use the code SIMOFF20 at checkout to get 20% off!
Other options are available
if you're traveling for longer, need a portable hotspot, or want a different mix of calls, texts, and data. No matter how you do it, you'll be connected with a minimum of fuss before you've left the airport.
Prepaid SIM Costs
---
Siminn's prepaid offering is called Frelsi, or Freedom. The standard packages, named 50, 100, and 300, provide 50, 100 and 300 minutes, SMS and MBs respectively. That's pretty straightforward, but if you're like me, you're heavy on the data and pretty light on the voice and SMS usage on your phone.
For something more data-oriented, take a gander at the "i Frelsi" plan. You'll have to purchase 990 ISK ($8.05 USD) of credit, which you'll use when placing a call or an SMS, and then tack on one of these data plans:
300MB – 590 ISK ($4.80)
1GB – 1190 ISK ($9.69)
5GB – 2190 ISK ($17.82)
I opted for the i Frelsi and, naturally, 5GB of data.
Safety
---
If you're going to be spending a significant amount of time in rural areas, plan to not have many opportunities to charge your phone. Bring an inverter for your car, pack a charging station, or bring extra batteries.
While coverage is generally good along ring road, cities and popular tourist destinations, it gets spotty in the highlands and rural valleys.
Your phone will work extra hard by turning up the transmitter power as it tries to connect to nearby cell towers, draining your battery quicker.
Lastly, make sure you have enough credit to make a call. Read the pamphlet as well, so you know how to top up your credit on the go if need be.
Iceland is pretty serious about safety. It's easy to have an accident when hiking or driving in such dramatic landscapes with such quickly-changing weather.
As such the government created an app for Android, Windows Phone and iOS called "112 Iceland" to help aid rescue workers in the event you have a problem.
If you're ok with leaving digital breadcrumbs with emergency authorities, you can 'check-in' every so often on your journey. It sends an SMS with your GPS coordinates and user ID to authorities, and will be used in the event you come up missing.
There's also an emergency button which sends an SMS with GPS coordinates and then dials the emergency number 112.
Coverage and Data Speeds
---
There were very few places where I found myself without coverage, and speeds were generally good. I found HSPA+(3.5G) in Reykjavik, and HSPA(3G) and WCDMA(3G) in small towns and much of ring road.
Given that the airspace isn't very congested, I was able to make an hour-long phone call using VoIP over 3G to my parents house while sitting in this cabin across a fjord from a small town.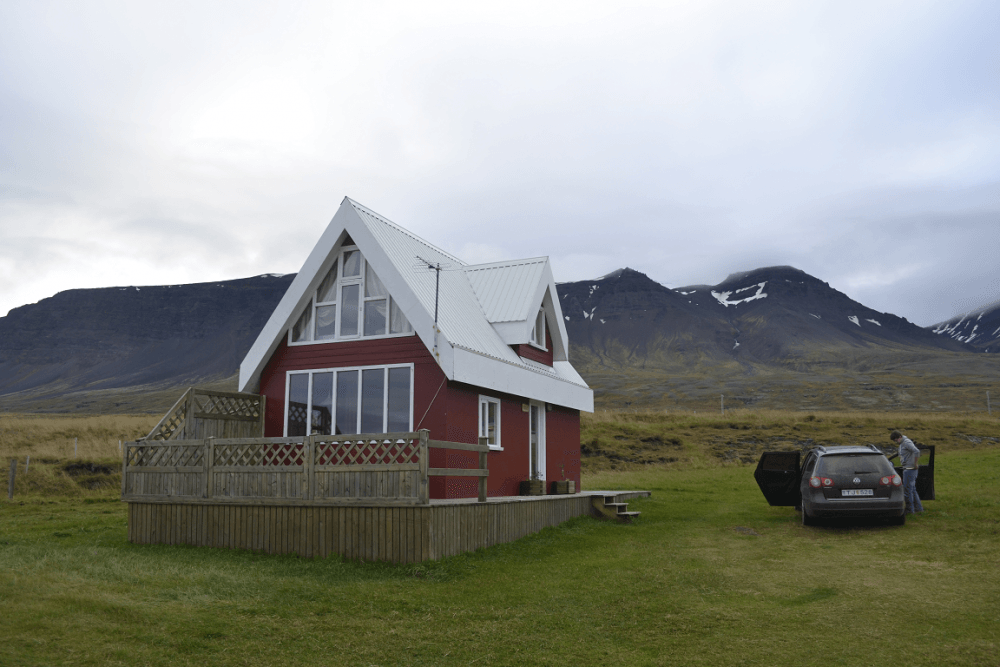 It was only in very rural areas that I'd flick over to GPRS(2G). GPRS doesn't lend itself to breaking speed records, coming in at 40-80Kbps on good day, but it's enough to tweet and send an email … maybe.
I found myself roaming on Vodafone's network once near Dettifoss in Northeast Iceland, but generally Siminn is everywhere service is available. I didn't make my way up to the highlands as we only had a regular passenger car, but that would be where service is typically worst.
EU Roaming
---
Iceland is part of the European Economic Area, so EU roaming regulations apply. These "roam like at home" rules ended roaming charges across much of Europe in 2017, letting you use a SIM card from any EU country across all the others at no extra charge.
There are some exceptions and limits, however, especially with large data packages. Double-check the details at time of purchase.
Check out our guides to buying SIM cards in many other countries here.