Planning to visit Liberia anytime soon? You'll have to come prepared. The nation, whose motto is "The Love of Liberty Brought Us Here," is a country of contradictions.
Navigating through these contradictions isn't always easy, especially for new arrivals. Buying and using technology in Liberia, in particular, is often a challenge, with products and services you may take for granted elsewhere in the world often hard to come by.
Even when you do get your hands on the gear you want, making use of it isn't always straightforward either. Here's everything you need to know.
The Back Story
Understanding the technology landscape in Liberia requires a bit of background knowledge.
The West African nation is a country founded as "… a refuge and a haven for freedmen of color" by former slaves from the United States, yet the peoples indigenous to this region were treated as second-class citizens for many decades by these new arrivals.
Modern Liberia has gone from one of the fastest-growing economies in the world to experiencing one of the greatest economic shocks in modern history. While significant strides have been made since then, the country is still struggling to get back on its feet.
There have been significant setbacks along the way, such as the mysterious disappearance of a container containing Liberian banknotes worth over $100 million USD in 2018. That's the equivalent of $800 billion (roughly 20% of the U.S. federal budget) simply going missing from the treasury of the United States.
For those used to being able to quickly and affordably buy anything their heart desires, Liberia will be a shock. Most goods are imported from places like the USA, UAE, Lebanon, and, of course, China.
Importers often pay a lot of money to successfully bring these goods into the country and warehouse them, and those costs are passed onto consumers. You'll find it faster, easier, and cheaper to purchase most things elsewhere, but if you're already in Liberia, there are still plenty of options.
Where to Buy Tech Gear in Monrovia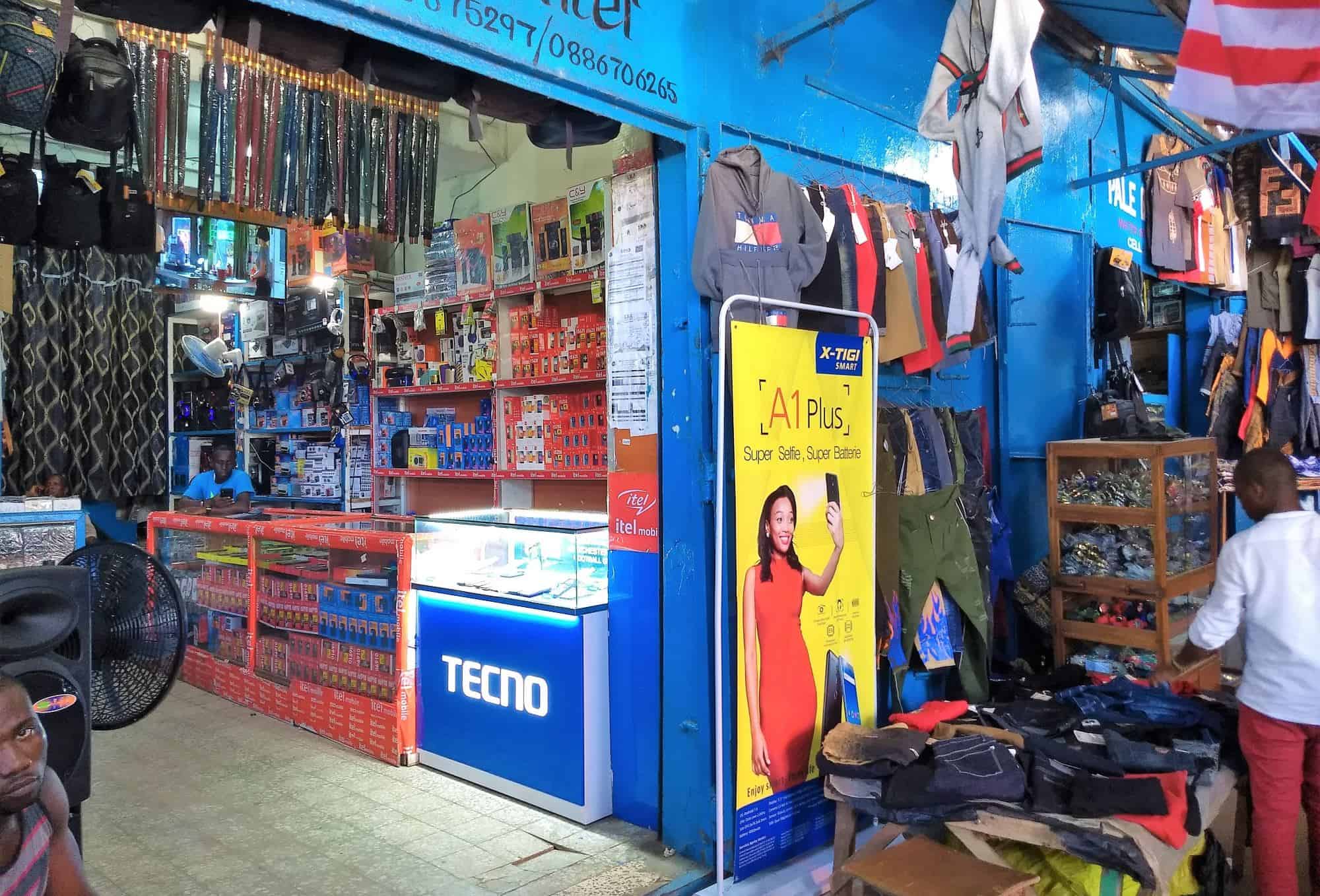 If you're procuring goods for a business or one of the many NGOs in the country, you should consider one of the Indian- or Lebanese-owned businesses in downtown Monrovia, particularly around UN Drive and Broad Street.
These suppliers deal with NGOs frequently and tend to be pretty reputable, especially since they want repeat business. They'll provide what you need quickly and efficiently, whether it be a dozen laptops or a room full of desk chairs, albeit not always at the best prices.
On the other hand, if you're up for a bit of chaos and in search of a bargain on personal items, check out the Waterside Market in town or Red Light in Paynesville. These areas are a bit rough around the edges, so watch your valuables and ideally go with a local when you visit.
In these markets, you can find cheap Chinese phone brands like Techno and Itel for $100-150 USD. For example, in one cellular store in Waterside, I was able to haggle a Techno phone with 4G LTE, 16 GB of storage, and dual SIM slots down to $150, although you can get it for cheaper.
The general rule for foreigners in these markets is to start bargaining at 50% of the asking price. Remember that Liberia is a very poor country, though, so haggle a bit but don't get carried away.
It's worth carrying a cheap backup phone when walking around town or traveling to remote places in Liberia, in case anything should happen to your primary device. There are only two carriers in the country, Lonestar and Orange, and each gives discounted rates for calls within its network.
As a result, buying a dual-SIM device will let you make and receive inexpensive local calls regardless of the network. For more details, check out our article on buying a SIM card in Liberia.
Online Services in Liberia
Once you have the phone situation sorted, consider bookmarking websites that provide local services.
If a wider selection of goods is what you are looking for, the Banjoo Super Store has virtually everything you could ask for. If you would like to send a gift or document across town, LIBdelivery has your back, and it's getting into the food delivery business as well.
Other services like taxi services or water delivery are still decidedly low-tech. There's no Uber or other app-based options in Liberia yet. Instead, you'll typically call someone, tell them your location, ask when they think they'll arrive, and wait.
Electronic Payments
E-payments have been taking off in Liberia. The best way to make them is through Orange Money, run by the French mobile conglomerate Orange. The company operates secure kiosks throughout the country, making it a virtual e-banking service as well as the country's largest mobile carrier.
Many businesses, including the few that operate online, accept Orange Money payment for services. Individuals can cash out Orange Money at the secure kiosks.
The primary competition to Orange, Lonestar, isn't doing as much in the mobile money space, but its MyMTN app often provides discounts on airtime and data services.
Electrical Power
The Liberia Electricity Corporation (LEC) manages the country's electrical services, with a significant share of the capital city's power coming from the Mt. Coffee Hydropower Plant. LEC isn't always reliable, however, and most compounds have generators as a backup.
Outside of Monrovia and a few smaller cities like Buchanan and Gbarnga, you'll often have limited access to power. Luckily, during the dry season at least, Liberia is blessed with plenty of sunlight.
Consider purchasing something like the BigBlue Solar Power Charger before arriving, and combine it with a good portable battery to ensure you're rarely dependent upon LEC for charging your devices. Fold-out solar power chargers like BigBlue are superior to all-in-one models, since their greater surface area allows them to capture more sunlight.
It's also worth investing in a portable power strip with basic surge protection, like the Accell Surge Protector. This could save you hundreds of dollars in damaged electronics from the frequent power sags and brownouts in Liberia.
Staying Connected
In addition to the power issues you'll encounter, you can't always expect phone service despite ongoing infrastructure improvements. Networks are sometimes down for hours, often at the most inconvenient times.
Hotels, cafes, restaurants, and co-working spaces often have Wi-Fi, at least in the capital, but speeds are sluggish. Still, if you live in Monrovia, a combo of Wi-Fi and cellular data will typically be enough to ensure you're always connected. That's less true elsewhere in the country.
File Storage
It's also important to consider where to store your documents. As a heavy user of Google Drive, many of my documents are in the cloud. As a result, I've learned it's best not to rely entirely on internet-based storage for important files!
Instead, invest in flash storage like a high-capacity USB flash drive or external hard drive before arrival, and put important documents (and maybe some entertainment) on it while you have unlimited high-speed Wi-Fi.
You can also download shows from Netflix for offline viewing, although you can't store them on external drives. In addition, consider installing apps with offline capabilities when in Liberia. You'll rarely have more than a 2G connection while traveling between cities, so offline-capable apps like Google Maps are a lifesaver.
A Kindle is also ideal if you're expecting limited internet, since you can download countless books to read offline. Our top pick, the Kindle Paperwhite, has been upgraded with water resistance and extra storage to make it even more useful.
With 360 miles of coastline and plenty of beautiful beaches, from Robertsport in the north to Harper in the south, that waterproofing may well come in handy.