Good headphones or great ones, it's always worth trying to get the most out of what you've got. That's what the folks at Comply Foam are trying to do with their foam tips for earphones, earbuds, and IEMs (in-ear monitors).
To make the most of your earphones, you want to have a secure fit inside your ear/ear canal. The better the fit, the more noise that will be blocked (huge win for travelers) and the better the bass response will be.
Unfortunately, that perfect fit can be tough to get. Not only that, but having earphones in your ears for long periods of time can get seriously uncomfortable.
Some manufacturers (such as Shure with the SE425 we reviewed) come with a host of "sleeves" or "tips" to try and make a perfect match. If you don't love any of the options that come with your earphones, it's time to turn to a third-party supplier like Comply.
Comply Foam Isolation T-100 Review
What makes the tips from Comply Foam different from what you get with your earphones is that they're made with super-soft memory foam.
In theory, this lets these slightly larger tips remain comfortably inside your ear for longer periods, while providing a better seal for more noise isolation and higher-quality sound.
How do they stand up?
Finding the Perfect Match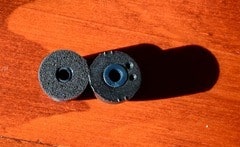 With so many different brands and types of earphones, you'll need to find the right set of Comply Foam tips to match the gear you have. That's where the handy "Comply Tip Finder" comes in, where you first enter the brand, then the model. It's a snap.
Over 100 popular brands such as Sennheiser, Shure, Klipsch, Etymotic Research, Monster, and Logitech UE are there, as well as mobile players like Samsung and Apple. You'll find Comply tips for both the older style Apple earbuds and the more recent ones that have a slightly different design.
Installation
The installation process will vary depending on your earphones, but I installed the Isolation T-100 Comply Foam tips in about a minute on my Shure SE425 IEMs.
First, remove your old sleeves, being careful not to break the stems. I found that gently moving the old tips up the stem a couple of millimeters at a time on each side tended to be the fastest and safest approach.
Next, grab your new tips and gently push them down the stems until they lock into place.
Fit and Sound
To use, gently roll the foam tips between your thumb and finger to compress the foam. Next, insert the tips into your ear, and hold them in place for a few seconds as the foam expands to fill your ear canal.
Compared to the Shure "olive" tips that were previously the best fit for me, the Comply Foam tips are softer and more comfortable. Not only that, the fit in my left ear, which was a little loose before, is now more secure. Previously, I'd often need to reseat the earphones after an hour or of use or so.
The bass response is improved, and the noise isolation is even better than with other tips.
Pros
Inexpensive
Comfortable fit
Improved sound quality
Excellent noise reduction
Cons
Harder to find outside of North America
The Verdict
As a quick, cheap, and easy accessory for your headphones, the memory foam tips from Comply Foam are a good bet. Costing under twenty dollars for a pack of three sets, they're the best way to make the most of your existing earphones and block out the noise from the rest of the world.
Tracking down a set is highly recommended, especially if you're in North America — it seems far easier to find them there than elsewhere in the world.
Buy on Amazon
---
Main image via Comply, others via author