If you travel with a laptop, you want to do it as light as possible. I mean, who doesn't want a machine with plenty of power, a lightweight design, all while being relatively easy on the wallet?
It's not so easy to get all three.
Dell's new XPS line of Ultrabooks, and specifically the XPS 13 model has been getting a lot of buzz. But is it the perfect travel laptop? In this two-part review, we'll try to find out. First up, we talk about the tech under the hood that makes this laptop purr.
Big Power in a Small Package
With slow netbooks finally gone the way of the dinosaurs, thin and light computers are finally coming into their own. Squeezing a lot of tech and power into a compact package is what a techy traveler and digital nomad is looking for.
So How Does the Dell XPS 13 Stack Up?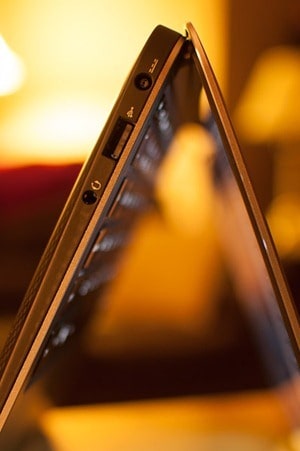 Our unit sports an Intel Core i5-2467M 1.6GHz (Turbo Boost 2.0 up to 2.30 GHz), 4GB DDR3 Memory, and a 128GB SSD for $999, though we've seen it go for under $900.
In terms of real world performance, it flies. I've clocked boot-up times in the 16 second range, wake from sleep in about 2 seconds, and programs start up in a flash.
For day to day tasks such as web surfing, basic photo editing, and media management, it's the kind of speed you usually expect from a desktop, but in a tiny form factor. It's also worth noting that Dell offers upgrade options to a Core i7 & 256GB SSD at $1499, though you'll still be stuck with 4GB memory.
Much of this speed boost can be attributed to the fast SSD featured in the XPS. It's noticeably faster than hybrid hard drive I sport in my current 11.6" Core i7 notebook from 2010.
Fitting all of the usual ports you find in a laptop would be impossible in such a small package as this, so you won't find oodles of ports and options here. In fact you'll only get:
1 USB 3.0 port
1 USB 2.0 port with Power Share
1 headphone / mic jack
1 mini DisplayPort.
The USB 2.0 Power Share plug allows you to charge a USB gadget while the computer is turned off or sleeping. When you look at how thin the XPS 13 is, you can understand why they couldn't fit more into the thin package, but I would have liked to see an SD card slot and HDMI instead of DisplayPort.
If you're not planning on using an external monitor or projector, it's no big deal. However, if you do, you'll need an adapter for that. Just like an SD card reader, that's another adapter in your bag.
Style & Substance
Premium features like a backlit keyboard and a big 'clickpad' gives the Dell XPS 13 a distinct, high end look. The chicklet-style keyboard is a little spongy for my liking, but it's not the end of the world. After 30 minutes typing on it, I became used to it, while still making a few mistakes here and there.
The backlit keyboard is dimmable has little light bleed. It's awesome, and would be very handy in a dark setting such as an overnight flight or boring conference.
The touchpad is a mixed bag. It's a relatively large, glass, clickable touchpad covered in a thin layer of soft-touch paint. While two-fingered scrolling works pretty well, the drivers and software for the Cypress touchpad don't offer much more than that.
The multi-fingered gestures are essentially useless. I just don't understand why PC manufacturers can't get a quality touchpad on their machines to match Apple.
The 13" screen covered in a sheet of Gorilla Glass looks great from head on, but the viewing angles are fairly tight. Moving from side to side, or up and down, you quickly lose brightness and definition.
Some might enjoy this for the privacy it gives on a train ride or flight, but power users and those heavily into their photography will see it for what it is, a sub-par screen on what is otherwise a refined machine.
Software
In what can only be explained as a pleasant surprise, the Dell XPS 13 comes with a nearly clean install of Windows 7 Home Premium. That means essentially no extra crappy software that you are forced to install on first run, and need to waste time trying to uninstall.
The only thing I would recommend is removing the McAfee antivirus trial and choosing better & leaner AV software.
In terms of additional software, Dell has some of its own installed to check for software and driver updates, as well as a gimmicky facial recognition software.
A nice bonus for the creative types is a copy of both Adobe Photoshop Elements 9 and Adobe Premiere Elements 9 pre-installed. This is a nice way to work on your photos and movies right out of the box. Nice touch.
Kudos to Dell for making the XPS 13 lean and mean out of the box by dropping the bloatware you find on many machines.
Check out part two of the Dell XPS 13 review, where we talk about the travel-readiness of this notebook geared for those on the move.
Read more on choosing the best laptop for travel.
This XPS 13 was provided to us by Dell.