Note: Glocal has now discontinued the G3, replacing it with the G4 model. It's basically a slimmer version of the same device, with the important features remaining the same.
If the emails I get are anything to go by, staying connected overseas is the biggest tech hassle most travelers face.
Navigating the minefield of roaming plans, international SIM cards, local SIMs, rental hotspots, unlocked hotspots, and god knows what else, is enough to suck the joy out of any trip before it even starts. Get it wrong, though, and you'll be up for a very large bill, or no connectivity when you need it most.
A company called GlocalMe contacted me recently, touting the latest version of its unusual mobile hotspot. Offering both "cloud data" (essentially, an inbuilt international SIM card), and slots for local SIM cards, it seemed a good way of staying connected without spending a fortune — at least if it worked as advertised.
I agreed to take a look.
Features and Specifications
At 5 x 0.8 x 2.6″ (12.7 x 2.0 x 6.6 cm), the GlocalMe G3 device resembles a smartphone in appearance, and is about the same length and width as an old iPhone.
It's double the height, though, and has a bit of heft to it, tipping the scales at 8.5 oz (240 grams). It fits into my jeans pockets easily enough, but I definitely know it's there.
There's a USB-A port on the bottom for charging other devices, and a micro-USB port on the right side for charging itself. The left side has a power button, plus a pair of unnecessary buttons for adjusting the backlight and keypress volume.
As well as the inbuilt virtual SIM that works in 100+ countries, the GlocalMe G3 also has a slot for inserting up to two local SIM cards, and you can switch between them all at will.
The internal 5350mAh battery gives up to 15 hours of use, and in a useful touch, can also be used to charge up your phone or other USB-powered gadgets as needed. Using a decent wall charger, the device itself takes around 4-5 hours to fully charge.
The device supports many (although not all) LTE frequencies, at speeds of up to 150Mbps, and will fall back to 3G or 2G as needed. Up to five devices can connect to its Wi-Fi hotspot simultaneously.
The G3 runs a customised version of the Android operating system, that you interact with via the touchscreen. It's not the greatest screen I've ever used – low-resolution, with washed-out colours – but it suits its purpose fine. After the initial setup, you'll rarely need to do much with it anyway.
There's also an accompanying iOS and Android app that lets you monitor usage, browse and buy data packs, and access help and customer support.
Setting Up the GlocalMe G3
The device comes with a printed instruction manual, in English and Chinese, that does a decent job of explaining how to set things up. After powering up the G3 and waiting for it to boot, a QR code displays for downloading the app. If you don't have a QR reader installed on your phone, just search for "GlocalMe" in the app store instead.
I was underwhelmed with the Android version of the app — it asked for far too much access to my phone, including camera, photos, microphone, and more. That's simply unnecessary, not to mention a security risk. It also used an excessive amount of battery until I disabled its ability to run in the background.
In the end, I just removed the app entirely. While it's convenient for managing the device and buying data packages, you can do the same thing on the company website. I'd recommend not installing it in the first place – just create your account and register the device on the site instead. It's a straightforward process.
Staying Connected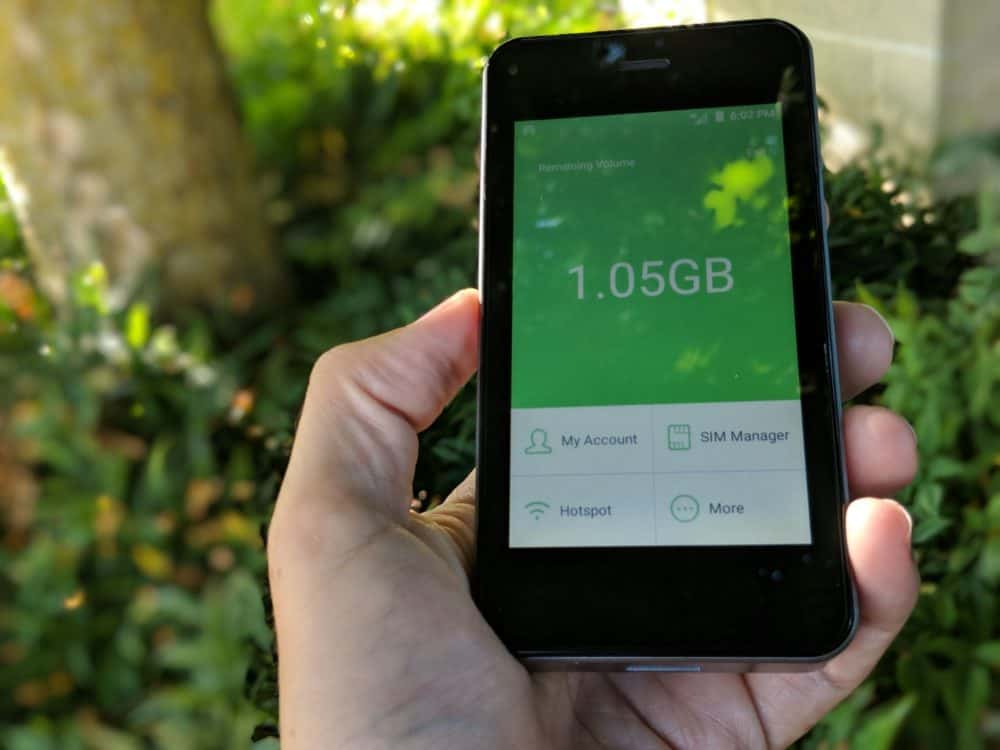 Once your account is created and the device registered to it, log in to the device with that username and password and you're ready to go. It ships with a little more than 1GB of global data included, and automatically creates a secured Wi-Fi hotspot to connect your devices to.
After that initial global data package runs out, you'll need to buy more. GlocalMe has a surprisingly wide range of options available, depending on where you're traveling to, and for how long. Another 1GB of global data valid for a year, for instance, costs €29.90, while 3GB of data for a month in Japan costs €19.90.
There are regional packages available, too — if you're going to a few countries in Europe, or both Australia and New Zealand, for example, there are specific options for that.
The pricing is often surprisingly good — in some cases, you'll pay about the same as if you were using a local SIM. If you don't have a data pack, but do have credit on your account, you'll be charged 5c per MB for casual use.
Note that once your data has run out, you can't add credit or buy a new package without being connected to Wi-Fi or some other type of Internet connection. Payment options are somewhat limited, with no direct support for credit or debit cards. You can use cards via Paypal, however, with WeChat, AliPay, and UnionPay also available.
When you have a local SIM card to use, pop out the SIM holder using a paperclip or similar, insert the SIM (nano size only), and replace the holder. Switch between the inbuilt "VSIM" and local SIM(s) via the SIM Manager option on the device.
You don't need to use a data-only SIM in the G3 — a normal voice/text/data SIM works just as well, although calling and texting won't be available. The only caveat is that if the SIM has a PIN code set, you'll need to remove it via your phone or tablet before it will be recognised.
Real-World Testing
In fortunate timing my G3 arrived shortly before I started a multi-month trip around the world, so I've had plenty of opportunity to test it out.
I used the inbuilt data service in Italy, Japan, Australia, and New Zealand, typically for a day or two before buying a local SIM. While the local SIM typically lived in my phone, I also tested each one out in the G3 as well.
Overall, everything worked as advertised. I'd arrive in a new country, switch on the device, and wait a few minutes for it to boot and lock on to a cell network. Once the icon on the G3 was showing 3G or 4G, I'd connect my phone to the hotspot, and start using it as normal.
Speeds were usually pretty good, and always usable, whether I was using the virtual SIM or a local one. Unsurprisingly, I noticed little difference in upload or download speeds between using a local SIM in the G3 and using it in my phone.
Data usage, at least in the way I was using it, was fine — I barely used 100MB over the course of several days. I turned the device off when I wasn't actively using it, though, and as usual when using limited data connections, I'd downloaded offline maps beforehand. I also didn't stream video or do anything else that quickly burns through data.
If you don't switch over to a local SIM during your trip, and/or have multiple people using the G3 at once, you'll obviously use up your data allowance much faster.
Helpfully, the device automatically blocks connections to the app store and various cloud services, so your phone doesn't see a Wi-Fi connection and start downloading updates and syncing all your files. You can turn that feature off if you like, but keeping it disabled by default is a smart way to reduce data usage.
When I wasn't using the G3 to stay connected, I'd often use it to top up my phone's battery instead. The 1.0amp output isn't enough for fast charging, but as long as I was happy to leave it plugged in for an hour or two, it'd get back up to full capacity eventually.
One minor issue: even though the power button needs to be held down for about three seconds before the G3 starts up, it would sometimes turn itself on in my bag or pocket anyway. Using a recessed power button or some other mechanism would be a better design.
I also had a problem when entering the APN settings for my Japanese local SIM. Try as I might, the authentication type I'd selected wouldn't save, and as a result, the SIM didn't work.
A quick email to support resolved the problem (I'd recently updated the device firmware, and had to re-run the update process), so hopefully it was just a one-off glitch.
The Verdict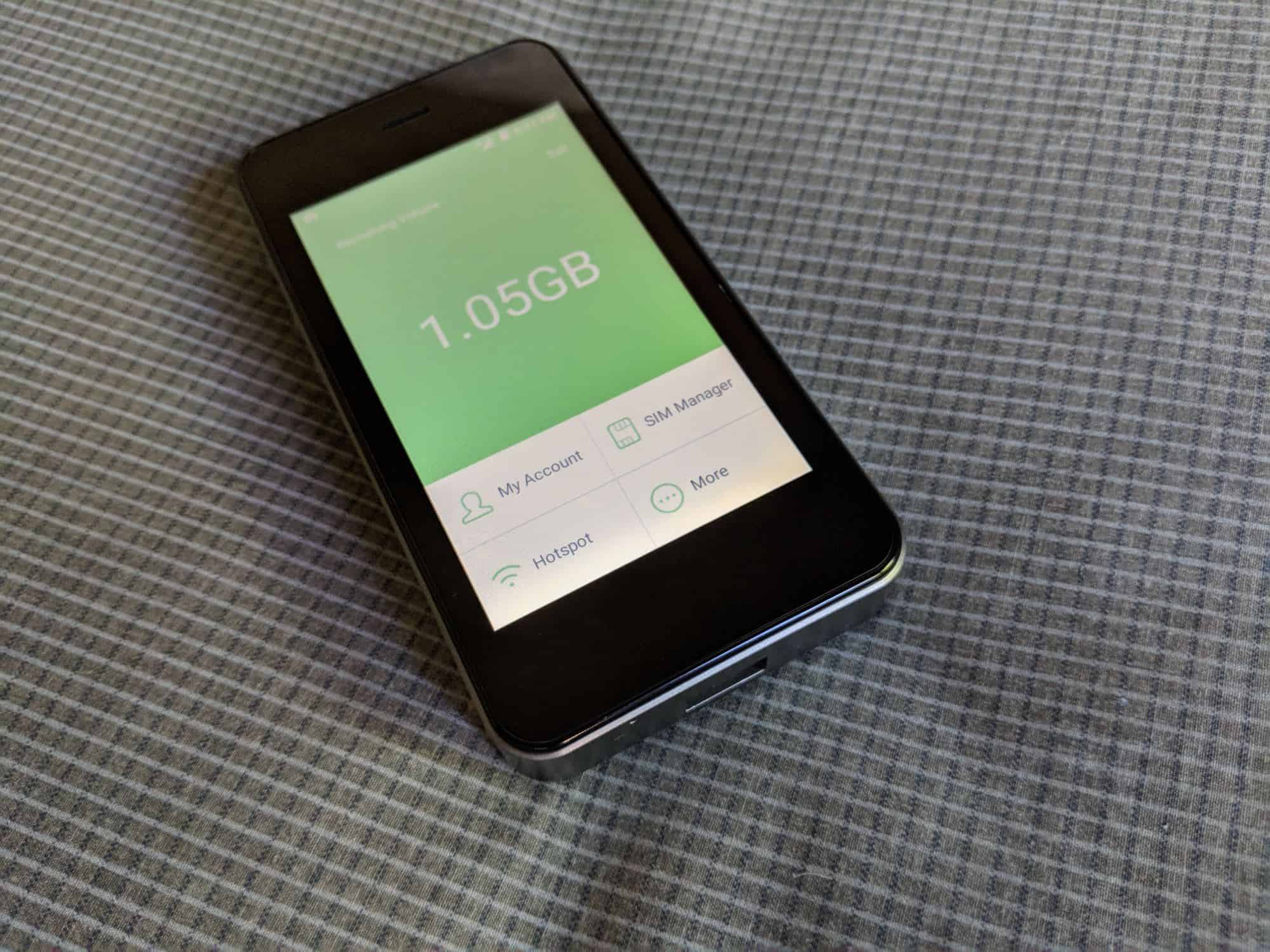 I ended up more impressed by the GlocalMe G3 than I'd expected to be, especially given my poor initial experience with the app.
Being able to get connected as soon as I arrived in a new country made life easier, whether I was calling an Uber from the airport in Cairns, getting walking directions to my accommodation in Tokyo, or sending a WhatsApp message to my Airbnb host in Rome. It all "just worked", which certainly hasn't always been the case with other international SIMs and hotspots I've used in the past.
Being able to use local SIMs as well is, of course, the major point of difference for the GlocalMe G3 versus other Mi-Fi devices.
Having the best of both worlds — getting connected straight away, but being able to switch to a cheaper option afterward — is truly valuable, and I'm a little surprised other companies aren't doing the same thing. I suspect many of them are probably more interested in preserving lucrative margins on data packages than providing choices for their customers.
The most surprising thing, then, is how reasonably-priced some of GlocalMe's own data packages actually are. That 3GB Japanese data package I mentioned, for instance, costs around $24 USD for a month, which compares well to the $31 I paid for a 5GB/21 day local SIM.
The same data package for Australia costs $30 USD, which isn't much more than you'd pay local providers. Paying an extra 20% for the convenience of not having to find, buy, and install local SIMs is something I suspect many travelers would be happy to do.
Of course, the device itself isn't free — at time of writing, it was $149 on Amazon, with 1.1GB of global data included. People with an unlocked smartphone who travel alone will probably still save money buying an international SIM, using it when they arrive somewhere new, and switching to a local SIM when they can.
For traveling couples or groups, however, or people with locked phones who can't use international or local SIMs in them, the GlocalMe G3 hotspot makes a lot of sense.
While it's a bit bulky, being able to use it as a portable battery helps justify carrying it around — and if it's in a backpack, you'll never notice the difference anyway.
If you fall into the above categories, and can get past the dodgy app (or better, just not install it at all), this is a well-performing, flexible, and affordable way of staying connected overseas.
The combination of local SIMs, sensible data package pricing, long battery life, and being able to perform double-duty as a portable charger when needed, makes it easy to recommend the GlocalMe G3 mobile hotspot.
Buy on Amazon