A few months ago, at a co-working space in Bali, the screen hinge on my four-year-old laptop decided its time was up. With a loud crack and the clatter of little pieces of plastic, the screen flopped backward onto the desk and signaled loud and clear that I needed to buy a new laptop.
After weeks of research, I finally settled on a Lenovo Yoga 920 to replace it. This convertible laptop seemed to tick almost all the right boxes, but it was still a toss-up between that and the new Dell XPS 13.
In the end, a few small but important-to-me aspects pushed me toward the Lenovo, not to mention a £200 price difference. I've now been using it for a couple of months, enough time to form an opinion on the things I love — and the things I don't — about my new laptop.
The Basics
The Yoga 920 is Lenovo's premium convertible laptop. It's visibly different to the other Yoga variants because of its fancy hinge mechanism, something I've already had people commenting on in coffee shops. Is it entirely necessary? I'm not really convinced, but at least I have a little more faith that this one isn't going to break in a few years!
Frustratingly, Lenovo's configuration options vary slightly by country. I was looking for a model with 16GB of RAM, but it's not available in the UK where I'm based these days. Here's what I ended up with instead.
CPU: Intel i7-U8550
RAM: 8GB
Storage: 512GB SSD
Graphics: Intel UHD 620
Display: 1920 x 1080 13.9″ IPS touchscreen
Ports: 1 x USB-A 3.0, 2 x Thunderbolt 3 (USB-C), headphone jack
Accessories: Lenovo pen/stylus
Weight: 1.37 kg / 3.0 lbs
I spent a couple of days in London trying to find a store that had a Yoga 920 on display for me to play with, and completely failed. Any other Lenovo model, sure, no problem, but that one? Nope.
Ultimately I went for it over the Dell anyway, for a couple of reasons. The main one, unsurprisingly, was the convertible aspect. I've long wanted to have something bigger than my phone for reading long articles or watching movies while lying on the sofa.
Since I don't own a tablet, and couldn't justify carrying it when I travel even if I did, I've made do with a normal laptop for years. It worked, sort of, but wasn't a good or comfortable experience. A convertible laptop potentially offered the best of both worlds.
More pragmatically, the Yoga 920 has a standard USB-A socket, and the Dell doesn't. In a world where all of my accessories still use USB-A ports, including the receiver for my wireless mouse that stays connected all the time, I would have either had to replace them all, buy a USB hub and carry it around everywhere, or put up with an adapter continually hanging out of my machine. None of those seemed like good options.
First Impressions
The laptop arrived in a compact box, with the machine, charger, pen, and a few random sets of instructions and other paperwork that I quickly lost.
I'd chosen the Bronze colour, which turned out to be an attractive if understated choice. That description applies to the rest of the machine as well: other than those hinges, there's little to make it visibly stand out. That's ideal for me, since I much prefer not to have the flashiest computer in the room when I'm traveling.
The 65W USB-C charger isn't particularly big or heavy, but like every laptop-toting traveler since the dawn of time, I'd prefer it to be a bit smaller and lighter.
The most notable thing about the pen was Lenovo's lazy approach to keeping it attached to the machine while not in use. Rather than using magnets along the side like most sensible manufacturers, it chose to include an ugly little plastic mount that plugs into the USB-A port.
Not only does the pen cover the power button when it's attached that way, but if you keep something (like, say, a wireless mouse receiver) plugged into the USB port all the time, it's unusable anyway. As a result, the pen sits in my backpack when I'm on the move, waiting for the day I inevitably lose it.
The setup and initial configuration of Windows 10 was about as easy as its ever been. After answering a few simple questions, the installation finished up, and the machine was ready to go. Other than a McAfee virus scanner that I immediately uninstalled, there was a minimum of useless extra software loaded, a nice change from Lenovo machines of old.
Everyday Use
In terms of how I use any laptop, it's about 70% work, 20% games and general time-wasting on the internet, and 10% reading, movies, and other entertainment. At home, it sits on a laptop stand, connected to a wireless keyboard, mouse, and external monitor to give a second screen.
When I'm traveling or working in cafes and co-working spaces, the mouse comes with me, and sometimes the stand and keyboard as well.
Even though I don't use it most of the time, the trackpad is among the best I've found on a Windows laptop. It's smooth and responsive, with good gesture tracking for things like multi-finger swiping. If I'm being picky, I'd prefer the trackpad buttons to be slightly quieter, but they're still better than almost any others I've used.
The keyboard is genuinely excellent. It's the perfect mix of near-silent keystrokes and good tactile feedback: I always know when I've pressed a key, but everybody else in the room doesn't. As surprising as it is to say it, compared to the god-awful noisy, unreliable keyboard on my partner's Macbook Pro, the one on the Yoga 920 is dramatically better.
The biggest improvement, however, is battery life. I'd never owned a laptop that's consistently lasted more than 4-5 hours, which meant always carrying the power adapter if I planned to work for longer than that On lengthy travel days or any other time I couldn't find a socket, the laptop always decided it was done before I was.
The Yoga gets double that easily. I'll regularly work for eight hours and still have 20%+ charge left when I'm ready to stop. That's already been a game-changer in terms of where and when I get work done. If you need me, I'll be writing my next article under a tree in the park.
At nearly 14″, the screen is larger than standard 13.3-inch laptops, but due to the fairly-thin top and side bezels, the overall length and width are almost exactly the same as my old machine. With a depth of just half an inch (14mm), though, it's noticeably thinner.
The 1920×1080 resolution feels like a reasonable compromise between resolution and battery life (more pixels = more power drain), and I haven't found myself wishing for extra room. Colour saturation is good, and brightness levels are more than enough for indoor use. The glossy screen can get quite reflective in direct sunlight, but since I rarely use my laptop outdoors, that hasn't been a major concern.
The Yoga 920 isn't the lightest of this year's crop of premium ultrabooks, but still less than what I'm used to. Particularly without the need to always have the charger available, my bag is now noticeably lighter when I'm out and about for the day.
As I'd hope from a new high-end laptop, performance has been very good, and it's much snappier than my old machine when loading and switching between apps. For the types of work I do, at least, I'm slowed down by crappy internet and how fast my brain works long before I need to worry about the speed of the laptop itself.
What About As a Tablet?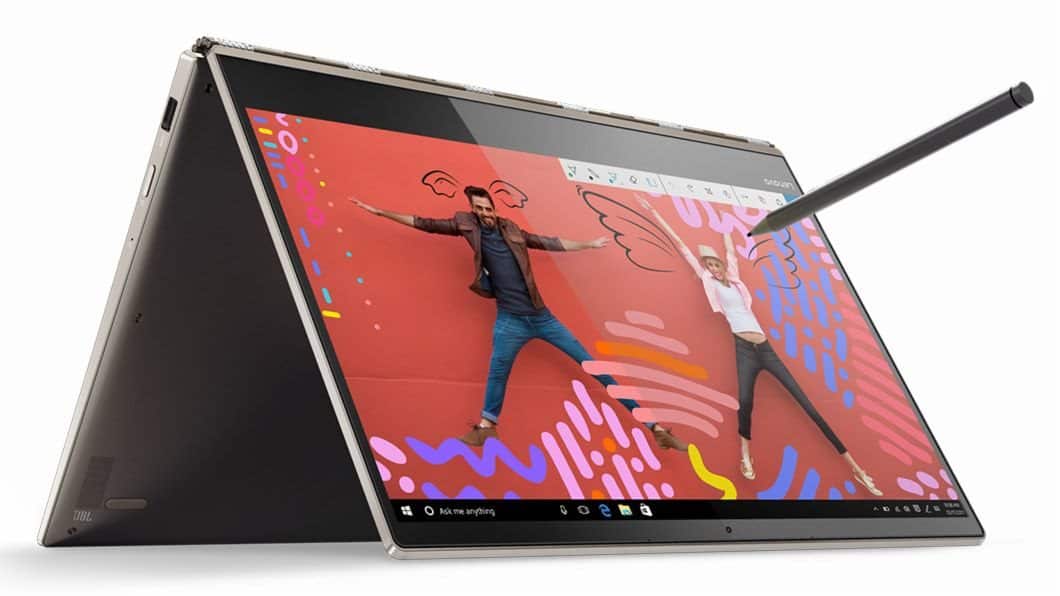 Using the Yoga 920 in tablet mode has been a learning experience.
As you'd hope from that fancy hinge, the physical switching process works like a charm. There's no wobble or screen movement in normal use, but despite being so solid, folding back the display takes minimal force. As soon as it moves past 180 degrees, the laptop detects the change and offers to switch to tablet mode.
You can set it to do so without asking if you'd rather, but either way, that mode enables the onscreen keyboard, simplifies the taskbar, and rotates the screen if you're holding it vertically.
I expected to do most of my long-form reading while holding the machine in portrait mode, but it's a bit too big and heavy for that to be enjoyable for any length of time. Instead, I'll lie on the sofa and have it laid flat in front of me, or more often, use it in "tent" mode (ie, folded like a tent) with it resting on my stomach as I idly scroll.
That's not how I expected to use it, but it works well enough and is surprisingly comfortable. When watching movies, tent mode is definitely the way forward, and the laptop is stable enough in that position that I wouldn't be concerned sitting it on all but the narrowest of airline tray tables.
Not being a graphic artist (to say the least), my use of the pen has been limited. It seems fine for basic tasks like signing a form, but I can't really comment on whether it'd be any good for creating a work of art.
One thing I've found myself doing more than expected in tablet mode, though, is marking up documents and screenshots. As well as on-screen sticky notes, the inbuilt Windows Ink tool has a useful Screen Sketch feature.
It takes a screenshot of whatever's on the screen, then lets you use your finger or the pen to draw lines of different thicknesses and colours, highlight sections, and a bunch of other things. It's a much easier way of collaborating on something visual than trying to explain things in words, and next time I'm redesigning this website, I can see myself using it a lot.
Other Bits and Pieces
The Yoga 920 has far-field microphones, and people I've Skyped with have noticed the difference. There seems to be no problem with picking up my voice even from a few feet away, without the low volume and dropouts that plagued my previous laptop. I bought a lapel mic several months ago just to get around that problem, but haven't needed to plug it in since buying this machine.
The inbuilt JBL speakers are pretty good, with sound that's clear and loud enough for watching movies in a reasonably-quiet room. The bass isn't particularly strong, so I usually switch to headphones or a Bluetooth speaker for listening to music, but not always. This laptop won't be providing the sounds for my next house party, but it's a lot better than many.
While the Yoga 920 doesn't have the facial recognition of some other laptops, it does have a fingerprint sensor beside the trackpad. It occasionally fails to recognise my finger, but it's never missed it twice, and when it works, the screen unlocks immediately. It's dramatically faster than entering a password, and I use it all the time.
My previous couple of laptops both had dedicated graphics cards, so I was interested to see how gaming would go on a machine with just the standard integrated Intel model. So far, it's been better than expected.
I'm fortunate in that the games I play are mostly of the strategy/world-building type, which don't push the hardware in anything like the same way as first-person shooters. I downloaded "Oxygen Not Included" recently (it's fun, you should try it), and 60 hours in, I haven't noticed a single slowdown.
I definitely wouldn't want to try and play anything particularly demanding, but for games that don't need a powerful graphics card, the Yoga 920 has kept up so far.
Any Downsides?
As good as the Yoga 920 is, it hasn't been without its issues. None of them are show-stoppers, but for a high-end device like this, some have been a bit surprising.
The most noticeable thing is the fan noise. The laptop is completely silent in normal use, but it doesn't take much to get those fans whirring, and when they do, I definitely know about it. Load a few Chrome tabs at once, or get the backup or anti-virus software scanning the drive, and it sounds like the machine's trying to take off.
Unless I'm playing a game, the fans don't usually stay on for long, but I (and undoubtedly those around me) would much rather not hear them at all.
I had unexpected problems connecting the Yoga 920 to my external Dell U2515 monitor. My old machine had a dedicated mini-DisplayPort, but since this one doesn't, I bought a highly-rated USB-C to DisplayPort cable to use instead.
It barely worked, with the monitor regularly going black for a few seconds, or refusing to show anything at all. Researching the problem, it seemed many others had similar problems, and the vast majority of cables that worked with other laptops simply weren't compatible with the Yoga 920.
In the end I returned the cable, and purchased this USB-C to HDMI version from the US Amazon store instead. Thankfully it was second time lucky, and I've had no further display problems since. Long may that last.
I've also had the occasional problem with the machine not switching into tablet mode, or not changing orientation when I turn it on its side. Both happen rarely and are fixed by a reboot, so I'll put them down to glitches rather than a fundamental problem. Again, though, I don't expect those issues at all on a laptop like this.
Finally, as I suspected, 8GB of RAM hasn't really been quite enough for me. I'll often have a couple of dozen Chrome tabs open while doing research, and since that browser is such a memory hog, Task Manager regularly reports 90%+ utilisation.
That said, other than the occasional Chrome crash (which could be caused by something else anyway), the high memory use hasn't seemed to affect performance all that much. I can live with it, but if I could magically squeeze in some extra memory, I'd do so in a heartbeat.
The Verdict
So, crunch time. Am I happy with my purchase, and would I buy the Lenovo Yoga 920 again? Despite the various minor issues I've had with it, the answer is yes, I would.
It's fast enough to handle all of my requirements for both work and play, in a machine that's ideal for travel. Thin and light, more than once I've slipped it into my bag and then forgotten it's there. Battery life is exceptional, completely changing where and for how long I work outside the house.
Unlike many other high-end laptops, Lenovo hasn't gone all-in on USB-C ports on the Yoga 920, and it's a better machine for it. That single USB-A port makes a big difference, and I suspect it'll continue being useful for a long time to come. Dongle life just isn't for me.
It's better as a laptop than a tablet, and that's how I use it most of the time. Tablet and especially tent modes are sufficiently good for reading and watching shows, however, that I'd now definitely miss the flexibility if I didn't have it.
Barring any unforeseen accidents, I expect this to be the machine that accompanies me for the next few years, whether it's to the coffee shop or the other side of the world. Honestly, I'm looking forward to it.
Buy on Amazon
---
Images via Lenovo