Working remotely is great, but trying to find good places to do it while traveling is a pain. Hunching over a computer in bed wearing PJ's all day isn't really a long-term solution.
Coffee shops are a popular option, providing both the need for caffeine and some background buzz. They're not ideal for those needing peace and quiet, though, and with so many other people around, Wi-Fi speeds often leave a lot to be desired.
In 2016, a stunning 35% of the US workforce was made up of freelancers, with many working outside the traditional office environment. With the number of remote workers expected to rise even higher in the future, there's clearly a need for good temporary workspaces. What are your options?
Think About What You Need
The thing that most often keeps me from being productive is the availability of social media. To write, I need somewhere quiet, and in less research-intensive stages of an article, to be totally offline. For you, it might be a more inspiring view than you get from your home office window, or a place that doesn't serve you pastries all day long.
So, when on a mission to find places to work from, think about what raises or drops your efficiency, and go from there. Throughout the Wi-Fi scavenger hunt of my time freelancing around the world, I've tried the following options for new remote workspaces.
Hotel Lobbies
One of my favorite places for working remotely is hotel lobbies. Much quieter than most of the alternatives, they usually come with fast Wi-Fi, and often the ability to print or fax. If the wireless network is locked down, it shouldn't be too hard to get someone to tell you the password (or if necessary, pay for an access code).
While lobbies are often more comfortable than coffee shops, they're more expensive when it comes to food and drinks. Also, they're not ideal for working in regularly — you'll want to switch locations frequently so staff don't catch on.
Other People's Homes
If you're traveling and in need of a quiet place to get work done, consider housesitting! Popular sites for finding homes and/or pets to look after are trustedhousesitters.com and nomador.com. If you want to make sure that the Wi-Fi suits your needs, ask for a screenshot of a speed test in advance.
Libraries and Museums
A lot of public institutions now offer free Wi-Fi, and can be perfect for working remotely.
By design, libraries are quiet places to get serious work done, usually with plenty of space available. The advanced version of this is "the secret world of membership libraries", cool places to work from in cultural centers, often beautifully designed, and costing only a fraction of a co-working space.
Meanwhile, you can also try to find places to work from in museums. Many have either some kind of public area with tables, or just offer free admission to the whole building. After-work hours were never quite so educational!
University Campuses
If you happen to be a student and your university is part of this network, connecting to eduroam is a Wi-Fi dream come true. I've surprisingly even found it at a few airports. It's currently in about 90 countries worldwide.
Otherwise, some universities offer guest admission to their wireless networks, and student unions and other places around campus usually have lounges or open classrooms where you can sit comfortably and get work done.
Malls
Malls often provide free Wi-Fi, and with food courts usually empty on weekdays outside mealtimes, there's often enough space to spread a little. The perpetual mix of noise, smells, and movement can be distracting, but if they don't bother you, this is a great free option.
Other Public Spaces
There are plenty of other public spaces for working remotely. Many local governments provide free Wi-fi in parks or even entire downtown areas. If the signal is too weak, a wireless range extender is a cheap, easy fix. So, on the next sunny day, grab your devices and go find a nice picnic table!
Cafes and Bars
Despite their popularity as workspaces, it's not always easy to track down the perfect cafe or bar to spend a few hours knocking over deadlines. As with most other things in life, though, there's an app for that.
Download and install WorkFrom to help find the best spots for your needs. It shows important details like Wi-Fi speeds and power socket availability, and sometimes even information about happy hours and parking.
Co-working Spaces
If you need a fully-equipped office away from home, co-working spaces are the way to go. You can typically choose between different plans, depending on the facilities you want and how long you need them for. With most spaces offering communal areas, it's also a good opportunity to get to know other local freelancers and entrepreneurs.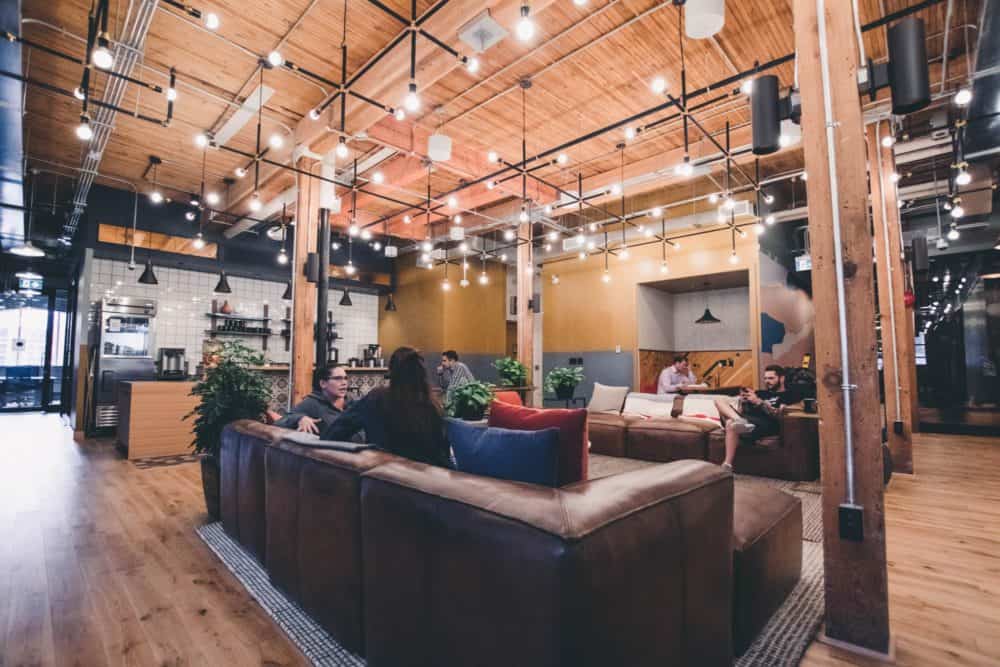 To help find your perfect space, check out the following apps and websites:
Wireless Hotspots
One last option is to just take the internet with you wherever you need it.
The easiest way to do so is getting a local SIM card, and either tether from your phone or use a mobile Wi-Fi device. You can buy them unlocked to drop a local SIM card into, or with prepaid data service that you buy as you need it. Either way, for short-term or urgent internet access, this can be a lifesaver.
Working on the Move
Especially around North American and Europe, more and more public transport options come with Wi-Fi, free or otherwise. Got a flight or a long train or bus ride ahead? No problem.
The same goes for airports and train stations. While the internet might not be necessarily fast, you can often find a quiet(ish) corner to sit down and type away for a while. If you're flying a lot and want to make best use of your layovers, a Priority Pass gets you access to 1300+ airport lounges around the world.
Ready to Start Working Remotely?
If you know where you're going, search other people's blog posts about their co-working experiences in that city. If you're completely flexible on your destination, but want to make sure it's remote-worker friendly, enter your criteria on nomadlist. It will offer up your best options, rated by like-minded people around the world.
---
What are some of the best, or most unusual, places you've found to work from on the road?
Images via picjumbo (café laptop), Eloise Ambursley (coworking space), author (other images)