Sadly, we live in a throwaway society. With planned obsolescence, the idea of buying something new when one of our toys gives up or seems outdated has permeated everyday life. As much as we might want to think otherwise, sometimes a low-tech fix is just what the doctor ordered.
The Victim
A few months back, my trusty Logitech VX Revolution wireless mouse was flaking out. It was losing connection intermittently, resulting in frustration and sadness. My baby was dying.
As a proper travel companion for a digital nomad working on the road, I couldn't bear to see it go. But a mouse isn't meant to be fixed. You're meant to replace it.
With nothing to lose, I began to peel away the slick pads on the bottom of the mouse with my handy Leatherman Micra multi-tool to find the screws holding the top and bottom together. This was the gateway to seeing what ailed my laser-guided assistant.
Take a mouse apart, and you quickly realize how much open space there is inside. I carefully unclipped a ribbon cable to open it wide like a shell, and with that it was easy to spot the culprit.
In my case, it was a loose wire on a battery connection. Given the beating it takes in my bag as I move, it wasn't all that surprising. It's actually an easy fix, had I a soldering iron. For some reason, that doesn't meet the guidelines for what travels with me around the world. Go figure.
The Fix
Fortunately I was heading to Bangkok's famous MBK Center the following day. One of the biggest electronics malls in the world, MBK has it all. Be it from soup to nuts, or maybe circuit boards to cameras, you'll find it all there.
So around I went looking for a tech with the right gear for the job. With hand signals, a sad face, and outstretched arms holding my Logitech mouse like a sick newborn puppy, it didn't take long.
When I caught the eye of an electronics tech sitting around, I headed over and pointed out the area requiring minor surgery. After about 30 seconds in his hands, it was fixed. The friendly repairman wouldn't accept payment, even when I insisted. Just an easy job.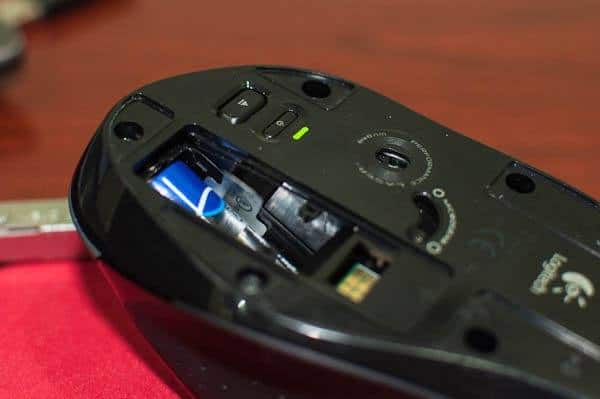 Back at my apartment, I gathered the pieces to put it all back together. The screws went back in, and some super glue I bought at 7-11 sealed the pads back in place. I popped a battery in and the green light came on. Success!
I don't know how long it will hang on, but it's been over three months since the fix and my little VX Revolution is still going strong. It's a tough life for a mouse tagging along with me.
The Round Up
20 minutes disassembling/reassembling
30 Thai baht ($1) for super glue
One mouse saved from the landfill
And just as an FYI, if the repair hadn't worked and I had to buy something to replace my elderly VX Revolution, I think the best travel mouse right now is the Logitech MX Anywhere 3. I couldn't help but look at the options when my mouse was on the fritz!
Do you have any stories of low-tech solutions when your high-tech problems pop up? Let us know in the comments.