Tech gadgets can make traveling much easier, but they often also take up a lot of space. Multi-purpose gear combines many of the tools you need, leaving space in your luggage for other important things like toothpaste and underwear.
Multi-purpose tools save space, weight, and sometimes even money, three things any traveler could use more of. From flashlights with built-in bottle openers to hotspots with remote cameras, these are our favorite multi-purpose tech gadgets to consider for your next trip.
Ceptics International Plug Adapter Kit
Do you travel with both a travel adapter and outlet splitter? The Ceptics International Adapter offers both, providing a pair of three-prong North American outlets and two USB-A outlets in almost every country in the world.
One of our top travel adapter picks, it's ideal for places where power outlets are limited like cafes, hostels, and airports. If someone's already using an outlet, you can easily convert one socket into two so you can both charge at once.
The built-in surge protection shields against power spikes and sags, and there's a 220v/110v indicator that reminds you of the mains voltage before you accidentally fry your devices.
Buy on Amazon
RAVPower FileHub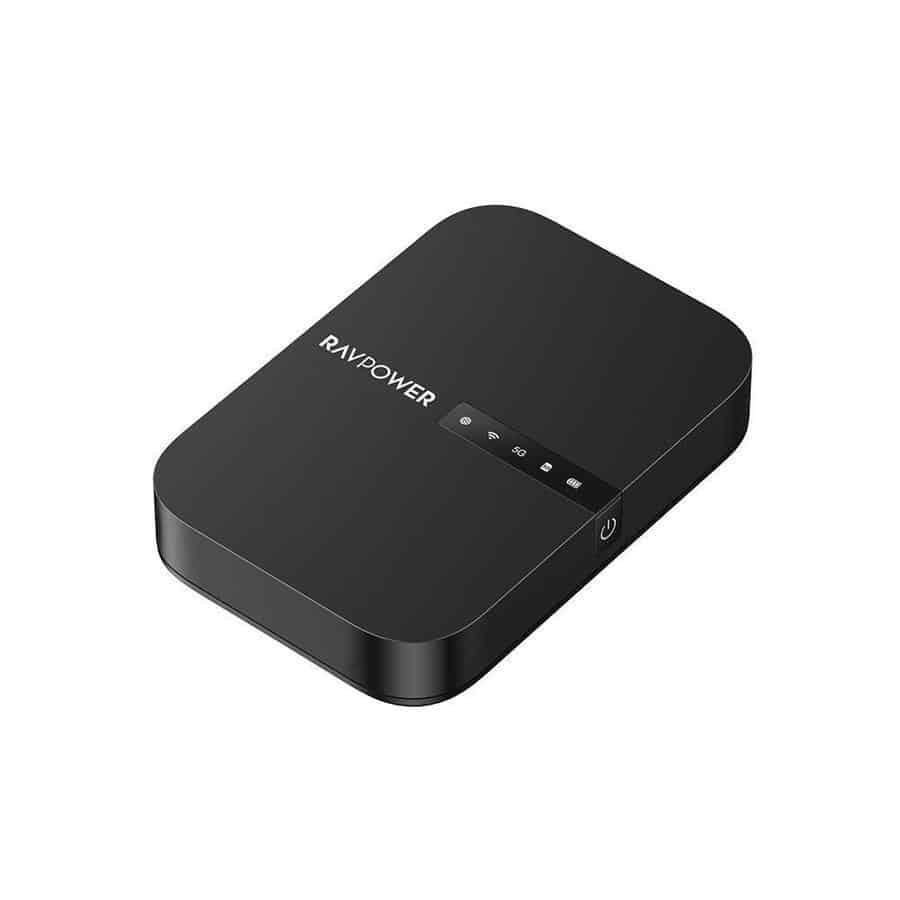 The RAVPower FileHub promises a lot. As well as boosting the Wi-Fi signal and letting you get around device limits on hotel networks, it's a portable battery, SD card reader, media streamer, and a tool for copying files between all of your various gadgets.
The biggest surprise is that it actually does everything it's meant to at a good price, and isn't particularly big or heavy. It supports both 2.4 and 5Ghz wireless networks, albeit with some limitations, and has a one-touch button that backs up your SD card to a USB drive.
The 6700mAh battery is more than enough to fully charge your phone from empty, and there are plenty of streaming options for sharing video, music, and photos between devices.
XTPower Hiking Solar Backpack
If you're on the go all day and don't have access to a power socket, take advantage of that big yellow ball in the sky to power your gear instead.
Walking around in the sunlight for a few hours or just leaving a solar panel beside the table while you're sitting out on a sunny terrace can provide enough juice to charge a variety of USB devices.
The XTPower Hiking Solar Backpack is one of the many similar options on the market. This model has a detachable solar panel that clips on to the back when you're using it, and can be stowed inside the backpack the rest of the time.
As with most small solar panels, you'll have the most success with a two-step process. Charge a portable battery using the solar panel, and then charge your phone, camera, or other USB device from the battery.
The 50L pack has several internal compartments, including a sleeve that fits anything up to a 17″ laptop. Padded shoulder straps and a hip belt make it comfortable even with plenty of gear inside, and the mesh side pockets fit a drink bottle for hiking or urban exploring in hot weather.
Buy on Amazon
Wallet Ninja 18-in-1 Multitool
This 18-in-1 multitool is only the size of a credit card, yet is packed with a bunch of features you'll actually use. It's a bottle and can opener, phone stand, fruit peeler, several different screwdrivers, and… well, you get the idea. It does a lot.
Made from stainless steel and available in a few different colors, it's surprisingly tough for such a thin gadget. There's a lifetime guarantee against bending or rusting.
Importantly for travelers, it fits within the TSA guidelines for carry-on luggage. If you often fly without checked bags, it may be the only way you can get on board with these types of tools.
Buy on Amazon
Hinshark 12-in-1 Portable Multitool
If your travels run more towards camping or cycle trips, this ShengHai 12-in-1 stainless steel multitool is the way to go.
More than just another Swiss Army knife, it has the kind of tools you want in the outdoors. There's a hammer, pliers, sharp and serrated knives, saw blade, bottle opener, screwdrivers, and more, all in one five-inch gadget.
Weighing around ten ounces, it's easy to find space for it in your backpack. For obvious reasons, though, the multiple knives and other sharp edges make this tool unsuitable for carry-on luggage. Keep it in your checked bag if you're flying!
Buy on Amazon
Emergency Multi-Tool Flashlight
This flashlight-based multitool is all about dealing with emergencies. Weighing just 6.4 ounces and available in a particularly garish blue color to help ensure you won't lose it, the tool covers a range of situations.
The 60-lumen flashlight has regular and strobe settings, with both white and red light. The tools at the base of the unit include a glass breaker, knife, seatbelt cutter, screwdriver, can and bottle opener, and more.
If you like to travel light for road trips, camping, or other outdoor activities, this inexpensive multitool saves space while keeping you prepared for the unknown. Again, the blades and screwdrivers make it inappropriate in carry-on luggage.
Buy on Amazon
Screwdriver 6-in-1 Pen Tool
Chances are you're be traveling with a pen anyway so why not go for one that has a bunch of other functions as well? When space is limited, every little bit counts.
This 6-in-1 pen tool includes a phone/tablet stylus, flathead and Phillips screwdriver bits, spirit level, and universal ruler. Plus, you know, the ability to put ink on paper.
Sold in a range of colors, the pen tool comes in a single or dual pack and has several ink refills and spare styluses. It's a useful, good-value alternative to just throwing a Bic in your bag as you head for the airport.
Buy on Amazon
Arc Electric Lighter
An electric lighter is ideal for outdoor trips. If you've ever tried to light a fire or candle on a windy night, you'll already know the value of a flameless lighter.
The Arc Electric Lighter packs a bottle opener, corkscrew, small saw blade, and lighter into one 8-ounce, pen-shaped device. Not only can you light that romantic campfire when the sun goes down, you can open a bottle of wine to go with it!
No fluid or other fuel is needed for the lighter, which charges via micro-USB in a couple of hours from a laptop or portable battery. Available in black or woodgrain, there's a useful safety catch to stop the lighter from accidentally engaging in your bag.
Buy on Amazon
Multi-Device Flash Card Reader
Taking up only a couple of inches of space, this flash card reader lets you manage photos and other files on the go without a bunch of extra cables.
The tiny gadget has an SD/TF slot on one side and a microSD slot on the other, along with three ways to connect to other devices: standard USB-A, micro-USB, and USB-C.
It can transfer files from flash cards to desktop computers running most versions of Windows, MacOS, or ChromeOS. The card reader also connects to mobile devices that support USB OTG, including nearly all Samsung Galaxy smartphones and many other Android devices.
Apple doesn't support USB OTG, and there's no Lightning port on the card reader in any case. Even if your phone isn't USB OTG-compatible, however, you can still transfer files directly from SD cards to your laptop as above.
Buy on Amazon
---
Of course, while multi-purpose electronic gadgets like these will save space and weight in your bag, less is always more. Think about the features you actually need when considering any travel gadget!
Is there a multi-purpose tech gadget you can't live without when you travel? Tell us about it in the comments!
Main image via Ian Dooley, others via Amazon