Streaming your favorite movies and television shows is easier today than ever before. With a click of a button or a tap on your smartphone, you can resume watching Stranger Things, The Simpsons, or Star Wars from many places around the world.
Portable streaming devices bring the entertainment to anywhere there's an HDMI-compatible television, so you don't have to sit through hours of Albanian news coverage or Spanish reruns of The Big Bang Theory unless you really want to.
To find the best streaming option for you, you'll need to consider your packing style, brand loyalties, streaming preferences, and, of course, budget.
Bear in mind that any streaming device is only as useful as the content you can access with it. If you don't pay for a Disney+ account, you won't be able to access programming on that platform, no matter what device you use.

Streaming rights are also different in every country, so the show you were watching on Netflix in the US may not be available elsewhere, at least not without using a VPN.
Google Chromecast
Google Chromecast connects to any television with an HDMI port and a power source. It allows you to "cast" apps from your phone directly to the TV. Simply open Netflix on your phone, pick the show you want to watch, and tap the cast icon to watch it directly on your TV.
The Chromecast is lightweight (1.4 ounces) and doesn't take up much space, so it's easy to travel with. It doesn't come with a remote, which means fewer things to pack (and fewer things to lose along the way.)
Without a remote, though, you'll always need to use your phone, tablet, or laptop to operate the Chromecast.
Google Chromecast vs. Google Chromecast Ultra
The standard Google Chromecast streams in HD quality (1080p), versus the Ultra HD (4K) quality available with the Google Chromecast Ultra. The Ultra also includes an Ethernet adapter, but it's typically about double the price.
Ultra HD picture quality will only be available on compatible televisions, and you'll need to ensure both the programming you're watching and the streaming service you're using are compatible as well.
Netflix, for example, only offers Ultra HD streaming through a premium plan, and even then, you're only getting 4K quality on certain titles.
If you don't own a 4K television or are only using your streaming device for travel, you likely don't need the Ultra option. Most hotels and Airbnbs won't have 4K TVs available.
---
Amazon Fire TV Stick
The Amazon Fire TV Stick is Amazon's response to Google's Chromecast. You need to have or create an Amazon account to initially set up the device, which is a clever way for Amazon to promote its Prime Video and Alexa voice services as well.
The little device provides simple streaming on any TV with an HDMI port. Instead of using your phone to navigate, you can browse apps and choose what to watch through your TV using a separate remote.
The Fire TV Stick connects your screen to an application, essentially turning your television into a smart TV with access to all sorts of streaming apps including Prime Video, Netflix, Disney+, Hulu, YouTube, news stations, and The Weather Network.
The Fire TV Stick comes with a few different pieces. The main stick looks like a large USB drive that plugs into the HDMI port of a TV. For times when the TV is mounted on a wall or sitting right up against one, there's a flexible HDMI extender cable in the box for changing the direction of the stick.
The stick needs to be plugged in to work, so it comes with a USB 2.0 cable and a wall power adapter. The final piece is the remote (batteries included) that allows you to control TV power, streaming apps, volume, and Alexa.
Fire TV Stick vs. Fire TV Stick 4K vs Fire TV Stick Lite
The cheapest version of the Fire TV Stick, the Fire TV Stick Lite, is a good budget option. It streams video just as well as the standard model, but loses the power and volume buttons from the remote control and doesn't have Dolby Atmos audio support. It'll still cover the needs of many buyers, and costs a few bucks less.
Both the lite and standard Fire TV Sticks stream in HD quality (1080p). The Fire Stick 4K is a little more expensive, offering 4K Ultra HD resolution and an Ethernet port. As usual, the 4K capabilities of the Fire Stick are only available on 4K-compatible televisions.
If you're using your streaming device while traveling, you probably don't need a Fire TV Stick 4K. It's fairly unlikely that the televisions you encounter in hotels or Airbnbs will have 4K compatible televisions. That said, if you plan to stream using Ultra HD at home, the small price difference makes it worth choosing the 4K option.
---
Buy on Amazon
Roku
More than any of the other devices here, Roku is all about choice. That approach starts with its wide range of devices, and runs through everything from its impressive searching functionality to how you want to listen to whatever show you're watching.
Depending on the model, your Roku device is either a rectangular stick of some sort, or a small box. Either way, it plugs directly into an HDMI port, and comes with a remote control that lets you do at least the basics, and sometimes a whole lot more.
Depending on the model, you may also get a small HDMI cable to make it easier to connect in cramped spaces, a micro-USB charger, and even USB, Ethernet, and micro-SD ports on the premium version.
Thousands of apps are available, including for all the major streaming platforms, plus a wide range of games and other services. Many aren't much good, mind you, but you've still got access to all the content you're ever likely to need.
One unique and useful feature of the Roku is "private listening," which lets you stream your show's audio directly to your headphones. With the cheaper devices, this is done via the Roku app on your phone or tablet, while the more expensive versions have a headphone jack on the remote as well.
Roku Express vs Stick+ vs Premiere vs Ultra
You've currently got several different options when buying a Roku, from the cheap and cheerful Express, through the Streaming Stick, and finally the top-of-the-line Ultra model. There's also a Soundbar version, but it's not intended for travel, so isn't relevant here.
The Roku Express is generally the cheapest streaming stick you can buy. You'll only get HD resolution, a basic remote, and none of the extra bells and whistles, but as a low-cost way of taking streaming content on your travels, it can't be beaten.
The Express 4K+ is essentially an upgraded version of the Express, which looks the same but supports 4K video, HDR10, and Dolby Vision.
The Streaming Stick 4K is a longer, thinner device that can handle 4K video, HDR10, and Dolby Vision, and adds a powerful Wi-Fi booster that can make all the difference when your room gets weak wireless signal.
It plugs directly into an HDMI port, but due to its extra length, it can sometimes be tricky to find space for it behind a wall-mounted TV. For that reason, it might be worth picking up a short HDMI extension cable before you travel, and plugging it in as needed in your accommodation.
There's also a Streaming Stick 4K+ that includes a better remote with rechargeable batteries and hands-free voice control, but is otherwise the same as the non-plus model.
Finally, the larger Roku Ultra is the top-of-the-range model that adds a bunch of extras. As well as 4K streaming and boosted Wi-Fi, you can connect via an Ethernet cable, use USB memory sticks and microSD cards, and plug the included JBL earphones (or any other headphones) into the upgraded remote for private listening.
If you only need the basics, go for the Express. It's typically the cheapest streaming stick out there, and works surprisingly well for the money. If you've got a bit more to spend, pick up the Streaming Stick 4K instead, since the improved Wi-Fi and 4K video are worth the extra cash.
Buy on Amazon
Apple TV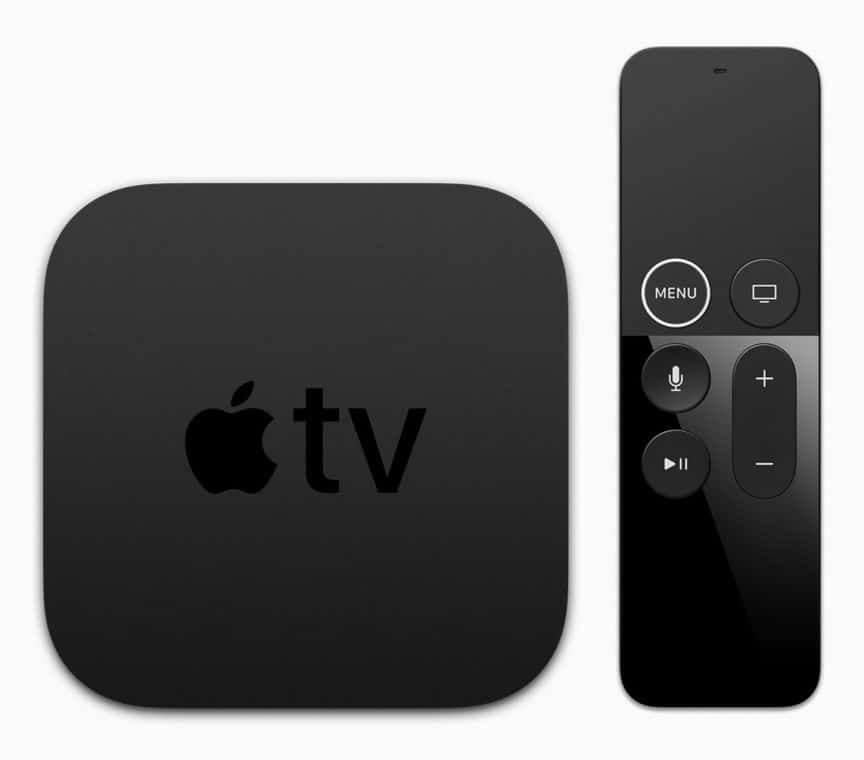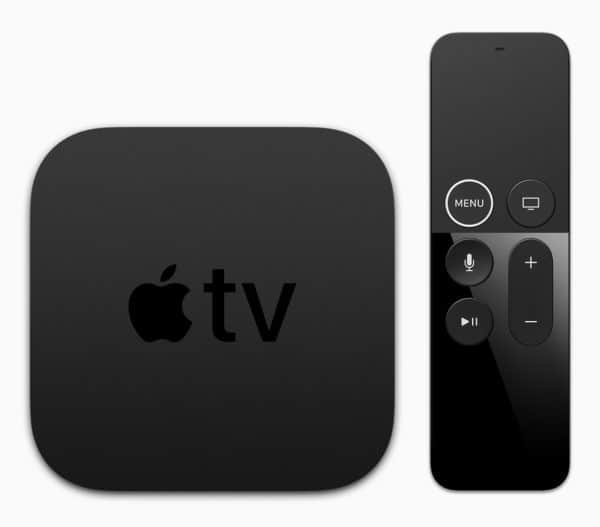 Apple TV is a small set-top box that plugs into your TV via an HDMI cord, bringing content directly to your screen in much the same way as the Amazon Fire Stick.
Apple TV lets you browse apps to choose what you want to watch on your television, controlled via your iPhone or iPad or a separate, battery-powered Apple TV remote.
Apps for all of the major streaming services are available, including Apple TV+, Netflix, Prime Video, Disney+, iTunes, Hulu, as well as thousands of App Store games and smart home applications.
The Apple TV device is much larger than the Fire Stick or Chromecast, which may be the deciding factor for those looking to travel light. The extra size and weight (15 ounces) does come with added features, however, like local content storage space and an Ethernet connection.
Apple TV HD vs. Apple TV 4K
Apple TV HD streams in HD quality (1080p), while the Apple TV 4K streams in 4K (Ultra HD). If you don't have a 4K television, there isn't much need for an Apple TV 4K. Both options have an Ethernet port.
As mentioned above, it's unlikely that you will encounter many 4K televisions on your travels. That being said, the 4K version doesn't cost much more than the HD option, so if you plan to stay in fancier accommodation or plan to buy a 4K television for home, it may be worth the added cost.
---
The Bottom Line
What are your current brand affiliations? If you already have a lot of Apple products, you might consider Apple TV more seriously. If you currently use Google Assistant, you may lean toward Google Chromecast, and if you currently use Alexa, you may lean towards the Fire Stick based on your familiarity with the commands.
If you don't have any particular brand affiliation, and especially if you don't particularly care about controlling playback with your voice, one of the smaller Roku devices may well be your best bet.
If your travel space is very limited, you're going to need to rule out an Apple TV. The device is noticeably larger than almost all of the other options, so it will take up key carry-on space you'll likely want to use for other things.
For travelers, choosing a streaming device comes down to what you plan to watch, along with your travel style, budget, and current tech and brand preferences.
Choose Google Chromecast if you:
Travel light and want the smallest device
Want to pull local or browser-based content onto a TV screen
Want to use your phone instead of carrying a remote
Need a low-cost streaming option
Choose Amazon Fire TV Stick if you:
Travel light and need a small device
Use or want to use Alexa voice command
Want to stream apps on your TV (with a remote) instead of your phone
Need a low-cost streaming option
Choose Roku if you:
Want the best range of device options and prices
Don't really care about voice control
Want to be able to easily listen using your own headphones
Are looking for a simple, effective interface
Choose Apple TV if you: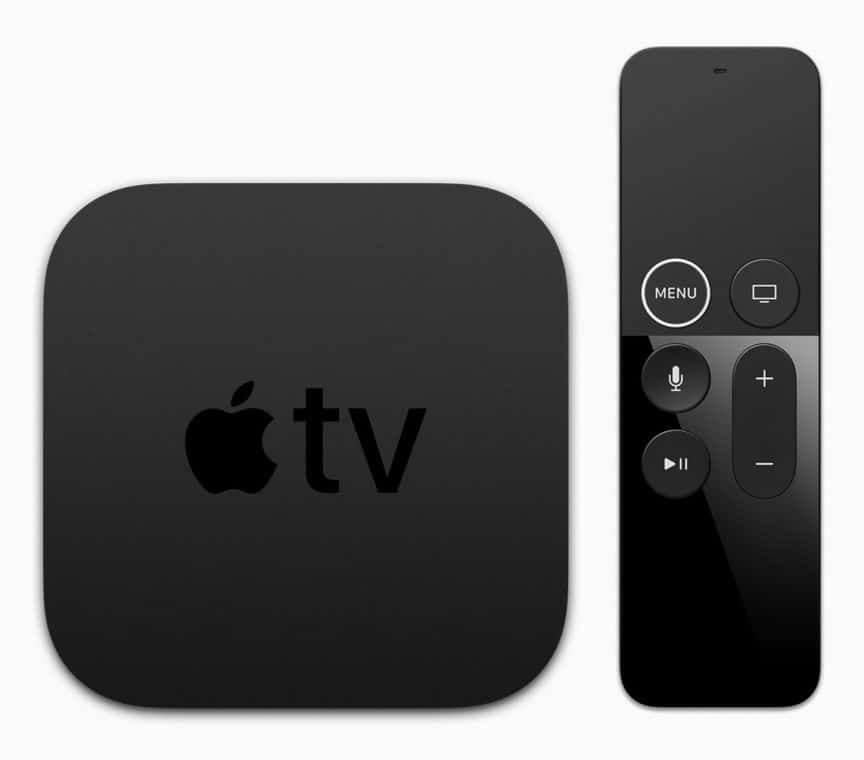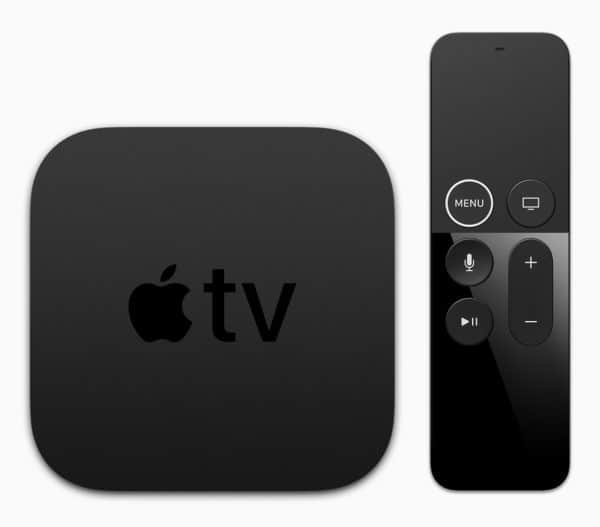 Have extra spare travel luggage space
Use or want to use Siri voice command
Want to stream using apps either on your phone or your TV (via a remote)
Need extra content storage (32GB-64GB)
---
Images via Paul Postema (main image), Google (Chromecast), Amazon (Fire TV Stick), Apple (Apple TV)