Traveling with a couple of cameras isn't for the faint of heart (and I'm not even counting my smartphone as a camera here). As you can imagine, it's pretty much double the trouble.
Even so, it's something I've been doing for the last few years. Along the way, I've come up with a few ways to keep the size down, the weight low, and generally make it a bit easier to manage the difficulty of duplication.
For a little bit of background, I carry a pair of Nikon DSLRs around.
Memory Cards
Difficulty: Easy
Memory cards are essential for a camera, and fortunately, this has become easier over the years. Both of my cameras use SD cards, which are by far the most common type around.
I carry a stack of high capacity cards with me so I'll never be caught out. Since both cameras use the same cards, it reduces the hassle — I can pull from the same pile of cards for each.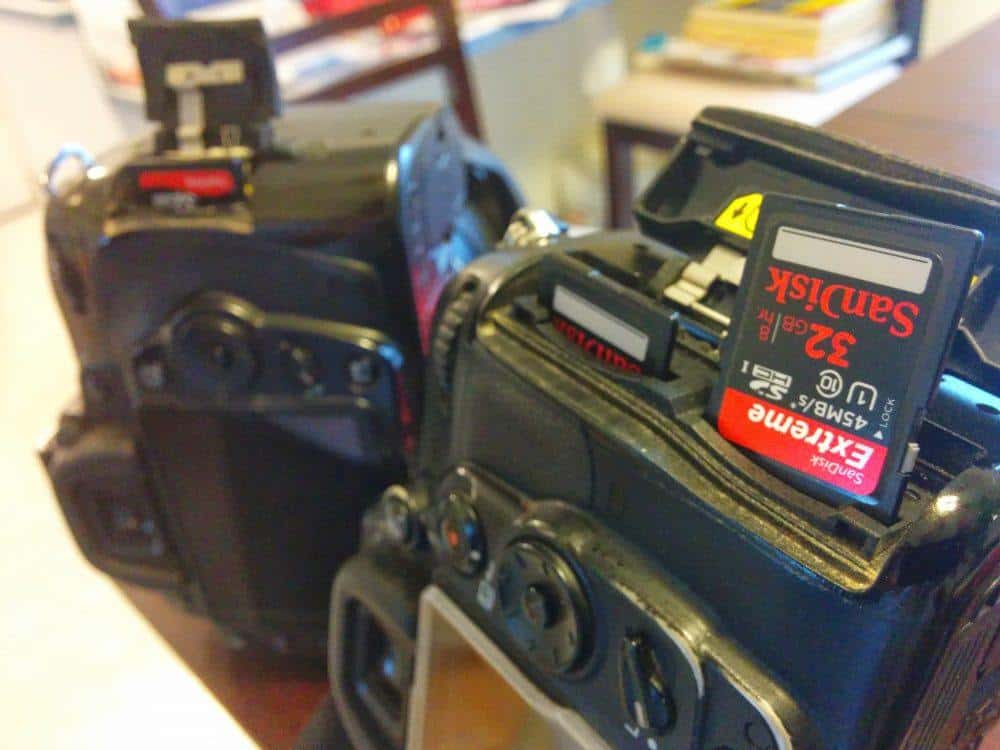 If you're buying a new camera, it's worth checking to see what kind of memory card it requires. Will your cameras be able to use the same type of cards?
Tip: Keep fewer, higher-capacity cards rather than a bunch of cheaper, slower and smaller cards. This makes them easier to track, require less frequent changes, and have less time wasted checking to see which are already filled.
Tip: Choose cameras that use the same type of memory card if possible.
Card Reader/Cable
Difficulty: Easy
This is a pretty easy one, but something worth mentioning. Chances are you're loading your photos on to a laptop during your travels. Fortunately, most laptops have an SD card reader built in, so this makes things pretty easy.
It's worth checking to make sure, however. The new Dell XPS 13 is an amazing notebook, but the lack of SD card reader was a deal-breaker for me. I already have too many adapters (hah), so I wasn't interested in adding another couple of cables or separate USB SD card reader to the mix.
If you happen to have one of the cameras using micro-SD (such as the GoPro or other good action camera), they can be used in a standard SD card reader slot with a cheap (and often included) plastic adapter.
Tip: Use your built-in SD card reader if possible, and leave the USB cables and connectors at home.
Straps
Difficulty: Hard
If you haven't already, it's time to ditch the standard camera strap. We've talked about them before, and they're awful.
With that out of the way, if you have a couple of cameras, I'd highly recommend a modular system like the one that BlackRapid uses.
I'll often have one camera in hand, and another in my bag. Having the freedom to pick and choose which one to have, and how to carry it, is fantastic.
While the straps themselves are excellent, it's the adapter (called the FastenR) that connects to the camera that makes their system so slick for managing multiple cameras.
Since the camera straps snap easily on and off with the carabiner-like "ConnectR," it makes changes in the field slick and simple.
I carry a pair of straps. The first is a more standard, cross-body strap. It's fast to shoot with, comfortable for medium to long-ish days in the field, and can be strapped down a bit for more active endeavors.
The other strap I use is a wrist strap, and it's very packable. I find this particularly handy if I'm out in the streets and want to keep the camera close by and a little less noticeable. I can also easily throw the camera in my bag with minimal bulk this way.
It's worth mentioning that I did try a BlackRapid Yeti strap as a two-camera solution. Admittedly, it's made for a DSLR & micro 4/3rds combo rather than two DSLRs, and it shows, particularly if you're active like I am.
With both of my large cameras attached, the second one was just too prone to flopping around to make this strap ideal. They also have another strap called the "Double" which would probably do the job, but it's just too big for my style of travel.
Tip: Invest in a modular solution that makes shooting easier.
Packing
Difficulty: Medium
So you have a couple of cameras, and you want to keep them neat and tidy. Here are my rules:
Always Carry-On
The camera bodies and (more expensive) lenses always travel next to me. That means I never check them at the airport, and they never go under or on top of the bus. These are as close to babies as I ever want to get, and I take care of them like that (most of the time).
A Decent Bag
Everyone defines a "camera bag" differently, but at the end of the day, it's what works for you that matters. I personally prefer bags that don't look like camera bags.
I have one Shan bag I bought in Myanmar that I had modified to add a pocket inside and padding at the bottom. If I'm out in the streets with small lenses, this is the bag I carry.
I also have a little day-pack that goes with me when I travel from place to place, or for longer days. This is what I stick my camera bodies and bigger lenses in on travel days as well.
Protect It
My biggest tip for this bag is to put a piece of clothing in the bottom as an extra cushion. I use a Burmese longyi in there (like a sarong) that can double as a cushion, extra piece of clothing, or something to wrap your bloody arm up when you fall and smash your smartphone in a canyon. For example.
Bigger lenses have their own carrying case, while smaller ones have a protective bag or I wrap them in clothes/spare longyi.
Tip: Think of your style, and choose bags that work best for what you do.
Batteries
Difficulty: Hard
While SD cards have become almost an industry standard, batteries are near the opposite end of the scale. Even within the same brand, series, or year, chances are that your batteries and chargers won't match up. This is a huge pain, and one of the hardest to solve.
Instead of carrying around a pair of bulky chargers, I found myself a smaller universal one to do the job of both. While not quite as solidly built, the flexibility it offers (and the space/weight it saves) has been completely worth the $40 it cost me.
Tip: Minimize the number of adapters and chargers with a universal option if you can find one.
Lenses
Difficulty: Medium
Finally, lenses. This is pretty self-explanatory, but if you're using detachable-lens cameras of different formats or makes, you're going to need to invest in a bunch of lenses that you may not be able to use with both.
If you have Nikon, buy another Nikon. Have Canon? Buy another Canon. Love the new Sony NEX series? Stick with it. If you don't, you're likely buying glass that you can't switch between your cameras, and your shoulders and back will hate you for it.
This is the costliest mistake you can make, so plan ahead and do it right.
Tip: Choose cameras that use the same lenses.
Wrapup
So there you have it. It's possible to carry a couple of cameras without adding much bulk. In the end I was able to save the space/weight/ bulk by carrying the following:
8x SD Cards
2x USB cables
1x Battery charger
1x Camera Strap
5x Lenses
Less stuff to break. Less stuff to lose. Less expensive physio bills down the line for my poor back.
---
Do you have any tips for minimizing the sprawl of adapters and cables in your luggage? Let us know in the comments.