I've traveled off and on for over seven years now, on both short and long-term trips for leisure, work, and digital nomadism. Over that time, what I pack and the way I pack it has evolved. I've learned what not to bring, and equally, which things genuinely improve my travels.
When I started out, I never knew that I needed most of the products below, but these days I won't leave home without them. I briefly mentioned some of them in a previous article that describes how I pack, so if you want to see how everything fits, check out that packing guide as well.
Let's get to it.
Mini Squeeze-Open Containers
Let's begin with the small but mighty Humangear mini GoTubb container. I carry these tiny containers with me inside my regular purse everywhere I go, and not only when I travel.
They can hold anything tiny, from coins to craft products to jewelry, but I exclusively use them for salt and spices. I have one for salt and one for chili flakes that stay in my purse, so I have them whenever I need them.
Does that sound like overkill? Perhaps, but bland food is frustrating, and travel food at airports, train stations, or on the road can be particularly unappealing. These two small containers—quite literally—spice up any boring meal I encounter while out in the world.
They come in packs with a variety of colors, so I can easily grab the one I'm looking for. I choose chili flakes for myself and salt for my partner, who always travels with me, but you can use them for any spice or herb you love. Pepper, cayenne, garlic powder, oregano, cumin, or paprika would all be good options.
I love adding chili flakes to pizza, and sprinkle them liberally on airport meals. My partner is more of a salt person who also happens to get quite grumpy when he has to eat food he doesn't like. Let's not talk about the bland egg salad sandwiches from Dublin airport—with no salt packages to be found anywhere. 😓
Sink Laundry Packets
Doing laundry while traveling can be difficult, expensive, and time-consuming. I've used travel detergent packages over the years to wash my clothes in places where it was hard to do laundry any other way, and to deal with more fragile items that I didn't want to risk sending to a laundromat or cleaning service.
I've used Tide travel sink packets many times, but I recently tried SinkSuds travel detergent since it came in a larger pack that was cheaper. Both do the job, and are pre-measured for doing a load of laundry in the sink.
I find it easier to do a few items at a time, using only part of the package. I won't lie; it's still quite a hassle to wash all of your clothes in the sink or a bathtub, but when you don't have another option, these tiny packs are well worth the minimal luggage space.
They meet the requirement for onboard liquids if you're carry-on only, and if the opportunity arises, you can also use them in a conventional washer. It's much simpler than trying to decipher detergent labels in another language, and cheaper than buying a full-sized bottle to only use once or twice.
Sand-Free Beach Blanket
If you're traveling near a beach or anywhere with parks or outdoor spaces, a large (but compact) beach blanket is a worthwhile luxury.
They come in a range of sizes and are available from many different brands. Look for one that's sand-proof and water-repellant. and has corner pockets. The corners help keep the blanket from blowing away once you fill them with sand. If you're at a park, rocks or shoes will do the trick.
The blanket doesn't replace a towel; instead, it creates a barrier between you and the ground. It also creates a wide area where you and other people can sunbathe or hangout for a picnic or sunset viewing.
The beach blanket I bought from Amazon four years ago didn't cost much, but has held up over the years on beaches, in parks, on Airbnb balconies, and in my yard during COVID quarantines.
The towel I use along with it is also sand-proof and comes from Sand Cloud—get one with a valuables pocket! They carry full beach blankets too, but I personally prefer having the waterproofing and corner pockets of my usual model.
Amazon Fire TV Stick
We use the Amazon Fire TV Stick at home, and have started bringing it on trips over the past few years as well, with varying degrees of success.
It's not ideal for every travel situation, but when it does work (most Airbnbs), we gain access to our streaming services in seconds, already logged into our accounts with our viewing details and preferences saved.
We simply plug the Fire TV Stick into the TV via HDMI, connect it to a power source, and then use the remote to access all of our services. The best part is not having to log in every time we move to a new location: our passwords stay on our device and leave with us, versus logging into someone else's TV.
The stick is fairly compact and doesn't cost a lot. That said, it always gets discounted during typical sale days and seasons like Cyber Monday, Boxing Day, and Prime Day, so wait for one of those if it's coming up soon.
We've had less luck using the Fire TV Stick in hotels, which usually have their own built-in entertainment system, and motels, which often have older televisions.
If you are staying in Airbnbs, you can often tell by the photos of the TV whether or not it's new enough to have an HDMI port for the stick. If television is important to you, consider asking the Airbnb host if the TV supports HDMI.
We sometimes travel with an HDMI cord as well, so we can connect a laptop and display anything directly on the TV. You'll need an adapter for your laptop if yours doesn't have an HDMI port built in. Just remember to take the cable with you when you pack up–we've donated several to Airbnbs around the world by mistake!
If you are traveling internationally, note that you won't have access to all of the same shows and movies. What each streaming service has rights to varies from one country to the next, although this isn't always a bad thing.
Other countries often give you access to movies and shows you didn't have back home, and for the most part, original content made by the streaming service will be available wherever that service is available. Think Netflix originals like Stranger Things, Ozark, and The Witcher, or Star Wars and Marvel shows/movies on Disney+.
If you'd like to know more, I wrote a full article outlining how the Fire TV Stick works, how to set it up, and how streaming works in other countries.
Fast Charger and Long Charging Cord
I am completely and utterly guilty of waiting way too long before switching to a fast phone charger. I didn't think the difference would matter, or at least not enough to be worth spending money on. If you have a fast charger already, you understand the magic; go ahead and skip to the next suggestion.
Last year, I finally bought an Anker USB C 20W charger. It's the same size as most standard wall chargers and weighs barely an ounce, but is capable of charging at 20 watts. Put simply, that means it can charge your phone up to 3x faster than a typical 5W charger.
When you're crunched for time, being able to charge your mobile devices more quickly makes a big difference. It's fairly inexpensive device for the benefit it brings, and the fact it doesn't take up any extra space in your luggage is a bonus.
You'll need a USB C cord as well; one with a Lightning plug on one end if you have an iPhone, or USB C on both ends if you have an Android device. Buy a longer cable than usual: you'll thank me the first time you're still able to charge from an outlet that's blocked by furniture or halfway up the wall.
Handheld Luggage Scale
Luggage weight restrictions are a pain, especially if you only discover you're over the limit when you're at the check-in desk. Do you pay the airline's extortionate fee? If not, what do you leave behind? Where do you go to reorganize your luggage? Do you have time to wait in line again?
A handheld luggage scale lets you quickly check your luggage weight before leaving for the airport, so you can make changes at your own pace. It's definitely worth having a small one like this that you can take with you, especially if you're prone to buying one too many souvenirs while on vacation!
It's straightforward to use: you just turn on the scale, then loop the fabric strap under the handle of your backpack or suitcase. When you lift the scale and bag into the air (a few inches is enough), the screen shows the weight in pounds or kilograms.
We've had to make too many last-minute adjustments after our bags are packed, and it's so much easier to make those decisions when you're not under a time crunch in a crowded airport.
Portable Coffee Maker
If you're someone who enjoys/needs a good coffee in the morning, a simple pourover-style device lets you make a fresh brew anywhere you have access to hot water and ground coffee. Accommodations don't always come with coffee machines, and when they do, they can be dirty or hard to use.
There are many different brands available on Amazon or in camping stores. Look for a lightweight model with a metal filter rather than paper that can get wet or torn in your bag. Models that collapse help reclaim a bit of luggage space as well.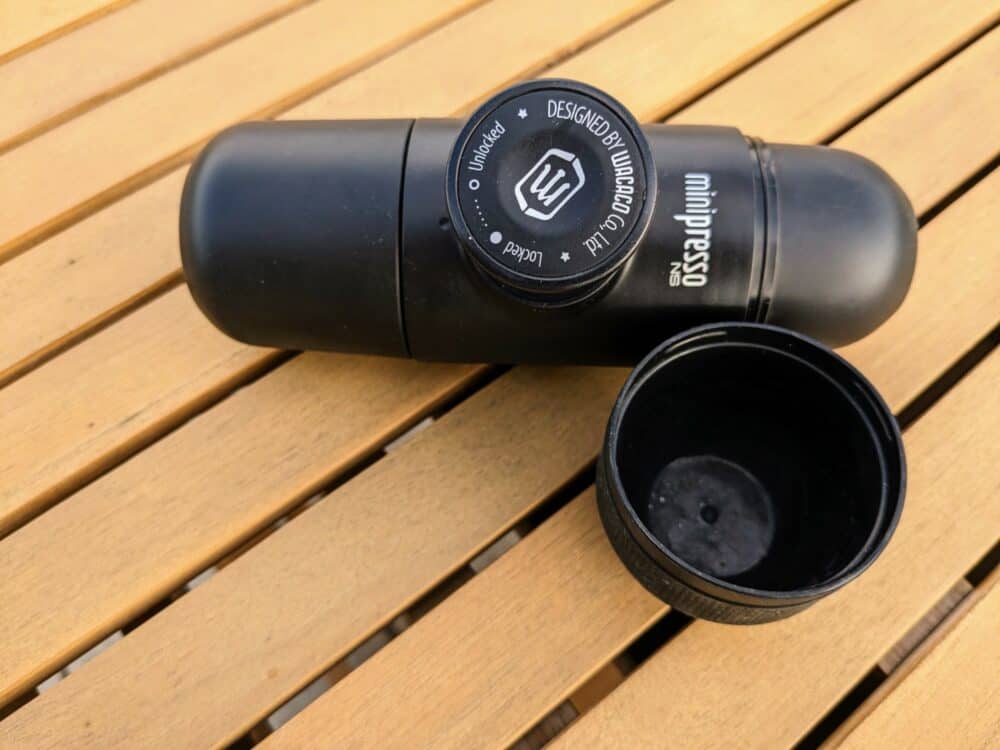 If you prefer a more espresso-like option, Dave swears by the Wacaco Minipresso NS —a Nespresso machine that fits in your jacket pocket. He's used one for the last two years on camping trips, and in hotel rooms and Airbnbs with a less-than-ideal coffee situation.
He chose the NS (Nespresso-compatible) version because the pods are much cleaner and easier to deal with than ground coffee when you're hiking. If you prefer the real stuff, then look for the GR version, or the smaller Nanopresso model.
If you're really serious about great coffee, Wacaco also makes the tiny Picopresso that comes with a travel case and tamper, and makes genuinely excellent espresso. Combine it with a good hand grinder for the ultimate travel coffee setup.
Dry/Wet Bags
I use various dry/wet bags for a few different purposes. Firstly, they help store toiletries. As an example, I used to have a soap bar container. It worked fine, but it was kinda large, and retained that size even as the soap bar got smaller.
I've now replaced it with a Bumkins sandwich bag that means the container stays barely larger than the size of the soap. I can drop a bar in it even when it's wet, meaning I can pack up wet shower items right before I check out of my accommodation without leaving a mess all through my toilet bag.
I also use these bags for makeup and creams that could explode during travel. They come in multiple sizes, and because they're designed for kids, you can get fun superhero or Disney versions in addition to unbranded patterns.
I also keep one in my purse or travel bag to store any little items we might need to have access to on the plane, including lip balm, mints, hand sanitizer, Tide To Go, and so on, plus those little containers of chilli flakes and salt I mentioned earlier.
It means I don't have to dig around in the pockets of a larger bag looking for small items, and I can grab this small zippered pouch and move everything into a different purse/bag if that's what I'm using for the day.
A larger Bumkins waterproof wet bag is ideal for going to the beach. I store various small items inside the zippered pouch, and can use it for a wet bathing suit so I don't get all the other stuff in my bag soaked with water.
Humangear GoToob+ Refillable Bottles
I travel with a few Humangear GoToob+ refillable bottles for storing travel liquids such as shampoo, conditioner, liquid soap, lotions, and sunscreen. Refillable travel containers aren't hard to come by, but these ones go above and beyond to keep your toiletries safe.
They have locking lids that turn into a loop for hanging from small hooks, and they're easy to clean and refill over and over again. The containers are extremely durable, and squeeze down to the size of the liquid inside as you use it up, which means they take up less bag space.
They come in a number of sizes and colors. If you're traveling carry-on only, make sure you choose bottle capacities that meet your flight restrictions, typically 100ml/3.5oz.
Vertical Laptop Sleeve
A vertical laptop sleeve gives you easier access to your laptop when you need to pull it out at airport security. This is specifically relevant if you travel with a backpack or similar bag as your carry-on item.
We both used to have to take out our full laptop sleeve from the recesses of our backpacks at the security check. Pulling them out was a hassle when our bags were filled to capacity, but cramming them back in again was an even bigger issue.
Since replacing them with vertical versions, we simply unzip the top of the backpack, unzip the sleeves, and slide the laptops out to go through the security machines. Because the sleeve stays inside the backpack, the laptops are easier to get back in afterward, and we don't have to rearrange our bags at all.
It may not sound like much of a difference, but given how frustrating the airport experience is at the moment, anything that speeds up the process and reduces stress levels is very welcome!
Anti-Theft Bag
I absolutely love Travelon's anti-theft tote bag, and I've met other travelers who swear by this brand too. The bag is able to fit way more than you'd think, which is why we now use it as one of our free carry-on items.
The main reason I sought out this bag, and the reason for its higher price tag, are all of the anti-theft features. Though uncommon, travel thefts do happen, and they're a nightmare to deal with when you're away from the familiarities of home.
The bag has lockable clips, slash-proof straps, and a zippered RFID-blocking section to prevent anyone from picking up your credit card or passport information from a distance. Along with the safety features, there are several useful pockets, with easy-access compartments front and back, and a pair of smaller hidden pockets on the side.
If you're looking for something a bit smaller, Travelon makes two different crossbody bags with the same anti-theft features. I switch back and forth between the larger tote and small crossbody bag when traveling, depending on where I'm going and what I need to carry.
For the men out there, the Travelon heritage tour bag may be more your style. It's about halfway between the size of the tote and the crossbody bag.
What travel products can you not live without? Let us know in the comments below.
---
Main image via FotoHelin/Shutterstock.com, product images via Amazon