Are travelers the worst people in the world to buy gifts for? Probably. Everything needs to be small, light, robust, reliable, and useful. That's not much to ask, right?
There's no room for gear that might come in handy now and again, or doesn't really do what it's supposed to. It'll just get left behind or thrown out in a hurry.
For that reason, we've tried to only include genuinely great stuff in this guide. No gimmicks or filler, just the gear and services we would and do use on the road ourselves.
Since we'd all like to save our travel budget for memorable experiences (or cocktails, or memorable experiences involving cocktails), we also try to keep the prices down. You won't find any $1000 phones or $2000 laptops here.
Most of the items in this guide are under $100, and there's nothing at all over $400. Quality travel gear and services don't need to cost a fortune.
Gifts Under $100
Anker PowerCore Slim 10K PD Portable Battery
Taking photos, looking up directions, sitting in a transit lounge for hours. Travel's hard on smartphone batteries… and let's face it, they're usually not that great to start with.
Packing one of these compact Anker portable batteries means one less thing to worry about, since it can charge most smartphones a couple of times, and even fully juice up a small tablet.
Smaller than a wallet and weighing just 7.5 ounces, it has two charging options: a 12W USB-A port, and a 20W USB C Power Delivery (PD) port that can fast-charge almost any smartphone or tablet.
That PD support is useful for another reason as well: as long as you have a 20W wall charger or better, it means you can charge the power bank itself up from an outlet in under five hours. That's faster than many competing models, and makes a big difference when you're in a hurry.
Trickle charging is also supported, which means the power bank can effectively charge low-power devices like smartwatches and fitness trackers.
Anker has built its reputation on reasonably-priced, high-quality batteries and chargers, and the PowerCore Slim 10K PD is no exception. As you'd expect, smaller and larger versions are also available.
Want something slightly different? We've got a range of other power bank recommendations as well.
Buy on Amazon
LENCENT 4-Port USB Wall Charger
We've recommended this 4-way USB charger for a while, and for good reason. It's one of the most genuinely useful tech accessories for travelers, at a very reasonable price.
Rather than messing around with travel adapters and multiple power sockets, you simply choose the plug type you need, click it into place, and stick it into an outlet. The included plugs work in 150+ countries around the world.
You can simultaneously charge up to four devices from a gadget that's compact, lightweight, and simple to use. It's one of the first things I pack for any trip. There's also a version with an inbuilt night light, which isn't a bad idea in unfamiliar hotel rooms!
Buy on Amazon
Anker Powerline III Extra-Long Charging Cable
You can't get much simpler than a charging cable, right?
They're the kind of thing nobody thinks too much about, until they stop working somewhere you can't buy a replacement or don't reach from the power socket to anywhere useful. Sadly, both of those problems aren't exactly uncommon.
Anker's been making great charging gear for years (like the battery pack mentioned above), and its Powerline III cable range is no exception. Built with Kevlar fibres and reinforced in all the right places, they're made to last, and come with a handy travel strap or pouch to stop them getting tangled up inside a daypack.
Grab the six or ten-foot version, so that even the most stupidly-placed power socket doesn't leave your phone dangling down the wall or sitting on the floor all night.
Note: The button below is for the USB-C model, but there are Lightning and micro-USB versions available too.
Buy on Amazon
PowerCube Portable Power Strip
While many travelers will be fine just packing a multi-USB charger like the Lencent one above, for others there's no getting away from a wall socket. Many laptops, cameras, and other gadgets and appliances still have their own dedicated chargers, and that's where this little power strip comes in.
Unlike many others, it can handle 110-240 volts, so it won't blow up when you take it overseas. With four (North American-style) AC sockets, plus two USB sockets, it'll be enough for all but the most gadget-obsessed traveler. Best of all, it comes with its own clip-on plugs to deal with most power sockets around the world.
The design makes a lot of sense, with outlets on four sides of the cube so they don't crowd each other out, and the USB sockets on the remaining side. It's small, light, and works how it should. Now that's a rarity.
Need a different kind of power strip? We've got you covered.
Buy on Amazon
MEE MX2 PRO Noise-Isolating Earphones
I traveled with a good set of noise-isolating earphones for years, before sadly leaving them behind on a long-distance bus one day. I ultimately replaced them with noise-canceling headphones, but if you're looking for something that doesn't need charging or cost a fortune, these Mee MX2 Pro earbuds are still a great option.
They have fantastic sound quality for the money, block out a surprising amount of outside noise, and are robust enough to handle being thrown into a daypack and stuffed into a back pocket day after day.
With replaceable foam earpieces and cable, wearing out or breaking one part doesn't mean replacing the entire thing. There are two different cables in the box, one audio-only version, and one with a microphone and remote that lets your phone stay safely in your pocket while making calls or listening to music.
Buy on Amazon
UE Wonderboom 3 Portable Speaker
For those who prefer to listen to their music with friends, there's an endless supply of portable Bluetooth speakers out there. Most of them are awful… but the UE Wonderboom 3 isn't. In fact, it's pretty great.
The 14+ hour battery life is better than almost anything else of a similar size, with more than enough sound quality and volume for a good-sized outdoor party.
With 360-degree sound and solid bass boost, you'll rarely struggle to hear the music, but if things do start getting noisy, there's a dedicated "outdoor boost" button that cranks up the volume. The speaker is drop, dust, and water-resistant (three feet for half an hour), and even floats so it can be used in the pool, not just alongside it.
Bluetooth range is a very solid 100 feet. The small size of the Wonderboom 3 makes it easy to fit in a day bag, and it doesn't weigh much either. Available in a range of colors, it's an absolute winner.
We've got a range of other portable speaker picks as well, if you're after something slightly different.
Buy on Amazon
Amazon Fire HD 8
Amazon's Fire range dominates the low-cost tablet market, and the latest model of the Fire HD 8 is the pick of the bunch for travelers.
Easy to carry while still having a large enough screen to comfortably watch movies on, this 8″ model gets up to 12 hours between charges and comes in a range of colors.
It has a micro-SD slot for adding extra storage, but it's probably worth paying the small extra cost to double the internal capacity from 32 to 64GB.
The Fire HD 8 was our choice for the best budget travel tablet of the year. That said, if you'd prefer a bigger, higher-resolution screen and faster processor, the Fire HD 10 is an equally good option. We reviewed it here.
There's also [Product unavailable] available, with a durable case, rock-solid warranty, and a year of Amazon's child-focused FreeTime subscription service.
Buy on Amazon
Netgear AC1900 Wi-Fi Adapter
Great news! The hotel has free Wi-Fi! Bad news! Your room gets one bar of signal… if you hang your laptop out the window and hold your tongue just right. Oh well, who doesn't enjoy waiting twenty minutes for Instagram to load?
We've been recommending USB Wi-Fi adapters for years now. They're an easy way of boosting your Wi-Fi signal while traveling, getting faster internet or letting you connect to networks your laptop can't even usually see.
This Netgear model ticks all the boxes: it's fast, powerful, and lets you use networks up to 200 feet away. It's just as useful at home as on the road, coming with a desk stand that lets you place it anywhere convenient rather than plugging it directly into your computer.
If you're after something smaller, or that boosts the Wi-Fi for several devices at once, we've got several other recommendations here and here.
Buy on Amazon
RAVPower FileHub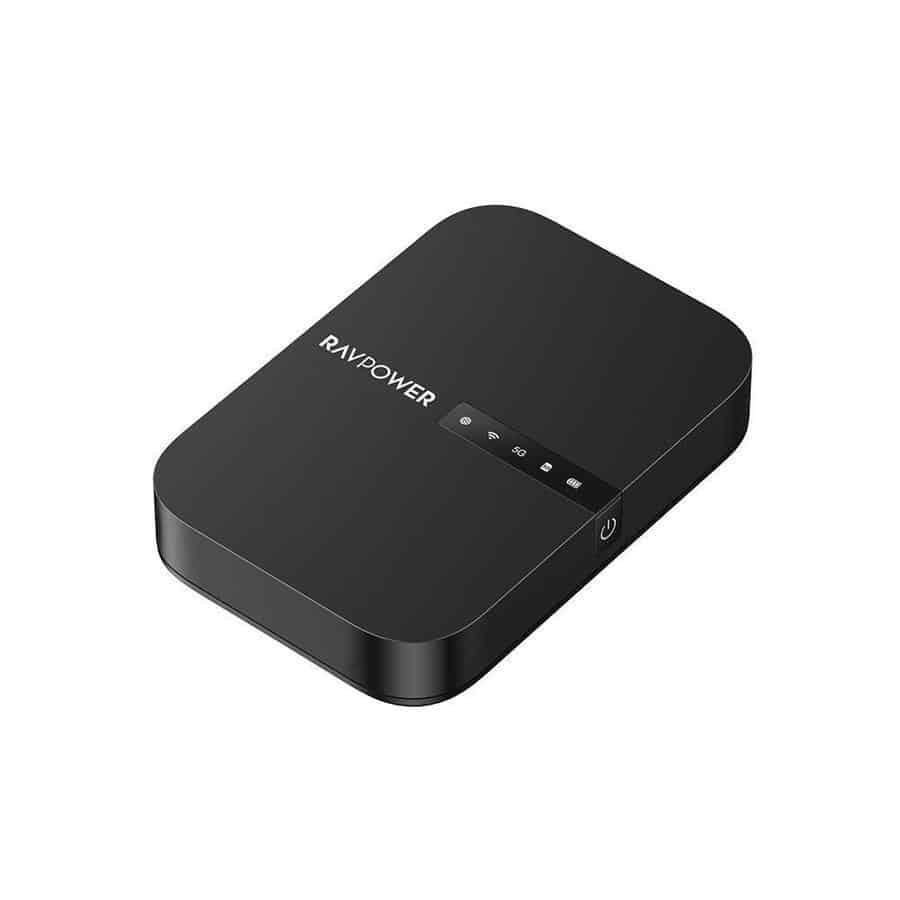 The RAVPower FileHub promises a lot. As well as letting you get around device limits on hotel Wi-Fi networks, it's also a portable battery, SD card reader, media streamer, and a way of copying files between all of your various gadgets.
The biggest surprise? It actually does everything it's supposed to, at a remarkably good price, without being especially big or heavy. It supports both 2.4 and 5Ghz wireless networks (with some limitations,) and has a one-touch button that automatically backs up your SD card to a USB drive.
The 6700mAh battery is more than enough to fully charge your phone from empty, and there's a wealth of streaming options for sharing your video, music, and photos between devices.
Want to know more? We reviewed the RAVPower FileHub here.
Anker PowerExpand+ 7-in-1 USB C Hub
Laptops are getting smaller and lighter all the time, which is great for travelers. To achieve that, however, manufacturers have started to leave out connection options that most of us still use, replacing everything with USB C ports.
Sure, you can buy individual adapters to attach your USB sticks, keyboards, card readers, and whatever else, but they're easy to break and easier to lose. For those who work from the road in particular, dongle hell is real.
There's a much better option, though: a little hub like this Anker PowerExpand+ 7-in-1 unit. Weighing under four ounces, it's small enough to drop in a bag and forget about. Even so, it provides two extra USB-A ports, a USB C port, microSD and SD card readers, and an HDMI port for running a 4K external monitor.
Plug your usual USB C laptop charger into the hub, and it will in turn power the laptop it's plugged into. That's super-useful when using a laptop that only has one USB C port!
If a USB hub sounds useful but this model isn't exactly what you're after, we've got a bunch of other suggestions as well.
Buy on Amazon
ProCase Travel Gear Organizer
Looking for a way to organize all of these useful little gadgets and gizmos? Rightly so: it's very easy to lose or break them when they're floating around in a backpack.
The ProCase Travel Gear Organizer has a wide range of pockets, compartments, and elastic bands. From charging cables, earbuds, and SIM cards to travel adapters, mice, portable drives, and more, it's flexible enough to accommodate a wide variety of gear.
It rolls up to just 4.5″ in diameter, but expands to 17″ wide when you're cramming stuff inside it. Easy to stow in a backpack, laptop bag, or briefcase, it's a practical, low-cost way of keeping accessories protected and easy to find.
Buy on Amazon
Gifts Under $200
AKASO V50 Elite Action Camera
When it comes to tiny action cameras, GoPro used to be the only game in town. That's no longer the case, with several other companies now making versions that look similar, work much the same, and cost a lot less.
We covered several of them in the past, but the best was the AKASO V50 Elite. Water-resistant to 130 feet, with over an hour of battery life and capable of recording 4K video at up to 60fps, it's an impressive little unit.
We gave the previous model a full review here, but suffice it to say that if you're after a solid action camera that does a good job yet costs around half the price of the equivalent GoPro, the V50 Elite is it.
Buy on Amazon
GlocalMe G4 Worldwide Mobile Hotspot
Unless you're with one of a small number of cell companies, roaming overseas with your phone can be very expensive.
Local SIM cards save a bunch of money, but buying them can be a hassle. International SIM cards work everywhere, but they're often not that much cheaper than normal roaming. Neither approach works if your phone is locked to your carrier from home.
There are a bunch of companies offering solutions to this problem, but GlocalMe's hotspot is one of the most elegant we've seen. Unlike the competition, the G4 gives the choice of inserting a local SIM or buying data from the company starting at €7/GB, depending on where in the world it'll be used.
That's the best of both worlds, really. You can get connected as soon as you land in a new country, but then switch to a local SIM to save money if you'll be there longer than a few days.
The hotspot comes with just over 1GB of global data (100+ countries) to get started with, plus 8GB for use in the United States. Up to five devices can connect at once, and unlike most hotspots, it'll last up to 15 hours on a single charge. You can even use it to power your other USB devices.
Buy on Amazon
Kindle Paperwhite
We've been recommending versions of Amazon's Kindle e-reader since the earliest days of this site, but in recent years there's only one model worth talking about: the Paperwhite.
The release of the latest versions turned what was already a very good device into a great one. The biggest change has been proper IPX8 water resistance, so knocking it into the bath or getting caught in the rain is no longer likely to be fatal. As someone who once killed a Kindle by dropping it off the side of a boat, this excites me a lot.
Other useful extras in the latest model include more storage space, USB C charging (and the option of wireless charging as well), support for listening to audiobooks via Bluetooth headphones, and a larger, high-resolution 6.8″ display.
Battery life remains excellent, at up to 10 weeks between charges, and despite the upgrades, the price has barely changed over the years. The Paperwhite remains just as good value for money as it always was, and we're (still) huge fans as a result.
Buy on Amazon
Sandisk Professional G-DRIVE Portable Drive
There aren't many companies making good portable solid-state drives, especially ones that can take a beating, but Sandisk is onto a winner with its Professional G-Drive series.
Available in capacities from 500GB to 2TB, this is a rugged portable drive that's designed for hardcore travel. It can handle being crushed, dropped onto concrete, submerged in three feet of water for half an hour, and keep out dust and dirt probably longer than you can.
USB C powered and super-fast, it weighs just three ounces and fits in the palm of your hand. When it comes to portable drives for travel, this is about as good as it gets, but if you'd prefer something slightly different, there are several impressive alternatives.
Buy on Amazon
RAVPower PD Pioneer Portable Charger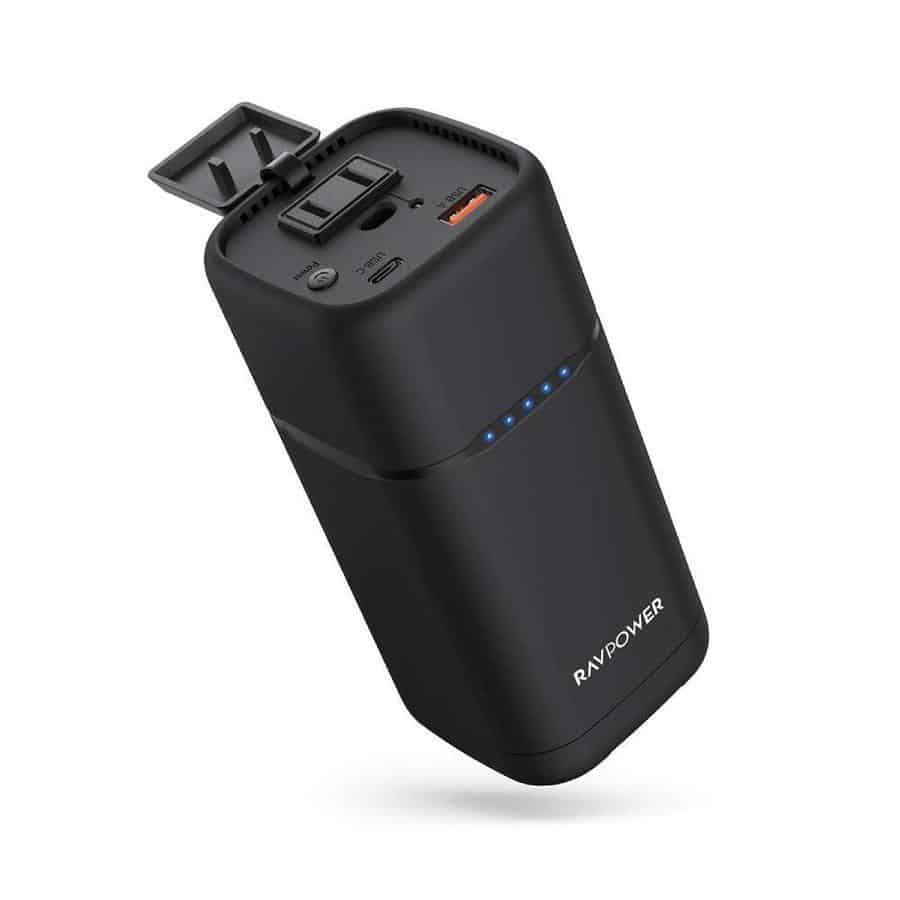 A standard portable battery is ideal for charging small electronics like phones and cameras, but when you need some serious recharging power, it isn't going to cut it.
Enter the RAVPower PD Pioneer Portable Charger, which has enough juice to power a laptop or pretty much any electronics you're likely to be carrying. Yes, even a 15″ Macbook Pro is no match for this thing, since the PD Pioneer can deal with anything requiring 80W or less.
It'll fully charge pretty much any 13″ or 15″ laptop from the North American-style power outlet or USB C PD port. You can also charge your mobile devices from that USB C port, or the USB-A socket beside it.
At 1.5lbs (664g) it's relatively hefty, but for someone who needs to keep working far from the nearest power socket, it's certainly still manageable. We reviewed it in detail here, and found that it doubled the length of time we could work without a wall outlet in sight.
Gifts Under $400
Google Pixel 6a Smartphone
There are many perfectly good midrange smartphones out there (we cover a bunch of them here), but almost all of them fall down in one area: photo quality.
That's not ideal for travelers, where an increasing number of us are traveling without a dedicated camera. For a long time, if you wanted good shots out of your phone (especially in low light) you had to spend close to a thousand bucks on it.
Not any more. Google took most of the camera hardware and all of the software smarts of its high-end Pixel range, and crammed it into a sub-$400 smartphone. Remarkably, the Pixel 6a takes shots indistinguishable from phones costing twice as much.
While there have been compromises made in other areas (mainly a slightly slower processor and no wireless charging or headphone jack), they make little difference in daily use. There's still somewhat-fast charging, eSIM support, IP67 water and dust resistance, and plenty of storage space, plus guaranteed updates for three years.
For the money, there's nothing else quite like the Pixel 6a out there. It's an obvious choice for travelers, and I bought one myself just the other day.
Buy on Amazon
Sony WH-1000XM5 Noise-Canceling Headphones
Noise-canceling headphones feel like they were made for travelers. If you've ever spent a dozen hours trapped in an airplane cabin with a screaming child, you'll likely agree.
If you're looking for the best mix of sound quality, noise-canceling ability, battery life, and features, you can't go past the Sony WH-1000XM5. I've been using an earlier model almost every day for over three years. It's been fantastic and very reliable, but the XM5's are even better.
Noise-cancelation is the best on the market, but unusually, sound quality remains high with a warm, natural tone. Battery life is exceptional at up to 30 hours, and the headphones are super-comfortable. I've worn mine for almost every minute of two back-to-back 12 hour flights, and still didn't feel the need to take them off.
Volume and playback are controlled via a quick tap or swipe on the right earphone, while cupping your hand over it lets you quickly listen to what's going on around you. Playback stops entirely when you remove the headphones from your head.
The headphones fold up into a compact travel case, and charge quickly via the bundled USB C cable. A three minute charge gives up to three hours of playback, ideal when you're short on time. Basically, when it comes to noise-canceling headphones for travel, these are as good as it gets right now.
Buy on Amazon
Sony WF-1000XM4 Noise-Canceling Earbuds
As great as Sony's noise-canceling headphones are, they do have one flaw for travelers: their size. Especially when traveling carry-on only, the case takes up a lot of space.
That's where the wireless earbud version, the WF-1000XM4, comes in. First released a few years ago, they were an immediate hit, and have only improved with every new version.
While the noise cancellation will never be as good from a pair of earbuds versus headphones, it's still remarkably effective. Sound quality is extremely high, and at eight hours, battery life is as good as it gets for wireless earbuds.
You'll get two full charges out of the carry case, giving around 24 hours of listening time. A quick five minute charge gives an extra hour of listening time, which is useful during a tight layover.
Removing one of the earbuds pauses whatever you're listening to, and putting it back in restarts playback. Long-tapping the left earbud also pulls in outside sound, ideal for boarding calls and any other time you need to quickly pay attention to your surroundings.
Stylish and understated in a way that many wireless earbuds aren't (hello, Airpods), the WF-1000XM4's come in either silver or black. For space-constrained travelers in particular, they're some of the best wireless earbuds out there.
Buy on Amazon
Digital Gifts
Backblaze Backup
If you travel with a laptop, losing irreplaceable data in a theft, accident, or hardware failure is a real concern.
I know several people who've had it happen to them, and it sucks. A lot.
Don't let that be you, or someone you know. Backblaze is our current pick of online backup services. It provides a simple, affordable way of making sure everything is safely stored in the cloud, unaffected by whatever the road happens to throw your way.
It's equally useful at home, of course, making it a solid investment even for irregular travelers.
ProtonVPN Service
A good VPN is essential for almost any traveler these days, whether they're protecting their data security, avoiding unnecessary censorship, or just trying to watch TV shows from back home.
We've tried a number of different services over the years, but at least for now, ProtonVPN is the one that we consistently use on every trip, and recommend for most travelers.
It's one of the few VPNs that consistently works in China, with the company having been particularly fast and effective at working around the increasingly-strong blocks put in place by the Chinese government. If you sign up for the Plus service, it also works near-perfectly for accessing Netflix, BBC iPlayer, and other streaming services while traveling, which is very much a rarity.
Speeds are extremely good, and the range of servers available (nearly 2000, in 60+ countries) is more than most of the competition. While the month-by-month cost is relatively high, signing up for a one or two-year subscription drops the monthly cost significantly.
If you're interested, our full ProtonVPN review gives plenty of extra detail on how it performed over the course of a multi-month international trip.
---
Main image via photoschmidt/Shutterstock.com, RavPower FileHub image via RavPower, Backblaze image via Backblaze, ProtonVPN screenshot via author, other images via Amazon