Travelers are discoverers. One of the best parts of any trip is not knowing exactly what lies in store until we go and find out for ourselves. What is travel if not a leap into the unknown?
No matter how tempting the thrill of discovery may be, though, there are some surprises that most of us could do without. Discovering the hotel's website photos are more than a little deceptive. Finding out your seat on the plane is right beside the toilet, or that the in-flight "entertainment" consists of a broken set of headphones and three sitcoms from the early eighties.
Virtual reality is promising to help travelers with all of these issues, and many others. The technology has been around for a while, but it wasn't until recently that it started to show up in the travel space.
It's still early days, but whether it's simple applications like taking a virtual stroll around potential accommodation and checking out tours, to more advanced options like minimizing flight anxiety or even (heaven forbid) trying to entirely replace physical travel, there's a whole lot going on with virtual reality.
Here's what's happening with the technology right now, and what we're expecting to see in the future.
Applications: Trial Runs, In-Flight Entertainment, and More
Trial Runs for Tours & Accommodation
One of VR's first applications for travel was to test-drive potential attractions and hotels, and it is easy to see why. If you're going to fly for hours and shell-out your hard-earned money, wouldn't you want to know it'll be worthwhile?
That's the logic for all the companies offering VR tours of hotels, destinations, and activities: see before you buy. The technology has been particularly useful for hotels, since VR offers a transparency and visual appeal that static two-dimensional images can't provide.
However, there's an obvious problem with trying to offer virtual-reality walkthroughs to a wide audience: the need to use special equipment like VR headsets, which most people don't own.
For now, hotels and agencies are offering 360° images and video, a kind of pseudo-VR which is viewable by anybody with a web browser. Brands already trying this include NH, Hilton, W Hotels, and St. Regis.
Flight Services
Similar to hotel tours, VR allows airlines to show prospective flyers exactly what their plane will look like. Even before booking a flight, passengers will get the chance to explore the actual aircraft they'd be boarding, see the layout, and choose a seat.
As well as pre-flight tours, VR may soon be coming along for the ride in the form of in-flight entertainment. Anything that makes long-haul flights more bearable is a winner in our books, and we may soon get a fully immersive onboard entertainment experience, far beyond the usual 2D movies and TV shows. Whether users will have to bring their own headsets or airlines will provide them is unknown as yet.
Virtual reality offers more to passengers than just entertainment and plane walkthroughs, however. It could help ease anxiety for those with a fear of flying by helping them forget they're on a plane, or even be part of a treatment plan to cure it once and for all.
In-flight VR could also offer virtual maps of the destination airport, helping travelers get their bearings before landing rather than having to run around looking for a connecting gate or onward transport.
Booking Services
Virtual reality looks promising for pre-trip planning and research, but to actually book the flights, accommodation, or tours you're looking at, you'd still have to return to a website or app to do it, right? Maybe not. A few developers are testing out adding direct booking capabilities to some of these VR systems.
Imagine: after walking through the hotel, getting a taste of the destination, checking out the plane and choosing your seat, you just head to the checkout in your virtual environment. There'd be no need to take off your headset or switch back to a traditional online booking system. Easy, fast, and convenient.
Virtual Trips
VR is helping create entirely new types of business, with virtual travel agencies being a good example.
There aren't many of these agencies yet, but they're already starting to pop up with promises of travel without the hassle: no jet lag, no language barriers, no expensive price tags. Travel without breaking the bank, maybe even without leaving the house.
One such agency is Japanese company First Airlines, which offers "trips" to Paris, Rome, New York, and Hawaii, without ever leaving Tokyo. Operating since 2016, First Airlines advertises its service as "travel without the hassle."
The "flights" take two hours, with passengers sitting in first class-style seats and enjoying four-course meals. After "landing," they're taken on a VR tour of the main sights of each destination, all for the price of 6,600 yen (~$62).
First Airlines says their trips have been fully booked since launch, mainly by elderly people from around the country.
Is VR Going to Replace Travel?
This last point begs the question of whether VR will ever be a substitute for actual travel. The risk is there, but few seem to believe it will happen. In a survey conducted by travel agency Italy4Real, over 80% of respondents believe that virtual reality will never replace travel, with nearly everyone saying that visiting a destination via VR doesn't count as having actually been there.
When asked why, an overwhelming majority pointed to things like not being able to experience the local food and drink, with many suggesting the inability to meet new people would be also a downside. Roughly half of respondents thought that although travel agents could be replaced by technology, other aspects of travel like hotels and tours needed a human touch.
This is only one survey, of course, and it's still too early to have definitive numbers on how people feel about VR. That said, this survey helps confirm something travelers have always known: tastes, smells, and encounters are what make the trip, not just the sights. The real experience uses all five senses, and that's something that VR, at least in its current form, just can't replicate.
In fact, it seems likely that not only will travel not be replaced by virtual reality, but the opposite may happen: with their limited sensory offerings, VR experiences will just whet travelers' appetites for the real thing, making them want to physically experience what they just saw and heard. As one commenter suggests, VR is the sales pitch, not the end goal.
Real-World Projects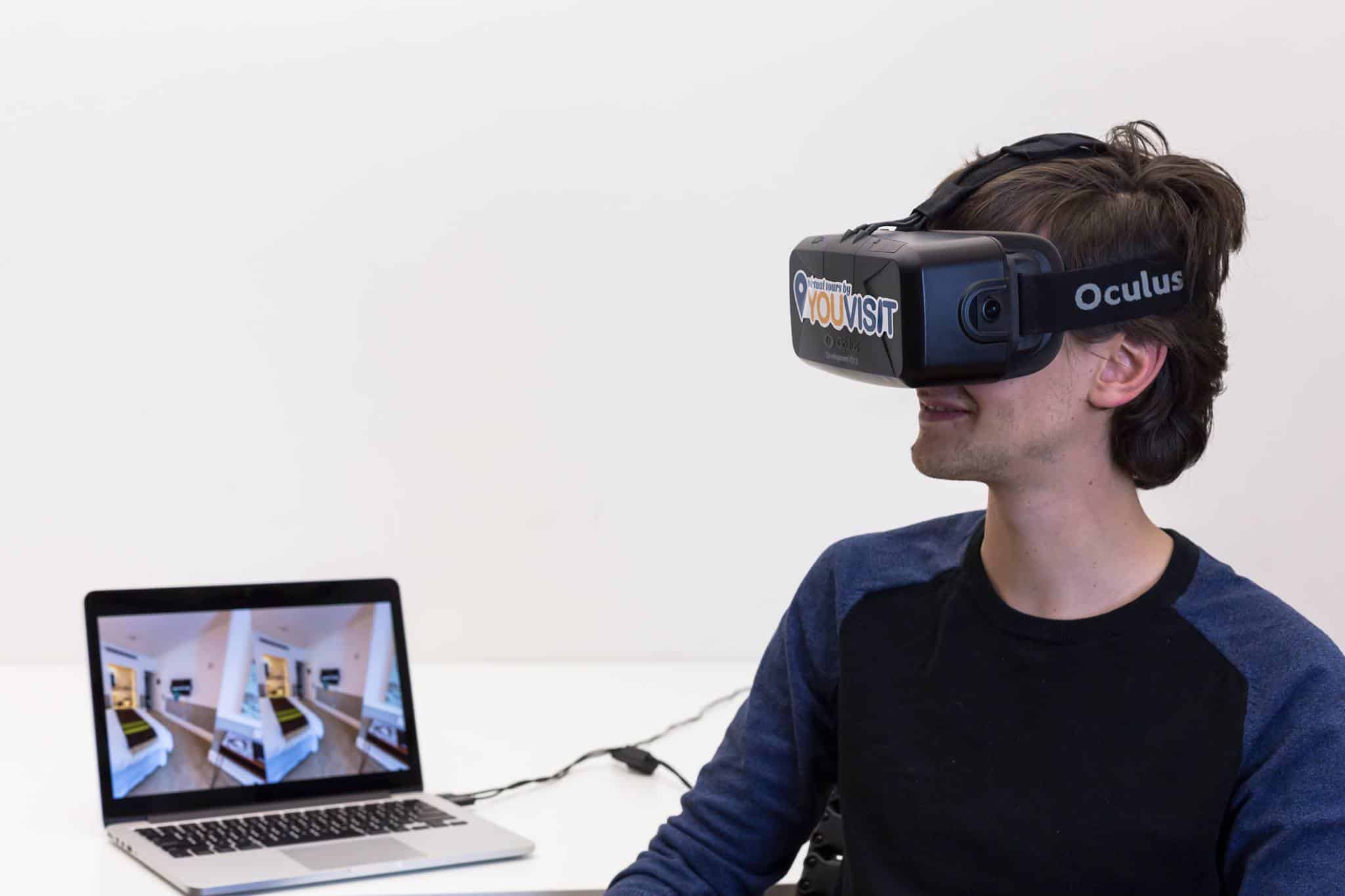 YouVisit
In a nutshell, YouVisit sells immersive experiences. Whether it's travel destinations, hotels, colleges, or corporate offices, the company aims to bring prospective visitors to a place before they actually set foot there via its Aria VR solution that converts video and photos into 360º experiences.
YouVisit services several industries, including education (college tours for applicants) and business (walkthroughs for prospective employees,) but one of its most advertised applications is travel. A business-to-business company, YouVisit offers its services to local tourism boards and hotels to give their marketing campaigns an extra boost.
Travel companies working with YouVisit can upload 360º images to their websites, or bring the full VR experience to conventions, trade shows, and elsewhere.
IdeaNova
IdeaNova's main focus is in-flight entertainment, and it's helping make long-haul plane rides more enjoyable in the process.
The company's most recent product is a multimedia player that adds virtual reality to the list of onboard entertainment options. Unveiled in September 2018, it allows passengers to opt for an immersive, 360º experience alongside the usual suite of 2D shows and movies. It works with any VR platform and headset.
Although it's yet to be adopted by an airline, the potential of this system runs deeper than just watching movies in three dimensions. Passengers would also be able to check out their destination in detail before they land, whether it's the airport itself or further afield.
Rizort
Online travel agency Rizort offers curated and personalized luxury vacations to some of the most naturally-impressive destinations in the world including Bali, Thailand, and the Maldives. These experiences may be once-in-a-lifetime for some or a typical getaway for others, but either way, they're highly-photogenic.
Attractive locations like these are a natural fit for virtual reality, and Rizort is taking full advantage. The company's VR app works with Oculus GO headsets, dropping the wearer into their resort of choice and walking them through spa treatments, Balinese dance classes, or whatever else is on offer.
The app is designed to tantalize the viewer through the power of VR — and if they decide to take the leap, customers can book the experience by opening up the browser right from the headset.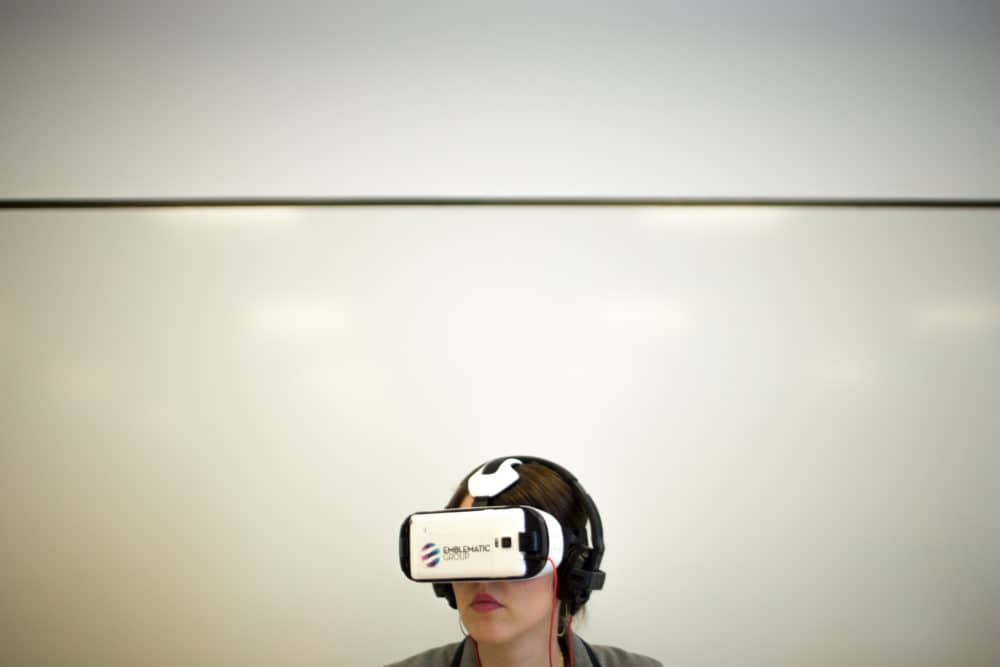 Ascape
Ascape sells itself as a source of travel inspiration, and that's exactly what it is. The app has a large library of 360º videos from all corners of the globe, ideal for getting the travel juices flowing.
The app acts as a curator, showcasing the best immersive videos so that travelers can get a taste of potential trips from walking with elephants in Botswana to sailing around the Caribbean, snowboarding in the Alps, and plenty more. You may have even seen their videos without the app: Ascape has worked with travel brands like Lonely Planet, Thomas Cook, and JetBlue.
The app is free and there's nothing for sale, since the company makes its money from providing services to businesses. If you're after some inspiration and a brief escape from real life, it's a good place to start.
Navitaire, a booking solutions company working with over 50 airlines worldwide, unveiled the world's first VR booking engine in April 2017. In the words of developer Justin Wilde: "We live in a 3D world, why shouldn't we shop for travel that way?"
The service was only ever an experiment and no longer seems to be operational, but the idea was impressive in scope. It had the traveler standing in the clouds looking at a globe, which he or she could spin to look for their desired destination or drop into one at random if they felt adventurous. Once there, they received flight options with the ability to book on the spot, walk through the plane, and choose a preferred seat.
If they needed to rent a car, the solution also let them choose between several models and take a virtual test drive before committing.
---
Images via Marco Verch (woman using VR set), Andri Koolme (child with VR set), YouVisit (Riviera Maya hotel guide, man with VR set and laptop), Ascape (Rio de Janeiro aerial view), Knight Center for Journalism (woman with VR set on white background)