When preparing for a trip, many travelers use a packing list to make sure they've got everything they need. Some enthusiastic people even get all carried away and create a full packing spreadsheet. We are not those people.
In the age of personal branding, Instagrammers have also started to treat packing like some sort of art form. Their feeds are full of images of color-coordinated gear, in (of course) picture-perfect bags.
Meanwhile, countless articles extol the virtues of packing "light", packing "smart", or packing "like a pro". In short, packing is taken very seriously. At least by some people.
So, what's the best way to do it? There's no one answer to that question, but if you're struggling, packing apps can help. At their best, these tools can be the difference between a stress-free trip and that awful sinking feeling at the airport.
Most good packing apps have a free version available, although you'll often need to pay a few dollars to unlock every feature. We've checked out the available options, and although none fit all our requirements perfectly, many definitely have their uses.
Note that many travel-related products were largely shelved by their developers during the pandemic, including most of these packing apps, and some still haven't received any updates since we first mentioned them in 2019.
Given the circumstances, we're keeping them on the list for now, but will remove them in our next update if they remain abandoned. We've noted where this is the case, and would suggest only using the free versions of these apps rather than paying for premium until/unless there's an update.
Packpoint
If you're looking for a hassle-free app, Packpoint is a solid choice. While this app doesn't have many bells and whistles, it's straightforward and easy to use.
You start by entering information about yourself and your trip, such as gender, destination, travel dates and purpose, and potential activities. The app then automatically generates a packing list based on your preferences and the likely weather at your destination.
From there, you can select the items you want to pack. There are some limitations with the free version, however. You can select a quantity for each item of clothing you want to pack, but not for other items like toiletries, power adapters, or cameras.
The free version is also a bit clunky with importing data, and I experienced issues when trying to export my customized list to Gmail. Upgrading to Premium lets you access custom templates, sync with TripIt and EverNote, and remove advertisements.
Overall it's a decent app, but is pretty minimal without the premium upgrade.
Note: no update since 2019.
iOS or Android, free or $2.99 for Premium.
Packing Pro
If you're traveling in a large group, check out Packing Pro. This app provides extensive packing lists for the entire family, including children, babies, adults, and even pets.
An "expert" assistant automatically generates lists for multiple people, and there's a master catalog available with an additional 800 items. You can also add images, alerts, and a list of priorities.
Once complete, you can print or email your packing lists, sync them to iCloud, or export into Excel, Numbers, or Google Docs. The main downside of Packing Pro is mostly cosmetic; it's not a beautiful or particularly streamlined app. In fact, the design is a bit ugly.
For travelers who want their apps to inspire a sense of unbridled wanderlust, Packing Pro may prove disappointing. If you value functionality and features over good looks, however, it could be the way to go.
iOS, $2.99
Packtor
You can think of Packtor as the middle-ground between Packpoint and Packing Pro. It's more visually appealing and streamlined than Packing Pro, and more detail-oriented and extensive than Packpoint.
So what's not to like? Let's start with the heteronormative, gendered assumptions. When you begin planning a trip, you can choose to pack as a woman, man, couple, or family. If you select "couple," Packtor automatically generates "Clothes for Him" and "Clothes for Her" lists. Same-sex couples don't travel, apparently.
Second, the app is a bit inflexible. For example, when you select certain topics (such as accommodation), you can only pick one category (like "hostel" or "hotel"), despite many travelers bouncing between different types of accommodation.
If the Packtor team redesigns the app to be more flexible and inclusive, this could be an awesome tool for travelers.
Note: no update since 2019.
iOS and Android, free to create one list, $0.99 for five more packing lists
PackKing
The free version of PackKing is pretty limited. You can manually create a list from scratch, and that's about it. The app really shines when you pay for the Premium service, however, unlocking a slew of extra features.
You can find automatic recommendations based on your gender, mode of transportation, expected weather, and planned activities. The app is intuitive and user-friendly, with the ability to scroll between various lists, such as "Gadgets," "Hygiene," and "Clothing," at the top of the screen.
One feature I really like is the inclusion of a "To-Do's" section. It's a smart choice, as packing preparation often goes hand-in-hand with general trip preparation. The premium version also adds unlimited packing lists, exporting to PDF and other apps, backing up your data, and removing ads.
iOS or Android, free or $4.99 for Premium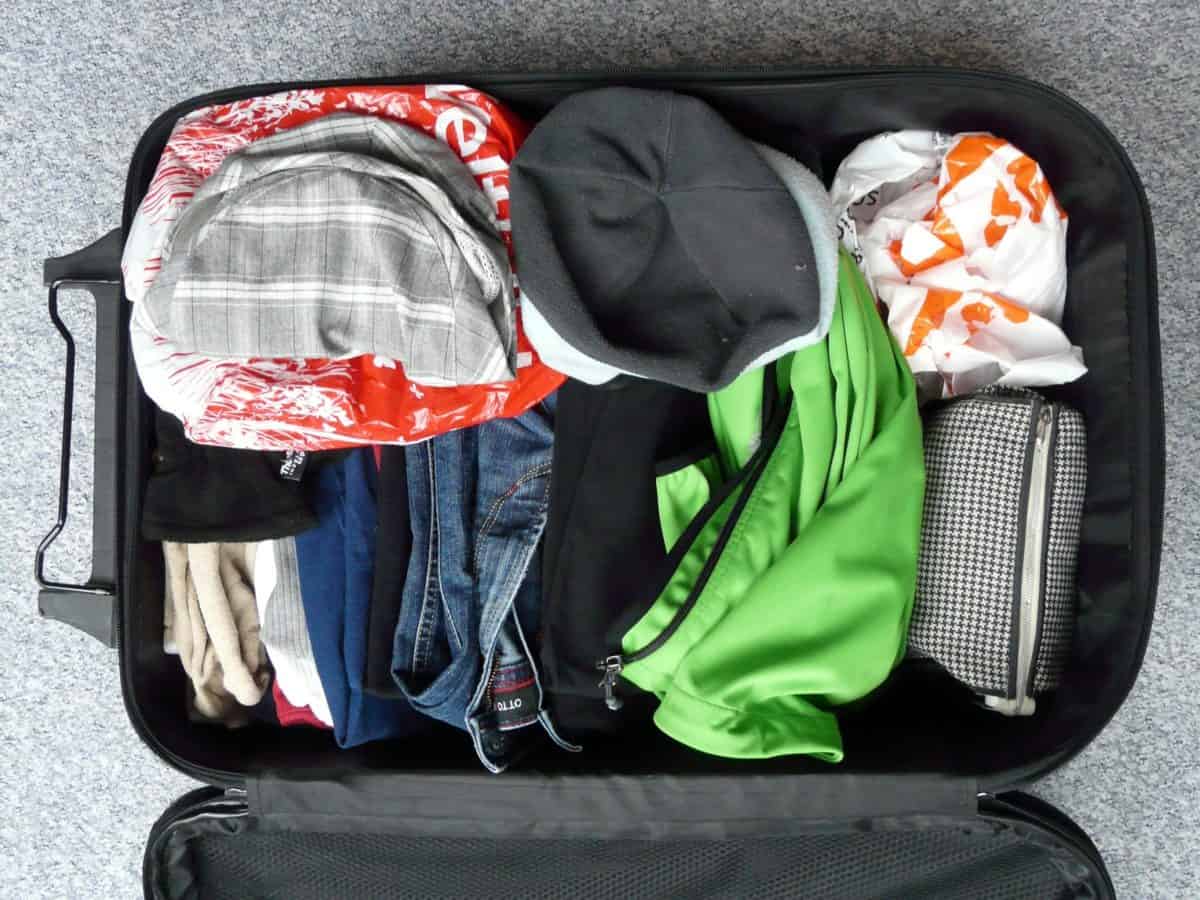 Packr
Packr is ideal for a multi-destination trip. When planning a trip with this app, you can select as many destinations as you like. Honestly, I'm shocked that not all packing apps have this feature.
You can also get a daily breakdown of the weather forecast for your intended destinations. This is very handy, and a better model than other apps that generate packing recommendations based on the forecast, yet never explicitly tell you what kind of weather lies in store.
Packr can also auto-generate packing suggestions. Lists can be shared with others, and synchronized across your devices.
iOS, free or $2.99 for Premium
Easy Pack
For digital nomads and long-term travelers, Easy Pack has a useful feature: the "Assistant" section. Most packing apps assume you're going on short-term trips with one destination and set start/end dates, but Easy Pack is organized differently.
You can create a generic "bag" that's not tied to any particular destination or timeline. Rather, it's based on more general travel details, like who you'll travel with, the types of transportation you will use, and the activities you plan to engage in.
You can create an unlimited number of lists, reusing and editing them as you wish. Also, it should be mentioned that unlike the other options here, Easy Pack is completely free. There are no hidden or in-app costs, and no Premium service option.
Note: no update since 2019.
Android; free
PackTeo
If you just want to manually create a packing list, take a look at PackTeo. Unlike many other packing apps that focus on auto-generated lists, PackTeo is well-suited for manual list creation. You can choose items from a general catalog, or may simply type in the items you plan to pack.
PackTeo lets you add multiple items at once to help simplify the process, or you can do so individually if you'd prefer. The physical side of packing is also taken into account, since you're asked about the quantity and weight of your items, and which bag you'll put them in.
To clarify, PackTeo does also allow auto-generation of packing lists; it's just that the manual aspects of the app are particularly well done.
Android, free
Packing List Checklist
The final app on this list is a jack-of-all-trades option. Packing List Checklist doesn't have any unique features or special offerings, but is a great general-purpose packing tool for travelers.
Creating a packing list is straightforward, with several hundred items to choose from across two dozen categories. You can also add your own categories and items as needed, or begin from scratch.
You can create multiple packing lists, then print them out, save to PDF, or share via email, messaging apps, and more. To-do lists are also available, where you can again pick from a list of suggestions or start with an empty page.
Most features are available in the free version, but some (like setting item quantities, reminders, and iCloud backup and sync) are only unlocked by paying a few dollars.
Note: no update since 2019.
iOS, free or $2.99 for Premium
Final Thoughts
While there are tons of packing apps for travelers, broadly speaking, they're all pretty similar. I'd like to see companies taking a few more risks with them.
For one, I hope that these apps become less heteronormative (such as Easy Pack) or laden with assumptions about gender. Who says all female travelers want to pack dresses, birth control, and makeup, or that male travelers wouldn't pack any of those things?
I also hope these apps eventually do a better job of addressing different types of travelers. Some people go on short vacations a few times a year, some visit many destinations over an extended period of time, and others may not have any set destinations or timelines at all.
This variety of travel styles is poorly reflected in the majority of packing apps, and they're less useful as a result. Despite their flaws, though, I'm still glad that packing apps exist. With any luck, they'll only improve and grow in the future.
---
Have you used a packing app? What did you think? Share your insights in the comments!
Images via Free-Photos (book, shoes, watch, and bag), PxHere (Girl in airport with bag), PxHere (holiday luggage), and PxHere (walking with bag in airport)