I have an addiction… to the Camino de Santiago. Over the last few years I've walked part or all of the Caminos Mozárabe, Frances, Finisterre, Portuguese, and Primitivo. It's been over 1000+ miles in total, and yet I'm already planning which route I'll tackle next.
Apparently I just really like walking in Spain.
I've been asked plenty of questions about the experience, and a lot of them focus on gear and logistics. Since I'm a tech guy, and this is a tech site, I thought I'd take the time to write up some of the technology-specific aspects here.
While there's a lot to be said for leaving most of the electronics at home, a few key gadgets can make your Camino easier, safer and more enjoyable. If you're also considering taking a very long stroll in the Spanish countryside, hopefully you'll find this useful!
What Tech Gear Should I Take?
After I finished the Camino Frances, I wrote up a Camino packing list that included a lengthy section on technology and how well it all worked. I've updated that packing list after every subsequent Camino.
You'll get much more detail from that article, but in brief, this is what I'd suggest in the way of tech gear for the Camino. As with everything else in your bag, less is more, so feel free to cut down even more than I did.
A smartphone, ideally unlocked.
A small portable battery, 5,000-10,000mAh
A USB fast charger that plugs into the wall, ideally with multiple sockets
One long charging cable for your phone, plus shorter versions of any other cables you need
Some way of measuring the distance you've walked: a GPS-enabled watch, a Fitbit, or in a pinch, apps on your phone
Earphones
Will I Be Able to Find Wi-Fi and Cell Signal?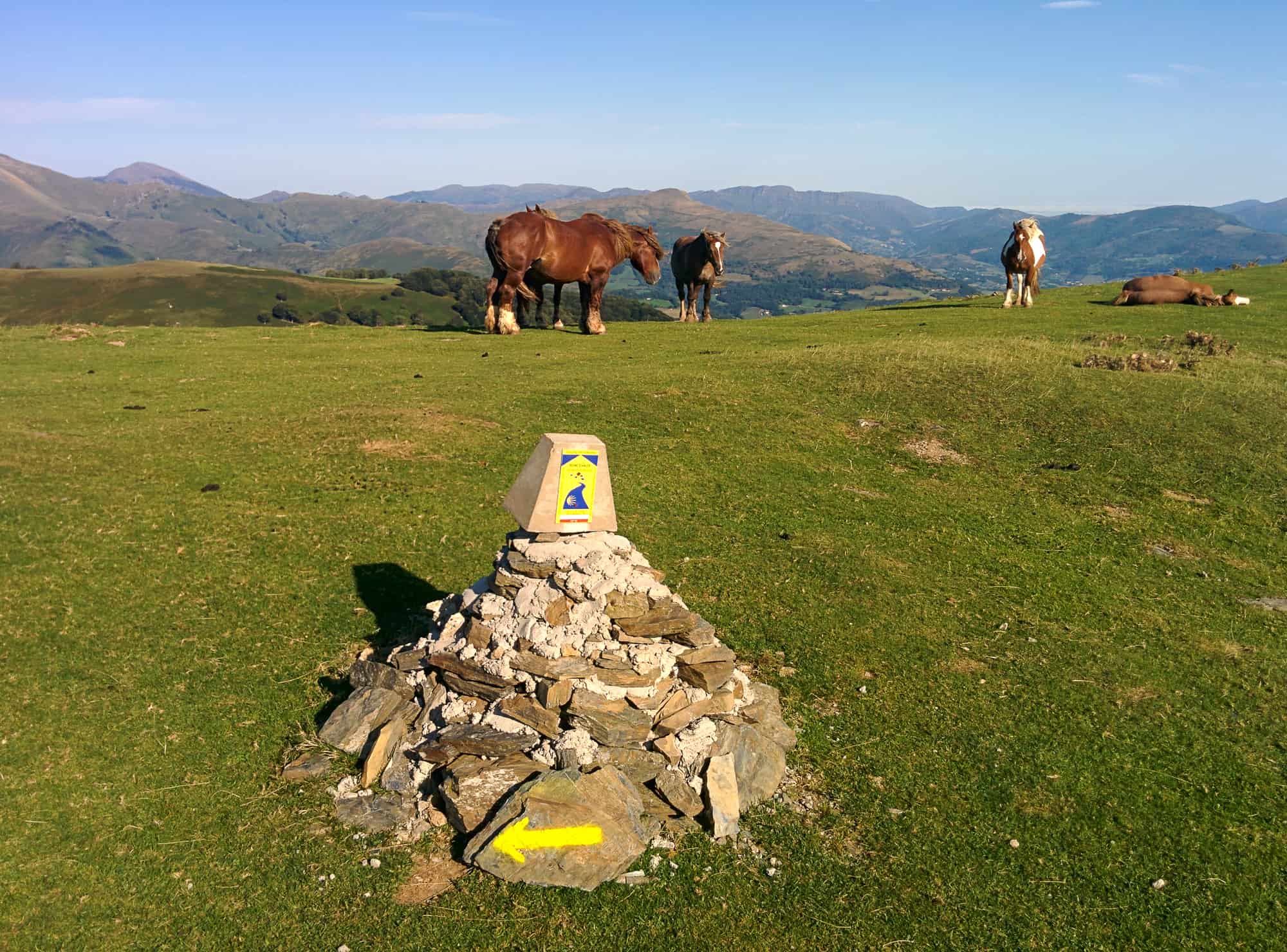 The short answer is: yes. There's far more free Wi-Fi along the entire route than I'd expected.
Almost every albergue (hostel for walkers) had it available, as did many of the bars and cafes. There was even a hotspot in the middle of nowhere coming down the Pyrenees on the first day! Speeds varied, but were usually fast enough for a voice Skype call.
Cell service was even more prevalent. I used both Vodafone and Orange SIMs on my Caminos, and while I kept my phone in flight mode while walking, I had signal every place I stopped for the night except one. On the rare occasion I needed to send a message or check a map during the day, I had service every time.
Will My Smartphone From Home Still Work?
Yes, although there are caveats. You'll be able to use your current smartphone in flight mode, or while connected to Wi-Fi, without a problem. If your usual carrier has affordable or free international roaming in France and Spain (T-Mobile or Google Fi in the US, for instance, or any EU cell company), then calls, texts, and cell data won't be a problem there either.
If roaming is too expensive, and you want to use a local SIM card instead, your phone needs to be unlocked. Phones sold in Europe and Asia are typically unlocked, but that's not always the case elsewhere if you bought the phone from your cell company. Check with them ahead of time, and request an unlocking code if necessary.
We've written much more about using your phone overseas here.
Where Can I Buy and Top Up a Local SIM Card on the Camino?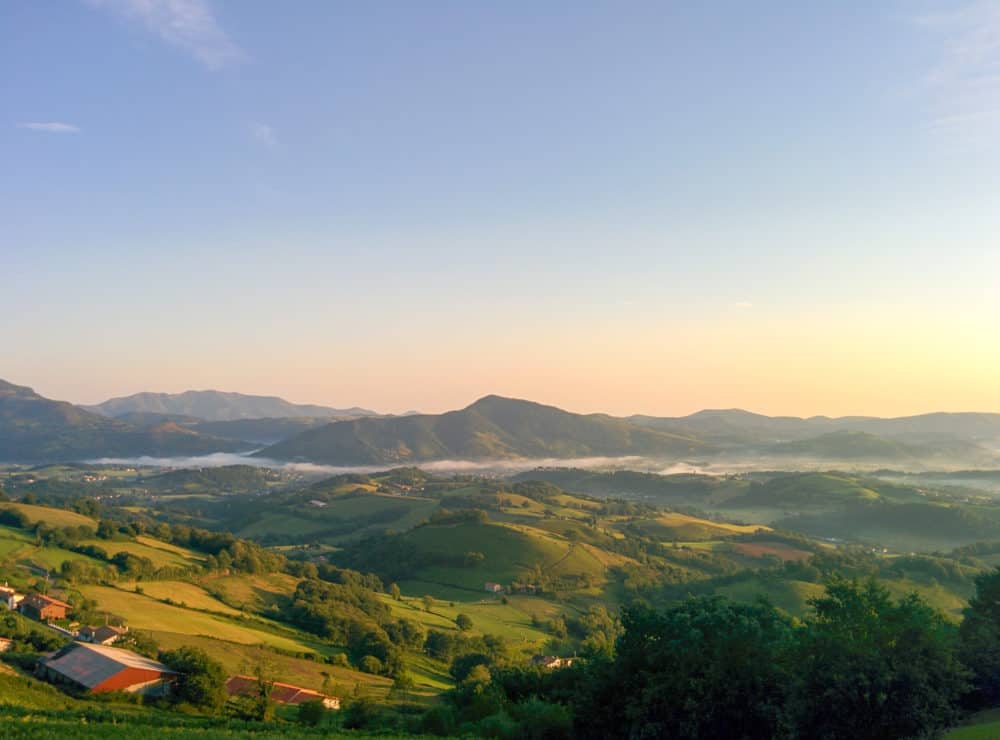 It depends on which route you're walking, and where you cross the border. If you're spending any time in Spain before starting your Camino, pick up a Spanish SIM at the airport or in that city.
The same applies for Portugal or France, if you'll be spending any time walking there. While it's not hard to find a shop selling SIMs and top-ups in most towns and cities, that's not the case in the villages.
If you aren't able to buy one ahead of time, you'll need to find somewhere along the way. For those starting from Saint-Jean-Pied-de-Port on the Camino Frances, you'll cross into Spain on your first day. I didn't see anywhere selling SIM cards until Pamplona, however, which will be the third day of walking for most people.
If you're walking the Camino Portuguese, you'll be able to buy a SIM in Tui, a large town just over the border. For those walking the Primitivo, buy your SIM in Oviedo before you start.
If you'll be walking longer than 30 days, it's worth adding extra phone credit while purchasing the SIM. That's what I did at the Orange store in central Madrid, and the package I'd bought automatically renewed when it expired towards the end of the Camino Frances.
It's safer than expecting to find a store to buy credit when you need it. You could easily go a few days without seeing one.
Will I Have Problems With Power?
All the countries in Western Europe use a 220v/50hz mains power supply, and the same round, two-pin wall sockets. If you're bringing electronics from elsewhere, try to limit yourself to gadgets that can be charged via USB. This means you won't need to worry about voltage differences, as USB power is the same all over the world.
Ideally, pick up something like this 2-way USB wall charger, connect the European plug that comes with it, and leave the other parts at home. You won't need to carry a separate travel adapter, and you and your fellow walkers will appreciate being able to charge two devices at full speed from a single socket.
If you must bring something that requires mains power, check the required voltage carefully. Read more about doing that here.
Am I Going to Be Able to Charge My Gadgets Every Day?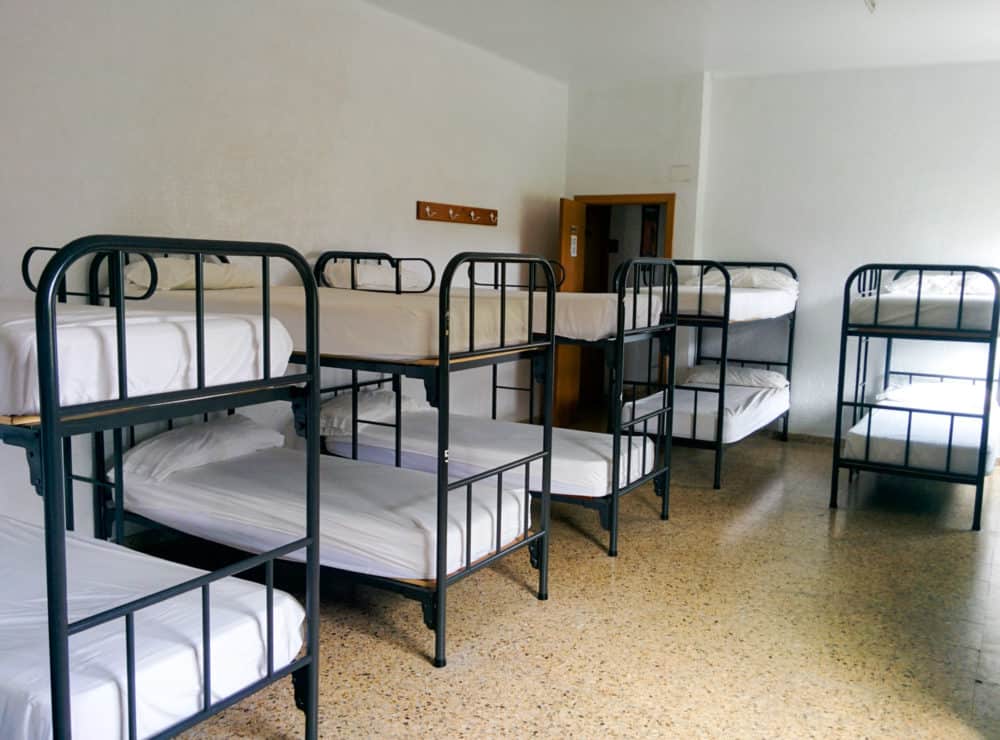 Maybe. Power sockets are always in short supply in albergues, especially older buildings. It's rare to find one socket per bed, and sometimes you may only have one or two sockets for 20 people or more. Charge when you get the chance, and don't leave your gear connected when the battery is already full.
This is where that multi-USB travel charger above is worth its weight in gold. Nobody had a problem with me swapping their phone charger for my two-socket version when necessary, so we could both power our gear simultaneously.
Unless you get lucky and have a socket right beside your bed, don't expect to be able to leave your gadgets charging overnight. Even though fellow pilgrims are generally a trustworthy bunch, phones and other gadgets do get stolen occasionally.
Charge from a power socket when you can, have a portable battery for when you can't, and you should be able to keep everything powered during your Camino.
What's the Best Way to Protect My Electronics?
Even though it adds some extra weight, it's worth buying cases for your more expensive gadgets. Even a basic silicone phone case is better than nothing, but having a case that protects the screen if you drop or fall on your phone is even better. The same goes for Kindles or tablets if you're taking them.
You'll presumably be carrying a jacket, poncho, and/or pack cover to stop you and your gear from getting soaked on rainy days. If you're confident they'll keep everything bone dry, just drop your gadgets inside them at the first sign of precipitation. If you're worried about it, take a small dry bag with you, and keep your electronics in that instead.
Are There Any Must-Have Apps for the Camino?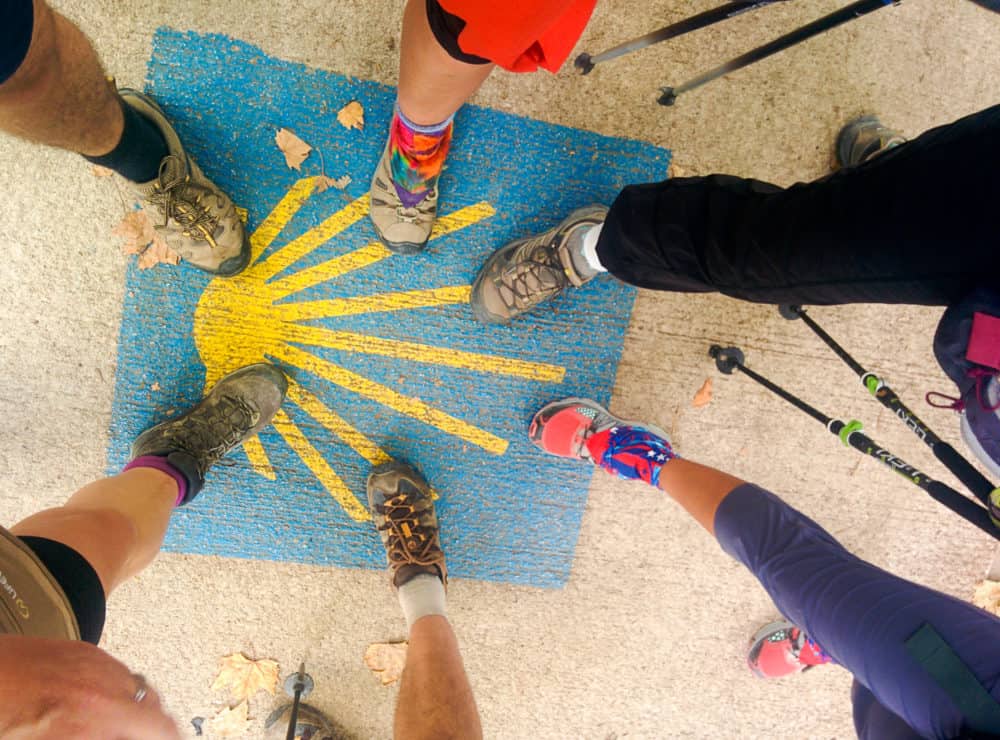 Simplicity was one of the best parts of my Caminos, which is why I kept my phone in flight mode and used it mainly for taking photos. It did have other uses, though, and I found a few apps helpful along the way.
On the Camino Frances and Finisterre, the most useful app by far was the Camino de Santigo Guide. It had just the right amount of detail about towns and albergues, making it easy to plan my day while still leaving plenty of flexibility. I'd choose it over a paper guidebook every time.
On other routes, I used the Buen Camino app instead. It didn't have as much detail about places or accommodation, but made up for it with elevation profiles, a useful daily stage planner, and a GPS-powered map.
Google Translate definitely helped. While my (very) basic Spanish got me through most situations, there were a few signs and conversations that stumped me. Having the offline Spanish language pack downloaded ahead of time meant I could translate most things without taking my phone out of flight mode.
The Camino routes were generally well marked, and I hardly ever needed to look at a map while walking them. I did use Google Maps in the cities, though, for tracking down things like supermarkets and pharmacies. It's worth downloading offline maps for larger towns and cities ahead of time if you won't have cell data.
I also installed a basic first aid app, just in case. Thankfully I never needed to use it.
Note: I've also written a much more comprehensive guide to the best apps for the Camino, with many other suggestions and alternatives.
Could I Still Work Online While Walking the Camino?
I've been asked several times if I thought it would be possible to work online while walking the Camino. I've advised strongly against doing this in the past, and still do. The extra weight of a laptop and charger is a big issue, not to mention the concern about it getting broken or stolen.
After walking 25km or more in the sun or rain, I also can't imagine anything I'd want to do less than sit down and work for a few hours. Finally, worrying about work and Wi-Fi all the time can only pull you out of the moment, and limit your interaction with other walkers.
For me at least, simplicity, disconnection, and new friendships were the best part of the experience. Still, everyone walks their own Camino, in their own way. If you really wanted to work online along the way, you probably could.
You'd want to choose the lightest laptop and charger you could, and protect them well. To preserve energy levels and give yourself enough time to get everything done, you'd probably need to restrict yourself to walking 15-20km per day.
Since albergues kick you out by around 8 am and don't open until 2 pm or later, you'd likely need to spend an hour or two working in a cafe or bar once you were done walking.
Since you can't guarantee the presence or speed of Wi-Fi every night, you'd want to limit calls and deadlines as much as possible. You'd need a large amount of high-speed cell data available as a backup option — most smartphones can act as a hotspot for a laptop if necessary.
What Happens If Something Breaks?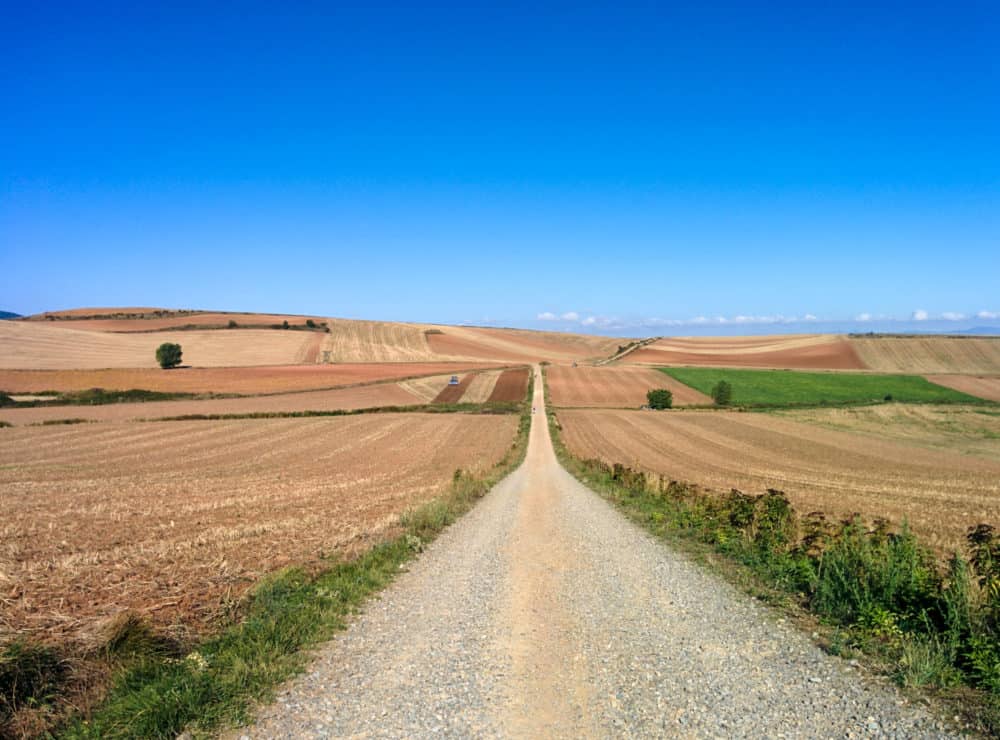 When my phone started continually rebooting about a week into the Camino Frances, I was concerned. The town I was in was large enough to have a phone store, but the options for new devices were limited and expensive. Any repair would have taken at least a couple of days, if it was possible at all.
In desperation, repeatedly smacking the back of my phone somehow fixed the problem (albeit breaking a couple of the clips that held it together in the process). It worked perfectly from that point forward. No, I still don't know why.
The reality is that if one of your gadgets breaks on the Camino, it's going to be a problem. You can buy replacement cables, chargers, and portable batteries in large towns and cities, but not elsewhere. Getting a phone repaired or replaced will be more difficult almost anywhere. It's not like there's an Apple store every few miles!
If the broken device isn't essential to completing your walk, you may just have to put up with it until after you've finished. If it's vital, you'll likely need to work out what your transportation options to the nearest city look like.
---
Do you have any other tech questions about walking the Camino de Santiago? Leave them in the comments, and I'll do my best to answer!