The dreaded low-battery notification never seems too far away these days. As our electronics get smaller and slimmer, manufacturers often sacrifice battery capacity, leaving us constantly needing to charge our devices.
Fortunately, keeping a power bank on hand is an easy way to top up on the move, without needing to carry a charger or search around the airport for an available outlet (good luck with that!)
There are power banks of all shapes and sizes, and each differs in its capacity, output, and features. The best power bank for laptops, for example, will look substantially different from the best options for phones and small electronics. 
That's why we've put together our recommendations for the best portable batteries on the market in 2021, no matter what your requirements are. Want something you can keep in your car for a quick emergency boost? Heading off the grid for a week but have to stay charged? Need to keep your laptop going all day? We've got you covered.
Best Power Bank: Anker PowerCore Essential 20000
Capacity: 20,000mAh
Weight: 12.3 ounces (350g)
Dimensions: 6.2 x 2.9 x 0.8 inches
Maximum output: USB-A: 15W total
Ports: 2x USB-A (output), 1x USB C (input), 1x micro-USB (input)
Pass-through charging: No
Best Laptop Power Bank: Anker PowerCore+ 26800
Capacity: 26,800mAh
Weight: 12.3 ounces (350g)
Dimensions: 7.1 x 3.1 x 0.9 inches
Maximum output: USB C PD: 45W, USB-A: 12W individual, 15W total
Ports: 2x USB-A (output), 1x USB C (input/output)
Pass-through charging: No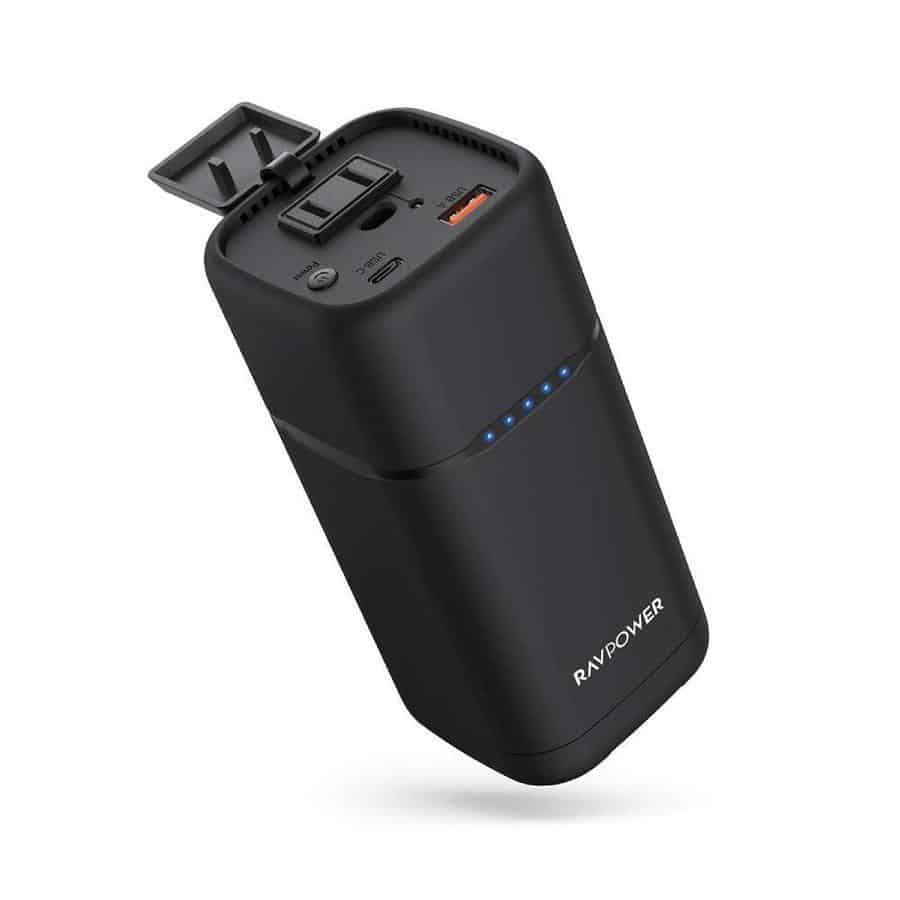 Best Power Bank with AC Outlet: RavPower PD Pioneer
Capacity: 20,000mAh (74Wh)
Weight: 1.46 pounds (662g)
Dimensions: 5.8 x 2.7 x 2.7 inches
Maximum output: AC: 80W (100W max), USB C PD: 30W, USB-A: 18W
Ports: 1x AC (output), 1x USB C (input/output), 1x USB-A (output)
Pass-through charging: No
Sale
Best Power Bank for Camping: Jackery Explorer 160
Capacity: 46,400mAh
Weight: 3.8 pounds (1.7kg)
Dimensions: 7.4 x 4.6 x 6.7 inches
Maximum output: AC: 100W (150W max), USB C: 15W, USB-A: 12W each (max USB output 30W)
Ports: 1x USB C (output), 2x USB-A (output), 12V DC (output), 1 x AC (output)
Pass-through charging: Yes
Best Power Bank: Anker PowerCore Essential 20000
Anker is a leader in the portable battery market, and the PowerCore Essential one of its most versatile products. The Essential's 20,000mAh capacity makes it one of the best high-capacity power banks on the market: for context, this provides enough juice to fully charge a typical smartphone four to five times. 
Despite its high capacity, the PowerCore Essential remains relatively compact at 6.2 x 2.9 x 0.8 inches and weighs just over twelve ounces. It features a rugged, durable design that can stand up to general wear and tear.
The PowerCore Essential can charge two devices at once via the dual USB-A ports. You'll get 2.4A (12W) out of either port, with a combined maximum of 3A (15W) when using both.
The unit also has USB C and microUSB ports, but these are input-only. This means that you can charge the battery via USB C or microUSB, but you can only charge devices from the USB-A ports.
This portable charger also has some slick charging features common to most Anker power banks. PowerIQ and VoltageBoost technologies combine to deliver an optimized charge to your devices, while "trickle-charging" mode is optimized for efficiently charging low-power devices like Bluetooth headphones.
The PowerCore Essential comes with Anker's standard 18-month limited warranty, as well as a travel pouch to protect it on the go. It doesn't come with a wall charger or USB C cable, however.
The only real downside is the lack of USB C charging: as mentioned, the USB C port is input-only. If you're happy to lose microUSB charging and one of the USB-A ports, Anker makes a similar PowerCore Essential PD that does include USB C output.
Buy on Amazon
Best Laptop Power Bank: Anker PowerCore+ 26800
If you're looking to charge laptops and other large electronic devices, standard power banks won't cut it. You'll need something more substantial, like the Anker PowerCore+. This unit has a 26,800mAh capacity and up to 45W output, enough power to fully charge a 13" Dell XPS or a 13" MacBook Pro. 
That capacity also happens to be just under the legal limit for airplane use, so this is among the best TSA-approved options, and one of the best power banks for travel.
This unique laptop power bank has dual output ports: a 45W USB C port for modern laptops, and 2x 15W USB-A ports for smaller electronic devices. The laptop output is substantial enough to charge most laptops while using them, which isn't always the case with competing models.
Because the laptop port is USB C, this works best for newer laptops with USB C charging. It doesn't have a standard AC outlet that will support older laptops that charge via a power brick: if that's something you're after, take a look at the RavPower PD Pioneer below.
This unit comes with a 60W wall charger, meaning that despite its huge capacity, it takes under 3.5 hours to fully charge itself from empty. Combine that with USB C Power Delivery (PD) support for speedy device charging, and you've got arguably the best fast charging power bank on the market.
Buy on Amazon
Best Power Bank with AC Outlet: RavPower PD Pioneer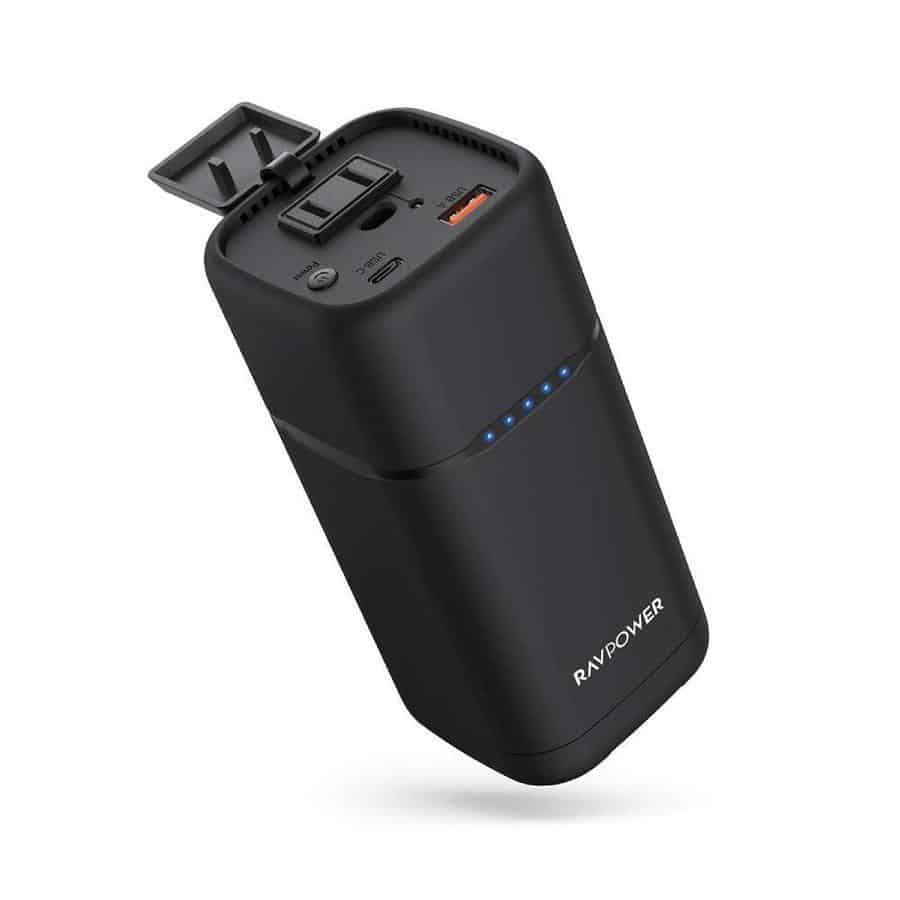 If you have an older laptop that needs to charge via an AC outlet, or just want a versatile charger that can power almost anything, the RavPower PD Pioneer is a great option.
This compact power bank is one of few on the market that actually has a built-in AC outlet, which can put out a sustained 80W of power. It also has USB-A (18W) and USB C (30W) ports, making it a versatile option for charging most devices.
With a capacity of 20,000mAh, this power bank will give close to one full charge of most 13″ laptops. As the name suggests, it also has USB PD (Power Delivery) technology, a fast-charging feature that can deliver a surprising amount of power, surprisingly quickly. Depending on the device, PD can cut recharge time by up to 60%.
At less than 1.5 pounds, it's relatively lightweight by the standards of this type of power bank, and can itself be fully charged from a high-speed wall charger in under three hours. 
The main downside is the cooling fan. While it helps to keep the device at a reasonable temperature, it can be a bit noisy. For more information, check out our full review of this unit. We also covered several other portable laptop chargers for a range of different requirements.
Best Wireless Power Bank: Anker Wireless PowerCore III
Another day, another excellent Anker power bank, but this time it's wireless. 
The 10,000mAh Anker Wireless PowerCore III is our pick for the best wireless power bank. If your phone supports it, you can charge wirelessly via the charging pad at up 10W. Using the Qi standard, it's widely compatible with recent iPhones, many Android smartphones, and other devices. 
If your device doesn't support wireless charging, never fear: both the USB C and USB-A ports provide a backup option. You'll get up to 18W output from the USB C port, so it's also a way of ensuring faster charging even if your device does have Qi support.
That USB C port is also how you charge the power bank itself, again at up to 18W if you've got an appropriate wall charger. Unfortunately Anker doesn't provide one in the box, so you'll need to use one you already own or buy an appropriate model. You can also charge from a laptop in a pinch.
A particularly useful feature is pass-through charging, where the power bank can charge devices while it itself is charging. This basically means that you can use the PowerCore in place of a standard Qi charging dock, and simply leave it plugged in all the time. 
Buy on Amazon
Best Small Power Bank: JONKUU Portable Phone Charger
The JONKUU portable phone charger is one of the best small power banks on the market. The unit weighs just 6.4 ounces, yet has a 10,000mAh capacity (enough for around two full phone charges for most smartphones). It's also budget-friendly, making it a good backup option or an everyday carry. 
The JONKUU charges devices via a pair of USB-A ports. It doesn't have fast charging or any other slick features, but then again, it costs as much as a few pints at the pub. Unlike those pints, it also fits easily in your pocket.
The main downside is that power bank takes a long time to charge, despite the comparatively low capacity. Expect to leave it plugged in overnight to get a full charge into it.
Looking to go even smaller? Snag the lipstick-shaped Anker PowerCore 5000. It weighs just 4.8 oz, yet still has enough juice for about one full phone charge.
Buy on Amazon
Best Power Bank for Camping: Jackery Explorer 160 
Looking for a more off-grid option? If you need plenty of power, the Jackery Explorer 160 is one of the best power banks for camping. It has a wide variety of output options, including AC, USB C, USB-A, and 12v DC, so it can power or charge most anything, up to five devices at once. Talk about glamping! 
It offers a massive 46,400mAh capacity, at least twice the capacity of any of the other power banks on this list. This means it will last for even multi-day camping trips, but for virtually unlimited power, you can use the SolarSaga solar panels (sold separately) to recharge the Explorer power bank anywhere you have sunlight.
The features, reliability, and solar charging capabilities make this a great choice for car camping, and it even makes for a decent emergency power supply to keep at home. At around 4lbs, it's a bit bulky for backpacking, however, and that size balloons even further if you add the solar panels. 
If you're in the market for portable batteries for camping but have slightly different needs, we covered a range of alternatives that can do everything from charging your phone to jump-starting your car.
Buy on Amazon
---
Main image via Shutterstock, product images via Amazon