If you haven't heard of Google Voice, you're not alone. One of many Google products that were acquired and then largely ignored, it's something even regular users of the company's tools will likely never stumble across.
As a traveler, though, the service can be very useful. Particularly if you're from the US, but even if, like me, you're not, it's something that can save you a lot of money and a lot of hassle, and it doesn't have to cost a cent.
I've been using it for several years now, and despite a few rough edges, it's something I'd truly miss if it disappeared. Given Google's track record of killing useful products, that's always a possibility. For now, at least, it's still alive and kicking. Let's hope it stays that way.
So What Is Google Voice, Anyway?
Simply put, Google Voice is a mobile and web app that lets you make and receive calls and texts to actual phone numbers anywhere in the world. It's not the only service that offers this, but the combination of a few specific features and its low-to-no cost approach makes it unique for travelers.
Specifically, it lets you do the following for free:
have a US-based phone number assigned to you (and if you're from the US, transfer your existing number to Google Voice).
receive calls and texts on that number anywhere in the world via the app or website
receive voicemail, including voice-to-text transcripts
make calls and send texts to most standard US or Canadian numbers via the app or website
forward calls to a different US-based number
forward texts and/or voicemails to email
The only thing you pay for when you have a US number is making calls and sending texts to a few premium North American numbers, and other numbers around the world. Typically, you'll pay a few cents per minute/text to do so.
That's a lot of useful features for a mostly-free product!
Google Voice is also available in a few other countries, but only to GSuite (ie, business) customers at a fee.
How to Use Google Voice While Traveling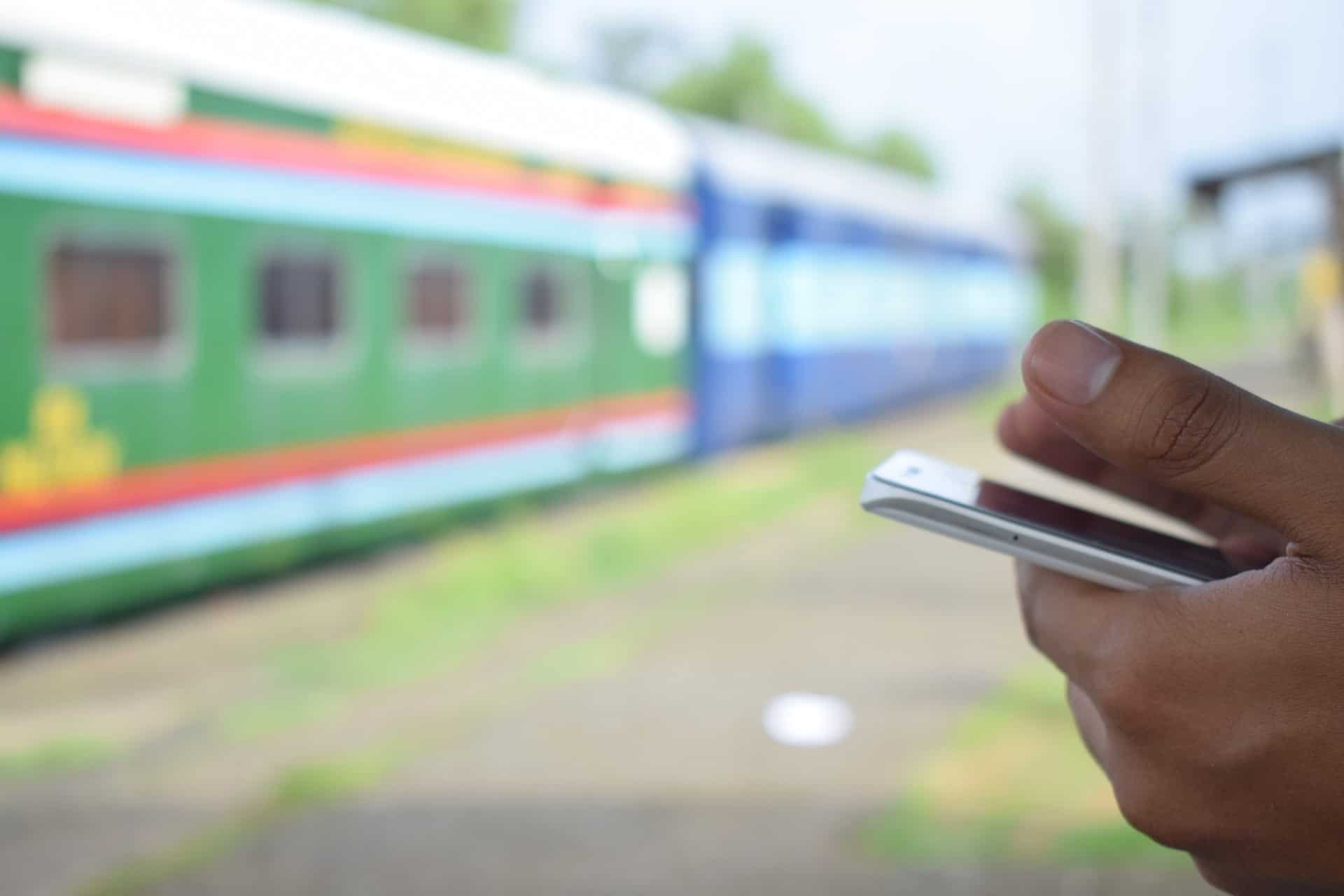 So those features all sound great, but it's how they function in the real world that matters. Fortunately, for the most part, they work pretty well.
Because Google Voice works internationally just like it does in the US, having a number that's available across devices anywhere in the world comes in very handy. It works on a laptop, tablet, or smartphone, using any Wi-Fi network or cellular data you have access to.
Here are several examples of how Google Voice has been particularly useful to me on the road.
Using Services like Uber, Lyft, and Airbnb
No matter where I am in the world, as soon as I get a data connection, I'm contactable by drivers and hosts.
Sure, in some cases they could get in touch with me via the app, but Uber/Lyft drivers in particular much prefer to call you to confirm details. I've answered dozens of calls and texts asking about my exact location, or when I'll arrive at my accommodation.
Also, since Lyft is only available in the US, it wants you to have a US phone number when creating your account. The first time I tried to do so with a Google Voice number, it refused to accept it, but when I returned to the US a couple of years later, the same number worked just fine. What changed? I've no idea.
Getting Security Verification Texts and Calls
Probably the best aspect for me is the ability to receive verification texts and calls from any company that wants to send them. I get authentication texts or phone calls from my bank, several apps, and Google itself, all on my phone or in my browser, any time, anywhere.
Whether I'm sending money to someone, resetting my password, or just logging in from a different location, verification is quick and easy.
That said, some banks and apps have started detecting virtual numbers in recent years, and either refusing to let you use them or silently not sending the text. It's frustrating, but if it's prevented by the company, there's little you can do about it other than use a normal carrier number instead.
You may be able to request a verification phone call instead (it's worked for me on occasion when the text failed,) but not all services provide this option. Such calls could also have the same issue if the company decides to block virtual numbers with those as well, so it's not a guaranteed workaround.
Getting Updates from Airlines
I always enter my Google Voice number when booking plane tickets, since many carriers will text updates on flight delays or cancelations. As long as I've got Wi-Fi or cell data, they'll pop up as if they're a standard SMS, and I'll know what's happening immediately.
Free Phone Calls to North America
I don't need to call US or Canadian numbers particularly often, but it does happen a few times a year. When it does, not having to pay a cent for it is rather nice, especially if it's a company where I'll sit on hold for 20 minutes before talking to someone. If I had family in North America, I'd use this service all the time.
Cheap Calls to Everywhere Else
While traveling life would be a lot easier if you could do everything online, sometimes you just have to pick up the phone. With the exception of a few obscure destinations, calls to most places with Google Voice are pretty cheap per minute, and call quality is good as long as you've got a half-decent internet connection.
Being Contactable by Old-School Companies
While most companies will happily contact you by email or through their app, there are a few old-school ones that won't. Hello banks, I'm looking at you.
One of my banks absolutely loves to block my debit card, and then call to tell me about it. Without Google Voice, I wouldn't have a working phone number on record, and the process would be even more annoying than it already is.
Not Being Dependent on One Device
Phones break or get lost all the time, especially while traveling. It happened to me in Thailand just a couple of months ago, but because Google Voice works in a browser as well, my texts and calls kept arriving just fine.
It sounds wonderful and in some ways it is, but Google Voice isn't perfect. Not every text message arrives, even after repeated tries. Sometimes a call won't ring on my phone or in the browser, and goes straight to voicemail even if I'm sitting in front of my phone or laptop at the time.
That's a frustration, but one I accept given (a) I'm not paying for that part of the service, and (b) there are no alternatives that offer as many features, paid or otherwise.
Another minor issue is that transcription of voicemails is obviously automated, and varies between pretty accurate and almost incomprehensible. I find myself needing to download and listen to the actual voicemail over half the time.
Setting Up Google Voice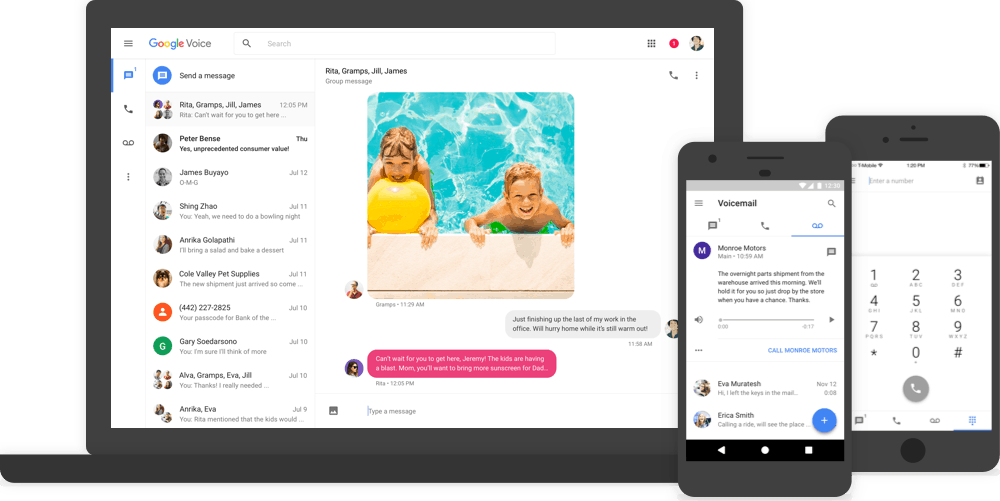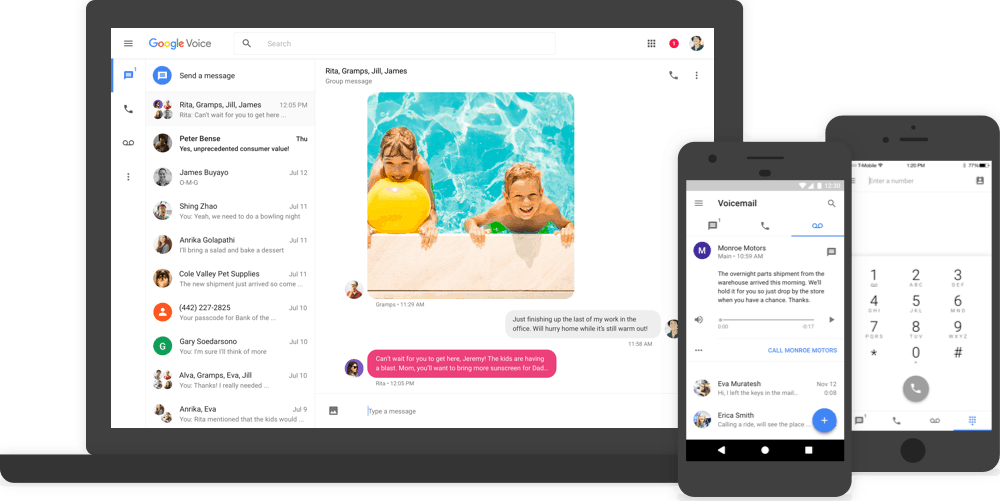 Once you've decided you'd like to use Google Voice, here's how to set it up.
If You're in the US
Setup is pretty simple if you live in the US. Just visit the site, and you'll be taken to a wizard that asks you to search for a city or area code, then pick one of the available numbers on the list.
You'll then be asked to verify your existing (US) number. It can be either cell or landline (if you choose the latter, change the verification method from text to calling).
Once you've entered the six-digit verification code, you're ready to install and configure the apps (see below.)
At this point you can also transfer an existing number to the service, if you'd like to do so. There's a one-time $20 charge to port most existing numbers across, and it will replace the number you chose at the start of the setup process.
If You're Not in the US
If you're not currently in the US, you'll have to jump through some hoops to do the initial setup. Google really aims the Voice service at US-based users, and actively tries to prevent others from signing up.
To start with, you'll need to use a VPN to make it appear like you're inside the United States. ProtonVPN is a good choice if you don't already have one: I pay for it so I can access Netflix and the like overseas, but even the free version lets you connect via the USA. If you don't use a VPN, you'll just get an error message when you visit the Google Voice site.
Once you've got that sorted, its time to call on the services of a friend or family member in the US. You'll need to use their phone number to get your verification call or text, and they'll need to pass on the verification code soon after receiving it.
Note that once you've completed your verification, they won't be able to use that same phone number in the future to set up their own Google Voice account. Sadly you can't just use a different Google Voice number for this verification either.
Once you're done, don't forget to unlink the number you used for verification by going to the Voice site, clicking on the Settings icon, then going to the Account section and deleting it under Linked Numbers.
On the upside, once you've gone through this frustrating process, you'll be able to use the Google Voice service from anywhere in the world without a VPN. It's just the setup that's painful.
Installing and Configuring Google Voice
Once your account is created, it's time to install the app (iOS/Android). You used to be able to use Google Hangouts for this, but Google is now phasing that service out and its Voice features have started to work less reliably. I'd recommend using the official Voice app or website instead.
Assuming you're logged into the same Google account you used to set up your new Voice number, the app should automatically detect that number and set it up to receive calls and texts.
It's worth checking, though: go to Settings, confirm that the correct number is being shown, and tap on "Devices and Numbers" to see all of the devices that are configured to use it. Go back, and select "Call Forwarding" to confirm your current device can receive calls.
You have several other settings available, including whether you want texts and missed call alerts to be forwarded to email , whether you want to hide your outgoing number when making calls, do-not-disturb and voicemail options, and more.
You can also add credit and lookup calling rates for numbers outside North America, and automatically filter spam calls and texts. If you have another US number available, you can also forward all calls to it.
All of the settings are much the same on the Voice website as well. If you're using Chrome and plan to answer calls and texts in your browser, it's worth answering "yes" to the question at the top of the screen about allowing notifications from the Voice site.
After all that, you're ready to go. Google Voice calls and texts should now be available on your phone, tablet, and/or desktop web browser, whenever you've got data anywhere in the world.
Since making calls to North American numbers is free with Google Voice, you just need to dial the number from within the Hangouts or Voice app/site as you usually would.
Using Google Voice to make international calls is almost as straightforward. Simply top up your account by tapping on the Add Credit option under Settings — Payments on the site or in the app. You can top up in $10, $20, or $50 increments, with a maximum balance of $70.
Once you've added money to your Google Voice account, just dial the international number you want to call from the Hangouts or Voice app/site. Don't forget to use the international dialing code (eg. +44 for the United Kingdom), and you're good to go!
---
Got any Google Voice tips and tricks from your own travels? Let us know all about them!
Images via Joergelman (main image), maneomsy (phone in hands), Google (multiple devices)