Technology is finding its way into every part of modern life, including long-distance walking.
While lengthy hikes are a great way of disconnecting from the online world, a smartphone is still useful as an all-in-one guidebook, camera, map, and more. When you're carrying everything you need for several days or weeks on your back, every ounce matters.
The Camino de Santiago is no exception. This network of medieval pilgrimage trails wends across Spain, Portugal, and other European countries, finishing at the cathedral in Santiago de Compostela.
Taking anything from a few days to several months, it's become increasingly popular in recent years. I've now walked part or all of four Camino routes across Spain and Portugal, and am already planning a fifth.
Of the many dedicated Camino de Santiago apps out there, I've only found a few to be genuinely useful. The best of them work largely or entirely offline, so you can leave your phone in flight mode while you're walking.
As well as guidebooks, I've found several other apps helpful in one way or another. With many of the best Camino apps being free and the rest only a few dollars, they've become as important a part of my Camino packing list as a good backpack or comfortable pair of shoes.
Here's what's worth installing before you lace up your boots.
Note: while some of the apps work entirely offline, others need a data connection for some or all of their features. If you don't want to rely on Wi-Fi in towns and villages, grab a local prepaid SIM card in Spain, Portugal, or wherever you start your Camino.
Camino de Santiago Guidebook Apps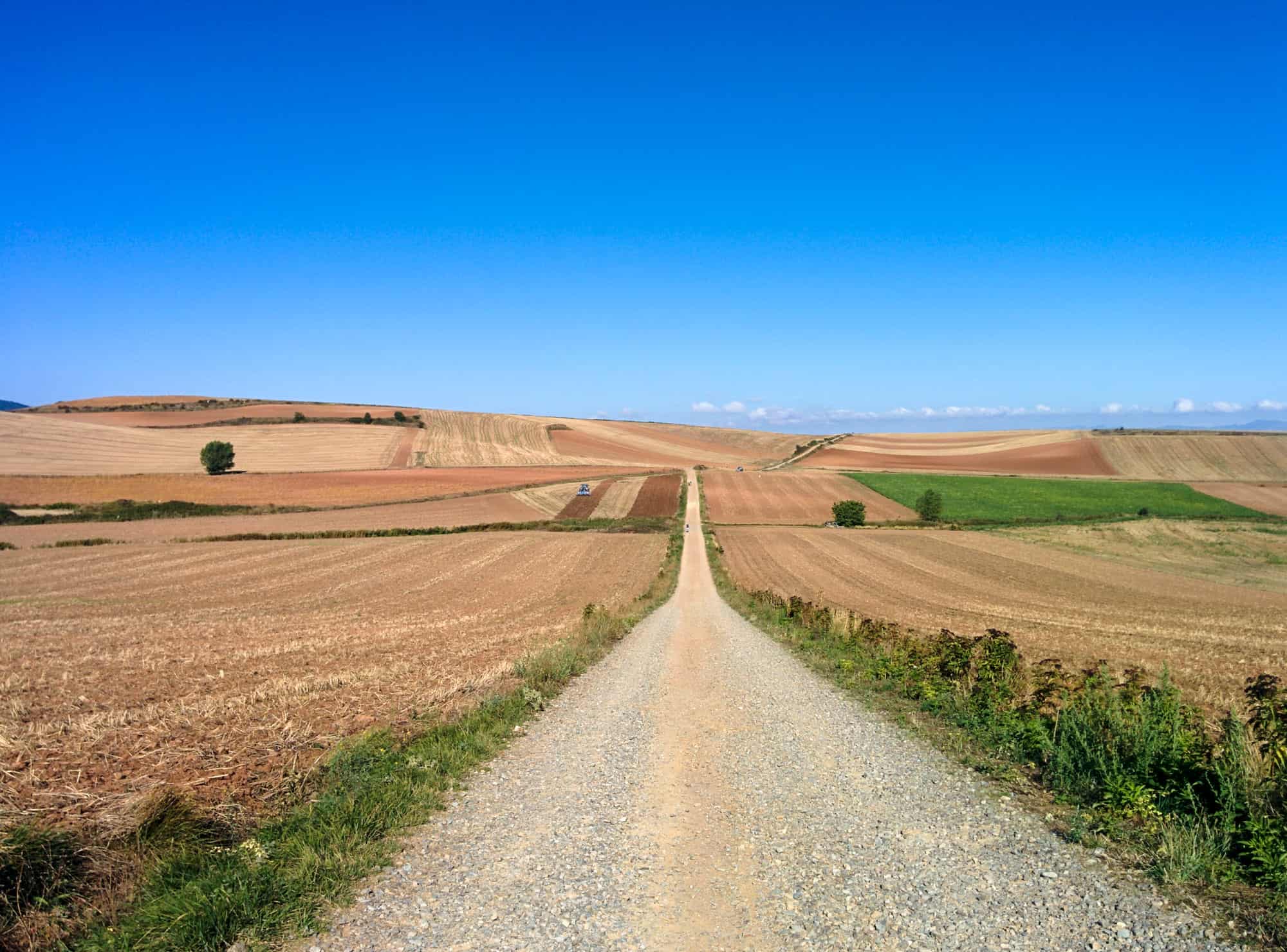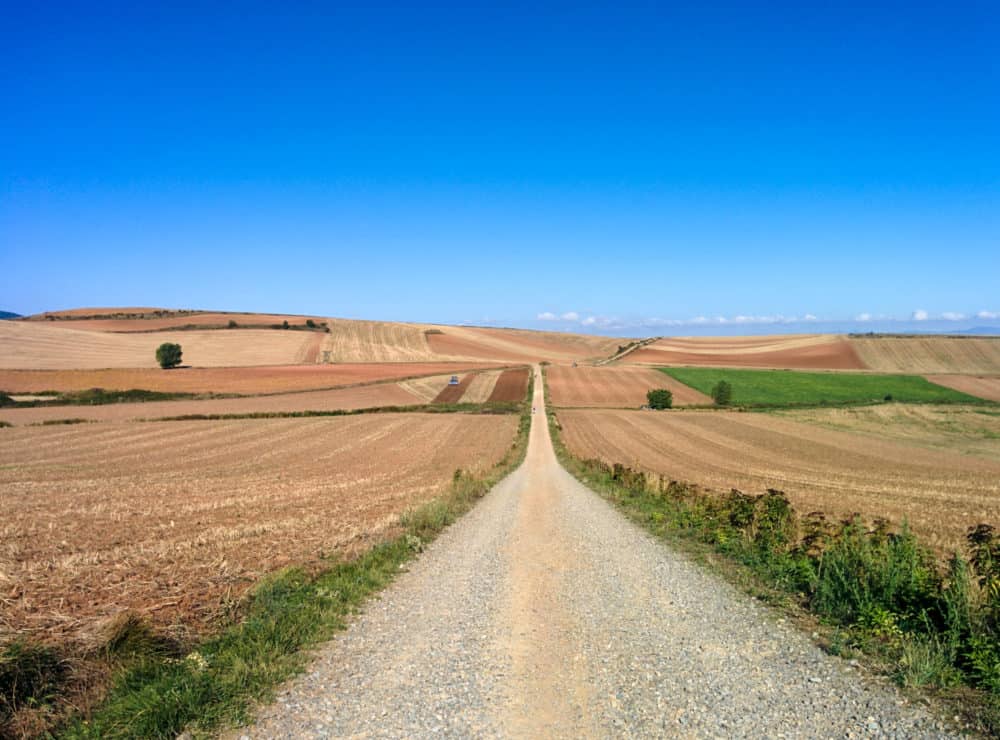 Camino Pilgrim – Frances
One of the few good completely free guidebook apps for the Camino de Santiago, Camino Pilgrim – Frances has a few extra features you don't find even in the paid apps.
Designed for both cyclists and walkers, there are several itineraries available for both. Walkers can choose Camino Frances routes taking 31-35 days, and three or four days for the Finisterre. Cyclists can pick between 12 and 16-day itineraries, and filter for albergues that will accommodate them.
If you'd prefer to create your own custom itinerary, that's also easy to do. Just choose the cities you intend to start and finish in, along with your start date, and the app will suggest appropriate options.
The itinerary builder is a bit glitchy. When I said I wanted to finish in Muxia instead of Santiago, it suggested a rather optimistic 138 km (86 mile) final day. It also doesn't seem to take account of alternate routes, but you can combine, split, and add days as needed. Daily distances are recalculated on the fly.
The listing for each day shows a list of towns and villages you'll walk through, each with the elevation, services available, and distance from the start point. Tapping on any of them provides details for the various accommodation options in that place, including prices, facilities, opening hours, and contact information.
There's a route map with limited offline support (if you've loaded the map for an area already, the app will save it to use without a connection), and you can send your current GPS location to friends and family with a few taps.
There are no route descriptions, history, or other typical guidebook information provided, so you may want to supplement with another app or physical guidebook for that sort of detail. What it does, however, it does well, and you can't argue with the price.
Routes covered: Francés
Android, free. Making a donation adds support for local weather forecasts
Camino de Santiago Guide
I used Camino de Santiago Guide as my sole guidebook while walking the Camino Frances and Finisterre routes, and was extremely impressed with it. While the design is functional rather than attractive, it's easy to use, and most importantly, the information is helpful and regularly updated.
Distances between each town or village were accurate, with icons beside each location showing the number of albergue beds available, and the types of services available. Descriptions of the route, including any variants, were easy to understand and follow.
Tapping each location box gives a little history and description of the place. There's plenty of detail about restaurants, pharmacies, and other things walkers care about, especially in larger towns.
I found the albergue descriptions particularly good. There was an appropriate amount of information about prices, opening hours, and facilities, along with personal observations, and I could make an informed decision about where I wanted to sleep each night.
The offline maps are simple and static, with no GPS tracking. I rarely used them, but then again, the waymarking is so good on this route that I didn't need to. Elevation profiles are also included.
Routes covered: Frances, Finisterre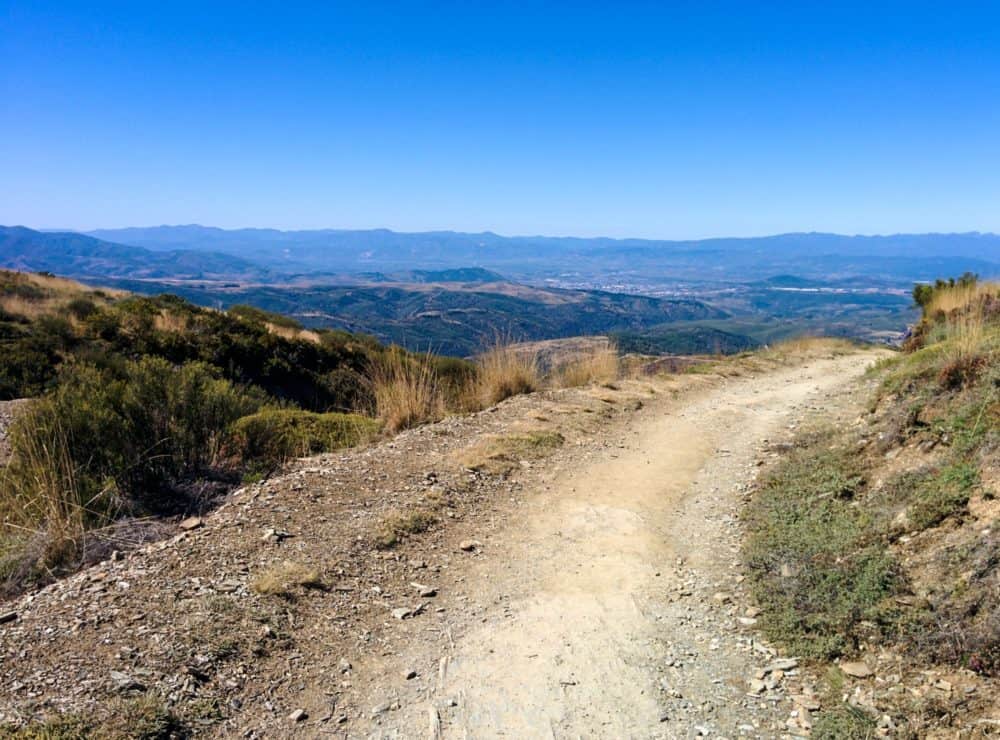 Way of Saint James (Buen Camino)
Created by the publishers of physical guidebooks for several Camino routes, the Way of Saint James (Buen Camino) app is slick and well-designed. You used to have to pay for most of the routes, but they're all now free to download and use.
The app suggests daily stages, but you can create and delete them as necessary. The route editor isn't as powerful as the one in Camino Pilgrim – Frances, but it does the job. Usefully, each stage shows the amount of road walking versus other trails, along with the total height gain and loss.
Distances are shown between each listed point, and tapping on the name of any village or town shows points of interest, services, and detailed accommodation information. Some accommodation can be booked directly within the app, typically hotels and guesthouses. The average user rating is shown for accommodation where it exists.
There's an elevation profile for each stage, along with detailed online and offline map options. Both walking and cycling routes are shown on the maps, along with points of interest. There's also a useful small "pilgrim's guide" answering logistical questions, and the app includes real-time alerts for any problems or changes to the route.
Note that a recent update has made the app less reliable than it used to be, at least on Android: while it works well on one of my phones, for instance, it barely works at all on the other. Make sure you try out all of the features ahead of time before deciding to fully rely on it.
Routes covered: Francés, del Norte, Portugués (from Porto), Primitivo, Finisterre, Aragonés, and Baztán
The Way of Saint James – CaminoTool
The Way of Saint James – CaminoTool is one of the few free apps that covers a wide range of Camino routes rather than just the most popular ones. Each route is marked on a map, along with nearby accommodation, restaurants, and other points of interest. You can see your current location relative to the route.
It's possible to download map areas for offline use, but you're limited to a relatively small area, and each new download replaces the previous one. It's not a great offline solution, but it's better than nothing.
Booking information for accommodation is provided where possible, along with prices, facilities, contact information, and a Google Street View of the outside if it's available. Restaurants are treated similarly, with known gluten-free options listed.
I don't love the requirement to "Sign in with Google" before you can use the app: there's no particular reason to require a login of any sort, never mind a Google one. Still, given it's the only free app that covers such a wide range of Camino routes, it's a useful addition to the toolkit.
Routes covered: Francés, del Norte, Portugués (with variants), Primitivo, Finisterre, Madrid, Ingles, via de la Plata, Invierno, Madrid, and Sanabres
Android, free
Camino Assist Pilgrim Santiago
While the awkwardly-named Camino Assist Pilgrim Santiago functions reasonably well as a guidebook, it wouldn't make this list if that was all it did.
Standard information like route maps, distances, and descriptions of places, accommodation, and points of interest is all there, but it's little different to other alternatives.
What sets the app apart, however, is its ability to also act as a trip journal to look back on after you finish. You can add photos, videos, voice notes, and written text while walking or at the end of the day, building up over time to be a comprehensive account of your Camino experience.
Other useful features include real-time weather information, and a multilingual dictionary with common phrases translated into Spanish. If you're worried about safety, the app also lets you send your GPS location to family and friends at any time, or directly call Spanish emergency services via an SOS button.
Routes covered: Frances, del Norte, Primitivo, del Salvador, Portugués, Inglés, Finisterre, and Madrid, including several variants
Other Useful Camino de Santiago Apps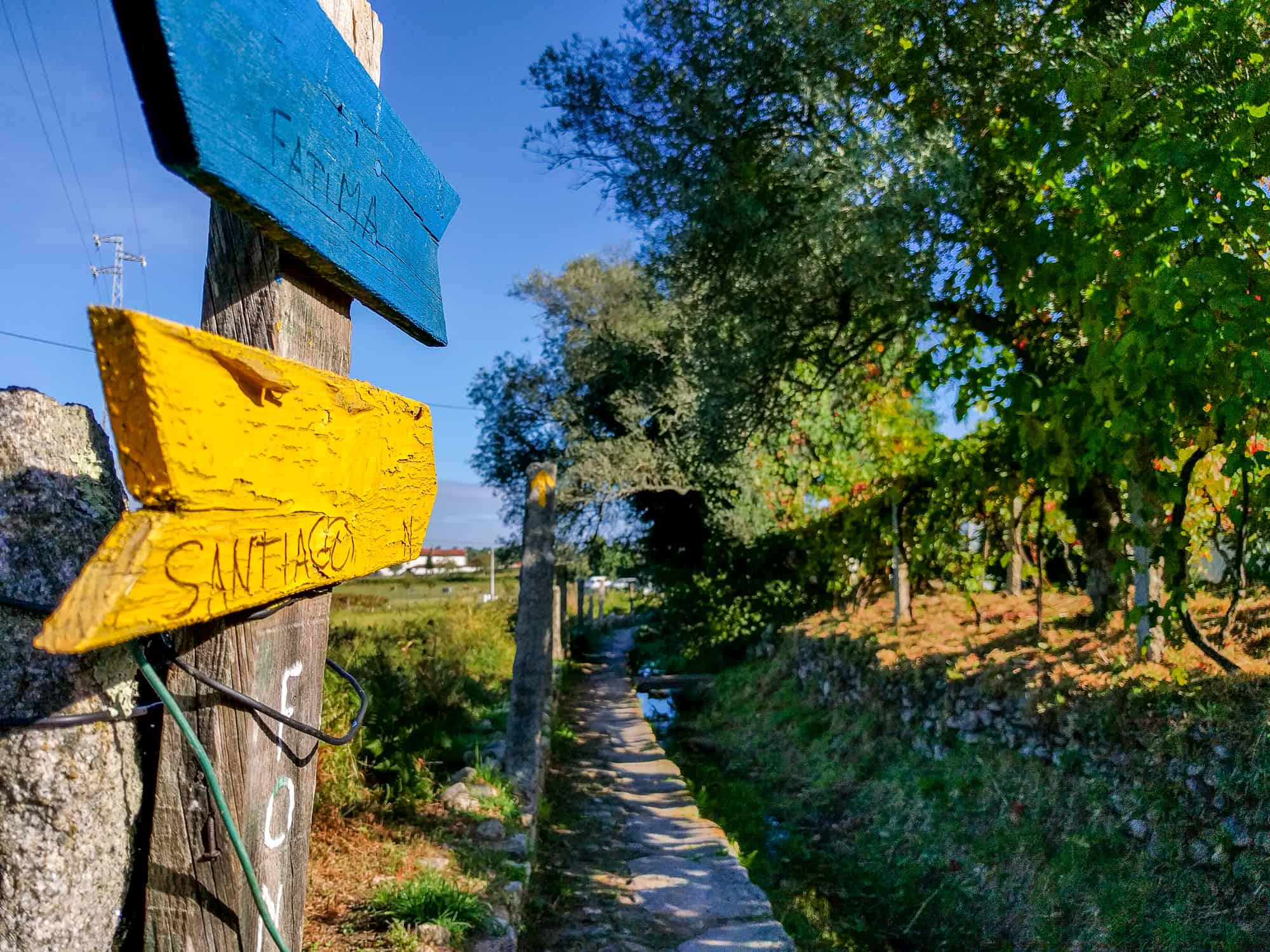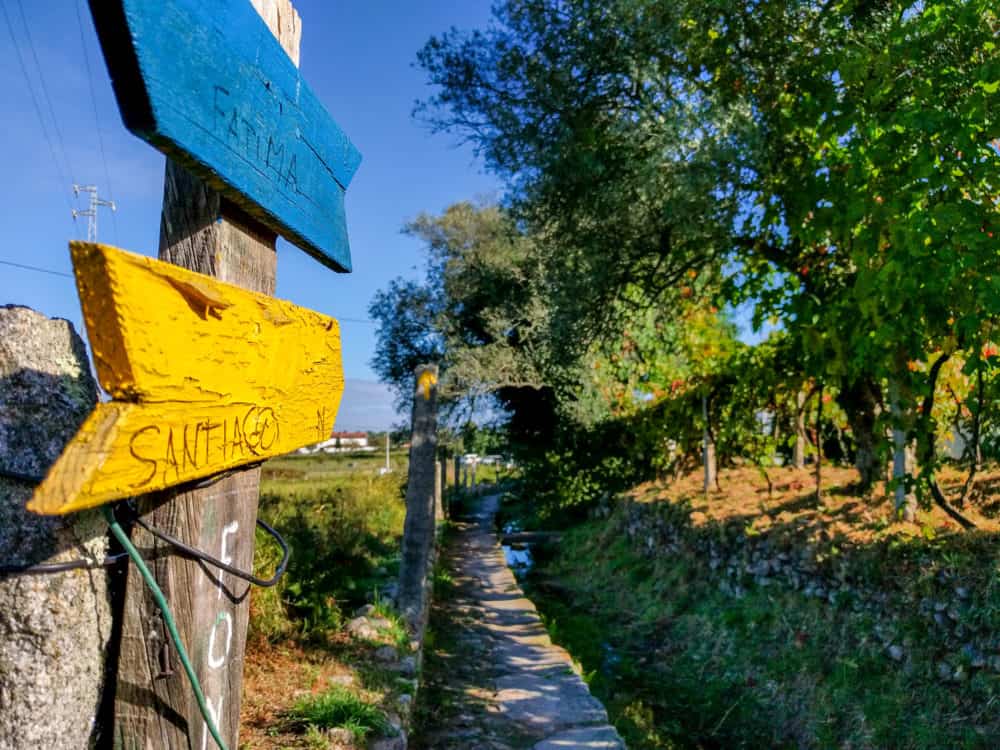 While guidebooks are the most obvious types of app for the Camino de Santiago, they're far from the only useful ones. A range of other apps can improve your experience in one way or another. Some are developed specifically for Camino walkers, while others are more general tools with specific uses on the trail.
Luggage Transfer: Pilbeo – Camino de Santiago
While it's easy to arrange bag collection and drop-off at almost any albergue along popular Camino routes, that hasn't stopped an enterprising luggage transfer company from developing an app to help with the process.
Covering the Camino Frances and Sanabres, plus the later sections of the Portugués, Primitivo, and Finisterre routes, the Pilbeo app lets you book transfers in advance for one or multiple bags. Setting the start and end points each day, you can book multiple stages in a row, and pay by card, Paypal, or bank transfer.
You can upload photos of your luggage to help with identification, and receive real-time updates of its location. Bags are generally picked up between 8-9 am and delivered to your next accommodation by 2:30 pm.
Android and iOS, free, with luggage transfers from €4 per day.
All of the guide apps have some sort of map and navigation features included, and given how well waymarked the major Camino routes are, you don't typically need much more than that for the trails themselves.
Where things get trickier, though, is finding your way into and out of major towns and cities, especially if your accommodation isn't directly on the marked path. Equally, if you happen to take a wrong turn or decide to go exploring off-trail, it's useful to know exactly where you are, and how to quickly get back on track.
GPS Files
There are many apps that will let you load a GPS route into them, and show where you are relative to that route at any point. GPS files are typically in KML or GPX format, and it's easy to convert between the two. For example, you can download GPS route files for the Camino Frances and Finisterre here (free registration required).
GPS information is one thing, but the app needs to display that information on a map for it to be useful. Many apps use online maps for free, but charge for some or all types of offline map. Given the lack of cell service on parts of many Camino routes, offline maps are useful if you plan to rely on them.
Apps
I've used ViewRanger in this way on both short and long walks, and found it straightforward and accurate, with basic offline maps available for free. Detailed topographical maps are also available, usually on a subscription basis.
Maps.me is another good option, both for general navigation and detailed, Camino-specific GPS routes. Simply open the GPS file you want to use with Maps.me ahead of time, and it will download the map sections you need for offline use.
Finally, TrailSmart is a high-quality free app for hikers, with routes and maps available for many long-distance hikes including several Caminos. The GPS routes are free and built into the app, with access to Google Maps data as long as you're online. High-quality offline maps are downloadable for a fee.
Trailsmart can automatically provide attraction, accommodation, and distance information as you approach a town, with thousands of pinned points of interest. Routes are customizable, and include directions and elevation profiles.
All three of the above apps are free, other than offline map data where specified.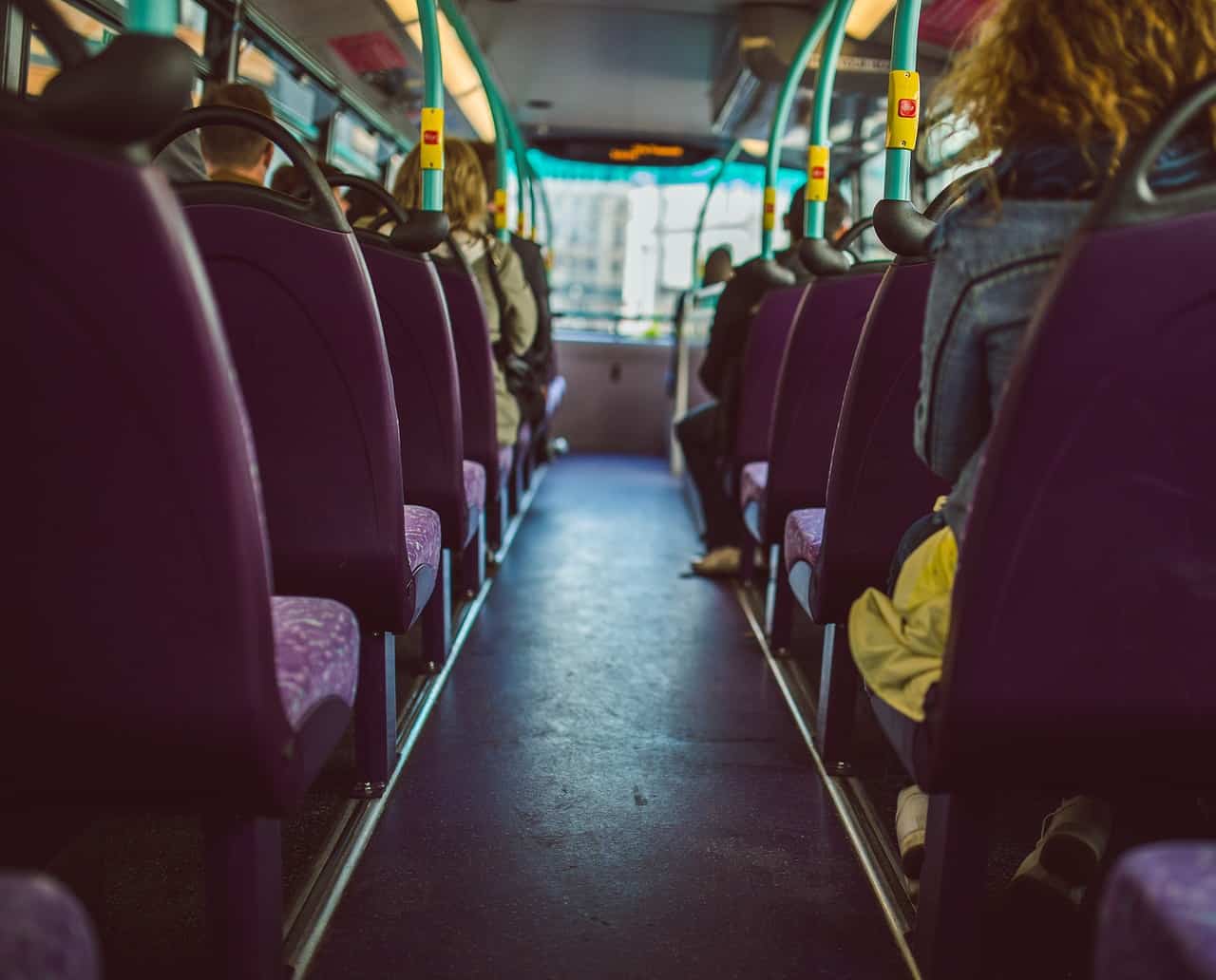 Public Transport: ALSA (Bus)
Whether you're figuring out how to get to your starting point, sorting out onward travel from Santiago, or just want to skip part of the route for any reason, it's worth installing the official app for Spain's largest bus company.
ALSA runs several useful routes for Camino walkers, both within Spain and to/from other countries. As an example, I've taken ALSA buses from Madrid to Pamplona, and then on to Saint Jean Pied de Port at the start of one of my Caminos, and from Santiago to Lisbon at the end of one of the others.
The app lets you search for specific routes, track buses in real-time, and buy tickets. Non-Spanish customers can pay via Paypal. You should be able to just show the ticket on your phone for domestic routes, but double-check the details for trips that cross country borders.
While the ALSA bus app is generally usable and useful for international visitors, the same unfortunately can't be said for the equivalent RENFE train app. Split up into different apps for schedules and bookings, many services aren't available to non-residents, and the apps are slow and unreliable.
As a result, you're usually better off checking train schedules on the RENFE website. Buying tickets there can be problematic, since the site has been known to reject foreign cards, but it's worth trying nonetheless.
Language: Google Translate
While some of the guidebook apps include a few useful phrases, you'll need more assistance if your language skills aren't up to scratch. There are several good translation apps available, but I've always found Google Translate the most useful on the Camino.
It covers all of the languages you're likely to need, from Spanish, French, and Portuguese to Catalan, Galician, and many more. You can translate signs and menus by just pointing your phone camera at them, and there's a useful, if clunky, "conversation" mode for when you really need to try to make yourself understood.
Best of all, offline language packs are available for most supported languages, include all of those you're likely to use on the Camino. Download them with a single tap, and you've got decent translations available even when you're far from the nearest internet connection.
Forecast: Weather by El Tiempo
Knowing what the weather is likely to do matters more when you'll be walking in it for the next several hours. While almost any weather app will give you decent information for major cities, they're often not as accurate on a local level.
That's why it's worth downloading El Tiempo, a leading Spanish weather app. With hourly and long-range forecasts for over 200,000 locations across the country, you'll have a better idea of what lies ahead and can plan your day accordingly.
All of the usual features are there, including temperature, wind, and rain predictions. Rain radar information is available, and you'll receive any official weather alerts as well.
Inspiration: Camino de Santiago 360º
Unlike the other apps mentioned here, which are most useful during your walk, Camino de Santiago 360º serves purely as inspiration ahead of time.
Part fiction, part documentary, the app puts you in the virtual shoes of a walker on the Camino. Accompanied by a couple of guides, you make your way along the Camino Frances from the pilgrim office in Roncesvalles to the cathedral in Santiago de Compostela, experiencing a wide range of landscapes and landmarks along the way.
With over 100 minutes of video footage, and usable in VR with Google Cardboard and other virtual reality glasses, the app provides an immersive and interactive experience.
Split into nine sections, it's an easy and inexpensive way of getting a taste of the Camino long before you ever lace up your boots.
Android and iOS. First episode is free, extra episodes cost $0.99 each/$4.99 for all
---
Images via roberaten/Shutterstock (shell on road), others via author