When I told my friends I was traveling to Nigeria to help with a documentary, I got all the inevitable questions. Like, was there a prince involved? Did I have to send money via Western Union? Was I worried about Ebola, AIDS, or being mugged? My answer to all of them was no.
I understand my friend's concerns, thanks to the well-earned negative stereotype associated with Nigeria, but there's plenty of good in the country as well.
The main reason I visited was to cover the country's federal election. People I talked with know the system is corrupt, and I saw an engaged and educated population doing their best to improve their country.
Everyone I met was eager to vote, in the hope of making a meaningful change. Despite being chaotic due to the crowds, people at the polling places were peaceful and patient even in the 40 degree Celsius heat.
Costs are generally cheap in Nigeria and that's as true of SIM cards as anything else. Nigeria has the most developed, largest, and most competitive cellular network in Africa. Because of that intense competition, the carriers work hard to attract business.
They offer bonuses, free data, and incentives to existing customers to remain on their networks. Bonus offers arrive by text, requiring just a text response to activate.
English is the most commonly spoken language in Nigeria, and all the official texts from the major networks were written in it. This made it much easier for me to differentiate a bonus offer from a low data warning.
Need travel insurance for your time in Nigeria? We currently use HeyMondo, thanks to its comprehensive coverage options, competitive pricing, and the ability to buy or renew a policy while outside your home country. Residents of most countries get a discount with this link.
Companies
---
We recommend MTN Nigeria or Glo Mobile for most travelers
---
The four main networks in Nigeria are operated by MTN Nigeria, Glo Mobile, 9mobile, and Airtel. I also included Ntel in my list — the company isn't a major player and has service only in Abuja, Lagos, and Port Harcourt, but is the only one with unlimited data options.
MTN Nigeria has the most popular network, with 35% of subscribers. The South African company has good coverage and is investing heavily in 4G/LTE infrastructure.
Glo Mobile (by Globacom) is a privately-owned Nigerian company with low data prices and around 24% of the market.
Airtel Nigeria (by Bharti Airtel) is a subsidiary of Airtel India, and has 21% of subscribers.
9mobile is Nigerian-owned, and was previously known as Etisalat Nigeria. It has 15% of the market.
Ntel's limited coverage area and restrictions on handsets approved for VoIP or VoLTE services mean it isn't a great option for most travelers. Still, if you need unlimited data, are staying only in the major cities, and don't care about VoIP, it's an option.
My reason for being in Nigeria was to help with the production of a documentary, which influenced my decision about which SIM card to buy. Needing to do a Facebook Live broadcast an hour outside of Abuja, my local fixer suggested MTN would have the best service in the area, so that's who I went with.
How to Buy a Prepaid SIM Card in Nigeria
---
SIM cards for all the major networks are available at the Abuja International Airport, and for most travelers, buying at the airport will be the easiest option. Prices are the same wherever you go, so there's no advantage to waiting until you get into town.
As I didn't know which carrier would best fit my needs when I arrived, however, I didn't buy my SIM when I landed. Instead, I picked it up later at an MTN store in the lobby of the Transcorp Hilton in downtown Abuja. The main carriers have outlets everywhere, even in the poorer areas where I was staying.
I never found any grocery or convenience stores anywhere, so have no idea if SIM cards are sold there, or honestly, if supermarkets even exit in Abuja. I stayed in a poor neighbourhood without many services. Abuja is the political capital of Nigeria, but Lagos is a much richer city, and likely has a better shopping experience.
A passport was required to get a SIM card, and I had to fill out some paperwork with basic information such as home and local addresses. The place I was staying literally didn't have an address, so I left that space blank and wasn't questioned about the omission. It's OK to use the name of your hotel as a local address.
The entire process took about 25 minutes, much of which was waiting for registration of the new number to go through. The system moves slowly in Nigeria. The representative was polite and professional, and apologized for the delays.
Once registration was complete the SIM activated immediately, and I had a solid connection as I left the store.
Can't be bothered with the hassle of buying a local SIM in Nigeria? OneSIM topped our international SIM card comparison.
It offers phones and SIM cards that work in 200 countries, have free incoming calls, save up to 85% on roaming fees, and can be sent out ahead of time to let you hit the ground running.
Find out more here.
Prepaid SIM Costs
---
I knew I'd use plenty of data during my stay, so opted for a 40GB package valid for 30 days. This cost 10,000 NGN ($26), plus an extra 100 NGN for the SIM card.
If you need a different amount of data, MTN offers many other options. 6GB costs 2500 NGN (~$6.50), for instance, and is also valid for 30 days. Monthly packs go all the way up to a whopping 110GB, which costs 20,000 NGN. Even larger packs are available with two, three, or twelve-month validity.
The packages don't include any voice or text. Those are available by adding extra credit via a top-up card when you purchase, or at any other time. I rarely need voice or text, so typically skip it wherever I go.
MTN also has packages for social media if that's your vice. Various bundles for Facebook, Twitter, WeChat, WhatsApp, Eskimi, or 2go are available, for 150 NGN (~$0.40) each per month.
Glo Mobile generally has the lowest prices, and sells a similar amount of data for as little as half the above rate. Coverage is still quite reasonable, especially in the towns and cities, so this may be a better option if you're on a tight budget.
Inflation is quite high in Nigeria, so expect prices to change regularly no matter which company you go with.
Topping Up
---
Voucher-based top-ups are available everywhere from street vendors to official retail stores, but can only be done online with a Nigerian credit card. Considering my SIM came with so much data, I didn't need to top up during my time in the country.
Customers are encouraged to renew existing plans, with incentives including bonus data for topping up before the current bundle expires. These bonuses can be worth up to 2.5 times the value of the top-up purchased, depending on the network.
Coverage and Data Speeds
---
I had great download speeds in the city of Abuja and the surrounding villages, but didn't get much further than about 50km away from the center of the city. Speeds and coverage levels would almost certainly be reduced in more remote areas.
I always had a 4G/LTE connection, and speeds were more than sufficient for streaming Youtube and video chat. The signal never dropped unless I was inside a concrete building.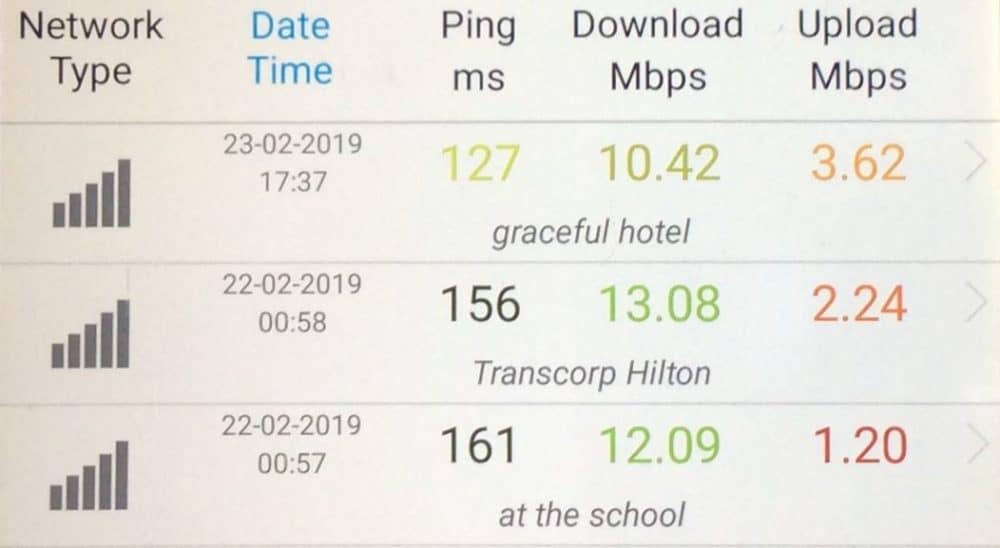 ---
Check out our guides to buying SIM cards in many other countries here.