Solomon Islands is a small country consisting of over 900 islands, a fascinating culture, and plenty of beautiful beaches. While you'll find modern amenities in some parts of the country, it remains largely an untouched South Pacific paradise in many ways.
The tiny island nation is set to host the 2023 Pacific Games in November, and a massive construction effort is currently underway to accommodate the influx of athletes and sports fans into the country. Many of you reading this are probably planning to attend!
You won't have trouble finding access to Wi-Fi in the capital of Honiara, but you will typically have to pay rates that simply don't make much sense. One hour of unlimited Wi-Fi at the Heritage Park Hotel costs $30 SBD (around $3.50 USD), while the same amount would get you 3GB of mobile data for a week!
If you need a lot of data for a short time, like downloading a bunch of movies on Netflix to watch later, you might need to shell out for some paid Wi-Fi at one of Honiara's luxury hotels. Otherwise, cell data is the way to go: with few exceptions, you'll be hard pressed to find Wi-Fi access outside of Honiara anyway.
Need travel insurance for your time in Solomon Islands? We currently use HeyMondo, thanks to its comprehensive coverage options, competitive pricing, and the ability to buy or renew a policy while outside your home country. Residents of most countries get a discount with this link.
Companies
---
We recommend Our Telekom for most travelers
---
The two telecom companies operating in Solomon Islands are the locally-owned Our Telekom and a relative newcomer to the market, bmobile-Vodafone. Our Telekom is the larger of the two, and has wider coverage throughout the islands.
We recommend sticking with Our Telekom to increase the likelihood of staying connected throughout your trip.
How to Buy a Prepaid SIM Card in the Solomon Islands
---
The easiest way to obtain a SIM card in Solomon Islands is to get a free one just after completing customs at the country's main airport. Henderson International Airport was constructed by the US Navy Seabees and named after Marine Major Lofton Henderson, who was killed in action in the Battle of Midway.
Our Telekom is supposed to provide SIM cards for free here, but at least when I went through, only bmobile was advertised, and it was the only company with representatives at the exit.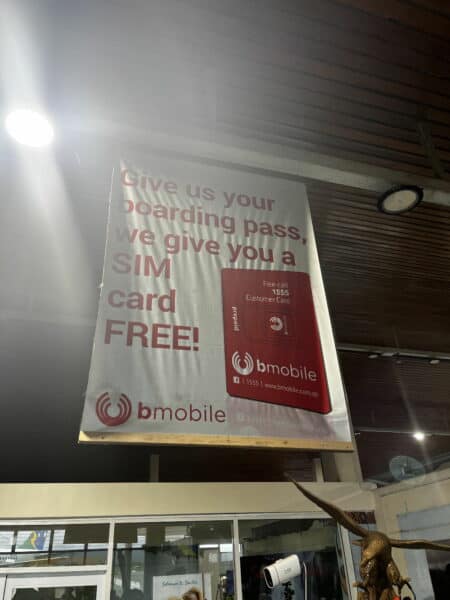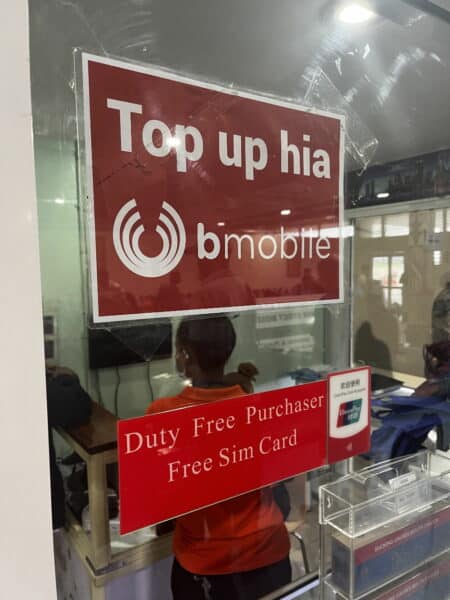 Prepaid SIM Costs and Plans
---
In case the Our Telekom representatives aren't at the airport, feel free to quickly pick up a free bmobile SIM as a backup.
You can then pick up an Our Telekom SIM card on the way into town for $10 SBD, about $1.25 USD.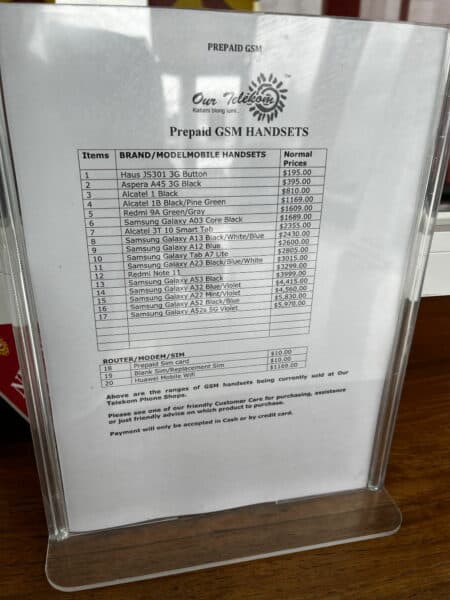 The registration process is quick and painless: just hand over your passport and you'll soon have your very own Solomon Islands SIM card. The staff will do the APN configuration for you, but in my experience, were more familiar with Android than iOS.
In case you use an iPhone, you can do the APN configuration yourself by going to Settings → Cellular (or Mobile Data) → Cellular Data Options → Cellular Network. Under APN, just enter the word internet and you'll be all set.
Before you head off to do some island hopping, though, don't forget to top up your mobile credit with the Our Telekom representative!
After completing the registration process and topping up your account balance, you'll need to select a data plan. You can do so via USSD by dialing *155# and choosing from the menu. The best bang for your buck will be one of Our Telekom's "RedHot GIGA plans", which you can access by dialing 7.
While you can opt for weekly plans, I've found the best choice is to buy a daily 2 GB plan for $11 SBD (about $1.30 USD) to avoid burning through my data too quickly.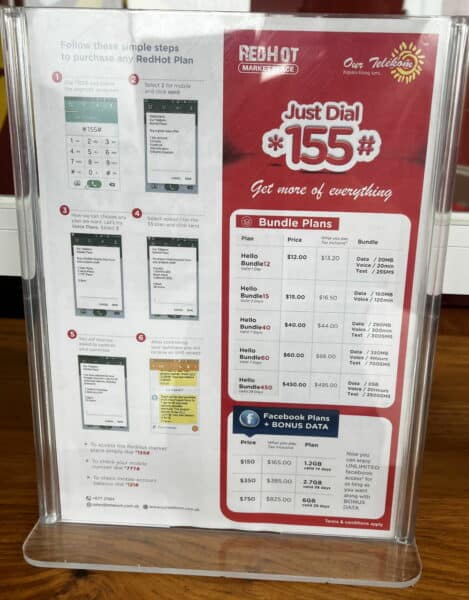 After choosing a plan from the USSD menu, dial 1 to confirm the purchase. You'll immediately receive an SMS confirmation, and after a minute or two, have access to 4G data. I've sometimes found it necessary to toggle airplane mode off and on in order to get the connection working.
Topping Up
---
If you need to top up your balance at some point after your initial purchase, you can easily do so by visiting any stall with a red "Top Up Hia" sign ("hia" is "here" in Pijin). The vendor at the stall should be able to top you up regardless of whether you're using an Our Telekom or bmobile SIM.
Sometimes you'll even find these signs inside someone's compound, and you can feel free to approach them to pay for a top-up. Be sure to check your account balance to confirm it was successful, by dialing *121#. Our Telekom will send an SMS in response that shows your balance, which expires about a year from your most recent top-up.
If you plan to travel around truly remote areas, you may have trouble finding a place to top up, but in such areas you'll also probably struggle to find a cellular signal in any case. Check out Our Telekom's coverage map before traveling outside the capital.
Coverage and Data Speeds
---
Within Honiara, you'll have pretty reliable reception and decent speeds with Our Telekom. I regularly get around 30Mbps and am able to watch a bit of Netflix or YouTube, make VoIP calls, and browse the web by tethering my laptop to my smartphone without any lag. Outside of the capital, however, all bets are off.
While Our Telekom has better connectivity than bmobile, it's still not great. If you're island-hopping or going on hikes, you'll frequently only have a 3G connection, or no service at all.
In a recent hike I took to Tenaru Falls, I only briefly had a 4G connection at the Parangiju Mountain Lodge near the start of the trek, and lost connection soon after. On the drive up to the lodge, my connection was only intermittent.
Even in the capital, sometimes the connection fails for no discernable reason, and I've had times where I've been unable to even place a voice call due to network issues. It's just something to be aware of if you are planning to work remotely from Solomon Islands.
Perhaps that free bmobile SIM from the airport will come in handy as a backup if you run into an issue with the Our Telekom network!
---
Check out our guides to buying SIM cards in many other countries here.