Mini projector technology has vastly improved in the last few years. Many brands now offer compact devices that you can easily toss in your bag, providing a portable entertainment system for camping trips, backpacking adventures, and backyard movies.
The better models come with built-in speakers, decent battery life, and plenty of options for connecting smartphones, streaming devices, or gaming consoles.
The more features you're looking for, though, the more you're going to need to spend. When it comes to projectors, you really do get what you pay for. Budget at least a couple hundred dollars for one that's easily-portable and worth watching, and more for higher resolution and better brightness..
These are our favorite mini (or pico) projectors at the moment, along with what's not worth buying and advice on how to navigate complicated product descriptions. Things are not always as they seem when it comes to resolution and brightness in particular!
Sale
Best Mini Projector: XGIMI MoGo Pro
Dimensions: 5.7 x 4.2 x 3.7 inches (14.5 x 10.7 x 9.4cm)
Weight: 2.2 pounds (998g)
Battery: 10,400mAh - up to 2.5 hours (video)
Native Resolution: 1080p (1920 x 1080)
Brightness: 300 ANSI lumens
Sale
Best for iPhone: Miroir M289
Dimensions: 6.9 x 4.8 x 1.4 inches (17.5 x 12.2 x 3.6cm)
Weight: 27.5oz (779g)
Battery: 5200mAh - up to 2 hours
Native Resolution: 1080p (1920 x 1080)
Brightness: 400 ANSI lumens
Best Value: AAXA P8
Dimensions: 3.9 x 3.4 x 1.4 inches (9.9 x 8.6 x 3.6cm)
Weight: 9.6 ounces (272g)
Battery: none
Native Resolution: 540p (960x540)
Brightness: approx 250 ANSI lumens
How to Choose a Mini Projector
Portability
Low-priced mini projectors are rarely as portable as mid to high-range options. Size and weight are important, especially for trips where you're carrying all of your gear.
Don't just consider the size of the projector itself: factor in any cables, tripods, and external speakers you also need to bring with you. If you're looking for a projector to take outdoors or on camping trips, make sure it has a built-in battery so you don't need to rely on an external power source.
Battery Life
Speaking of built-in batteries, they're not all created equal. For most people, how long a projector lasts away from a power outlet will define how portable it really is.
A mini projector set at its highest brightness will consume more battery, with better ones likely lasting at least the length of a short movie (around two hours). Some models claim they can project for up to four hours, but that's typically only achievable in lower brightness modes.
If you want to watch movies all night, we recommend getting a mini projector that can be recharged from an external power bank. This way, you can keep the party going as long as you want without worrying about your projector dying halfway through your movie marathon.
Some products omit the battery entirely, requiring an outlet to function. Unless you know you'll only use it within easy reach of an extension cord, we'd suggest looking for a battery-powered version that gives much better portability (and avoids cable management hassles as well).
Screen Size and Resolution
A projector's screen size refers to how large an image it can display, typically measured in inches across the diagonal. All of our recommended options support a screen size of 60″ or more (often, much more,) but remember that for any given projector, the larger the screen size, the dimmer and less sharp it will be.
Resolution claims for projectors get a little tricky to navigate. HD (high-definition) refers to a resolution of 1280 x 720 pixels. Full HD, the current standard for smartphones, is 1920 x 1080 pixels. The difficult part is that most projectors have two resolutions, native and maximum, and the difference is important.
The native resolution refers to the physical size of the projection panel. The bigger it is, the higher the quality of the image at a given size. Using software, all projectors can scale an image up from their native resolution to a maximum of HD or Full HD, but the more scaling that's happening, the worse the image will look.
If you're scaling from a native resolution of 320 x 240 pixels to Full HD at 100 inches, for example, don't expect to enjoy the viewing experience. Product descriptions are misleading, especially for lower-cost units. They'll make you think you're purchasing an HD projector, but unless that's the native resolution, you're not really. Pay attention to the fine print.
Lumens
The brightness of a projector is measured in lumens, a measurement of the total amount of light visible to the human eye from a light source. An ANSI lumen is a standardized measurement that quantifies the overall brightness or light output of a projector.
The higher the number, the brighter the image will be. 400 ANSI lumens is good for a large room, for example, while 100 ANSI lumens is only really suited to a smaller space.
Just to complicate things further, the light from a projector's light source dims considerably on its way through the projector. On average, the ANSI lumen value of the projected image is often only about 30% of the value at its light source.
Some brands only advertise the lumen value of their projector's lamp, and don't clarify the difference. If you see a mini projector boasting 4000 lumens, it refers to the light coming from the bulb, not the brightness of the projection.
Ease of Use
It's important to find a projector that's easy to set up and use. The last thing you want is to be fumbling around with cords and figuring out the interface when you're trying to enjoy a movie.
Some projectors come with an auto-keystone feature that automatically adjusts the image so it's rectangular, even if the surface you're projecting on is angled or curved. It can be a lifesaver when you don't have a perfectly level surface to work with, or are projecting from well below your viewing area.
Another thing to look for is an auto-focus that works flawlessly, or a focus ring around the lens that lets you manually adjust the focus until the image is clear. Stay away from mini projectors that have fixed-focus lenses where possible.
While a remote control isn't strictly necessary, it can certainly be useful when you're trying to adjust the settings from across the room. Many models also have an app that you can download to your phone, so you can control the projector from there instead.
Sound Quality
Some of the better mini projectors have built-in speakers that deliver pretty reasonable audio, at least if you're sitting fairly close to the projector or are in a quiet space. Others definitely do not, especially at the low end of the range.
When looking at speaker specs, consider both the output wattage and the number of speakers. The higher the wattage, the louder your projector can get, while multiple speakers usually means better, stereo sound. A decent product would have at least 3W dual stereo speakers, for instance.
There are limits to how loud the speakers will be on any mini projector, however, and even with better models, many people end up connecting external speakers for better audio. If you're okay with carrying around an extra Bluetooth speaker, look for a projector that also has Bluetooth for easier connection.
Some of the higher-end models also have HDMI ports that mean you can directly connect them to a soundbar. You'll also find audio sockets on some projectors, so if your speaker has a line-in option, you can run a normal analog cable between them.
Throw Distance and Throw Ratio
The throw distance is the distance between the projector and the screen or surface you're projecting on. The image will be larger or smaller depending on how far away you place the projector.
For a mini projector, a short throw distance is ideal, since it gives you more flexibility in where you can set up your device. A projector with a long throw distance is better suited to large rooms, since it needs to be further away from the screen to produce a large image.
Note that the resolution and brightness of the projector will limit how far you can place it from the surface you're projecting onto. The closer it is, the smaller, brighter, and sharper the image will be. Check the manufacturer's recommended (not maximum) viewing distance in the product description.
Relatedly, throw ratio refers to the size of the projected image compared with how far the projector is sitting from the wall or screen. A common ratio is 2:1 — this means that for every two feet (or meters) of distance from the screen, you'll get one foot (or meter) of projected image.
Using these two measurements, you can figure out whether you'll be able to get a large-enough image for your requirements from any given projector.
Connectivity and App Integrations
Regarding connectivity, the options include HDMI, Bluetooth, and various USB ports. Your particular requirements (especially around streaming from other devices) will determine which of those is a must-have, and which aren't so important.
Most projectors have an HDMI input, which is the standard for high-definition video and audio. Some also come with an HDMI output, which lets you daisy chain multiple projectors together or connect the projector to a TV or monitor.
If there's a USB C socket on the projector and you plan to use it, check whether it supports both charging and streaming video, or just one or the other.
While some models have both USB C and HDMI ports, others might only have one or the other. With the right cable, you may be able to stream from your laptop to your projector via either option: just check in advance to make sure that the projector you're considering is compatible with your devices.
If you have MP4 or other video files available, you may also be able to copy them to a USB stick and play them directly from your projector. This is typically done via a USB-A or USB C port, so confirm there's one available on your chosen projector if this is something you plan to do.
In addition to physical ports, some projectors also offer app integrations like Netflix and Apple TV. However, these are often downgraded versions, meaning you may only enjoy Netflix viewings in standard definition. Additionally, streaming from your projector may also drain your battery more quickly.
Wireless streaming via Miracast or AirPlay is also an option. It avoids the need for extra cables, but is only available with certain devices, and will reduce the projector's battery life as well.
What to Avoid
Mini projectors are meant to be portable, so you'll want one that's easy to transport, doesn't need a lot of setup or accessories, and has decent battery life. Any product that can't provide those three things requires a compromise of some sort, so pass on it unless you know that aspect doesn't matter to you.
For example, some projectors require an HDMI cable to connect to a laptop, while others have a wireless connection like Miracast or Airplay. The former makes your projector harder to carry around since you'll need to keep track of another cord, while the latter limits the devices you can use your projector with.
As for the size, anything larger than a shoe box pushes it. Larger projectors may have better features, but they're less convenient to transport. If you're looking for a projector to take camping or backpacking, make sure it's small and light enough that it won't add too much weight to your bag.
Finally, some mini projectors have excessively loud fan noise when they get hot, making it difficult to hear audio from the built-in speakers. If you're looking for a projector to use in quiet environments like an office or bedroom, be sure to check how noisy the fan is before making your purchase.
How Much I Should Spend?
When it comes to cheap mini projectors, our advice is simple: don't waste your money on super-budget versions. Plan to pay somewhere around $150-250 at a minimum, as spending less just means poor durability and lower quality video. That's especially true when you make the picture large enough for multiple people to view.
Cheap projectors that boast HD quality projection are misleading. For example, the Fosa Mini Projector says it's an HD projector supporting 1080p, but the device's native resolution is 320 x 240 pixels. That's a huge difference, one that your eyes will definitely notice.
Spend a bit more on one of the models we mention below, and you'll get a better device: brighter, with longer battery life, a clearer picture, and a better interface. Yes, they're more expensive, but you'll be much happier with the end result.
---
Best Mini Projector: XGIMI MoGo Pro
It's hard not to like XGIMI's MoGo Pro mini projector, even if you've never heard of the brand before. Its impressive specifications, strong performance, and reasonable price make it very easy to recommend, and it's the best mini projector option for most people.
The 300 ANSI lumen brightness is higher than much of the competition, and means you'll have a good chance of being able to see what's going on even when there's some ambient light. Higher contrast and darker blacks help as well, leading to a better viewing experience overall.
There are a few viewing presets built into the projector, and create an acceptable image in most cases. While you'll rarely need to manually alter the contrast or brightness levels or tweak the color temperature or white balance, the option is there if you need it.
The FHD (1080p) resolution is as good as it gets with portable projectors at the moment. In a dark viewing environment, you can expect the image to be sharp and detailed, with rich, saturated colors, up to about 70″. Both focus and vertical keystone correction are automatic, happening whenever you move the projector.
The MoGo Pro has Android TV 9.0 built in, with the simple interface and large app selection that comes with it. If you're too far from a Wi-Fi signal to stream your movie or show, you can plug in a USB stick instead, or connect a laptop or tablet to the HDMI port on the side.
The 3W stereo speakers are pretty much what you'd expect in a unit this size, putting out enough volume to be easily heard in a quiet-ish environment. You can plug in a set of external speakers as well if you'd prefer, or connect a Bluetooth version instead.
Given how bright it is, battery life is pretty good, at around two to 2.5 hours depending on whether you're in energy-saving mode or not. You can also run it from the charger if you're within range of an outlet: the cord is around eight feet long.
So, any downsides? Only a few. We'd have liked to see the ability to charge from a USB C charger or portable battery as well as the DC version in the box, and while it's compact and light by the standards of a normal projector, shaving a few ounces off would make it easier to transport outside the house.
Those are both pretty minor quibbles, however, about what is an excellent mini projector for the money.
Pros
FHD resolution
Good brightness and contrast
Rich colors
Android TV is easy to use
Good value for what it offers
Cons
A little heavy
Can't charge via USB C
---
Buy on Amazon
Runner-Up, Best Mini Projector: Nebula Capsule 3 Laser
Our runner-up recommendation is the Nebula Capsule 3 Laser. This small, sturdy gadget is compact and portable at only 33oz. Anker's marketing campaign likens its size to a tall can of beer.
Back in 2017, Anker raised over a million dollars on a crowdfunding campaign for the original Nebula Capsule. Many people loved the idea of a powerful mini projector you could use in your spare room or backyard, but still take with you on road trips, camping, or backpacking adventures.
The third iteration continues to improve on the original design, with more connection options, higher resolution, and a brighter image. The Capsule 3 projects a native 1080p resolution with 300 ANSI lumens of brightness at up to a 120" display. It's not as bright as a larger, mounted projector, but it's pretty good for a device this small and portable.
The 2.5 hour battery life is enough to get you through an entire Marvel movie without needing a power source, and there's an inbuilt 8W speaker that's more than loud enough for indoor use. If you need even higher volume, you can plug in external speakers as well.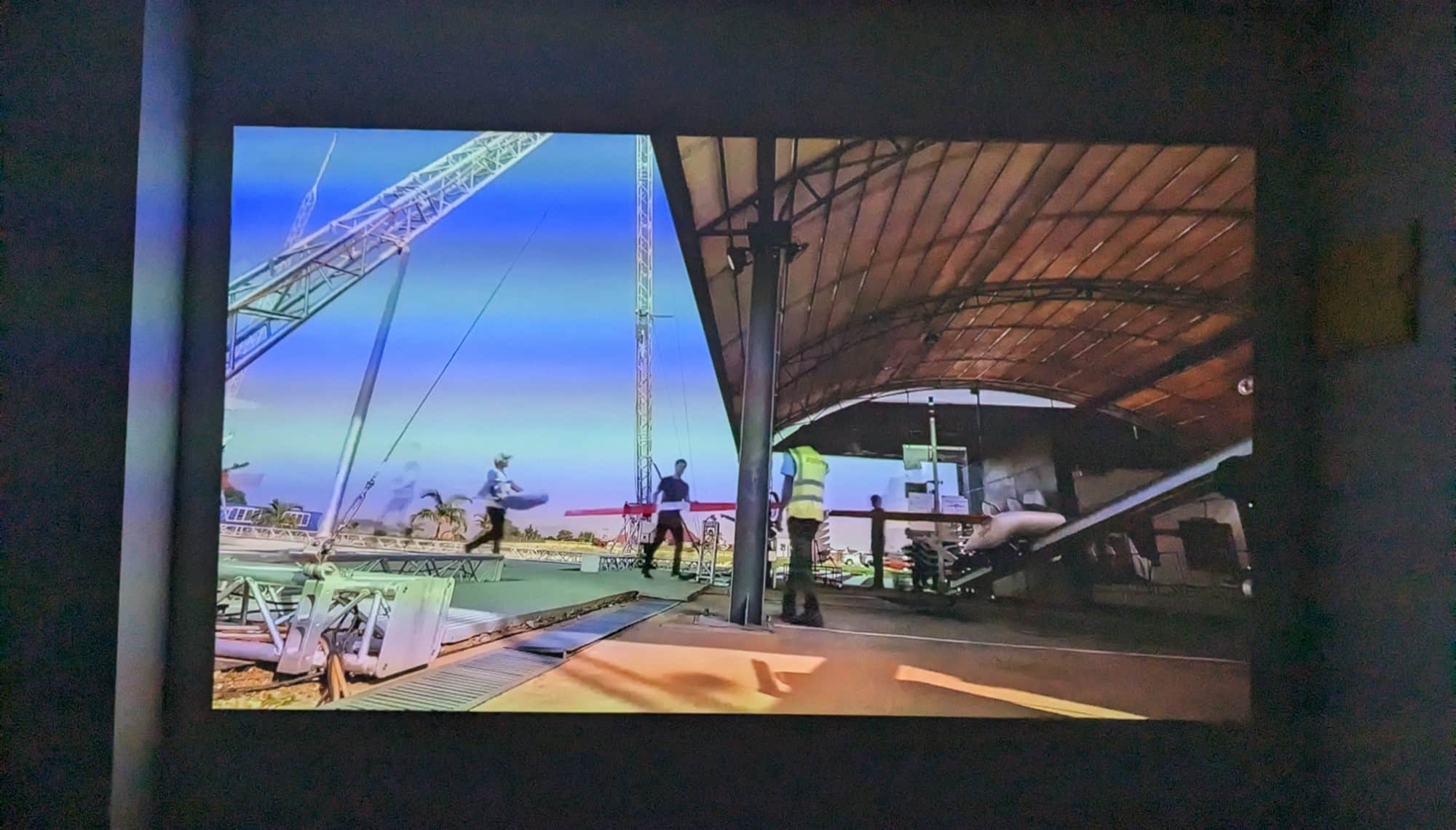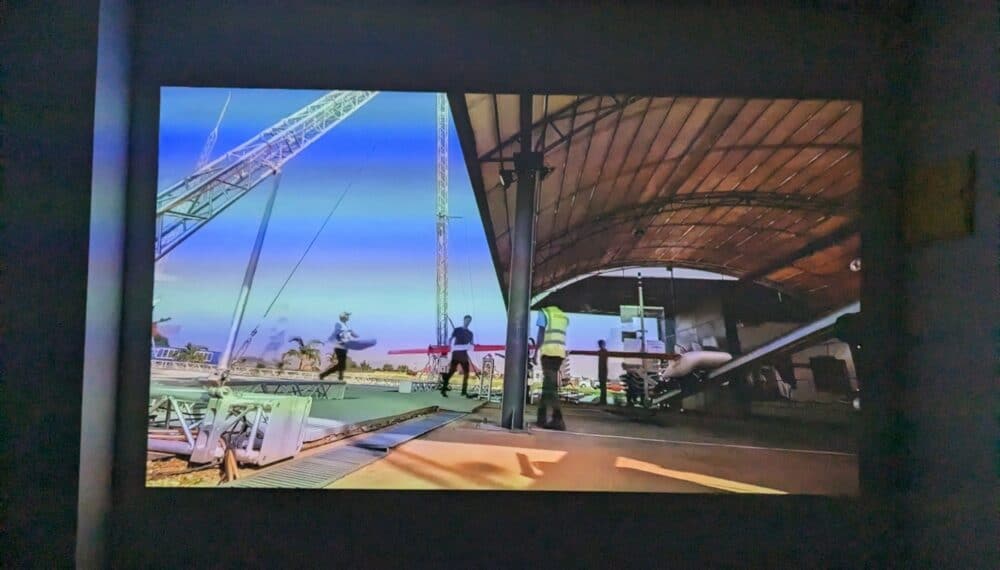 The projector uses Android TV to give you access to thousands of games and apps, including Hulu, YouTube, Amazon Prime, and more. You can connect physically with HDMI and USB, or wirelessly through Wi-Fi, Bluetooth, or Chromecast. Netflix works as well, albeit with a little more effort required.
We tested the Nebula Capsule 3 Laser in depth and it didn't disappoint. With similar specs and more features than the Mogo Pro, it's a very close race between the two as to which was going to be our top pick.
It's smaller and slightly lighter than the MoGo Pro, and although it has similar battery life, you can charge it from a standard 30W+ USB C PD charger or power bank, not only a wall outlet. That combo likely makes this a better option if you plan to regularly take and use it further afield than your back yard.
At the end of the day, though, it came down to cost. The Capsule 3 is a newer model, but that also means it's significantly more expensive. If there's a sale on, we'd go for the Anker version, but otherwise we'd probably be looking to save a bit of money on the Mogo Pro instead.
Pros
Portable size and weight
Built-in 8W speaker
Reasonable battery life
Android TV is flexible and easy to use
---
Buy on Amazon
Best for Lightweight Travel: Magnasonic LED Pocket
It could be argued that the Capsule 3 above is the best mini projector for travelers as well, but although it's only about the size of a pint can, those traveling light may still find it too big and heavy to take with them.
The Magnasonic LED Pocket Pico Projector is seriously tiny, measuring roughly 4″ x 3″ and weighing just 4.5oz. It'll fit easily into a small bag or backpack, and in reality you'll probably barely notice it's there. Projecting effectively at up to 60 inches, the built-in battery provides up to two hours of runtime.
Since the native resolution is only 640 x 360, don't expect amazing image quality at the device's upper limits, but it's fine for the intended purpose: one or two people in a smaller space, rather than a group in a larger setting. The 25 lumen brightness also reflects this: shorter projection distances in dimmer rooms work best.
The projector comes with a range of different cables that can connect the HDMI input to most devices (except iPhones and iPads, since you need a separate Apple adapter for that.) There's also a carry case, mini tripod, and microUSB charging cable, along with an audio jack for connecting larger speakers if (when) the inbuilt 1W version isn't to your liking.
Pros
Very compact and lightweight
Range of connection options
Cons
Only 640 x 360 native resolution
Better for personal viewing than larger groups
---
Buy on Amazon
Best for iPhone: Miroir MP289
Apple has paired up with projector manufacturer Miroir to sell small versions designed for use with iPhone, iPad, MacBook, and Apple TV. As long as you have one of Apple's Lightning to AV adapters, you'll be all set to project directly from your mobile device.
The Miroir HD Mini Projector MP289 is a compact projector, although at 6.9 x 4.8 x 1.4″ and 27.5oz, it's not the smallest on this list. Even so, it's lightweight enough to justify dropping in an overnight bag without having to leave anything else important behind.
The MP289 has a 1080p native resolution and projects at an impressive 400 lumens. Able to display up to a 100″ screen, it connects to whatever streaming media players you prefer through its HDMI port, as well as streaming content directly from your iPhone or iPad via apps on the device.
The built-in battery provides up to two hours of projection time, and the 2x two-watt speakers are fine for indoor use. If you're watching something outside or with a group of people, you can connect more powerful speakers via the 3.5mm audio jack.
Pros
Compact and lightweight
1080p (1920 x 1080) resolution
2-hour battery life
Cons
Apple-branded adapters not included
Internal speakers may not be enough for outdoor or group viewing
No remote control
---
Buy on Amazon
Best Value: AAXA P8
While you can get cheaper mini projectors than the AAXA P8 (we list one above), this model is our value pick for several reasons. It's small and lightweight enough to fit in your pocket, surprisingly bright for its size, and well-priced for what it offers.
At less than four inches long and under ten ounces, it's the smallest projector we'd be happy to use regularly. The resolution could be higher (960×540 isn't even close to HD), but the extra brightness means you can sit far enough away to not notice the pixelation.
There's a surprising amount of contrast on offer as well, but be prepared to tinker with the other picture settings, potentially to a fairly large degree, to get an image you're happy with. Dialing back some of the "enhancements" often yields a more watchable outcome, especially things like saturation and sharpness.
The company rates the projector's brightness at 430 LED lumens, a fairly meaningless unit of measurement: it gets around half that number on the test bench. Even so, it's reasonably bright, and more than appropriate for anywhere you can dim the lights.
As (relatively) good as the image quality is, the same can't be said about the inbuilt speaker. It sounds just as tinny and anemic as its 2W rating would suggest, and I'd highly recommend connecting something better via Bluetooth or aux cable if you've got it to hand.
The unit's small size and weight have been achieved by leaving out the battery, a decision that will instantly rule this projector out for a subset of potential customers. The company does make similar, albeit larger, models that include a battery, at least, so check out the P6X and P7 if that's something you require.
If you only expect to use the projector indoors, however (or at least somewhere that's in range of an extension cable), save money and weight and go for the P8 instead.
There are a reasonable selection of inbuilt streaming apps, including YouTube and a mobile version of Netflix, and a mediocre app store where you can download more. If you want to project from your laptop, there's a full-size HDMI socket on the projector to help cut down the need for extra adapters.
Overall, this is an impressive device for the money as long as you understand and are comfortable with its limitations. That's why we're declaring it our value mini projector pick right now.
Pros
Surprisingly bright
Small and light
Good value
Cons
Weak speaker
No battery
Fairly low native resolution
---
Buy on Amazon
Final Thoughts
A good mini projector is an investment, so plan to spend $150 or more to get something worthwhile, and three or four times that for a model with enough brightness and resolution to watch with multiple people. 
If they're within your budget, the XGIMI MoGo Pro or Nebula Capsule 3 Laser are the way to go. Easily the best all-round options, they're compact and portable with bright, clear pictures, decent sound, and strong compatibility with other devices.
For a more affordable option, opt for the Magnasonic LED Pocket if you still want something truly portable, or the AAXA P8 if you're happy to restrict yourself to somewhere within range of a power socket.
---
Main image via Shutterstock, product images via Amazon, photo of Nebula Capsule 3 projecting onto wall via author