Back in 2017, Anker ran a crowdfunding campaign that raised over a million dollars for the Nebula Capsule, a can-sized mini projector that won rave reviews and all kinds of awards.
The idea of a projector you can drop in a bag and use to watch shows anywhere from your back yard to a campsite in the middle of nowhere appeals to a lot of people, which helps explain why the company has released two updated models since.
The question with tiny projectors like this, though, is how well they actually function in practice. Are they really small enough to take away on a trip with you? Do they work well enough that you'd actually use them when you got there? Are they worth the money?
Anker recently sent me the latest version, the Nebula Capsule 3 Laser, to help answer some of those questions.
Features and Specifications
As seems to be the case with each new version of this projector, there's a notable jump in specifications between the Nebula Capsule 3 and its predecessor, which comes with an increase in bulk as well. While the diameter has barely changed, the Capsule 3 is nearly an inch taller: it's definitely noticeable.
It's the weight that's changed the most, though, from just under 27oz to 33oz. That's not an insignificant amount for a device like this. Don't get me wrong, it's still very much a portable projector; it's just not quite so easily portable as previous models.
In return for that increase, you at least get some major improvements. The headline changes are the switch to Full HD resolution (1920×1080) and an increase in brightness to 300 ANSI lumens. Those are both significant upgrades, although not unexpected given what else is on the market in 2023.
A quick word on brightness before we go on. Many cheap portable projector makers love to use non-standard measurements to describe how bright their devices supposedly are. The only ones that really mean anything are ISO or ANSI lumens: everything else is marketing fluff at best, and should be ignored.
Battery capacity has risen significantly (from 9700mAh to 14,500mAh), which is likely the main reason for the extra weight of this model. Thanks to that extra brightness and resolution, though, runtime hasn't changed: it's still quoted at 2.5 hours in standard mode, and a mere 1.5 hours at full brightness.
Thankfully you can run the projector from mains power if you want to. This obviously reduces the portability from "anywhere with a flat wall" to "anywhere with a flat wall that's within easy reach of a power outlet", but it does at least make extended movie nights a possibility.
Chromecast is built-in, so you can stream most apps from your phone, tablet, or laptop to the projector. HDMI, aux, Bluetooth, Wi-Fi, and USB C round out the connectivity options. There's a tripod mount on the bottom of the projector, for more flexibility about where you place it and easier height adjustability.
The remote is pretty straightforward, with a navigation pad, volume rocker, power button, and quick buttons for accessing settings or returning to the home screen. There's also a one-touch autofocus, which is a welcome new addition.
A dedicated Google Assistant button rounds things out: combined with the microphone in the top of the remote, it lets you speak to search for content. That's assuming you need another voice assistant in your life, of course.
At 8W, the mono speaker output is the same as on the previous model.
First Impressions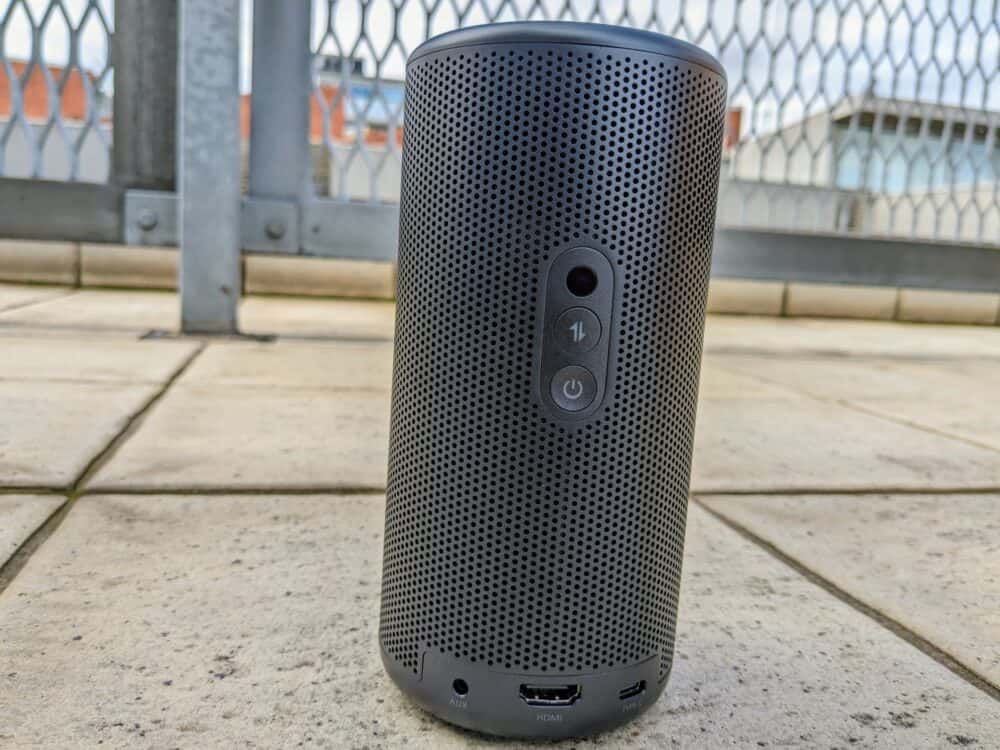 Many companies now try to emulate Apple's delightful product unboxing experience, and Anker is definitely one of them, at least with its high-end products. The box is made from thick, glossy cardboard, with a fabric pull tab and even a tiny magnet that ensures a satisfying thunk whenever you close the lid.
Speaking of the lid, it folds out to a full-color image of a couple happily sitting on a beach (or perhaps in a sandpit, who knows) happily watching a movie on a disembodied screen while timelapsed stars circle in the heavens above. What a life.
Other than the projector, there isn't much else in the box: a slim remote control with two AAA batteries, a charger and cable, and a quick-start guide. The charger is a single-port 45W USB C version that you could just as easily use to charge your phone, tablet, or many models of laptop.
One thing that isn't there that arguably should be is any kind of protective case. Given the price of this projector and its intended uses, a travel case of some sort would have been a welcome inclusion.
Continuing on with the quality theme, the can-shaped projector looks and feels like the premium product it is. The back has a couple of buttons, one for powering it on and off, the other for switching from projector to Bluetooth speaker mode.
There are three sockets near the base: aux, HDMI, and USB C. If you're not using the remote or app, you control the unit via an array of touch-sensitive buttons on the top. Navigation and selection are most prominent, but there are volume controls and a back button as well.
Initial Setup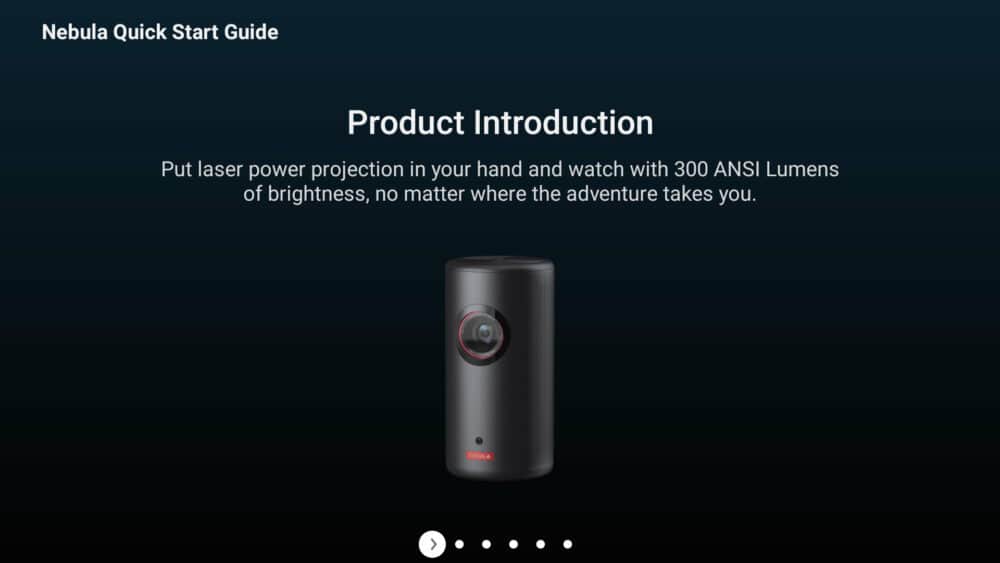 Setting up the Capsule 3 for the first time only took a couple of minutes. After pairing the remote and selecting a language, it offered to import Wi-Fi and account details from my (Android) phone, which took care of most of the initial configuration.
After installing the latest software updates automatically, it then suggested adding several of my phone apps that had Android TV equivalents, and that was nearly it for on-device setup. All that was left was Netflix: since the app isn't officially certified for the Capsule 3, you need a workaround to be able to use it.
It's not difficult: just load the "Nebula Manager" app that's already on the projector, then select Netflix and follow the prompts to install it. Once it's installed and signed in, it's two clicks instead of one to launch Netflix.
Because it's the mobile/web version of Netflix that you'll be using, it works well enough, but isn't as slick or fully-featured as the full app. You also can't easily control it with the remote, so will likely also want the companion "Nebula Connect" app that lets you use your phone screen as a mouse and keyboard.
Viewing Experience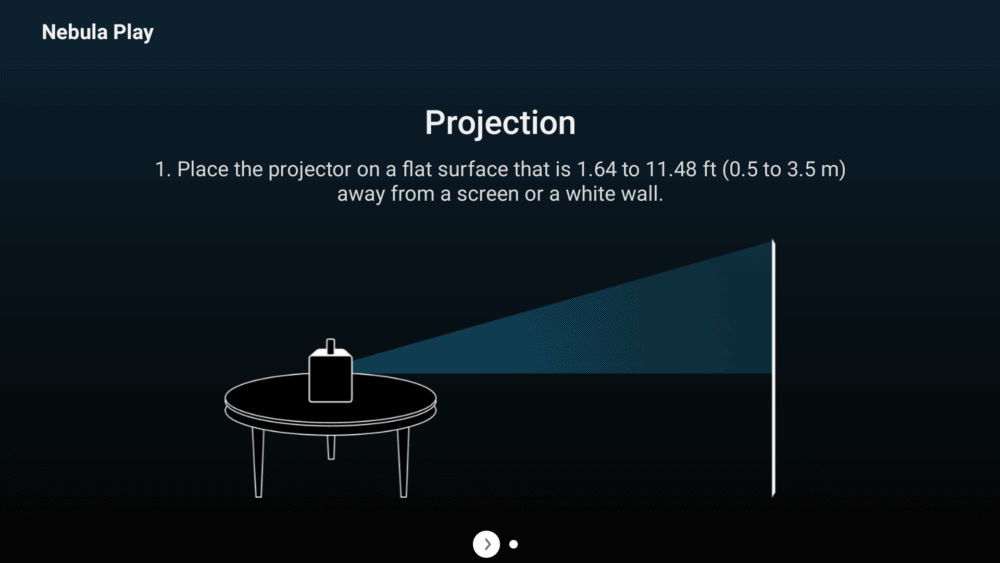 One of the bugbears with most portable projectors is the preparation. You need to find somewhere flat to put it, make sure it's an appropriate distance from a large, smooth, light-colored surface to project onto, mess around with keystone and focus settings, and then hope it's dark enough to actually see whatever you're trying to watch.
At least with fixed home projectors, you only have to go through this process once. With portable versions, you get to do it pretty much every time you want to use it.
Given all that, the Capsule 3 does its best to make things easier. Keystone and focus are automatic by default, and the projector senses when it's been moved and recalibrates accordingly. You can also hold down the dedicated button on the remote or the center button on the projector to refocus, with no need to mess around in the settings.
The auto-focus trigger could do with being a bit more sensitive–there were a number of times that I moved the projector by a foot or two and it stayed resolutely out of focus until I hit the button on the remote–but once it's triggered, it works pretty well.
As with any projector that uses digital keystoning, though, you're always going to end up with a better result if you can avoid using that feature. The less the projector has to process and adjust the image, the sharper it will be, so try to raise its height with a tripod or table and display onto a flat surface if you can.
To that end, you can enable and disable automatic and manual keystone correction in the settings. If you don't need it for wherever you're currently using the projector, turn it off.
I tested the Capsule 3 in different-sized rooms in my house, both at night and during the day. As you'd expect, the further from the wall I got, the larger, dimmer, and softer the image became. Likewise, the brighter the room, the less visible and more washed-out the image was.
The manual specifies a "throw distance" (i.e., the distance between the projector and the surface it's displaying onto) of no less than 1.6 feet and no more than 11.5 feet (0.5-3.5m). The best results, according to Anker, come between 3.5 and 10.5 feet, and that felt about right in my testing.
At the low end of that range, you'll get a roughly 40″ diagonal display. At the high end, it goes all the way to 120″, but how watchable that is will really depend on the amount of ambient light. In a very dark room, you should be able to watch the Capsule 3 at something approaching its maximum display size. In daylight? Not so much.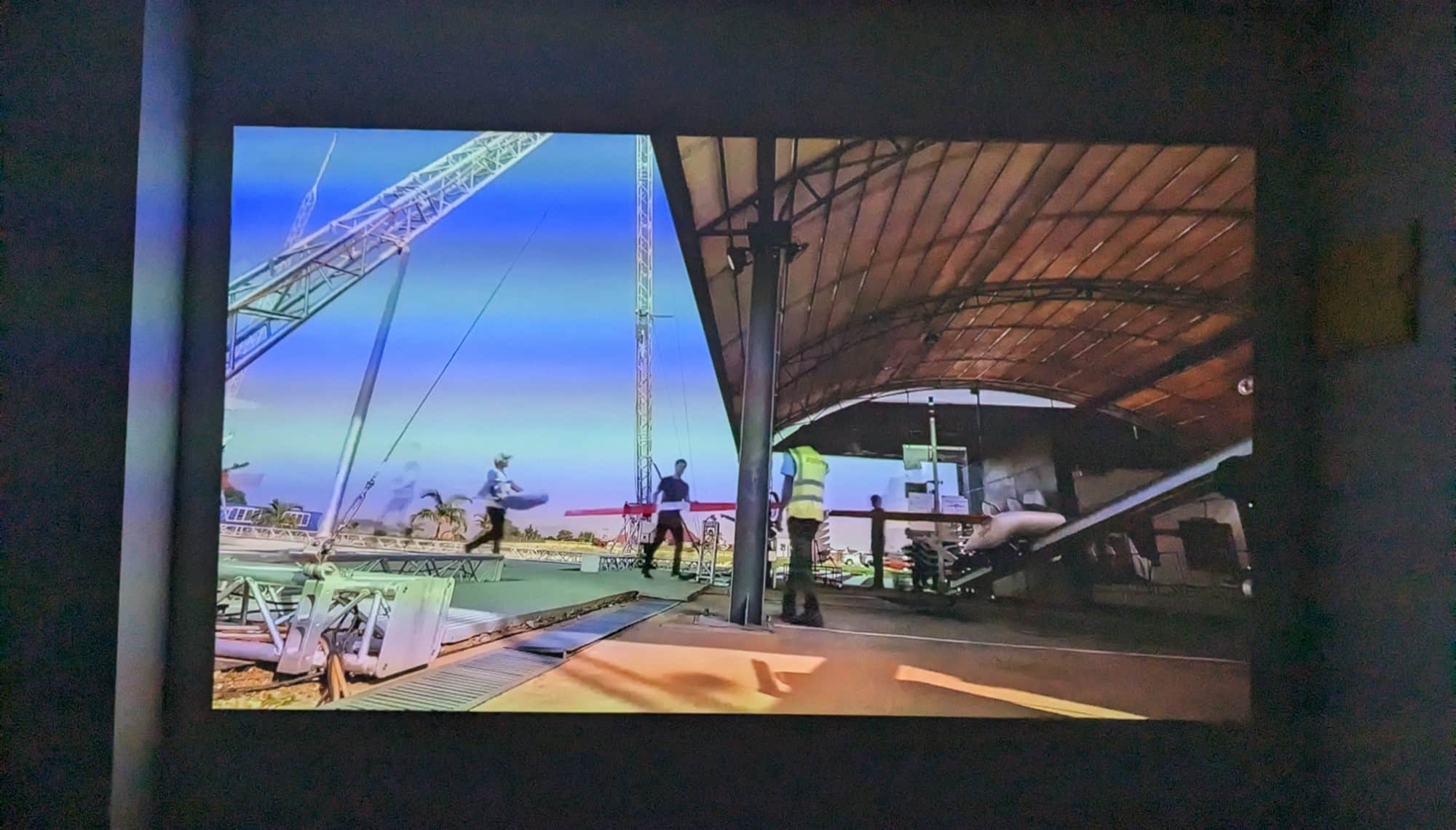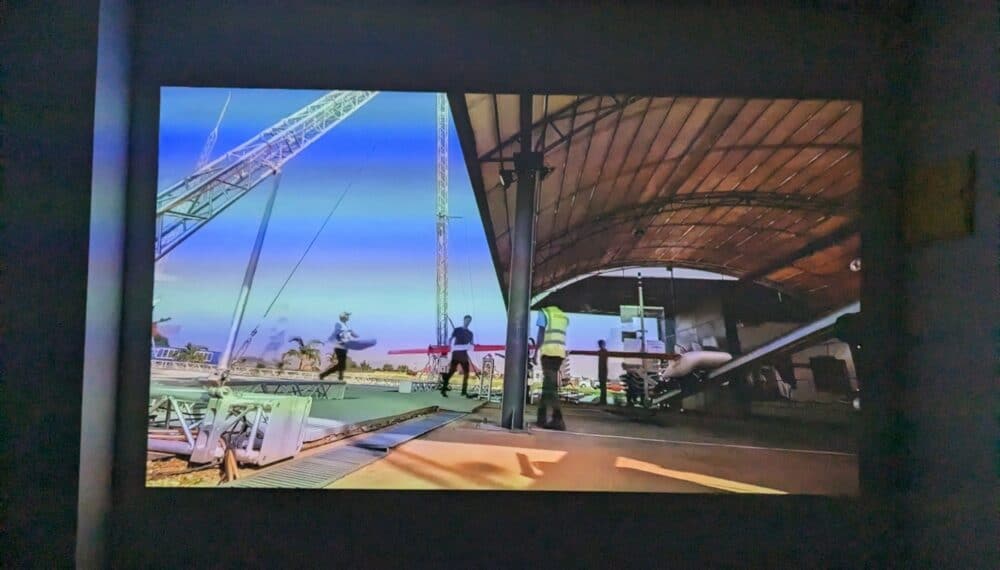 Even at a throw distance of 75 inches, with the projector running on batteries in auto mode (40% brightness), it wasn't really bright enough to overcome the ambient daylight.
Plugging it in or setting it to "standard" mode helped a lot, however: the brightness and color saturation both noticeably increased. I'd still choose to draw the curtains every time if I could, but it was at least watchable without that.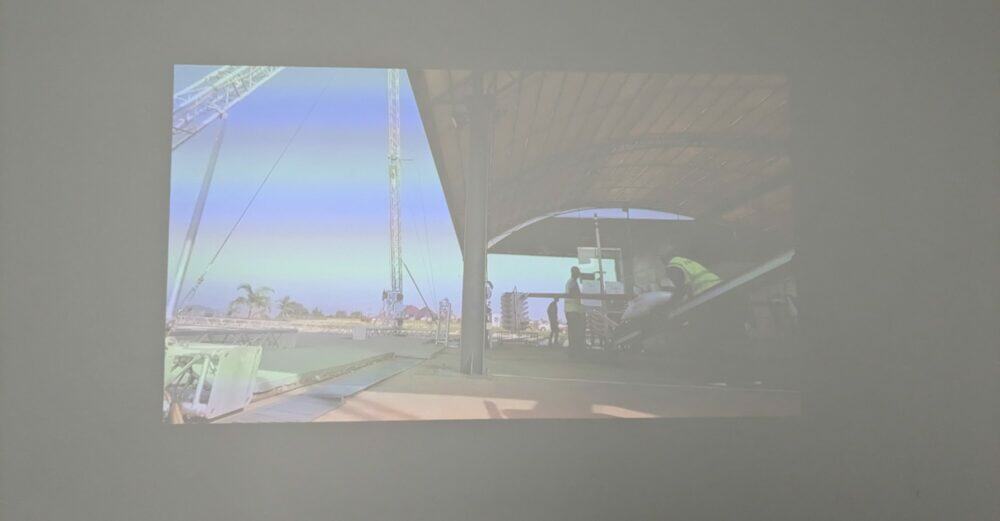 Suffice it to say, the ideal throw distance (and therefore, display size) for this projector really will depend entirely on where you're using it, how much ambient light there is, and whether you can plug it into a wall outlet at the time.
The only other thing I'd note about image quality is that you'll probably want to turn off motion smoothing in the settings, since it makes everything except fast-moving sports look worse. It's also worth cycling through the different predefined picture modes to see which one you like most (or dislike least).
I didn't love any of them, but fortunately Anker does include a custom option where you can tweak everything from saturation to sharpening. This made for more natural images, at least to my eyes. You may need to alter some of those settings when you move from one place to another, however, especially if you're projecting onto a different-color wall.
While you're better off avoiding using digital keystoning if you can, it's often a necessity with a portable projector like this. When you're using the device in different locations, each with their own challenges in terms of where you can put it and what you're projecting onto, you may not have a choice about it.
Given that reality, I was pretty happy with how well the autofocus and auto-keystoning worked. I'd often move the projector forward, back, and sideways by several feet during my testing: every time, after displaying a short test pattern, the skewed edges of the image would spring back to perfect 90-degree angles again.
Even so, depending on where and how you use the Capsule 3, you'll probably find a tripod to be a useful addition. Anker sells one, but most sturdy tripods with a standard 1/4″ screw mount and more than a foot of height adjustment will do the job. They'll let you change the height and angle as needed, especially when you only have limited space to project onto.
The speaker was more than loud enough to hear voices and music clearly at around half volume, at least in a quiet room. There's noticeable fan noise when the Capsule 3 is running, but it wasn't audible when I was watching a show.
The Apps and Android TV
If you've ever used Android TV on a smart television, you'll already be familiar with the interface of the Capsule 3. With a few minor tweaks, it's basically exactly the same.
It's running Android TV 11, which isn't the latest version, but is still getting regular updates at time of writing. There are many thousands of apps available to download and install on that platform: I picked a few of the most useful ones, from YouTube to Plex, VLC to Netflix (as above), and settled in for a watch party.
They all installed in under a minute, and worked exactly as you'd expect. Being able to use the remote, smartphone app, or buttons on top of the projector made navigation as easy as it will ever be on Android TV. There's not much more to stay about that.
Using the Capsule 3 Offline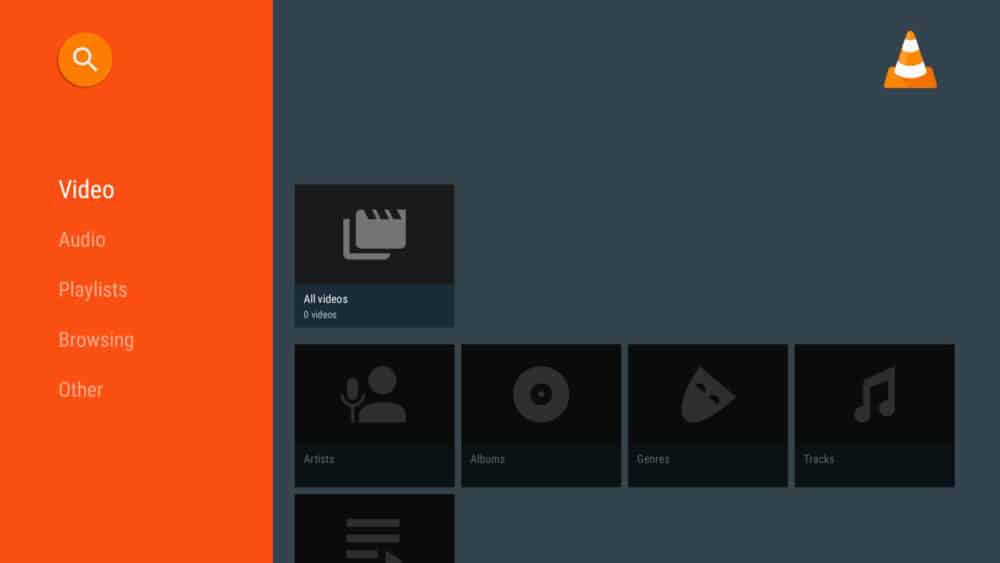 So the Capsule 3 works well when it's connected to the internet, but what about when it's not? From campsites to cabins, there are plenty of potential places to use this projector where Wi-Fi doesn't exist or is too slow to stream video.
Fortunately, you have options. The Netflix app, for example, lets you download shows for offline viewing. Not all shows are enabled for this, but many are.
The Capsule 3 only has 12GB of storage, though, some of which is used for apps and the operating system. There's enough space for a couple of movies or maybe a season of a TV show, but don't expect to download endless amounts of entertainment.
As an alternative, if you happen to have a collection of video or music files that you've (undoubtedly legally) obtained from somewhere, you can copy them to a USB C storage device, insert it into the projector, and play them using the VLC app. It worked perfectly in my testing.
The Spotify TV app for Android TV doesn't let you download music to listen offline, even if you've got a premium account. Given that you can't stop the Capsule 3 from projecting while using that app, though, you'd be better off downloading songs to Spotify on your phone or tablet and streaming them over Bluetooth anyway.
Gaming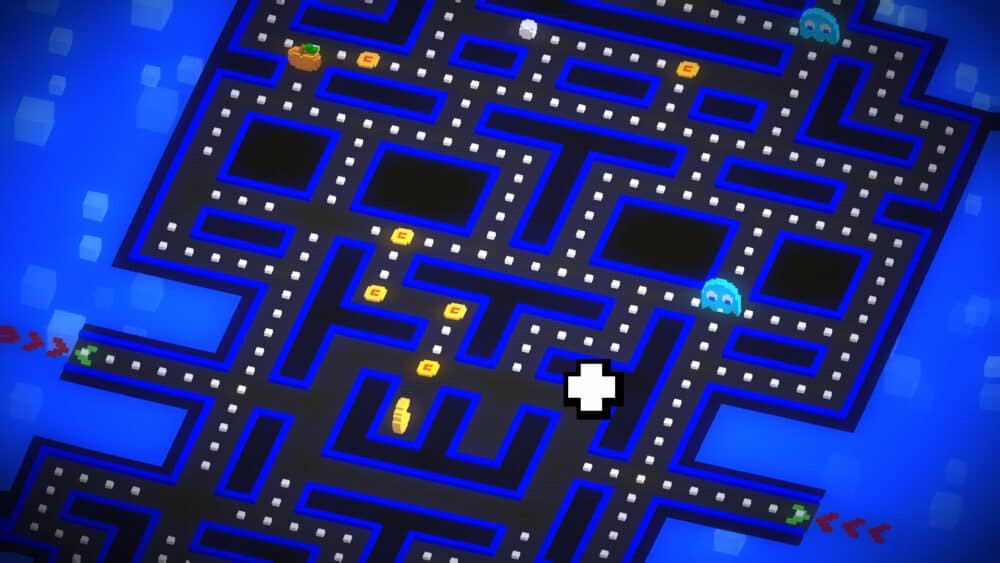 If you plan to game using the Capsule 3, you've basically got two options: project the screen from another device like a console, laptop, or mobile device, or play one of the many compatible games on the Play store.
If your device has an HDMI port, you can plug a cable directly between it and the projector. If not, you'll need to cast to the Chromecast instead. Whatever approach you use, it's probably better for leisurely games than fast-action ones due to the small-but-inevitable display lag.
If you have a compatible controller, you can play games directly on the Capsule 3 instead. You might be able to get away with using the remote for some basic games, but it's not enjoyable and I doubt I'd ever be quite desperate enough to bother.
There's a dedicated menu button to browse the games store, while searching and installing only takes a minute or two. Any compatible games that you've installed on an Android phone or tablet in the past will show up as potential options, letting you install them straight away.
Battery Life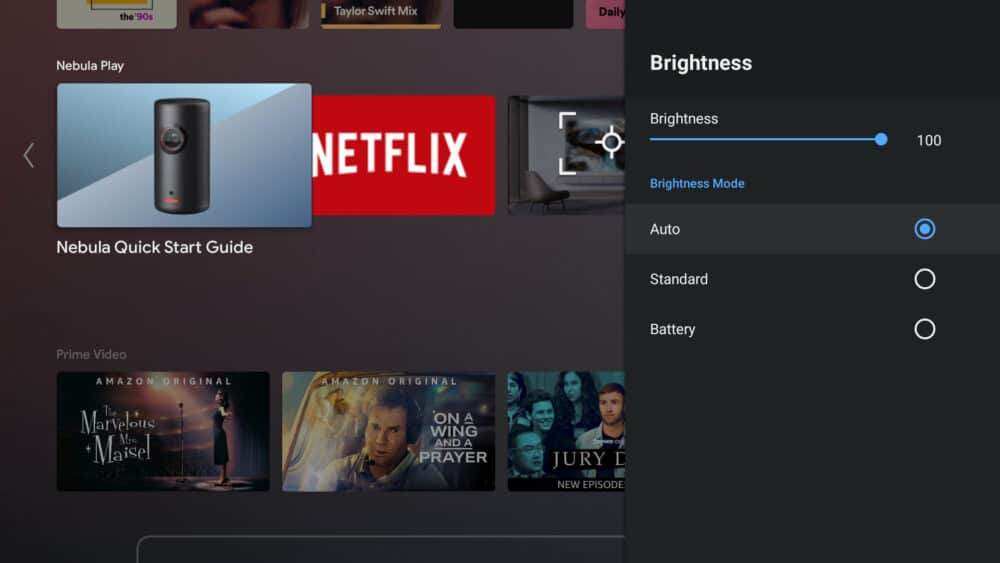 Despite the battery in the Capsule 3 having around 50% higher capacity than its predecessor, estimated runtime remains unchanged at 2.5 hours in "battery mode". That mode, which is the default whenever the charger isn't connected, sets the brightness to 40%.
As I mentioned earlier, that's enough for a dark room, but is too dim for daylight use. Cranking the brightness up to 100% lets you use the projector in brighter conditions, but battery life takes a hit: Anker rates it at just 90 minutes.
In my testing, the estimate for battery mode was a little optimistic, but not hugely so. Playing a ten-hour YouTube video, the projector shut down after two hours and sixteen minutes. That number will go up slightly if Wi-Fi is turned off and/or you're playing video from USB storage rather than streaming it wirelessly: you'll get pretty close to Anker's official times in that case.
Streaming the same video in standard mode (i.e., 100% brightness), the projector actually exceeded the official estimate… by a full 90 seconds.
Charging from empty using the factory charger took 2:20 hours, with the device turned off the entire time. The charging rate fluctuated dramatically: roughly 10W for the first hour, 25-30W for about an hour after that, then slowing down again as expected at the end. Why the variation? I'm not really sure.
The reason why Anker included a 45W charger in the box became clear the next day, when I charged the Capsule 3 from empty while it was turned on. My tester measured 35-40W most of the time: the projector clearly needs the extra power to run at full brightness while continuing to charge the battery.
It feels like a missed opportunity to not charge more quickly when the projector is turned off: I'd like to be able to watch a movie for a couple of hours in the backyard, throw the projector on the charger for an hour, and do the same thing again, but it's not to be.
The projector can double as a decent Bluetooth speaker, and you can apparently expect up to eight hours of music playback from a full charge. I didn't fully test that claim, but had no problems streaming a Spotify playlist for an afternoon in the sun one lazy Sunday.
If you're heading off-grid and planning to use the Capsule 3 regularly, you'll need to think about how to keep it powered. A portable battery will do the trick, but it needs plenty of capacity: even a high-end one like this will likely only give around three or four extra hours of viewing.
If you're car-camping, you can also charge the projector with a good USB C car charger. Whether you're using a car charger or a portable battery, going for a model that can output at least 45W power delivery (PD) will speed things up dramatically.
How Does It Compare to the Capsule 2?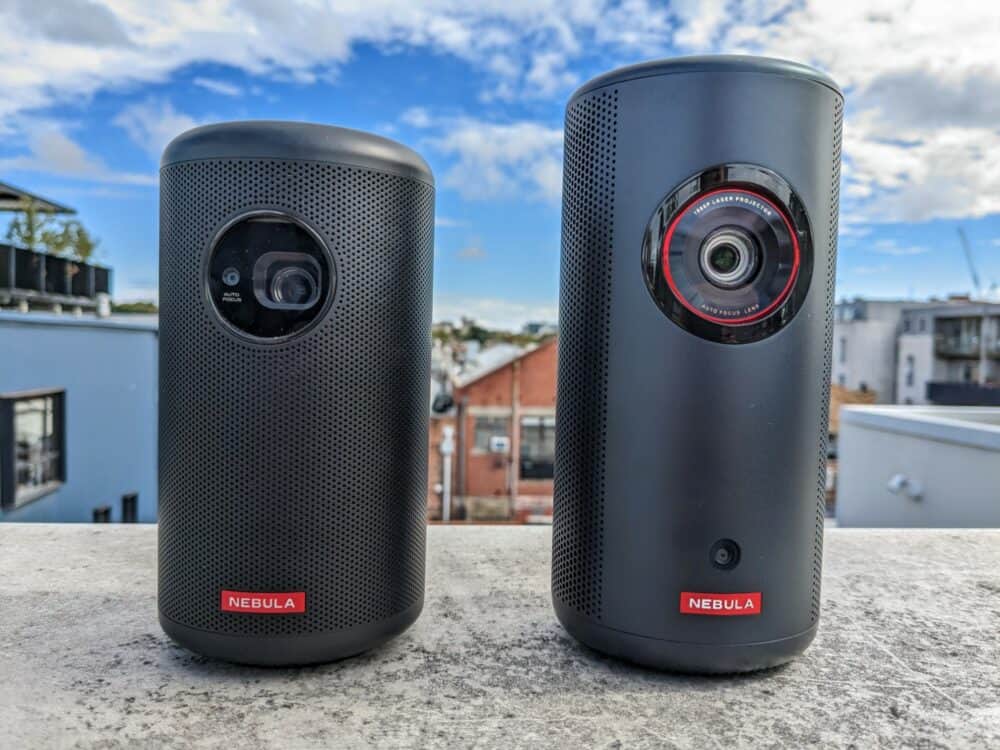 I reviewed this projector's predecessor, the Nebula Capsule 2, back in April 2020. At the time I said it was one of the best mini projectors you could buy, but three years is an eternity in the technology world. With much stiffer competition these days, the new version needed major upgrades just to stay in the running.
If you own the Nebula 2 and are considering an upgrade, these are the specs worth mentioning. I talked about some of them in earlier sections, but figured it was worth combining everything in one place for easier comparison!
Playing Time
2.5 hours (standard mode)
Connectivity
HDMI, aux, micro-USB, Bluetooth, Wi-Fi
HDMI, aux, USB C, Bluetooth, Wi-Fi
Playing Time
2.5 hours (standard mode)
Connectivity
HDMI, aux, micro-USB, Bluetooth, Wi-Fi
Connectivity
HDMI, aux, USB C, Bluetooth, Wi-Fi
In short, virtually all the numbers have got bigger. Sometimes that's good (resolution, brightness), sometimes it's not (size, weight, price), but it's the story either way. The only things that haven't changed are the speaker output and battery life: the latter is still 2.5 hours in standard mode.
The Capsule 2 launched at $579, a full hundred dollars less than the Capsule 3. Normally I'd have some strong opinions about that, but given that the cost of everything has gone up in the tech world over the last year or two, it's pretty much expected at this point.
If you already own the Capsule 2, the question of whether you should upgrade is a nuanced one. If you still use the old model regularly, but often find yourself wishing for sharper video and a larger and/or brighter display, I think there's enough value here to make it worth the cost.
If your Capsule 2 lives in a drawer most of its life, however, coming out only now and then for an impromptu camping trip or movie night in the backyard, I'm not so convinced. The new version is undoubtedly a better projector, but whether you'll get enough extra value out of it is more questionable.
Final Word
Anker has done an impressive job of cramming a powerful, useful projector into a device you can hold in one hand. It succeeds in its basic goal: giving you an easy, portable way of watching movies and shows on a large screen far beyond the confines of your living room. The games, music, and other features are just the icing on the cake.
That said, expectations are key here. Even the best mini-projectors (of which this is almost certainly one) won't have anywhere near the brightness of a larger, ceiling-mounted model, and no projector will be as bright or saturated as a decent TV.
Of course, you're not going to be hauling your 100″ flatscreen out into the backyard to watch the game with friends either, or taking it on vacation to project your favorite show onto the side of your tent or RV. The Capsule 3 Laser isn't a replacement for your TV or home projector, but it does a lot and can go places the others simply can't.
The elephant in the room, of course, is the cost. With a recommended retail price north of $600 at launch, this isn't an impulse buy for most people. If it's something you only end up dragging out once or twice a year, it's tough to recommend unless you pick it up on sale.
When you know you'll be using it consistently, on the other hand, the cost is easier to justify. If most of your summer evenings are spent outside with friends or pitched up at remote cabins and campsites, the Capsule 3 will improve the experience whether you're watching a movie or blasting out your favorite tunes.
If you fall into the second category, you'll struggle to find a device that meets your needs better than the Capsule 3 Laser right now. If you've got the money, add it to your shopping list. If not, it's time to start putting the birthday wishlist together.
Buy on Amazon
---
All photos and screenshots via author