At a time when we rely on our mobile devices for pretty much everything, it's no surprise that they're getting more in-car use than ever before.
Google Maps, Waze, and several other good navigation apps help get you where you're going. Spotify or Apple Music let you stream your favorite tunes. A tablet for the kids to watch their favorite games and movies can be the difference between an easy trip and high blood pressure.
With all of that, however, comes a problem: keeping everything charged. On a long trip, even the biggest phone batteries will drain hours before you arrive at your destination.
That's where car chargers come in. Available in a wide range of wired and wireless versions, many with a range of extra features beyond simply powering your mobile devices, there's a car charger out there for every need, budget, and trip.
One size doesn't fit all, however, and whether you're driving across the country or just across the city, it's worth thinking about the needs of both your devices and passengers before deciding what to spend your money on.
We've broken down our recommendations into three categories: USB chargers, wireless chargers, and multi-purpose models that can power a cooler or jump-start your vehicle as well. Whatever your requirements, these are some of the best car chargers you can buy right now.
USB Car Chargers
Whether you're on a budget or traveling with a large group, want the fastest possible charging speeds or want to make sure the kids can power up their iPads in the back seat, there's a very wide range of USB car chargers out there.
These are what most people think of when it comes to car chargers, but they're definitely not all the same. Certain types are better for certain uses, and some are just terrible no matter what you want to do with them.
We've tested dozens of models over the years, and most of them haven't been much to get excited about. Many were underpowered and unreliable, charging a phone slowly when they felt like it, and not at all the rest of the time.
A few of them have bucked the trend, though, and they're the ones that we use in our own vehicles and take with us when we rent cars overseas. From bitter experience, it's fair to say that relying on inbuilt USB charging in rental vehicles is a recipe for unhappiness.
These days, you won't pay much extra for a car charger that supports one or more fast-charging standards. Power Delivery (PD) is the most common of these standards, but QuickCharge (QC) is also widely supported on phones.
Unless you're only charging old devices that you know won't benefit from the extra power on offer, it's worth paying the difference. Using a phone for navigation, with both screen and GPS in constant use, uses a lot of power: in some cases, about as much as basic car chargers can put out.
The end result? You can finish a long car journey with barely any extra juice in your phone, even if you've been charging it the whole time. If you've got a particularly low-end charger, you might see your phone battery draining even though it's plugged in. It's happened to me in the past, and I didn't love it.
If you want to charge a laptop, rather than just your phone or tablet, you'll need to look for a higher-end model. Check your computer's power requirements: assuming it can charge via USB C, you'll want a charger that can put out at least 45W PD, if not more.
For those with older laptops that use a barrel-type connector for charging, you'll need an inverter to plug your usual charger into. Take a look at the Bestek model mentioned in the "multi-purpose" section below: it's inexpensive and reliable, designed for exactly this kind of task.
Bearing all of the above in mind, these are our current picks for the best USB car chargers across a diverse set of needs, devices, and budgets.
Sale
Sale
Sale
Best on a Budget: Anker PowerDrive 2
There are hundreds, if not thousands, of cheap USB car chargers out there that all do much the same thing for about the same price. In this range, we look for a few different things: at least two ports that can quickly charge phones and tablets, small size, low price, and a known brand with good support.
Anker's PowerDrive 2 ticks all of the boxes. This compact, inexpensive charger has a pair of USB-A ports that can both put out up to 12W of power (24W total.) Anker is regularly our top pick for electronic accessories of all kinds, and offers an 18-month warranty even on budget models like this.
This car charger is suitable for iPhones and iPads, most Android devices, and many other USB gadgets. It doesn't have Power Delivery or QC 3.0 support, so you won't get the fastest charging speeds on most devices, but it'll still charge most smartphones or tablet at a reasonable clip regardless.
If you're just after a simple, low-cost car charger from a reliable brand, this is the one to go for.
Pros
Compact
Inexpensive
Able to charge two devices at useful speeds
Cons
No support for Power Delivery or QC 3.0
---
Buy on Amazon
Best High-Power Car Charger: UGreen 130W Car Charger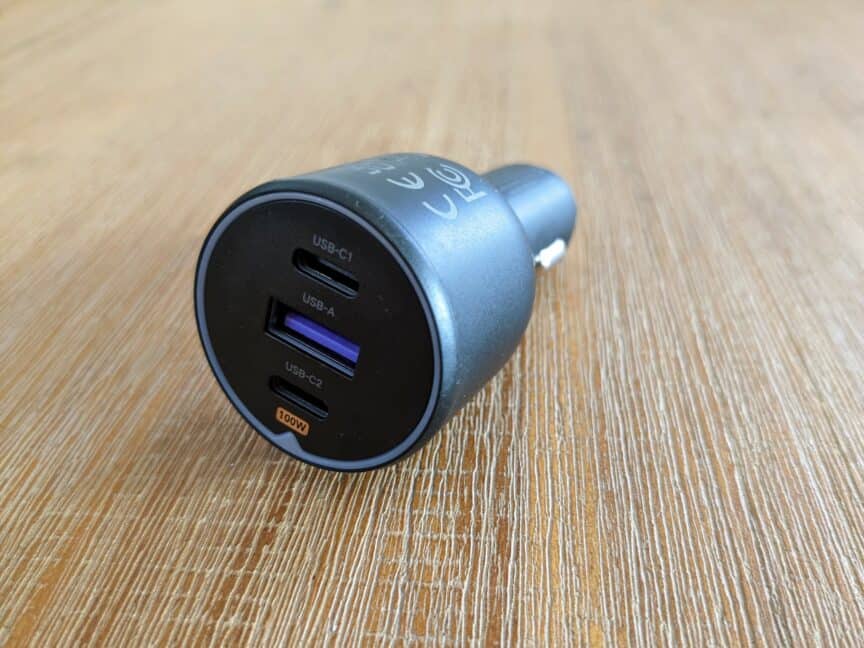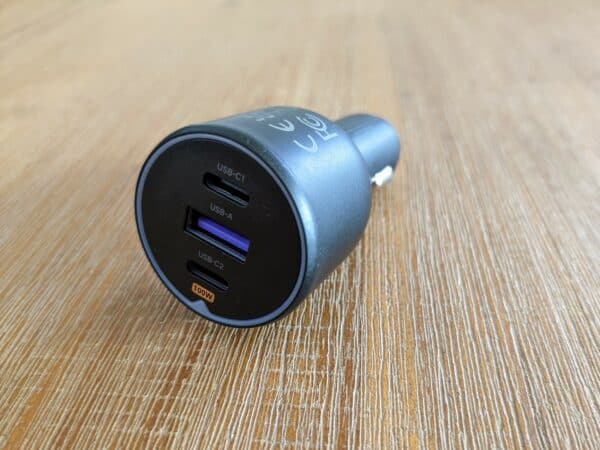 Whether you're using your phone for navigation or the kids are endlessly watching their favorite shows on the iPad, road trips can drain your devices' battery surprisingly fast.
If you don't want to wait several hours for them to get back to 100%, the power output of your car charger is important. There's a confusing mess of specifications out there, which means the best fast car charger for your needs depends on the devices you own.
Fortunately, a few models (like our pick, the UGreen 130W) combine different standards to give you a better chance of charging whatever device you're using at high speed.
The charger has two USB C PD ports, one of which can output at a very-impressive 100W, while the other manages up to 30W. There's also a USB-A port that'll put out up to 18W if your device supports QC 3.0, and 22.5W if it's a Samsung phone or tablet.
What does all that mean in practice? It's powerful enough to charge any USB-powered device you'll have in the car with you, including laptops. You'll still get full charging speeds even with two devices plugged in at once, which is fairly unusual: the combined output of the two USB C ports is 130W.
This is the charger that lives in my car most of the time, and gets dropped into my day bag whenever I'm off on a trip that's going to involve driving a rental (or someone else's car). It's been super-reliable, and being able to charge my laptop while driving from place to place has genuinely changed where and how I work.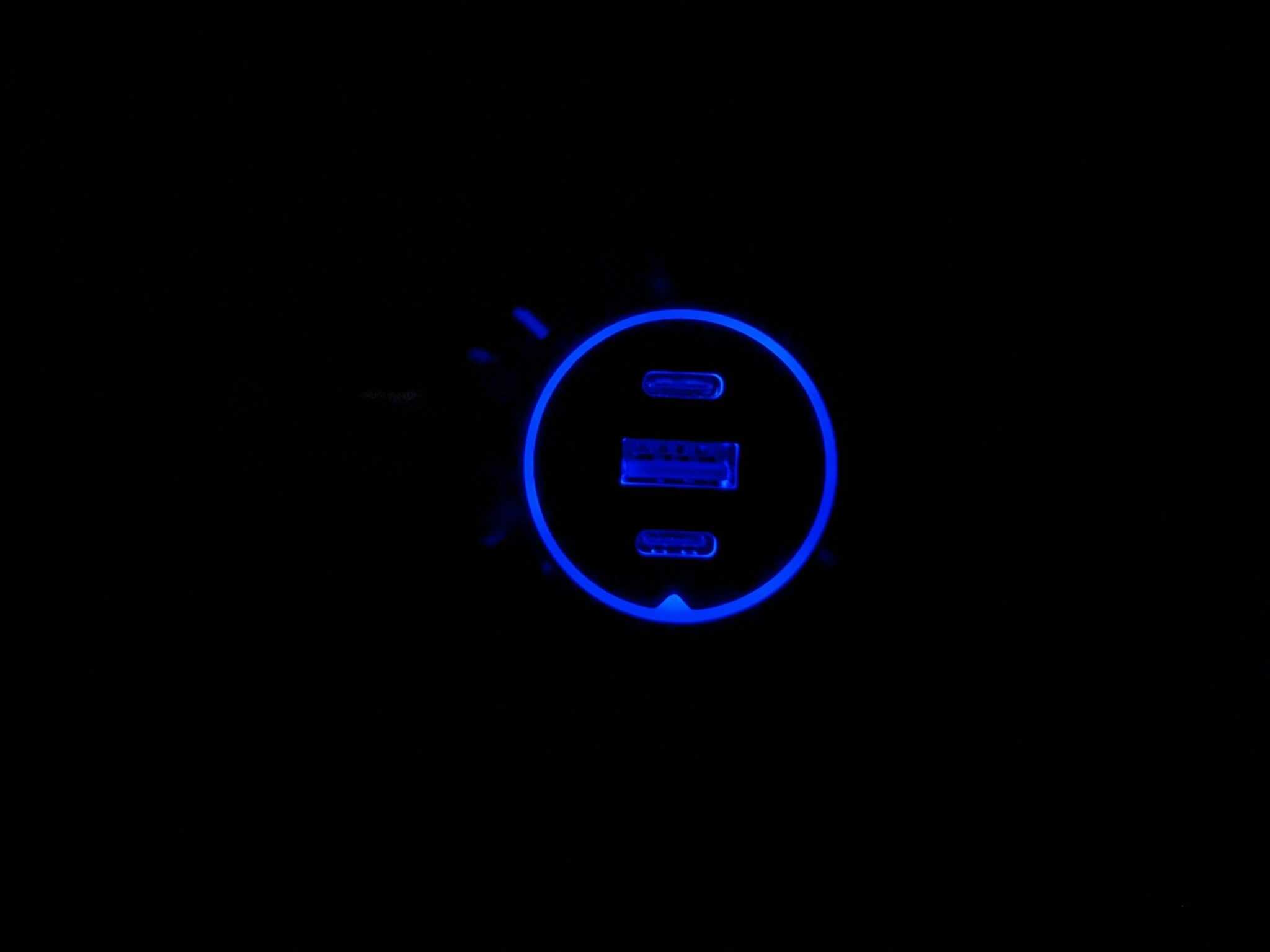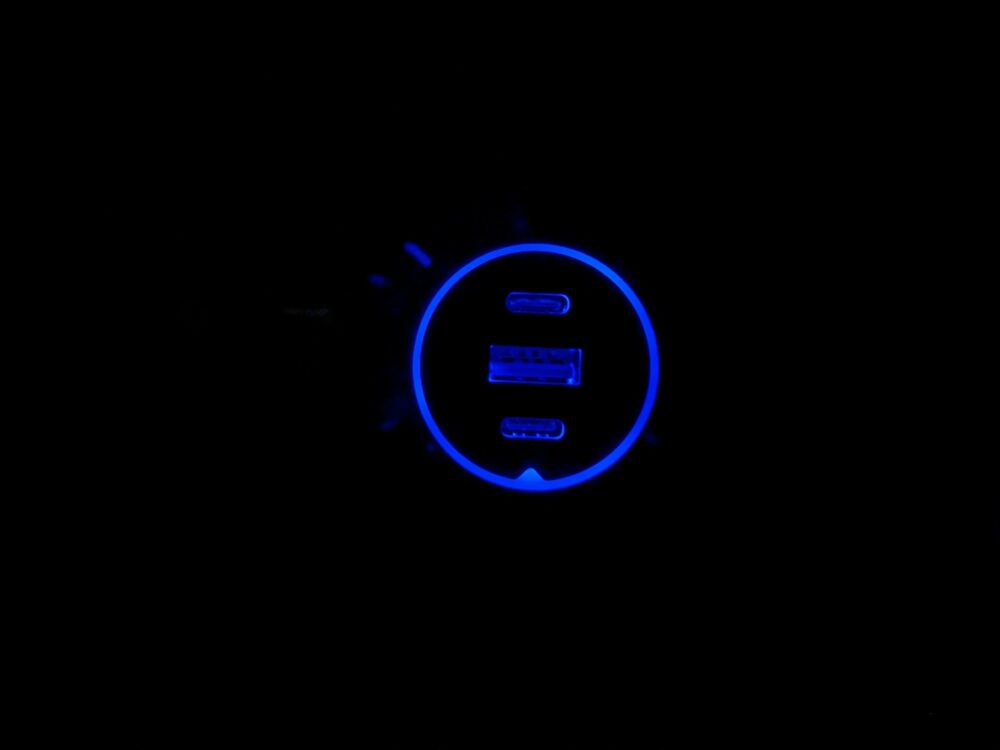 It also doesn't have the blindingly-annoying LED on the front that's so beloved of most car charger makers, opting instead for a relatively dim and subtle blue ring that lets you know where it is without removing your night vision for the next ten minutes when you glance at it.
The charger is a bit more expensive than most of the others, but it's a lot more useful as well. To sweeten the deal (not that it needs it), Ugreen even includes a USB C cable in the box that's rated to 100W.
Honestly, I really don't have anything bad to say about this car charger. If you want to fast-charge your phone, tablet, or laptop while you're driving, just buy it.
Pros
100W charging is enough to power your laptop
USB C PD support
Can fast-charge two devices at once
Comes with a 100W USB C cable
---
Buy on Amazon
Best Value Car Charger: UGreen 30W USB C PD Car Charger
While it's easy enough to charge a USB C phone from any old USB port as long as you've got the right cable, there are definite advantages to having a proper USB C car charger like this UGreen 30W model.
The 30W maximum output of the USB C port is more than you'll get from most other car chargers, and means you can recharge smartphones, tablets, and even some laptops at full speed. There's a USB-A port that can also put out up to 30W, ideal for powering older devices.
If you have two things plugged in at once, you'll get a maximum of 24W from each port. That's still enough to charge most mobile devices at full speed, at least if they're not a laptop.
I took the time to confirm this charger's output with an electrical tester recently, and sure enough, I got close to 30W when charging my laptop from the USB C port. Even my phone was able to draw nearly 20W at times, enough for it to show the coveted "charging rapidly" message on the screen.
Ugreen includes a high-quality braided USB C to USB C cable in the box, an unusual but welcome move. It's a sensible length, long enough to get from the charger to a vent or windscreen mount on most vehicles, without having too much excess length flapping around.
The inclusion of that cable makes the pricing very reasonable, and for that reason, this is our top value car charger pick right now. Note that if you're looking to connect your iPhone to this charger, it's easy to do: just pick up a high-quality USB C to Lightning cable if you don't already have a spare one lying around.
Pros
Supports USB C Power Delivery
Both ports can put out up to 30W of power
Fast charging for phones, tablets, and even some laptops
Cons
Maximum output drops a little when both ports are in use
---
Buy on Amazon
Best for Big Groups: Aikenuo 6 Port Car Adapter
It's easy to find car chargers with one or two USB ports. With a bit more effort, it's not hard to find them with three or four ports either. When you're traveling with a whole bunch of gadgets, however, even four ports won't be enough to keep everything charging at the same time.
That's where this Aikenuo charger comes in, with its 96W output and six separate USB-A sockets. Four of those sockets are QC 3.0-compatible, so if your devices use that standard, you can fast-charge them all at up to 19.5W each.
The other two sockets put out up to 2.4 amps (12W) each, which is still enough to quickly charge many phones. Note that there are no USB C sockets on this charger: you can still charge most USB C devices with the right cable, but without Power Delivery support, it likely won't be at the fastest possible speeds.
The 40″ cable is long enough to extend the charger into the back seat, making it easier for several people to use it at once. Simple and reasonably-priced for what it offers, it's worth picking up one of these before going to pick up a carful of passengers.
Pros
Can fast charge several devices at once
Long cable extends to the back seat of most vehicles
QC 3.0 support
Cons
No Power Delivery support
---
Buy on Amazon
Best for Backseat Drivers: Joyroom 5-in-1 USB C Car Charger
While some new vehicles are starting to come with USB sockets in the back, they're still relatively rare. If yours doesn't have them, or you want to guarantee you can keep the backseat drivers quiet in your rental car, take a look at the Joyroom 5-in-1.
There's a USB C socket and a pair of USB-A sockets for use by the driver and passenger, and a small box with a single USB C and USB-A socket for the back. A five-foot cable runs between them, long enough for most cars, and the box can clip onto a seat pocket to keep it secure and out of the way.
There's an impressive 72W of charging power available with this unit: 45W in the front, 27W in the back. That's enough to fast-charge several mobile devices at once, as long as they support either USB C Power Delivery (PD) or QC 3.0. Most phones and tablets support one or the other.
You may even be able to slowly charge your laptop: the max 27W output from either of the USB C ports is enough to (eventually) charge some smaller laptops, at least if they're turned off at the time. We'd have liked to see the full 45W available from the front USB C port, but alas, not to be.
All in all, it's a versatile car charger that has a range of uses for everyone in the vehicle, at a sensible price. We can't ask much more than that.
Pros
Power for people in both front and back seats
USB C and QC 3.0 support
Can fast-charge multiple phones and tablets at once
Cons
Cable may be a little short for very large vehicles
Not enough power to charge most laptops
---
Buy on Amazon
Multi-Purpose Car Chargers
Who said a car charger was only any good for topping up your phone or tablet?
These two chargers can do that and more, letting you jump-start a flat vehicle or power anything from a laptop to an air compressor.
Sale
Best for Flat Batteries of All Kinds: NOCO Boost Plus GB40 Jump Starter
Having a flat battery on your phone can be a big problem, but a flat battery in your car is an even bigger one. Even though it's a different kind of "car charger" to others on this list, the NOCO Boost Plus GB40 jump starter deserves a mention simply because it deals with both problems.
The GB40 is rated to start anything with an engine up to six liters (gasoline) or three liters (diesel), which covers pretty much all cars and pickup trucks, and it can turn them over up to 20 times on a single charge.
The device hooks onto the vehicle battery via a pair of detachable alligator clips, and you then simply press the power button and turn the key or press the ignition switch in your vehicle. All going well, you're up and running in a few seconds.
Doubling as a power bank, there's a USB-A socket that puts out a bit over 10 watts. The total capacity is 4800mAh: that's not a lot for a portable battery, but is still enough to fully charge most phones, even if it won't do it particularly quickly.
The inbuilt 100 lumen flashlight has a range of different lighting modes, including emergency and standard beams. It's not super-bright, but it's enough to signal for help or see under the hood so you can put the alligator clips in the right place.
All in all, it's a good basic device that can help avoid nasty situations, whether it's a flat phone or a car that won't start. If you're in the market for something slightly different, though, we've also put together several other recommendations for the best portable jump starters as well.
Pros
Can jump start almost any car or pickup
Can charge your phone
Flashlight
Compact enough to keep in the glovebox
Cons
Capacity could be higher
Flashlight isn't particularly bright
---
Buy on Amazon
Best for Charging Everything: BESTEK Car Inverter with Dual 110v and USB
[Product unavailable]
Being able to charge your phone and tablet is great, but what about all your other gear? If you're looking for a car charger for your laptop or most other 110v equipment that usually needs a wall outlet, you'll need an inverter to do it with.
This [Product unavailable] does the job cheaply and well, sporting a pair of earthed 110v North American sockets that can handle anything up to 300W of continuous power, and 700W peak. This makes it the best car outlet adapter for most smaller appliances, including laptops.
There's also a pair of USB-A sockets on the inverter for charging smaller gadgets, each one rated up to 12W, and a single 18W USB C PD socket on the plug end. If your device needs more power than that to fast-charge, you can just plug its wall charger into one of the 110v outlets instead.
Relatively light and compact for what it offers, it's a useful addition for anyone whose road trip power needs extend well beyond their smartphone.
Pros
Lets you run many types of small mains-powered devices in your car
Can also power three USB devices at once
Inexpensive
Cons
Not enough power to run larger appliances
---
[Product unavailable]
Wireless Car Chargers
Even though they can't charge as fast as a good wired version, wireless car chargers are still very popular. A hands-free mount that also charges your phone is much more convenient than having to mess around with cables every time you get in or out of the vehicle.
Not all smartphones support the latest (or any) wireless charging standards, however, and some will struggle to keep up with power-hungry demands like navigation and music streaming.
Check the specifications of both phone and charger before purchase, since anything under 7.5 watts of power could be a problem. All of the chargers below put out at least 10W.
Sale
Sale
Best for Vent Mounting: JoyRoom Wireless Dual-Coil Air Vent Mount
As the name suggests, the JoyRoom dual-coil vent mount has two wireless charging points instead of the single coil found on most other models, making it compatible with a wider range of phone sizes and models.
With any wireless charger, aligning the coils on both phone and charger is important. If they're too far apart, you'll get slower or unreliable charging, or none at all. As well as the dual coils, there's also an adjustable foot on the bottom of the charger that you can slide it down to accommodate larger phones.
This Qi-compatible model lets you charge at up to 15W of power if your phone can handle it, although like most cheaper models, you'll need to provide your own USB charger that can output at least that amount. The Ugreen model mentioned above is a good example.
The mount attaches firmly to the vent via the use of an innovative hook design, where you turn a knob to lock the rear section of the charger in place inside the vent. The front section then attaches via a swivel nut that can be rotated through 360 degrees.
A handy LED light outlines the charger when you first unlock or turn on the car, letting you easily locate it in the dark. The light shuts off again after a few seconds, a feature that I wish more manufacturers would include!
As with many similar mounts, the sides automatically clamp together when you sit your phone on the charger, and unlock with a single button push even if you've turned the car off by then.
The main limitation of the JoyRoom is only being able to mount it on your vehicle's air vents. Most standard horizontal or vertical vent designs will work fine, but retracted or curved designs may not. If you'd prefer a wireless dashboard or windscreen mount instead, check out the iOttie version below.
Pros
Attaches firmly and locks in place
Auto-clamping
Dual coils
Can be rotated through 360 degrees
Up to 15W wireless charging
---
Buy on Amazon
Best for Windscreen or Dashboard Mounting: iOttie Auto Sense Wireless Car Charger
If the vent design or position in your vehicle makes it difficult to mount a wireless charger on them, put it on the windscreen or dashboard instead. This iOttie model attaches easily to a wide range of flat or slightly curved surfaces, thanks to the combination of a dashboard pad and sticky suction cup.
If you're attaching the mount to your windscreen, it's easy to attach and detach as needed, with a quick wash of the suction cup restoring the sticky surface if it gets dirty The dashboard pad is a one-time thing, however: once attached, it isn't designed to be moved around.
The company also makes a vent-mounted version, along with one that sits in your cup holder, if the windscreen/dashboard model doesn't work for you.
This Qi wireless car charger can output up to 10W of power to Android devices, and 7.5W to iPhones. It comes with an appropriate USB charger to plug into the vehicle accessory port, and a micro-USB cable to connect the two. You can also use the USB charger by itself, if you need to power a device that doesn't support wireless charging.
As the name suggests, the iOttie Auto Sense detects when you hold your phone close to it, and automatically clamps onto the sides to hold it steady and start charging. When you get to your destination, you can retrieve your phone with a quick tap of one of the release buttons on the side.
The charger's "foot" helps keep the phone steady, and can be adjusted into one of three positions to suit the size of your device. A telescopic arm pivots through 225 degrees and extends roughly 3.5 inches, so you shouldn't have any trouble keeping your phone easily viewable no matter what kind of vehicle you drive.
This is a premium wireless car charger that's made to last, and the price reflects that to some extent. If you're happy to pay a bit more for quality, though, this is the one to get.
Pros
Firm, stable holding
Up to 10W wireless charging
Closes automatically
Comes with USB car charger
Cons
Premium model comes at a premium price
Dashboard pad can't be moved after installation
---
Buy on Amazon
Best for Fast Charging: ZeeHoo 15W Wireless Car Charger
The Qi wireless standard supports up to 15W of power output, but most smartphones don't try to hit that limit. Qi wireless charging on the latest iPhones maxes out at 7.5W, while earlier models and many other types of phone are limited to 5W or less.
Still, if you have one of the few phones that supports 15W Qi charging, you'll want a wireless charger that can provide that much power. This ZeeHoo model does exactly that, and can be mounted on the air vent or dash as you desire.
The stand is highly adjustable, letting you change the length via the telescoping pole or move the bottom section of the mounting tray to accommodate phones of all sizes. The tray also fully rotates, letting you switch quickly between portrait and landscape mode.
The charger will auto-detect how much power the phone can handle, and charge it at the maximum available speed. Like the iOttie above, the clamp automatically closes when a phone is placed inside it, and releases at the tap of a button on the side.
Zeehoo recently upgraded this model to have two charging coils instead of one, which makes it compatible with a wider range of devices. The position of those coils is adjustable as well, so you can simply slide them up or down if your phone is having trouble charging at full speed.
Also new to this model is a useful three-point clip that hooks into your air vents and makes it very difficult for the charger to accidentally fall out. If you have a heavy phone and/or regularly drive on bumpy roads, you'll appreciate the addition!
It doesn't ship with a cigarette lighter to USB adapter, so if you don't already have one that can output at 15W+, you'll need to pick up something like this as well.
Pros
Up to 15W wireless charging
Automatic closing
Can be mounted on the air vent, windscreen, or dash
Adjustable charging coils
Locking clip for bumpy roads and/or heavy phones
Cons
No USB car charger included
---
Buy on Amazon
---
Title image via Skitterphoto, other images via Amazon