Are you someone who likes to cook when you're away from home? Do you wish you could save money by making some of your meals at your accommodation when you're traveling, but cringe at the beaten-up, stained cutting boards in your Airbnb kitchen?
Cooking while traveling can be a challenge, especially when you're used to the supplies and tools you have at home. While booking an Airbnb with a stocked kitchen helps, missing a vital tool or ingredient makes it difficult or near-impossible to prepare certain meals.
There are workarounds, of course, and with enough perseverance, you can make do with what you have available. At this point in my own life, though, I work from the road about six months of the year, and no longer budget like a backpacker. There are certain comforts I want without compromise, and cooking what I want when I want is one of them.
My personal packing has evolved in many ways over the past 7+ years of intermittent travel. I started off by dragging around way too many things I didn't need or use, but over the years, my partner and I pared that down to one shared checked bag and two personal items between us.
I detailed how we pack and the most useful tools we use to make packing more efficient in a previous article.
More recently, though, we've started staying longer in places, and made the decision to go back to one checked bag each. This gives us the space (and weight allowance) to be a little more flexible with what we travel with. For me this means being able to take a few kitchen comforts that help make any Airbnb or hotel room feel like home.
In this article, I've discussed several cooking gadgets that I use to cook my own meals while traveling, and will help you do the same. Note that they're almost exclusively for people who check baggage; anyone traveling carry-on only won't be able to take many of these items, either due to airline restrictions or general weight and capacity restraints.
A Sharp Knife
Let's start with the bare basics. It's very likely that your Airbnb kitchen has at least one cutting knife, but I very much doubt it's sharp. It feels like I've yet to book a single Airbnb that comes with an adequate kitchen knife, and while that may be a slight exaggeration, it's genuinely not far off.
Sometimes the knives at our accommodation have been so dull that we've gone out and bought our own to use for a couple of weeks, then leave behind for the next guests. Tomatoes are one of my favorite foods, and cutting one with a blunt knife turns it into nothing more than a mushed-up mess.
Additionally, cutting harder vegetables like onions or bell peppers with a dull knife can be quite dangerous. They've got the potential to slip out from under the blade as you start to cut them, slicing into your hand or fingers instead.
A simple, sharp, medium-sized knife doesn't take up much space and saves a lot of headaches (and Band-Aids). I personally prefer a ceramic version, but any decent knife with a safety cover will do the job.
Even if you don't plan on doing a ton of your own cooking, a sharp knife comes in handy for snacks and simple lunches, like slicing fresh bread, cutting a sandwich in half, or chopping up veggies, fruit, or cheese.
Flexible Cutting Boards
My next tool is fairly straightforward as well. One of the first things I look for in an Airbnb kitchen is a cutting board. I first want to see if there even is one, and then try to determine whether or not I can bear to use the invariably stained, scratched-up board.
Sometimes they only need an extra wash, but other times I can't bring myself to cut my own fresh food on something that could have had any amount of raw meat or fish chopped on it. I'm not picky about many things, but this is one of them.
I just have no way of knowing what was previously on that board, and since they can soak up bacteria from previous produce like raw chicken, having my own chopping surface eases my mind.
If you're tight on space, even a mini cutting board or something you can get from a dollar store will do the trick. I recently purchased these flexible cutting mats, as they're super lightweight and the colors let you separate raw meat and fresh ingredients.
They're not as good as a nice, heavy-duty wood or plastic board, but it's the best option I've found so far for travel.
Mini Blender
Depending on your needs, a blender may seem either absolutely vital or an extravagant luxury. I go in and out of smoothie phases, and especially when we're traveling to places with beautiful fresh fruit, being able to make a delicious smoothie makes me very happy.
I recently purchased the BlendJet 2 Portable Blender because it packs a good punch for its portable size. There are a few similar models out there, but the BlendJet was the best I found for a reasonable price at the time.
At nine inches tall and a touch over 1.3 pounds, it's nice and compact, and runs from an internal rechargeable battery that makes it completely portable. You can throw in your ingredients, go to the gym, and blend up your shakes when you're ready. It also works as a fun party trick for mixed drinks.
For those who do a lot of cooking, you can also use it to blend sauces or dressing, or pulse blend to chop ingredients or make salsa.
It has a water-resistant USB C port for charging, and the battery lasts about 15 blends. I've found I need to blend multiple times to get the consistency I want, though, so I tend to charge after every few uses.
For its size, weight, and price, it's pretty powerful, but it can't do everything. I have to be careful not to fill it too much because frozen fruit can get jammed, and for some reason, it just won't blend dates in smoothies even when they're cut up.
Coffee Maker or Portable Espresso Machine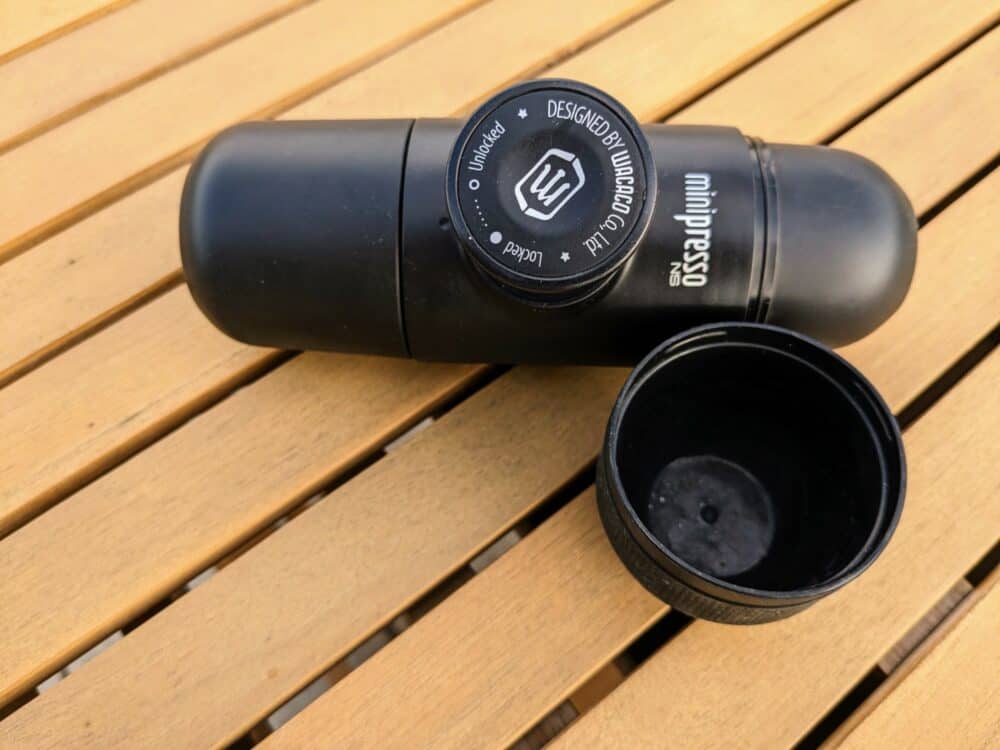 For the caffeine junkies out there, a simple, small coffee maker lets you make a fresh brew pretty much anywhere you can find two simple ingredients: coffee and hot water.
Airbnbs don't always have coffee machines, and even when they do, they're often cheaply-made, dirty, or hard to operate. Choose a lightweight filter instead, or one that's collapsable if space is an issue for you. Amazon has many brands available, or you can also find them in camping stores.
Alternatively, the Wacaco Minipresso NS is a Nespresso machine that fits in your jacket pocket—Dave, the founder of this site, swears by it. He started out using it for camping trips, but found it's so convenient and compact that it's now become a travel essential when staying in hotel rooms and Airbnbs as well.
His model is the NS (Nespresso-compatible) version so he doesn't have to deal with transporting and disposing of ground coffee when hiking. That's less of an issue for other forms of travel, where you could also consider the ground coffee version of the Minipresso, as well as the smaller Nanopresso or espresso-focused Picopresso models as well.
Mini Coffee/Spice Grinder
If you're someone who's really serious about drinking great coffee when you travel, combine a good hand grinder with your Picopresso for a perfectly brewed—and fresh!—cup of espresso anywhere you go.
If you don't need to grind espresso-fine, there are cheaper hand grinders available, as well as small-ish electric grinders if you're only planning to use it near a power outlet.
If you're not into coffee (or even if you are), these can also double as a spice grinder for breaking down fresh herbs or peppercorns, or for creating your own spice rubs that are ideal for curries, stews, and marinades.
Mini or Collapsible Spatula
We cook a lot of eggs when we travel, partially because they're inexpensive and partially because they're usually pretty easy to find.
While the eggs themselves aren't hard to come by, implements to use with them sometimes can be. Airbnbs often don't have what I need, and when they do, the years-old plastic utensils can be pretty grimy.
Something simple from the dollar store will do the job and not take up a lot of room, but if you're really short on space, mini camping versions or a collapsible model from outdoor supply brands are even smaller.
Collapsible Strainer
I make a lot of pasta. Sure, I can use the lid of the pot if there's no strainer available, but I prefer not to. Especially when I'm cooking in places where non-boiled water shouldn't be consumed, I like to have a strainer to dump all the pasta in.
When I'm making pasta salad, since I can't rinse the noodles with cold water, I put the strainer full of pasta in the freezer for a few minutes to cool it down.
A collapsible strainer doesn't take up a lot of space, but even I'll admit it's not absolutely vital for most people. That said, if you cook a lot of pasta, or are looking for something to rinse herbs and wash vegetables in, it's worth considering for your next trip.
Bottle Opener
Simple yet absolutely essential when you need one, a corkscrew and bottle opener is something I've traveled with for many years. Yes, it's pretty common for Airbnbs or hotels to have one, but it's by no means a guarantee.
As far as I'm concerned, it's worth carrying the small gadget around for the one time I need it every year or two. It's very small, and I won't risk having to sit and stare forlornly at a corked wine bottle I can't get into on a balmy summer evening.
Stackable Spices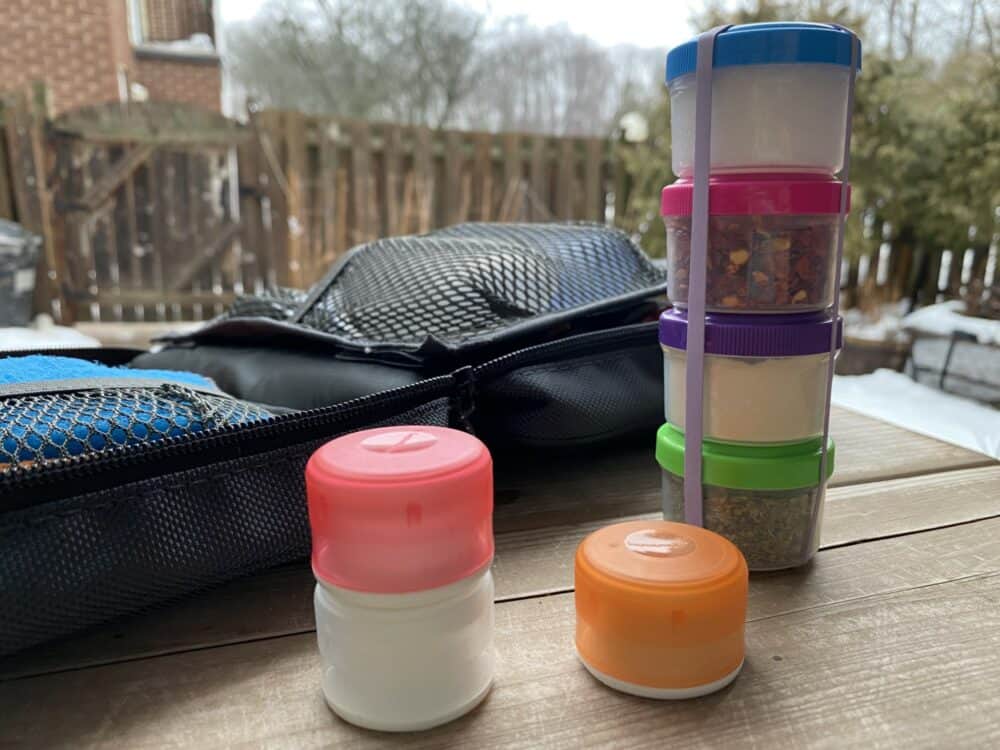 I carry these Humangear mini GoTubb containers filled with salt and chili flakes inside my regular purse everywhere I go, even when I'm not traveling. They help enhance boring food wherever I am, but especially on the road, it's nice to have spices to improve airplane food or if the Airbnb doesn't have anything when I arrive.
I still love these mini containers when I'm on the go, but also need some that are a bit larger for the spices I use on a regular basis. I purchased these stackable condiment containers that are perfect for salt, chili flakes, garlic powder, and oregano. I have smaller containers of black pepper and cayenne, because I don't use them up as fast.
You can pre-pack any of your favorite spices or spice blends, or use the containers to take home a little bit of whichever spices you discover while traveling. I stack mine with a couple of elastic bands for easy packing.
Leak-Proof Oil and Vinegar
I'm a bit of a fan of Humangear's travel accessories, and use their GoToob+ refillable bottles for a variety of purposes. Shampoo and conditioner are the most common, but they can be used for any travel liquid, including soap, lotions, sunscreen, and kitchen supplies.
Refillable travel containers come in all shapes and sizes, and you can get them pretty cheap, but I've found this brand better than the others at keeping my liquids safe. That's why I recently purchased two more of their 100ml bottles, this time for oil and vinegar.
We travel long enough that we're often buying our own essentials for Airbnb stays, but glass bottles of oil and vinegar are heavy and annoying to transport from one place to the next. We usually leave them behind and buy new ones at the next place, but this gets costly when you're only staying somewhere for a few days at a time.
These refillable bottles don't replace buying oil and vinegar for longer stays, but they're a lifesaver when we arrive somewhere new and discover the kitchen cupboards are bare. From preparing a quick salad to oiling a pan for an egg, these small but mighty bottles are leak-proof, and easy to clean and refill over and over again.
They have locking lids, are extremely durable, and squeeze down to the size of the liquid inside them as you use it up. If I've stayed somewhere for a while and bought bigger bottles of oil and vinegar during my stay, I top off my smaller bottles from them and then leave the big bottles behind for the next guest.
Locking Food Container
A large food container is admittedly a bit of a luxury, and it does take up quite a bit of space in your bag, but of course you can also fit plenty inside it on your travel days.
Now that I've switched from backpacks to hard shell luggage and have a bit more room, I can travel with bulkier items like this. I like to have one big sealable container when making meals like pasta or salad, so I can store leftovers for the next day as needed.
We've also used the container to safely transport food from one Airbnb to the next in the same city. It holds bread or other counter foods that you want to keep fresh, and because it has a locking seal, it keeps bugs away and won't pop open in your bag.
When packing up for a flight, it can store pretty much anything inside it. Since it has a hard shell, I've used it for souvenirs and anything else that's breakable, just to give some added security inside my suitcase. I have a 3.2 quart Lock&Lock version, but there are many other shapes and sizes available.
And a Pack to Store It All In
As I've expanded my travel cooking essentials over the past year, I wanted a convenient pack to store them all in. While looking for mini versions of products, I came across these GSI Outdoors camping kits that come in a few different sizes and contain several cooking gadgets.
The one I chose came with a lot I didn't need, but the price for the kit was about the same as buying a few of the products it came with. Specifically, I wanted the collapsible spatula, mini grater, mini whisk, and waterproof salt and pepper shaker.
Some of these products I've discussed above, but the bonus is having a kit with a zippered pouch to store everything in. I took out the plastic utensils, adding two of our favorite metal forks. I use one of the liquid condiment containers for a bit of liquid soap: an Airbnb usually has this, but it's annoying when they don't, especially for shorter stays.
I added the Humangear bottles of oil and vinegar and my extra spice containers, and replaced the small knife with a medium ceramic one. I also kept the sponge and washcloth. These get replaced as they wear out, but as with the liquid soap, it's nice to be able to wash dishes even when an Airbnb is poorly stocked.
Final Thoughts
Packing is an extremely personal process that's a little different for everyone, and the biggest barriers you'll face are space and weight. Depending on the importance you place on cooking your own meals, you may want even more than I've discussed above, or not need any of these items at all.
Take time to consider what's most important to you when you travel. If you think of something you're missing or wish you had, make a note of it and if you can fit it in your luggage and will use it often enough, take it with you next time. I have a friend who takes a full-size blender on every trip, because it's the one gadget he just won't compromise on!
---
What are the kitchen necessities you won't compromise on? Let us know in the comments below!
Nespresso image via Dave Dean, other images via author