White noise is a combination of most or all of the frequencies a human ear can detect, playing simultaneously. It's similar to the sound produced by an out-of-tune radio: an even, continuous hum.
As it turns out, this kind of noise has a range of positive effects on the human psyche: helping people fall asleep, making babies cry less, and even helping improve the symptoms of children with ADHD.
While you can go old-school and use an untuned radio to help you get to sleep, or even buy an inexpensive white noise machine, there's a more convenient way to get into white noise: smartphone apps.
Today we're looking at the best white noise apps for iOS and Android, covering those suitable for a range of different purposes. There'll be something here for you, whether you need it for your baby, your own sleep, meditation, or a bit of everything combined.
How We Picked the Best White Noise Apps
A quick search of your favorite app store will tell you there's no shortage of white noise apps, which makes it hard to distinguish between them. You'd think that white noise is white noise, and if an app produces it, it's good enough.
As you've probably figured out for yourself (which is why you're reading this article), though, finding a reliable white noise app that has everything you need is all but easy. Because there are so many of them, plowing through reviews and descriptions and downloading them all, only to figure out that most are garbage, is ultra-annoying.
That's why we've done the grunt work for you, using the following criteria to find white noise apps that are actually worth installing on your devices:
Sound selection – the most important thing any of these apps should offer is a rich library of sounds: there are different kinds of white noise, and some will work better than others for you. Many of our picks have other ambient sounds like rain, waterfall, or background cafe noise, which are also popular choices for work and relaxation.
Customization options – while you can find many white noise YouTube playlists without installing anything, white noise phone apps offer an important extra: customization. The better apps not only let you choose preset sounds, but also let you combine white noises, creating your own mix. It's important that an app lets you save these custom sounds, so you don't have to create them from scratch every time.
Design and ease of use – while having a nice-looking interface wasn't our top priority, many white noise apps fail to cover even the basics. Not only do they look outdated, some were barely functional and very unintuitive. We looked for apps that are easy to set up and use, which don't get in the way of using their various features. Some also let you choose themes with appropriate visualizations to accompany the sounds of choice.
App features – besides a good sound library and customization options, there are a few nice-to-have features that we gave extra points for. Some kind of power-saving function is useful, since playing sounds all night can really drain your battery. This sometimes takes the form of a timer, which lets you schedule the app to stop playing automatically after a certain length of time.
Additional options – besides white noise, some apps have other relaxation sounds intended for meditation, studying, work, and specifically helping babies sleep. As long as they don't get in the way of the main goal, it's good to have extra options like this.
Price – our list has white noise apps for all budgets. Premium apps are usually more polished, with more features and a richer sound database, but there are also decent free options to get you started. Several of the premium apps also have a limited free version, and in some cases, that may be all you need.
Best White Noise App for Android: White Noise Generator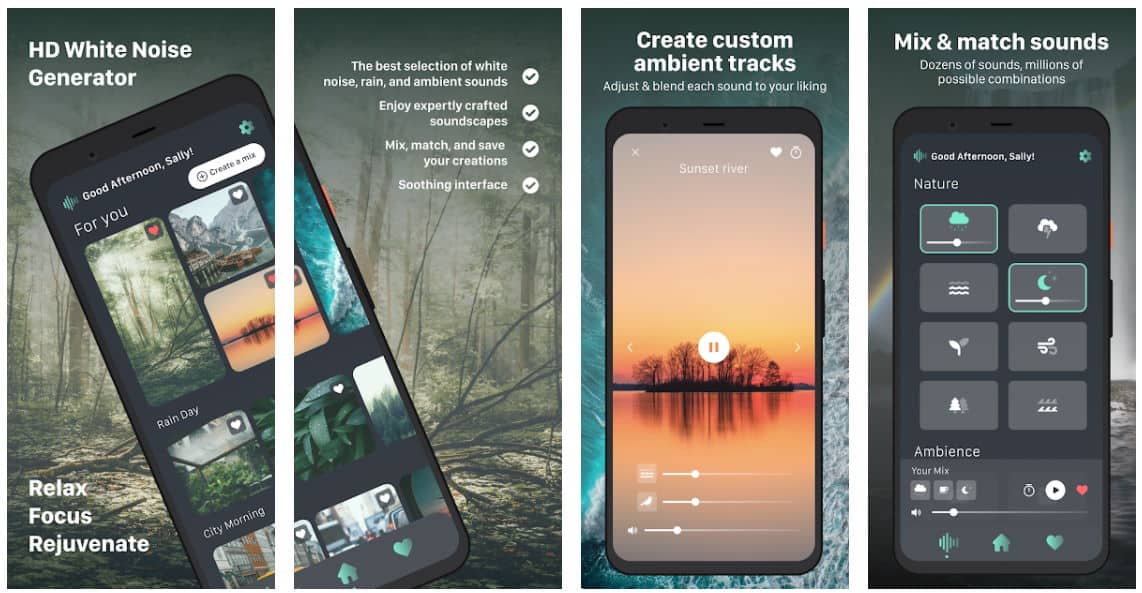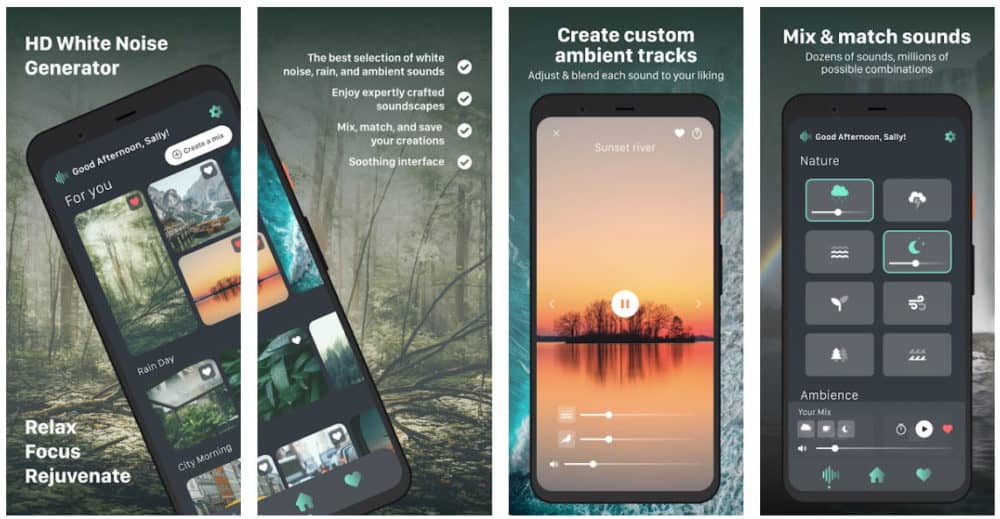 White Noise Generator, developed by Maple Media, covers everything we want to see in a white noise app. It's very well designed, has an incredible number of sounds, and allows a useful amount of customization.
First off, the app looks great, and is very easy to use. A calming background accompanies the sounds, and the interface is self-explanatory and intuitive.
Every sound consists of several parts, and you can increase/decrease the volume of each to your liking. For example, if you opt for nature sounds, you can make the river sound louder while turning down the wildlife.
There are several ambiances to choose from, and each category has its own subcategories. Even better, you can simultaneously play several sounds at once, creating your own atmosphere and mix. Once you create one you particularly like, you can mark it as a favorite for easy replay.
The app also has a timer that lets you determine how long you want sounds to play, helping you save battery.
White Noise Generator has an generous free option that may be enough for some people, as long as you don't mind ads. There are a lot of them, however, and if you want to remove them, you'll need to pay for a monthly subscription ($2.99/month or $24.99/year). There's no one-time purchase here.
Pros
Easy to set up custom mix
Large selection of sounds
Good customization options
Attractive design and simple to use
Cons
Free version has a lot of ads
No one-time purchase option: subscription-only
---
Best White Noise App for iOS: Dark Noise
Dark Noise is an Apple-only white noise app, and there's no free tier: if you want to use it, you'll need a Mac, iPad, or iPhone, and you'll need to stump up ten bucks. In exchange, you'll get an attractive, highly-customizable app that works across the Apple ecosystem, with no ads, subscriptions, or in-app purchases.
That focus on Apple products pays dividends (it works with Siri as well), since it lets you control the app remotely even without your phone. This is ideal when you're struggling to sleep and want to start the app up: let's face it, looking at a bright screen is the last thing you need at that point.
With 50 preset sounds, Dark Noise doesn't have the most extensive library, considering it's a premium app. You can combine these to create custom mixes, however, so there's little chance of things getting stale.
The app is extremely polished, and the most attractive of those on this list. As the name suggests, it uses a sleep-friendly dark theme by default, although there are nine other themes available if that doesn't work for you.
On desktop, there's a mini-player that makes it easy to control the app while you do other things, and regardless of which device you're using, you get iOS-style features like widgets and shortcuts. Dark Noise has a convenient timer that gradually fades out sounds, ensuring the noise doesn't interfere with your sleep.
All in all, it's a great app that does what you want and looks great doing it. Sure, a free version would be nice, but you get plenty for your money: if you decide to buy Dark Noise, it'll likely be the only white noise app you ever need.
Pros
Excellent design
Sound customization
Works across the whole Apple ecosystem
Timer function
---
Best Free White Noise App: Atmosphere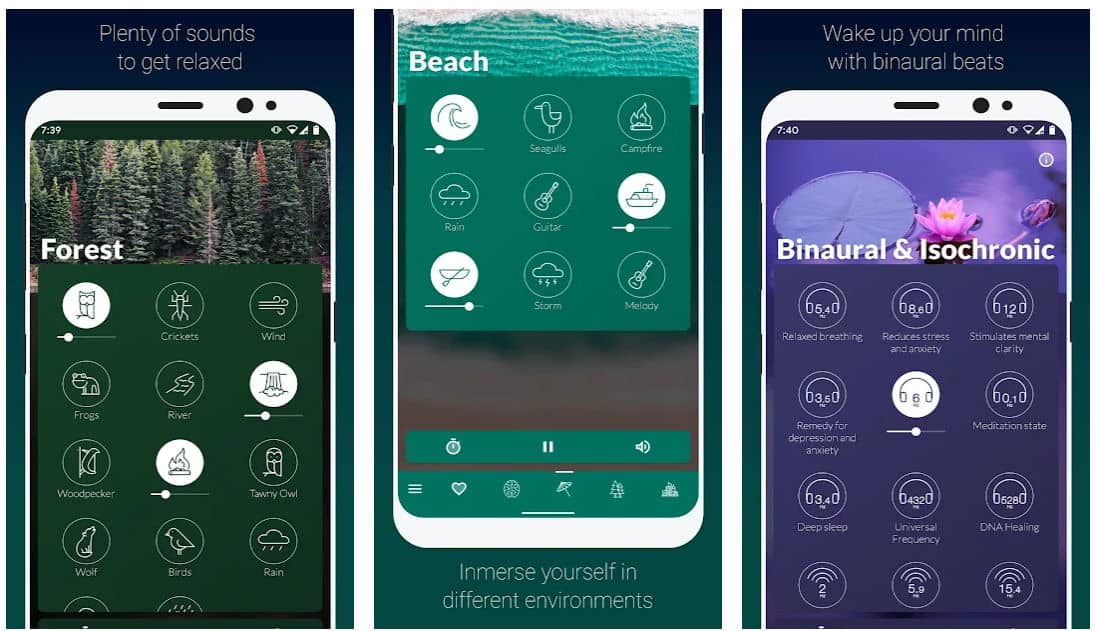 While Atmosphere (iOS/Android) does have a premium version, you still get access to all of the app's many features if you choose not to pay. The only difference between the free and premium versions is the presence of ads, so it's your call whether to pay a few bucks to remove them or not.
The app is very simple to use, and although it's not the most attractive design we've ever come across, the straightforward interface makes it easy to find all of the app's useful features.
There's a wide range of sounds broken down by category like forest or beach, and you can play multiple tracks at once. The volume of each sound can be individually tweaked, giving you more ability to create your perfect mix. Once you've done that, you can save it to use later and give it a custom name.
The number of sounds and level of customization makes Atmosphere suitable for a range of activities, from sleep and relaxation to yoga and meditation, as well as helping focus during work or study.
Atmosphere has a timer that turns the sounds off when you fall asleep, and will happily run in the background. It also works offline, which is handy if you have limited or no data available. We also like that there's no need to register or create a profile to use it: who needs yet another account to manage?
Pros
Excellent free (ad-supported) version
Good selection of sounds
Battery saving timer
Can play multiple sounds at once, and save your own combinations
Cons
Not the most attractive interface
---
Best White Noise App for Meditation: Calm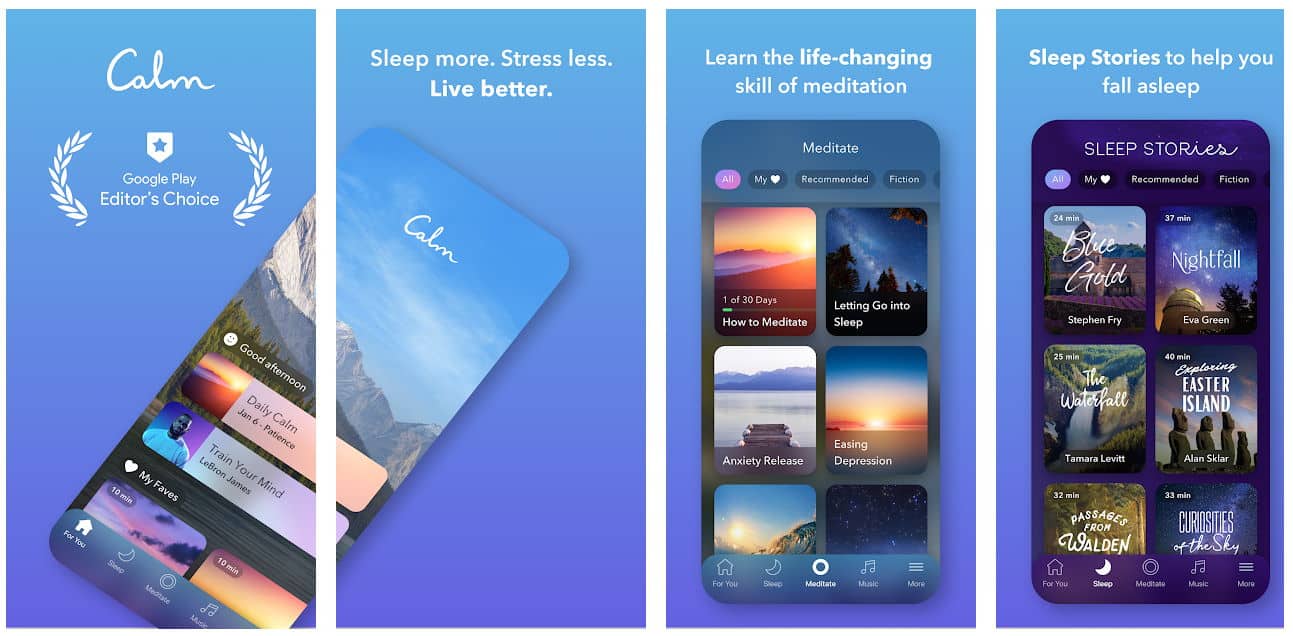 While Calm's main focus is meditation, it has a good selection of white noise options, and is an excellent sleep, relaxation, and (of course) meditation app overall, which is why we had to include it. We particularly liked the many child-specific features, a rarity in this kind of app.
Calm is available for Android and iOS and works well on both platforms. It looks outstanding, with a clean, clear interface and soothing visualizations to accompany sounds. A useful extra is being able to see how long each "mix" lasts before you play it, which is something we'd like to see more often.
As mentioned, Calm is much more than a white noise app. There are guided meditations and masterclasses to help you combat insomnia and anxiety, learn mindfulness, and focus better. The attention to detail is impressive, and you can really tell that the Calm team sweated the small stuff when putting the app together.
Unsurprisingly, this level of quality comes with a cost. While Calm does let you try it for free, the best features, sounds, and programs are limited to premium users, and you'll need to purchase a subscription ($69.99/year, or $399.99 for lifetime access).
If all you need is a white noise app and nothing else, Calm is probably overkill: you can likely get the features you need for a lower (or at least, reasonable one-time) cost. If you're into guided meditation as well, though, you'll find this app very useful, and a subscription should prove a very smart investment.
Pros
Plenty of meditation and sleep options, including white noise
High quality programs for different purposes, including for children
Well designed and easy to use
Cons
Limited free options
Premium version is subscription-only
Overkill if all you need is white noise
---
Best White Noise App for Babies: White Noise Baby
Using white noise to calm newborns isn't a new idea: we have studies that are more than 30 years old that show that this kind of noise can help babies fall asleep easier and sleep more soundly. If your baby has trouble falling asleep or staying that way, White Noise Baby is definitely worth trying.
While some other apps have options aimed at children, White Noise Baby's primary purpose is to calm infants. All the sounds in this app are suitable for babies, with everything from high-contrast rattles to more ambient sounds, accompanied by the noise of home appliances such as fans or hair driers.
The paid version of the app has no ads and lets it run in the background, so you can use your phone for other purposes as well. There's also an auto-stop timer and battery-saver mode to help extend battery life.
The best feature of all is the baby cry monitor, a feature that automatically detects if your baby gets agitated or starts crying. When that happens, the app can immediately start to play sounds to calm the baby down.
You can preset things like volume, sound, and duration, matching it to your (and your baby's) preferences. The noise log will tell you more about your baby's sleep pattern, which can help you better understand their sleep cycle and make improvements.
Available for both Android and iOS devices, this is the best white noise app for babies we've tested. It doesn't have the most attractive interface, but if it can help you get your baby to sleep faster, I seriously doubt you'll care what the app looks like!
Pros
Plenty of baby-specific sounds
App can detect if your baby starts crying and start playing immediately
Very easy to use
Useful free version (Android)
Inexpensive paid version
Cons
Not the best-looking interface
---
---
Main image via Artem Musaev/Shutterstock.com, other images via respective developers