With travel comes expenses—lots of them. Travelers have plenty to think about when it comes to finances, including managing travel budgets, transferring money internationally, sharing group expenses, and converting currencies.
Thankfully, finance apps have made all aspects of spending money abroad simpler, cheaper, and faster. With the touch of a button, you can share expenses across a group of travel companions or access hundreds of offline currency conversions. The following apps will help you manage your finances, no matter where your travels take you.
Budgeting
TravelSpend
TravelSpend helps organize your travel budget with visualized spending data. If you're not a fan of spreadsheets, this app allows you to see your expenses and savings in colorful graphs. It calculates your daily average spend, as well as where your finances stand compared to your budget.
TravelSpend automatically converts foreign currencies, and it works offline. It's a useful app, especially if you don't bother with local SIM cards or are otherwise regularly offline.
Trail Wallet
Built by two long-term travelers and based on their years of experience managing finances around the world, Trail Wallet is packed with features designed for life on the road.
You can view interactive spending charts, and choose between seeing the amount of your budget already spent or the amount remaining. Trail Wallet has support for nearly 220 local currencies. The app's design is simple and easy to use, and it comes with a long list of accolades from users, travel bloggers, and review sites.
One thing to note: the app isn't completely free. You can download it at no cost and add up to 25 items, but for longer trips, multiple trips, or for long-term travelers, this won't be nearly enough. You can unlock unlimited budget items for a one-time fee of $6.99.
Payments
Wise
Used by millions, Wise (formerly known as TransferWise) works like a normal bank transfer without all of the international fees. It's so popular in the travel scene right now that we wrote a full article on what it's like to use Wise for travelers. 
If you make a lot of international money transfers, circumventing bank fees is certainly an asset.  The transfer process is pretty simple. You can transfer money from your bank account to an account in dozens of other countries around the world. Wise will handle the payment, treating it as two local transactions to avoid most of the usual bank fees.
Of course, there's still some cost to using the service. Users pay the real mid-market exchange rate on currency conversions, plus a small fee to Wise on transactions.
You can hold 50+ currencies in your Wise account, and convert between them at will. Wise can also provide bank account details for USD, GBP, EUR, AUD, NZD, and PLN, letting you receive and send money directly in those currencies.
The company also offers a "Borderless" debit card to customers in the US, UK, Switzerland, Australia, New Zealand, and most of the EU/EEA. There are no annual or foreign transaction fees, free international ATM withdrawals for the first £200 (or equivalent) each month, and the standard low-cost exchange rates.
If your current bank doesn't offer something similar, you'll save a small fortune by traveling with a Borderless card.
Cost-Splitting
Splitwise
Cost-splitting is a huge pain for travelers. From group dinners to shared accommodation to road trip gas costs, there are endless expenses to keep track of, sometimes across multiple currencies.
There are plenty of cost-splitting applications, but in recent years, Splitwise has risen to the top. With Splitwise, you can create multiple groups, which is ideal for sharing expenses on various trips with different people. It also has a handy function called debt simplification, which restructures IOUs to minimize transactions.
When it comes to cost-splitting, popularity has its advantages. For group travel expenses, the app works best when everyone is using it. There's a good chance your friends and travel buddies have heard of Splitwise, and may already be using it.
It can track balances in any currency, but it doesn't convert currencies. Each currency is tracked separately, which makes debt simplification less, well, simple.
I recently used Splitwise on a two-month trip that involved shared expenses with a number of people. Everyone was familiar with the app, so that was a plus, but things got tricky once we added in all of our expenses across seven currencies.
We had expenses in US and Canadian dollars, euros, Albanian lek, Jordanian dinar, Arab Emirate dirham, and the Omani rial. Debts were simplified, but we were left with various currency totals that I needed to convert and add up outside of the app.
For a small monthly or yearly fee, Splitwise Pro includes currency conversion, but try getting a dozen long-term travelers from all sides of the globe to pay for an app!
Splid
If you're looking for a free approach to splitting travel costs that can solve the currency conversion issue, take a look at Splid. The app works offline and offers shared groups, total group spend, debt simplification, and currency conversion for 150 currencies.
If your expenses are in euros, for example, you can easily settle up in dollars, since Splid will automatically convert your expenses into one currency. There's no sign-up required, so it's easy to get a group of friends on board.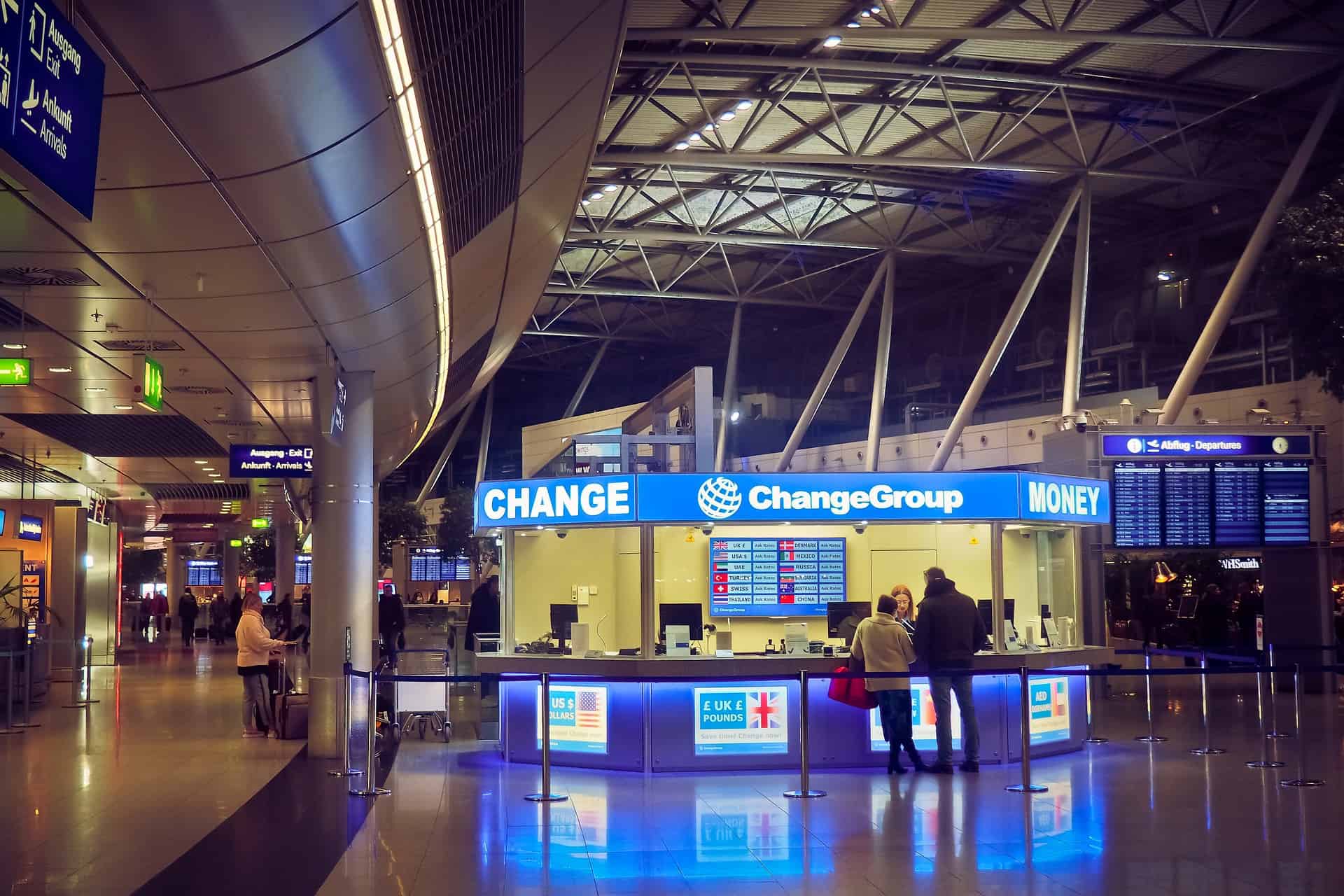 Currencies and Exchange Rates
XE Currency Converter
It's undeniably difficult getting used to the value of the local currency when you arrive in a new country. Is that sandwich $2 or $20? Is your taxi driver ripping you off? Would you buy that souvenir if you knew the real exchange rate?
If you're lucky, you'll have a simple calculation like euros to dollars, which you can roughly calculate by adding 10% to any purchases. If you travel a lot and to many different countries, it can be nearly impossible to keep multiple exchange rates in your head, especially when you first land somewhere new.
XE Currency Converter has accurate live exchange rates for almost every currency around the world, is free to use, and stores the last-updated rates, so you can still use it when you're offline. Add the currencies you'll need before you leave so that you have access to them before you grab a SIM card.
CalConvert
If you want more advanced features than simple currency conversion, CalConvert offers a free advanced scientific calculator and currency converter all in one. Access over 150 currencies while offline, as well as advanced calculator functions and over 600 unit conversions.
Those unit conversions will certainly come in handy if you're traveling from the US to the many countries that use the metric system!
---
What finance apps do you rely on when traveling?
Images via Steve Buissinne (wallet sticking out of pocket), Clay Banks (paying by card), Michael Gaida (money exchange kiosk in airport)