A major benefit of being a solo traveler is having complete control over your cash. Add even one extra person, let alone a whole group of friends, into the mix, and working out who owes what can easily end in bickering and hard feelings.
One big obstacle when it comes to splitting bills is that everyone has a different method. If you religiously track every single penny, then traveling with someone who does the old "you pay this time, I'll pay next time" routine can be a nightmare.
On a recent trip to Athens with seven friends, I quickly found that agreeing on the maths of splitting meze between a vegan, four vegetarians, and three meat eaters was a pain in the ass, and regularly resulted in disagreement.
We began by trying to keep count mentally, quickly moving onto a more elaborate note-taking and Excel spreadsheet process, before ultimately searching the internet for a better idea. To make the maths as fair and simple as possible, in the end we chose an app-based solution.
We found that there aren't a huge number of aesthetically-pleasing, functional apps for calculating and splitting bills, but there are a few. Here's what we tried out, and what we ended up agreeing was best for our situation.
Splitwise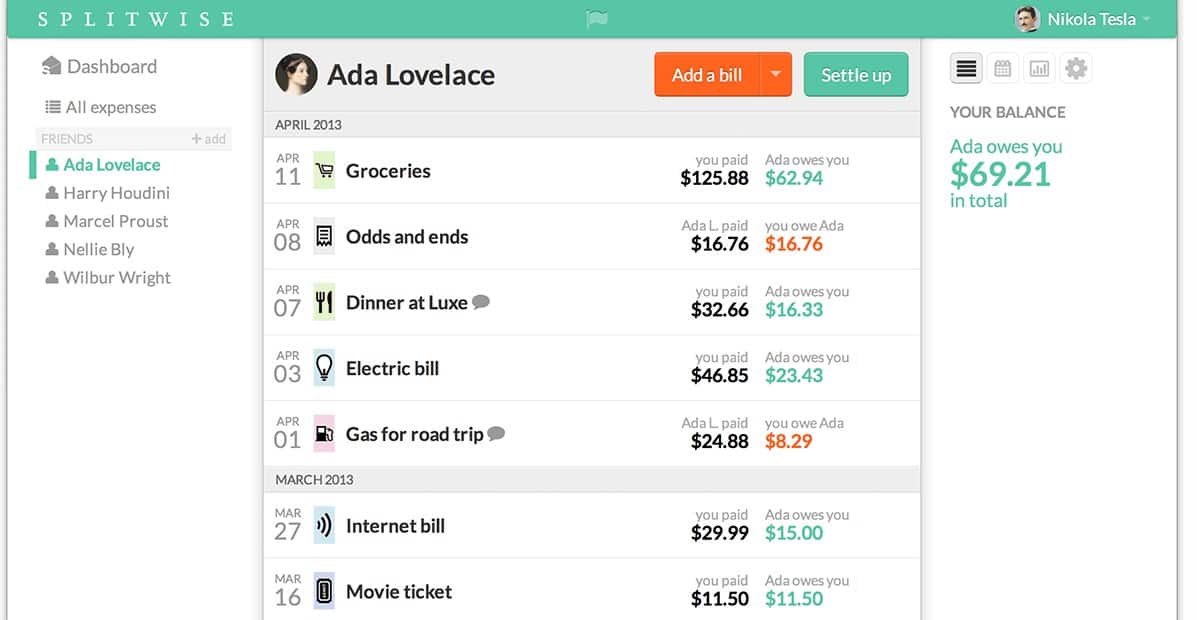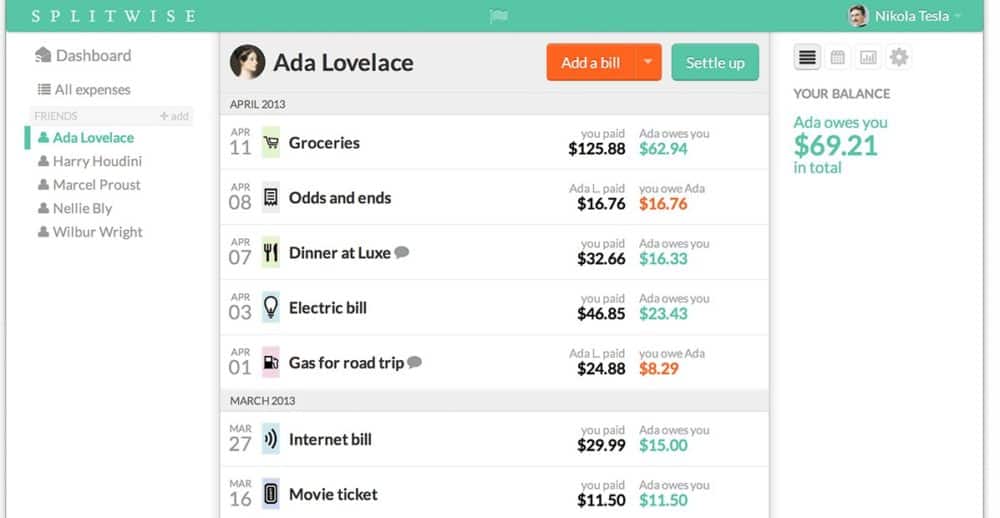 My personal pick is Splitwise. This app makes it very easy to share IOU's. It began as a simple rent-splitting calculator but quickly grew beyond those humble beginnings. It's available on iOS, Android, and the web.
All expenses can be shared, from rent and travel to coffee and cake. It's possible to create multiple groups to track expenses with everyone in your life, whether it's roommates, travel buddies, or your partner.
Another great feature is debt simplification. This helps out with those awkward "debt triangles," where everyone both owes money to, and is owed money by, everyone else. Splitwise restructures everything to minimize the transactions required without changing how much anyone is owed.
The app doesn't handle any money itself, though, and doesn't know whether you've been paid or not. You'll need to manually pay people via your bank account, PayPal, or handing over the cash, and keep checking your own accounts if you're the one who's waiting to get reimbursed.
A point of interest is the Splitwise blog, where you'll find answers to nagging questions such as "how much to charge your flatmate's significant other." Finally, there's a little Easter egg to check out if you visit the Settings page in the app and click the very last word on the page. Spoiler: if you're an iOS user, there may be kittens!
Settle Up


I can definitely agree with the Settle Up tagline of "good accounting makes good friends," but while it's a solid choice, it wasn't my favorite overall. Although the interface is more attractive than Splitwise, Settle Up has a few glitches, and there are costs (or ads) involved with using it.
If you're an Android user, the basic version is ad-supported, and it costs $0.99/month (or $11/year) to lose the ads and add a few extra features. On iOS, there's no free version, just a one-time payment of $1.99.
It does offer a few extra features compared to Splitwise, however. For example, it's possible to send an image of bills to any group members, and there are more breakdowns of where the money has been spent. Settle Up also offers a blog, the app can be used in all world currencies, and it works fully offline.
So, if you try out Splitwise but aren't convinced, Settle Up is a good second choice!
Excel Tactics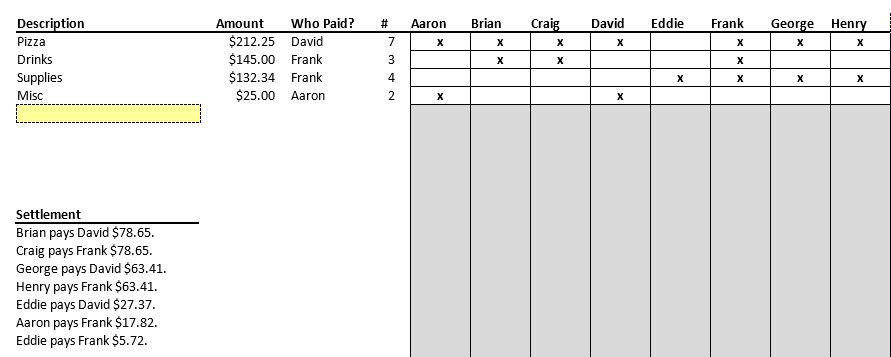 Before using Splitwise, my travel buddy and I used Excel spreadsheets, keeping multiple notes and receipts so we could plug in the numbers once we got home. The process was complicated, to say the least, but there are ways to simplify it.
Excel Tactics is a web app that helps you keep track of your money. If you're like me and not great with Excel, and don't want to have to create the table and calculations yourself, this is a good alternative.
It helps you easily keep track of everything you spent your money on, and is free to download from the website. The creator of the spreadsheet, Andrew Roberts, suggests that while there are plenty of apps and websites devoted to sharing expenses, he thinks it's easier to just write it all down and sort it out later. Excel, coupled with his spreadsheet, has all the necessary features.
Honestly, it's not quite as convenient as having an app on your phone which you can plug the numbers into as soon as you've spent the cash. But, if you have awkward travel buddies who refuse to sign up for an app or site, you can use this option to track everyone's spending yourself.
Splid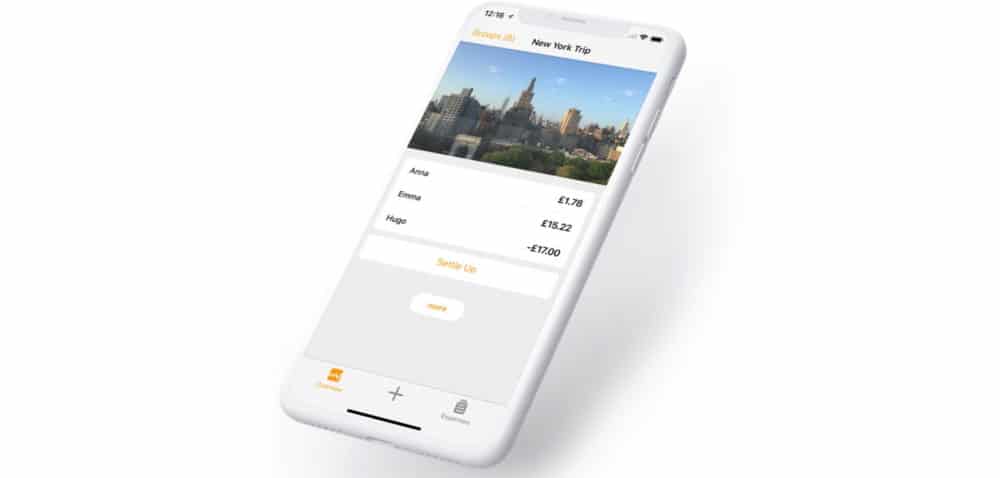 If you're looking for a free approach to splitting travel costs that can solve the currency conversion issue, take a look at Splid. The app works offline and includes features like total group spend, debt simplification, and currency conversion for 150+ currencies.
If your expenses are in euros, for example, you can easily settle up in dollars, since Splid will automatically convert your expenses into one currency. There's no sign-up required, so it's easy to get a group of friends on board.
With extras like multiple payees and unequal bill splitting, plus the ability to export reports in PDF or Excel format, there's plenty to like about Splid. Best of all, almost all of the features are free.
Venmo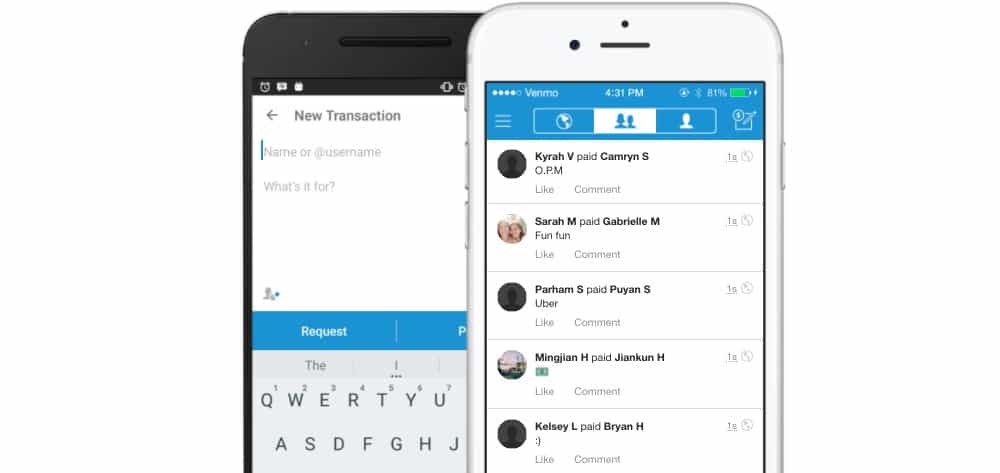 Although not a way to track expenses, Venmo lets you split a bill and pay friends back immediately, but it does require some maths on your part.
When you're simply splitting a bill down the middle, though, using Venmo to send over your half straight away can cut the awkward conversations. If a friend does forget to pay you back, you can also use Venmo to send them reminders. Better yet, unlike PayPal (which actually owns Venmo), the app has no fees for receiving or sending money.
It's a popular app in the United State, especially amongst those aged 17-25. It feels as much like a social media platform as a personal finance tool, with emojis and the ability to "like" and comment on transactions.
Final Verdict
Ultimately there are multiple ways to split costs among friends, but after testing a bunch of options, my personal favourite is Splitwise. It doesn't have the best-looking interface and it's irritating that you have pay people back manually, but it's free and serves its main purpose extremely well.
Since starting to use this app, there have been no more arguments between my boyfriend and me about money. Maybe it should be pitched as a relationship-saving tool as well!
---
Main image via StockSnap, product screenshots via developers